Welcome back to The First 10, folks. In this series, we look at the first ten issues of a comic book series to see what happened, when it found its voice, and why it either did or didn't succeed. This time, we look at our shortest running series yet. Marvel Adventures Iron Man ran from July of 2007 to July of 2008, and was shepherded by writer Fred Van Lente the entire time. Van Lente would go on to become one of Marvel's (and later Valiant's) best writers, and seeing his early work like this should prove fascinating. Plus, Marvel and DC's kids comics have always been criminally underrated, and they both deserve some time in the spotlight.
Note: All images are credited to Comicvine.gamespot.com.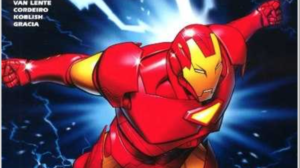 1. Hearts of Steel
Writer: Fred Van Lente
Artist: James Cordeiro
And we're off!
As you might expect, our first issue is an origin. But it's not the same origin that we've seen a thousand times before. Tony Stark is a billionaire industrialist who is also a total a-hole. And this Tony really is a true jerk. He recently finished developing a new metal skin-type implement that he intends to use for ultralight aircraft.
Dr. Ho Yinsen – a scientist whose country was destroyed by Stark's inventions – is in attendance as Stark makes his presentation. Stark blows him off, and leaves to fly around the world in his new plane. But the plane crashes, and Stark is taken prisoner by"¦AIM! It turns out that AIM is a huge Stark International stockholder, and they've been using their tech to ravage various nations. So Stark and his fellow kidnap-ee Yinsen have to work for AIM. But they build the Iron Man suit…blah blah…you know this part. Except you don't.
Because, in the first of what I hope will be many Van Lente twists, Tony and Yinsen both build their own Iron Man suits. That's awesome. That's such a great idea that its weird that no one's thought of it before. Yinsen dies, and Tony realizes that he needs to fight evil. Overall, a decent start with hints of real promise.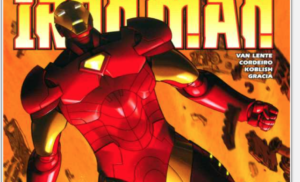 2. Enter the Dragon
Writer: Fred Van Lente
Artist: James Cordeiro
Right on the heels of the Scientist Supreme, Issue 2 gives us our next major Iron Man villain: The Mandarin! Tony Stark goes to investigate Stark International's China plant, and finds that all of the workers are missing. After he tracks them down, he learns that The Mandarin abducted them all, and he's making a play to conquer all of China.
You see, he thinks he's the direct descendant of Genghis Khan, and that gives him dominion. Iron Man comes and beats him up until he and his giant robot dragon are no longer capable of harming people. Oh, yeah, he has a giant robot dragon.
Cordeiro is the star of this issue. His art in the first issue was solid, but here he gets to shine with some more interesting visuals. I especially love his robot dragon designs, which look great as they battle Iron Man. Plot is also good, if a bit standard. I do wish this one had a touch more of Van Lente's trademark wit, but his scripts are still engaging.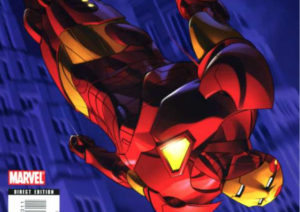 3. The Creeping Doom
Writer: Fred Van Lente
Artist: Ronan Cliquet
Man, what a deep cut. This issue takes us away from the main Iron Man foes, and that makes it the best one so far.
Tony Stark has headed out to the desert to check out some experimental plant research by a Dr. Samuel Smithers. But when he gets there, it looks as though the good doctor has gone quite insane.
More than a little creeped out, Tony and Pepper try to leave, but Smithers decides they must stay. So he knocks out Stark and takes Pepper prisoner as his student. He pretty quickly realizes that attacking Tony Stark might be a bad idea, because Tony Stark employs Iron Man, and Iron Man likes to punch people in the facemeat. So Smithers encloses himself in photosynthetic armor and becomes"¦the Plantman.
I gotta say, I LOVE the Plantman design in this issue. It's creepy, but also really fun to look at. Plus, it really communicates the plant suit as armor rather than just a costume.
There's a little more humor in this one, although I personally don't feel that the art sells the jokes especially well. But again, on the action front, it's doing an excellent job.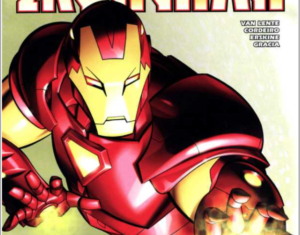 4. Hostile Takeover
Writer: Fred Van Lente
Artist: James Cordeiro
It seems that we're settling into a pattern for this book. Someone's messing with Stark International, Iron Man goes and finds them, Iron Man gets his butt kicked for a while, Iron Man regains control and wins the day.
In this issue, Stark International is under attack"¦from the inside!!???? Why, yes, it seems that board member Justin Hammer wants to overthrow Stark's leadership in a coup, and he's hired Spymaster to assist. Spymaster hacks into the Iron Man armor, and sends him on a path of destruction to wreck the city and ruin Stark International's reputation.
But Rhodey and Pepper intervene, and Tony breaks free and captures Spymaster. The fun part of this issue is seeing the supporting cast get to play around a bit. Rhodey doesn't really get to do too much, but Pepper shines through. It's a pretty solid blast.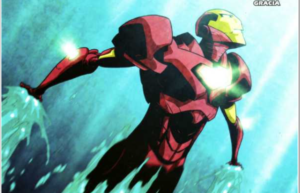 5. Pirated
Writer: Fred Van Lente
Artist: Rafa Sandoval
And I thought Plantman was a deep cut. Because, holy heck, is this one a lot deeper.
Also, I apologize for my earlier comment about not seeing Van Lente's particular style in this series, because this is one Fred Van Lente-ass comic book.
Iron Man is hanging out in the deep ocean, investigating the Bermuda Triangle in an attempt to solve its mysteries, and he's attacked by science pirates. The pirates are led by Commander Kraken, a villain so obscure that I had to look him up, and I'm a man who has strong feelings about Colonel Computron.
Kraken slices off Tony's armor, and STUFFS HIM IN A TORPEDO TUBE TO SHOOT HIM AT A SHIP. That is deeply rad. Tony survives with a severe case of the bends, and has to regain the suit to fix his pressurization. Also, we get a Hydrobase call-out, which is fun. I love this globe-trotting adventurer Iron Man.
Hopefully, the book will continue in this overall direction.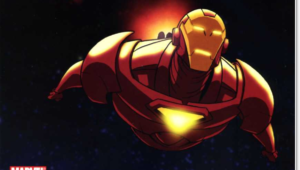 6. Destructive Reentry
Writer: Fred Van Lente
Artists: James Cordeiro and Skottie Young
Huh. Give it to Fred Van Lente and James Cordeiro for making me care about the Living Laser.
I normally hate the Living Laser. He has awful visual design. He's boring. But here we are, me feeling sad for the Living Laser. In the issue, Tony breaks out the Space Armor to go investigate a disturbance at the Stark Satellite Delphi-1. Living Laser has taken over the Satellite, and he's using the resources and labor to build himself a robot body out of nanites.
He just wants his body back. Tony shows up and annihilates the body, which seems like a minor dick move. But the nanites just sort of gain sentience and take over the satellite. So Living Laser realizes the errors of his ways, and teams up with Iron Man to stop the satellite-nanites from destroying the earth. In the process, Laser sacrifices himself. Tony dedicates a statue at Stark International to him. He has a body now.
Excuse me, I have something in my eye.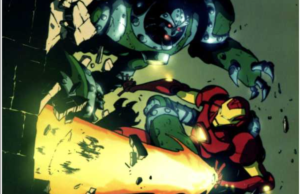 7. Ghost of a Chance
Writer: Fred Van Lente
Artist: Graham Nolan
This one f***ing ruled. Van Lente should write Dr. Doom forever.
While flying over Europe, Pepper and Rhodey are abducted and taken to Latveria, where they're held prisoner and accused of espionage. All charges will be dropped"¦if Tony Stark turns over his technology in cosmic rays, which could be used to strip the Fantastic Four of their powers. Obviously, he can't turn that over, so Tony breaks out the Stealth Armor and heads in to kick some Doombot butt.
It's a really fun issue, and I was so pleased to see Doom running around. Doom is such a great villain. You can make him fight literally any Marvel hero, and it will work perfectly. In the end, Tony double-bluffs Doom, and gives the people of Latveria some sweet western entertainment.
Oh, and the single panel where we see what Latverian propaganda looks like is incredible. I would read a regular series of that.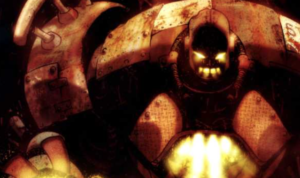 8. The Simple Life
Writer: Fred Van Lente
Artist: Rafa Sandoval
Steampunk Iron Man, my dudes!!!
Yup, despite this sinister-looking thing on the cover, this is not an Iron Monger issue. Instead, it features Justin Hammer, who brings in a new villain to kill Iron Man: Jolt! Which is weird for me, personally. I love the Thunderbolts, and Jolt is great. But it's odd, because she was pretty much the only Thunderbolt who was never a villain. But, hey, alternate universe or whatever.
Here, Jolt is older and way more evil, and she strands a suitless Tony in a technophobic commune. He tries to find a way out, but the commune's residents do not like him building things. Until Jolt shows up, that is, and Tony has to save everyone with the Steam Armor. The Steam Armor is rad as hell. Just this huge, flaming, smoking thing that looks like it could demolish you.
Tony defeats Jolt, and helps rebuild the commune. Also, I gotta say that Rafa Sandoval nails it out of the park here. Like, the art has been good so far, but this is next level.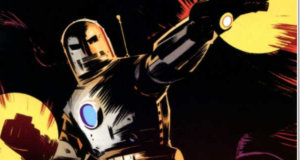 9. The Bunker
Writer: Fred Van Lente
Artist: Graham Nolan
Are"¦Are we out of villains? Because the last issue had Jolt, who isn't normally a villain, and this issue is a new creation. But this issue also made me tear up, so I can't complain.
A bunker with Stark International markings on it is discovered beneath the state of Nebraska, and Tony heads out to investigate. It turns out that Howard Stark built the bunker for an increasingly insane Obediah Stane, but Stane pulled out of the project, and left Howard in financial ruin. To defend it, Howard used one of Tony's childhood designs, the Iron Man armor (an early version). It's a nice little issue, and its coda is very sweet.
Plus, in this universe, Howard Stark is seemingly still alive, although he's in hiding. We'll see how all of this goes in the next issue (I read ahead, so sue me) and it's a fun time. But yeah, good issue. Made me misty-eyed.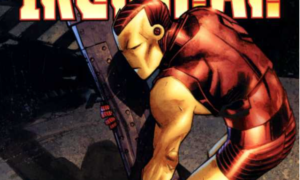 10. Web of Lies
Writer: Fred Van Lente
Artists: Graham Nolan
Superhero guest star!!!!! After the last issue, Tony is searching for his missing father, so he hires a private detective. Introducing Jessica Drew, aka Spider-Woman. Jessica seeks out and finds Howard pretty easily, and brings him home to see Tony. Tony shows him Stark International, and just as he's about to reveal his secret identity, he's cracked across the head and knocked out by"¦Howard?! Actually, no, because it's actually"¦The Chameleon!!
Reader, I will tell you right now that I straight-up squealed. I LOVE The Chameleon. So Iron Man and Spider-Woman fight each other because of Chameleon's trickery, and then they fight Chameleon, so we get the most out of the team-up. I've always loved Jessica Drew, and she's super fun here. Also, Chameleon mimicking an Iron Man Armor instead of wearing one is hilarious, and I love it.
And there you have it; the first ten issues of Marvel Adventures Iron Man. Honestly, I'd say they're totally worth reading and incredibly fun. But if you just want one standout, the Doctor Doom issue (Issue 7) is phenomenal, and totally one I'd suggest you pick up if you get a shot. Honestly, I wish this book ran longer. It's a fun time.