Comic book movies have been around a while. As such, we've had good ones, great ones, and a few truly terrible ones. So it's now my duty to lock down ten of the worst scenes in the history of comic book cinema. The moments that make you turn up your nose and have to look away from the screen for a while. At least one of these scenes actually made me nauseous.
Get ready for some truly awful pieces of entertainment. Buckle up, because these aren't for the faint of heart.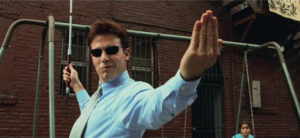 Source: joblo.com
10. The Playground Fight (Daredevil)
Before Netflix gave us something good featuring ol' hornhead, this was the best we had going for us.
The Affleck-starring Daredevil film is Very Bad, and its low point is this fight scene that takes place when Matt Murdock and Elektra first meet. Matt follows Elektra to a playground, and they have a fist fight/flirt in full view of the children. Where are their parents? Who's okay with two fully grown adults punching each other on the see-saws in front of their impressionable kids?
The scene is also very poorly choreographed, with the duo spending most of the fight walking between different pieces of playground equipment, which dramatically breaks up the flow. Also, Matt isn't even pretending to be blind. Dude does not care about his secret identity whatsoever.
Ben Affleck actually isn't that awful at capturing Matt Murdock's swagger and charm, but Jennifer Garner's low-key demeanor and nonthreatening appearance makes her laughable as Elektra.
Thanks to Netflix, we eventually got good onscreen versions of both heroes.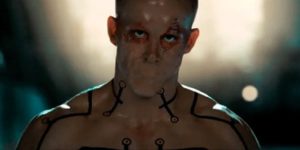 Source: cinemablend.com
9. Weapon 11 Introduction (X-Men Origins: Wolverine)
I'm sure some of you got momentarily panicked upon seeing Deadpool, but rest assured, I have no issue with the 2016 film. It's good! That cannot be said, however, of the 2009 film in which Wade Wilson made his cinematic debut.
X-Men Origins: Wolverine is no one's favorite X-Men movie. In fact, it's most people's least favorite X-Men movie. And its treatment of Deadpool is no small reason for that.
The film did make the brilliant move of casting Ryan Reynolds as Wade Wilson, and his first big scene is arguably the best scene in the movie. The elevator scene is good. But toward the end of the film, Wade is taken in, and they operate on him to turn him into Weapon 11. Part of that includes sewing his mouth shut. This is a bad call.
For taking the best part of your movie and turning it into the worst, the Weapon 11 introduction makes this list.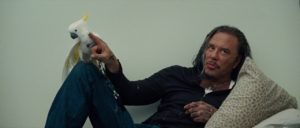 Source: marvelcinematicuniversewiki.wikia.com
8. "My Boid!!" (Iron Man 2)
Sometimes the best part of a movie isn't even enough to redeem an awful moment.
Iron Man 2 isn't the worst MCU movie, but it isn't super great. And Mickey Rourke as Ivan Vanko is a huge part of why. He's just not a compelling villain, and he has no charisma.
Sam Rockwell's Justin Hammer, however, is the best. He's so much fun. But when they meet, Rockwell's good time is dragged down by Rourke's trainwreck of a performance.
Vanko demands one thing from Hammer, and that's his boid. Sorry, his bird. He has a bird. That he likes. And he wants Hammer to get it for him. Hammer gets a different bird. This weirdly unfunny moment really goes to show that even the MCU can have serious misfires. They might not be the most disastrous movie moments, but they sure are weird bad nonsense. What a waste of Sam Rockwell.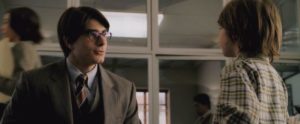 Source: blogspot.com
7. Superman Stalks His Wife and Son (Superman Returns)
Contrary to public opinion, there's actually a lot to like about 2006's Superman Returns.
Kevin Spacey's Lex Luthor is excellent, and there are quite a few all-time great Supes scenes. None of those are the scenes in which Superman plays Rear Window with Lois Lane and her son, who is most likely Superman's illegitimate kid, because apparently the last son of Krypton never learned what a condom was.
Superman creepily stands over his own kid's bed at one point, staring at him like a serial killer. He also takes some time to quietly whisper to him. All in all, this scene doesn't come off as sweet; it's actually deeply creepy.
Sadly, it's not worth suffering through this scene to get to the moments where Superman Returns shines.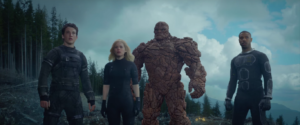 Source: trillbee.com
6. The Final Battle (Fant4stic)
Fant4stic is a burning screaming garbage fire that consumes all it touches, leaving a deep, unstoppable blaze that makes fighting it impossible. All that's left to do is walk away and let it burn.
And nothing makes that more apparent than the final battle. Who are we meant to care about? Snively whiny Reed Richards? Bad wig-wearing Sue Storm? Naked monstrosity The Thing? Or – actually the only decent thing about this movie – Johnny Storm? Or are we meant to root for the horribly designed and even more horribly written Doctor Doom?
Their fight is boring and empty of real stakes, because the film fails to make us care about anything. Of course, it also takes place in a featureless nothing-scape. A big ol' grey void. Just sad grey naked Thing fighting sad grey dumb-looking Dr. Doom against a sad grey sky. Rinse, repeat.
It's a nothing climax to a nothing movie.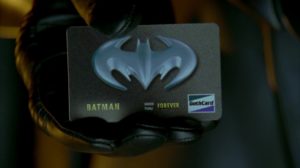 Source: batman.wikia.com
5. Bat Credit Card? (Batman and Robin)
Of course this has to be on here somewhere.
Batman and Robin is legendarily awful. It burned the Batman franchise to the ground so thoroughly that it took Chris Nolan to bring it back. But since I'm spoiled for choice, here's the scene I went with.
In the scene, Poison Ivy uses her powers to ensnare Batman and Robin. First off, what the hell voice is Uma Thurman doing as Ivy? She sounds like a noir femme fatale parody. She spouts a bunch of double entendres that are so transparent, they're pretty much just single entendres. Following that, members of the crowd start bidding on her like a charity auction.
Then Batman and Robin start bidding, and it becomes a tight bidding war. At this point – the height of awful – Batman pulls something from his belt. It is"¦a Bat Credit Card. Not Bruce Wayne's credit card, a credit card made out to Batman specifically, which has to be some type of fraud. Also, when he does this the card MAKES A KA-CHING SOUND EFFECT. I know B and R is a terrible live-action cartoon, but holy hell.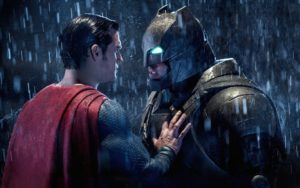 Source: the playlist.com
4. Jar of Pee/"Martha?" (Batman v Superman: Dawn of Justice
It's a tie!!!
Look, I couldn't decide which of these scenes was worse, so you're getting both. In our first example, Lex Luthor literally leaves a jar of urine on a senator's desk before he blows up the room and kills a bunch of people.
There is context to this. The context is a really forced joke about peeing in a jar and calling it Grandma's Peach Tea. So, no, the context does not make it any better. The smartest man in the universe decides to spend his time pissing into a jar as part of a private joke to himself, and it isn't even funny.
For our next scene, the fight between Superman and Batman is stopped because their moms had the same name.
"Um, actually, it's because Batman realized Superman had a mom, and…" Yeah, because the world's greatest detective couldn't have figured that one out.
"No, you don't get it, Batman needed that moment to humanize Superman. He didn't view him as a real person!"
And "He has a mom, whose name is the same as my mom's" is a dumb reason to humanize someone.
Finally, why the hell does Superman call his mom Martha? That's just forced and weird.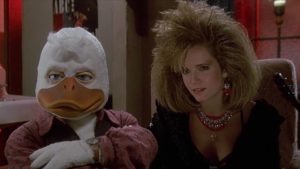 Source: denofgeek.com
3. The Whole Movie (Howard the Duck)
Howard the Duck is oppressively bad.
Not only is it goofy and insulting to the viewer's intelligence, but it takes a huge dump all over Steve Gerber's original Howard comics, which were brilliantly subversive and full of biting social commentary. The movie is tonally confused; not sure if it wants to be a children's flick or an adults-only romp.
The result is a movie that just makes you feel uncomfortable. It's all fun and games until Lea Thompson tries to seduce a duck. Oh, yeah, that actually happens. Also, how people react to Howard is super inconsistent. Sometimes they think he's a guy in a suit, sometimes they think he's just a little person, and sometimes they see him for the crime against nature that he is. At one point, people try to eat him.
I don't know about you, but the second something starts screaming in English is the second I put down my knife and fork.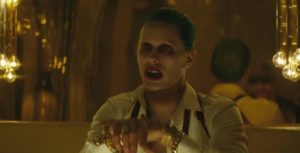 Source: comicbookmovie.com
2. The Joker Literally Pimps Out Harley Quinn to Common (Suicide Squad)
Was there anything worse in theaters last year than the pure atrocity that was Jared Leto's performance as The Joker in Suicide Squad? Now, watching Suicide Squad as a whole is no picnic, but it's Leto's mind-bogglingly awful portrayal of the Clown Prince of Crime that takes the film to new lows.
In the scene in question, Common (the rapper) meets our Hot Topic-sponsored Joker in the tackiest-looking strip club of all time. Harley's in the other room, dancing on stage, because"¦um"¦this movie has issues with women? Joker then shows off his hand-tattoo of a laughing mouth.
Common notices Harley, and remarks that she's "a bad b*tch".  Joker rants a bit about how much he sexually desires her, because that is apparently the only reason this movie gives us to care about Harley Quinn. She enters, and Joker literally gifts her to Common. That is explicitly the way he phrases it.
That's almost cartoonishly misogynistic. It literally objectifies her. As in, she's treated as an object. It's made even worse by how the film seems to try to glamorize the Joker/Harley relationship.
Joker then kills Common, thus ending the worst scene in the worst DCEU movie. Which is saying a lot.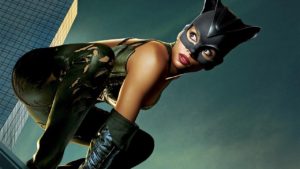 Source: youtube.com
1. The Basketball Scene (Catwoman)
Catwoman is a legendarily awful movie, and it lives up to that reputation. But you need look no further for confirmation of that fact than the basketball scene (linked HERE).
This is maybe the worst-edited and most poorly shot scene that I've ever seen in a major motion picture. The camera tilts back and forth like it was placed on the middle of a seesaw. Dutch angles back and forth forever. And the shots barely last long enough to get your bearings before switching to completely new ones. It made me physically nauseous from motion sickness.
In the scene, Catwoman and the guy she has feelings for flirt while playing one-on-one basketball. Neither seems to know how to play basketball, as neither takes any opportunities to shoot. We do get a shot of Halle Berry's ass, though, which seems gratuitous. Also, Catwoman uses her Cat Powers to effectively dribble a basketball. This is the most incompetently made scene on this list. It's technically flawed AND badly written. And it beats out everything else on this list.
And there you have it: A preliminary list of some of the worst Comic Book Movie moments of all time. There might be worse scenes somewhere out there, but these are some truly atrocious ones, for sure.