Infinity War is coming up fast, and we'll soon say goodbye to a lot of MCU actors. Even if their characters aren't killed off, they will certainly have lesser roles going forward. So which B-list characters will move up to achieve Avengers caliber? I've tried to split this list between current MCU characters who aren't yet Avengers and characters that could be added to the MCU and, by that virtue, could be added to the Avengers.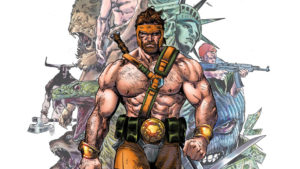 Source: marvel.com
10. Hercules
With Thor on the road outside of the MCU, if Marvel wants to keep a godly guy on their team, the studio could do a lot worse than the Incredible Hercules.
Like Thor, Herc is brash and fun loving, but he's also much less powerful. He's much more of a brawler and a lout. Thor mostly grew out of his petulant period, but Hercules never did. He'd be a good addition to an upstart squad. A demigod for some demi-Avengers. Plus, after Thor's years of earth-saving heroism, the Greek hero would definitely have something to prove.
A fun-loving hero with an appetite for chaos would make a great addition to the mostly straitlaced Avengers. A Hercules party at Avengers mansion (or compound or tower or whatever) would be a fun time for all, and I love the hell out of the energy he'd bring to the team.
Plus, Herc has a ton of great stories from the criminally underrated Incredible Hercules run to play with.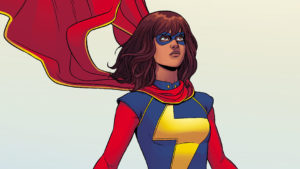 Source: marvel.com
9. Ms. Marvel
Kamala Khan is maybe the best and most beloved addition to the Marvel Universe of the 2010s.
She's fun and entertaining and totally lovable. If you aren't currently reading Ms. Marvel, you're missing out. That thing is the bomb-dot-com. But if the MCU is going to survive into the future, it needs to keep introducing characters who don't age out of the parts within five years of getting them. So a revolution of teenaged heroes is about due.
We already have Spider-Man; maybe we should throw Ms. Marvel in there, as well. Kamala Khan is an inhuman with body-warping abilities. She can stretch a tiny bit, grow, and shrink. She can also individually alter the size of her own limbs. She patrols the streets of New Jersey, which puts her a bit outside of the Avengers' regular stomping grounds.
Having a street-level hero on the squad is a good idea, as is getting another teen to play off Spider-Man. And Kamala's a good pick for both roles.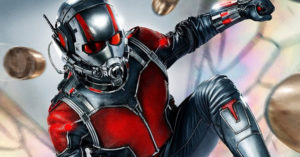 Source: cbr.com
8. Ant-Man
Scott Lang has fought alongside Captain America, but he isn't an official Avenger yet. It would be a smart idea to change that.
Scott was one of my favorite parts of Captain America: Civil War, even though he didn't spend that much time in it. Paul Rudd is a phenomenal actor, and his instant chemistry with everyone else is palpable. He's a wonderful addition to any team, both from a character standpoint and a super-power standpoint.
A character who provides pure comic relief is necessary to make a super team work, and again, when you have Paul Rudd, you use him. In addition, having a size-changer on the team allows for a whole heap of innovative fighting concepts. From shrinking and riding on an arrow to growing big and stomping on fools, Scott Lang would be a fun-as-hell addition to any Avengers line-up.
Welcome to the big leagues, Scotty.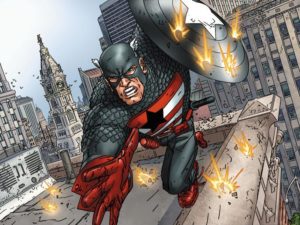 Source: comicvine.gamespot.com
7. USAgent
Out-of-left-field pick, I know, but hear me out.
Clearly someone needs to be Captain America after Chris Evans leaves, and while I'll get to the leading candidate a bit later on in this list, here's another way they could take it. John Walker started off as the ultra-patriotic Super-Patriot, and he clashed with Captain America on a couple of occasions.
When Cap retired from his identity due to government pressure, and took the identity of The Captain, Walker was tapped to pick up the shield as the new Captain America. When he realized that the job was meant for Steve Rogers, he took on a whole new identity, that of the USAgent. I'm not suggesting that the MCU version of Walker should become the new Captain America, but an Avengers squad led by a harsher USAgent with something to live up to would be great.
USAgent is a solid choice to usher in a new MCU era, an era that gives some lesser-known heroes a chance.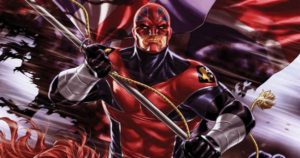 Source: moviepilot.com
6. Captain Britain
Brian Braddock is good as hell. And the MCU really does need some global expansion.
Yes, we're getting Wakanda soon, but the vast majority of current Marvel superheroes are confined to New York City. It's like anything else goes unprotected, unless there happens to be a superhero on vacation in the area. England could use a force for justice, and the Avengers could use some non-American blood.
So let's get that British Bombshell, the Great Man from Great Britain, the English Annihilator! Let's get Captain Britain! And, hey, maybe there'd also be room for some of his British pals to be introduced to the MCU. MI: 13, maybe Blade or Pete Wisdom. Sadly, Brian's sister Psylocke is all tied up in FOX rights deals, but the big man isn't.
I just want to see someone draped in the Union Jack fly out of the sky and punch a dude at Mach III. Is that too much to ask?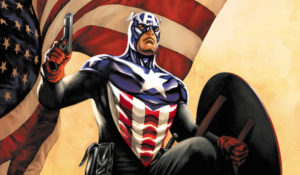 Source: cinemablend.com
5. Bucky Barnes, Captain America
The world needs a Captain America. It needs one real bad. And if we're saying farewell to Chris Evans, we need someone to take his place.
I'd be happy with either of the two choices we have on the table. Sam Wilson would make a big statement as Captain America, and he'd be a great choice, but he's already an Avenger. So I'll write about our other choice.
James Buchanan (Bucky) Barnes is currently hibernating in Wakanda, but he previously operated as the Winter Soldier. Now that he's going to be back in the fold, it should be as Captain America. After Captain America's death in 2007, Bucky stepped up and took over for several years. Some good comics came out of that, and I'm sure some good movies will, as well. In addition, Sebastian Stan is an underrated MCU treasure.
Dude's a great and charismatic actor (who looks better with his hair cut, for the record) who's been percolating under the surface for years waiting to really pop. Great in Logan Lucky, by the way. Not in it a ton, but great when he is.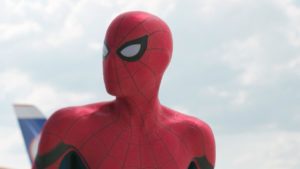 Source: gamesradar.com
4. Spider-Man
Admittedly, Peter here was offered a spot with the Avengers, but he turned it down (alongside a terrible costume that he's apparently gonna wear for Infinity War, regardless).
But there definitely should be a place in the new Avengers line-up for Peter Parker, the spectacular Spider-Man, and not just a spot in the part-time honorary crew. Spider-Man is such an excellent character, and Tom Holland is perfect in the role. Plus, as the fresh-faced kid, he has a unique perspective on superheroing that would be a welcome addition to The Avengers. And for a new generation of Avengers, a new generation of heroes needs to rise up and take their rightful places at the forefront.
Although it took him a long time, Marvel Comics' Spider-Man finally did take up a post as part of the initial lineup of the New Avengers (it was Daredevil who turned down a spot on the team that time), and has served regularly on some iteration of the team since. He was on the New Avengers, the regular ol' Avengers, the Avengers World program, and the Avengers Unity Squad.
He truly is a twenty-first century Avenger.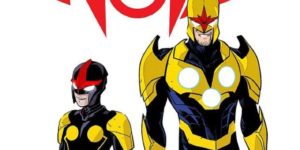 Source: notey.com
3. Nova
We have already had it rumored that a Nova is planned for the Marvel cosmic side of the MCU. But once that spacefaring sentinel makes his way home, we need to get him an Avengers membership card.
However, we still don't know which Nova will be the MCU's chosen one. Richard Rider and Sam Alexander both have their pros and cons, but either one would work excellently. Richard would work if they want a slightly older, more experienced Nova, while Sam would fill the teen hero role currently being filled by Spider-Man.
With Nova, the Avengers would have a more cosmic team member without having to strip the Guardians of one of their crew. I'd personally love to see the Human Rocket blasting off alongside Iron Man or having an enraged Hulk punch his helmet off.
If I had a preference, I'd say to go with Rider for now, with the chance to add Alexander farther down the road if they want. But either one would be a good choice.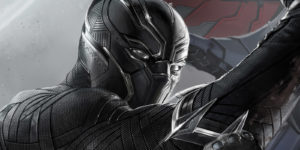 Source: blastr.com
2. Black Panther
Man, people sure are psyched for the Black Panther movie. And by people, I mean I am very excited for the Black Panther movie.
It looks like a ton of fun, and stars a great hero. Panther, as played by Chadwick Boseman, made his first appearance in the wonderful Captain America: Civil War, in which he was a scene stealer for many. And being a scene stealer in a movie that also included Spider-Man was kind of a big deal.
While I'm sure he will be, Panther NEEDS to be added to the active Avengers line-up, either during or after Infinity War. He has a great viewpoint that would greatly improve the team. Initially, Black Panther isn't really a superhero; he's a ruler and a guardian.
Protecting Wakanda is his main concern. So putting him on a worldwide team of heroes would force him to make some tough decisions about how to handle global conflict.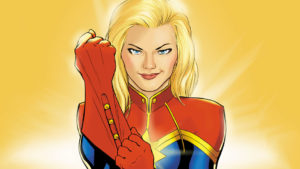 Source: marvel.com
1. Captain Marvel
This one is almost a definite.
Carol Danvers, aka Captain Marvel, is the next star to be born into the MCU. As the MCU's first woman to lead a feature film, she stands out bold and bright. She's set to enter the MCU soon, and I can't think of anyone better equipped to lead the Avengers once the original team steps out of the spotlight.
Carol is former Air Force and former NASA, and she has everything it takes to effectively command a team. She's a combination of Captain America's drive and military background, Iron Man's wit and charm, and Thor's raw power, all in one solid character.
Admittedly, we haven't seen one frame of footage of CM in action yet, but Brie Larson is signed on to play her so I have no doubt that she'll be among the best Marvel characters out there soon enough. Taking an Oscar-winning actress and casting her as a fan favorite super hero seems tailor made for success.
And there you go, my initial picks for the best MCU heroes who should be in the post-Infinity War Avengers lineup. Agree, disagree, have your own picks? Let us know in the comments!