The Marvel Cinematic universe is a beautiful coalescence of the kinds of things that make comic books work, all wrapped up into easily digestible packages. I love these movies but every once in a while a moment occurs, one tiny thing happens that makes a chill run down my spine as my blood runs cold. Just one perfect minute of a film that is emblematic of a character's entire history and what makes them great. Here, presented on a shearly personal list, are some of those moments. The ones that make you stand up in your seat and cheer, both fists raised. The big ones.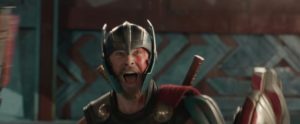 Source: digitalspyuk.com
10. Thor and Hulk Are Friends
Thor: Ragnarok
This is a small moment but it really works so well. Thor has been entered into the gladiator tournament on Sakaar and is going to have to fight their greatest champion. And then, he arrives, smashing through the doors and roaring it's"¦ the Hulk!
And Thor responds giddily and happily. He's excited to see Hulk. Hulk's "a friend from work." It's one joke, but there's so much going on in it. First, we have Thor referring to the Avengers as "work" which is really cute. It's his job, after all.
Thor, unlike the other Avengers excepting maybe Captain America, doesn't have an outside place of work, so of course he'd think of Avenging as work. Second, he refers to Hulk as his friend. That might seem silly but superheroes being actual friends with each other and not just co-workers who barely get along is a unique thing for the MCU as compared to most other superhero movie universes.
And also, Thor being genuinely excited to see Hulk, who vanished two years ago for him, is just heartwarming. It's super in character and is one of the nice little moments that makes the movie (and the MCU as a whole) work so well.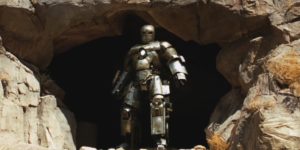 Source: fanverseglobal.com
9. Iron Man Emerges
Iron Man
We gotta date back to the first MCU movie and pick out a key moment, one that launched a franchise.
The first Iron Man movie is incredibly well paced and has a very defined three act structure. And it takes a good long time to build up to the first time we see Iron Man. And that's why it works. You've sunk a good amount of time into watching Anthony Stark struggle and fight and scrape by on his wits and you've been watching him prepare for this very moment. We see brief shots of the suit as it's being built but then this moment comes.
The Ten Rings approach the door to the cell Stark is inside, they tense. And then something starts bashing at the door. It's scary, it's tense, and it makes Iron Man's first onscreen appearance feel rickety and sketchy and perfect. When he bursts through the door, the Marvel Cinematic Universe was born in the hum of transistors and the heat of a flamethrower.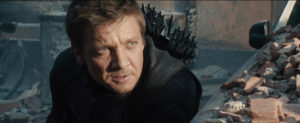 Source: digitalspyuk.com
8. Hawkeye's Speech
Avengers: Age of Ultron
Avengers: Age of Ultron gets a bad rap and it's not a perfect movie, but in retrospect, it's a lot better than I think a lot of us gave it credit for.
But even from jump street I knew the Hawkeye stuff was solid gold. As if they were making up for him spending most of the first film under Loki's spell, Avenger 2 Hawkeye is like a perfect depiction of the comic book character. And in this scene, while Scarlet Witch is panicking, he pulls her aside to give her a pep talk. And in that moment he speaks as only Hawkeye could.
This whole thing is crazy, we're just people up against the impossible, and if you can't hack it, there's nothing wrong with that. But being a hero means going out there and doing what we can. Hawkeye, the all time great redeemed villain, the normal dude fighting alongside gods, the swashbuckling f*** up who is always quick with a joke or an arrow.
And it was good to finally have him arrive.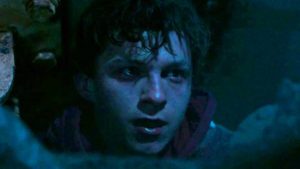 Source: empireonline.com
7. Spider-Man's Final Chapter
Spider-Man: Homecoming
Spider-Man: Homecoming is a shoot for best Spider-Man movie and has a crack at best Marvel movie.
It's such a perfect version of the character, depicted on screen in his truest form. And nothing makes that clearer than the moment towards the end of the film where they put perhaps the best Marvel comic ever on celluloid. After a building collapses on him, Peter Parker is left under tons of rubble, seemingly trapped and having failed to save those he cares about.
But, knowing exactly what depends on him, he fights back and, using all his strength to push the rubble off of him. It's a mirroring of the classic comic book image and it captures the heart of Spider-Man and why he's so great.
He's not the biggest guy but when he needs to, he digs deep  down inside to find his resilience and do what needs doing.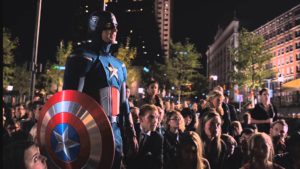 Source: youtube.com
6. Captain America Doesn't Kneel
The Avengers
A lot of these moments are just perfect encapsulations of a character and this is another one of those.
Now, Captain America was pretty much perfect from the start of the MCU but because a whole lot of people didn't get super into the MCU until The Avengers so this was their introduction to the character. And the best introduction you could have would be the one we got.
As Loki is menacing Germany, Cap arrives on the scene, standing in front of a literal god and saying that he will not kneel. He doesn't like people who demand fealty. And he will always stand up to them, even if he's the only one doing it. And that's beautiful. Steve Rogers doesn't kneel to tyrants.
He punches them right in the face and keeps on going.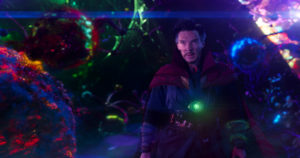 Source: knowyourmeme.com
5. Dormammu, I've Come to Bargain
Doctor Strange
Doctor Strange gets a bad rap, but it's a really fun, gorgeously designed movie.
And near the end, the way its main character defeats the immortal elder god in his way is inspired. After figuring out how to use the Eye of Agamotto to turn back time, he heads into the dark dimension, a land with no time, to face Dormammu. "Dormammu," he says, "I've come to bargain." And he is immediately killed.
But time resets. Again and again until he reveals that he has trapped Dormammu in a never ending timeloop and won't end it unless the dark one swears to leave the earth alone. It's not just smart, it's an actually elegant way to beat the villain that isn't just "hit them a whole lot until they lose consciousness". And that's what Doctor Strange is all about. He's a puzzle solver at heart, a guy who outwits the undying.
And this scene is the ultimate depiction of that.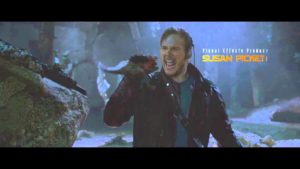 Source: youtube.com
4. Come and Get Your Love
Guardians of the Galaxy
Screenwriting is hard. And creating memorable scenes is harder. But you know what's really hard? Making an audience instantly love a character.
But holy hell does Guardians of the Galaxy do exactly that. After the flashback prologue, we are introduced to Peter Quill AKA Star-Lord as an adult. And after Indiana Jones-ing his way into some sort of ancient tomb, he pops off his space helmet, clicks in his Walkman, and plays Redbone's "Come and get Your Love" and holy heck, a beloved film franchise was born.
You could trace most filmgoers love for the Guardians to that specific exact moment. It is such a defined character introduction you could use it as a masterclass in screenwriting. You want to know what this character is about? Here you go.
In one scene you get the tone of the movie, the ethos of the main character, the aesthetics of the film, so much beautiful work all done in a scene that is also funny as all hell.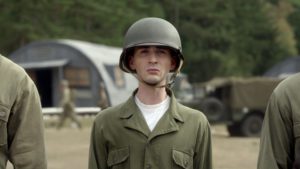 Source: marvel.wikia.com
3. Steve Rogers Doesn't Like Bullies
Captain America: The First Avenger
I WILL get through this without crying, I WILL get through this without crying.
Okay. So Captain America was a tense one to get on screen. For those who don't remember the run up to it in 2010 and 2011, people were rolling their eyes. "Captain America? Oh is that gonna be some jingoistic uber-patriot fest? How the hell will THAT ever sell overseas?" And a lot of people thought that there was no way to make a silly sounding character like Captain America work. I mean, these people would say the same about Rocket Raccoon several years later, but still. And they got the Human Torch to play Captain America? Come on man, it's gonna be a disaster.
But then we saw it. And Chris Evans absolutely defined Steve Rogers with his performance. The movie worked because it didn't roll its eyes at its main character, it took him very seriously. It was earnest. And when asked why he was fighting the Nazis, Steve responding that he "doesn't like bullies" is the perfect example of that. It was earnest and serious, but it played the inherent silliness of the character dead straight.
It's the entire movie encapsulated in one shining moment.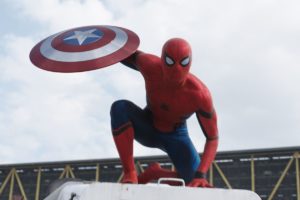 Source: theverge.com
2. Spider-Man Finally Shows Up
Captain America: Civil War
It's shocking how long it took Spider-Man to fit into the MCU in retrospect.
He's only been in three movies but it feels like he's been with us the whole time. But his first appearance was a deeply perfect moment. By which I mean his first in-costume appearance. The scene with him and Tony Stark is also great, but it was the moment when he flipped into battle, snatching Captain America's shield right out of his hands that he cemented his place.
A lot of that is how perfect the costume is, and it is indeed perfect. But Tom Holland's nervous, Queens-accented voice, the way he greets the other heroes, the instant switch between showboating badass and awkward kid? That's all Spider-Man through and through.
It's so exact that we wonder how we ever lasted without it.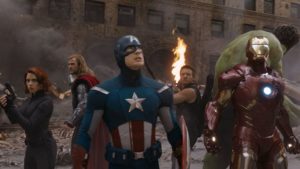 Source: marvel.wikia.com
1. This Shot
The Avengers
This shot sold the promise of the MCU.
It might be the most iconic and impactful moment in the entire franchise. You know what I'm talking about, right? The shot they ended every trailer with? In the final battle, the Avengers finally assemble in earnest and we get a 360 degree shot showing them all together. Hulk roars, Iron man comes in for a landing, Black Widow loads her pistols.
I bet we could all map it out second by second because it's so memorable. It was a huge fulfilled promise. All your favorite heroes, 4 years worth of movies, all building to seeing them all together, fighting as one. And we got it. Dear lord did we ever get it. I cannot watch this moment, with the music swelling and the beautiful cinematography, without holding my breath just a little bit. The chill down my spine is palpable even now.
it's the entire MCU perfected in one moment.