The Marvel Cinematic universe is a beautiful coalescence of the kinds of things that make comic books work, all wrapped up into easily digestible packages. I love these movies but every once in a while a moment occurs, one tiny thing happens that makes a chill run down my spine as my blood runs cold. Just one perfect minute of a film that is emblematic of a character's entire history and what makes them great. Here, presented on a shearly personal list, are some of those moments. The ones that make you stand up in your seat and cheer, both fists raised. The big ones.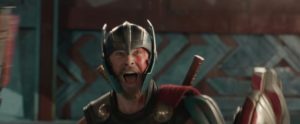 Source: digitalspyuk.com
10. Thor and Hulk Are Friends
Thor: Ragnarok
This is a small moment but it really works so well. Thor has been entered into the gladiator tournament on Sakaar and is going to have to fight their greatest champion. And then, he arrives, smashing through the doors and roaring it's"¦ the Hulk!
And Thor responds giddily and happily. He's excited to see Hulk. Hulk's "a friend from work." It's one joke, but there's so much going on in it. First, we have Thor referring to the Avengers as "work" which is really cute. It's his job, after all.
Thor, unlike the other Avengers excepting maybe Captain America, doesn't have an outside place of work, so of course he'd think of Avenging as work. Second, he refers to Hulk as his friend. That might seem silly but superheroes being actual friends with each other and not just co-workers who barely get along is a unique thing for the MCU as compared to most other superhero movie universes.
And also, Thor being genuinely excited to see Hulk, who vanished two years ago for him, is just heartwarming. It's super in character and is one of the nice little moments that makes the movie (and the MCU as a whole) work so well.