The X-Men are fantastic but they are also deeply overcomplicated and confusing. There are far too many and half of them are just alternate reality versions of the other half. It's a mess. But, as someone who loves them, I wanted to give a little brief crash course in understanding the team one by one. If you want an in depth look at the history of the team, I can heartily recommend Jay and Miles X-Plain the X-Men as much as possible. One of my all time favorite podcasts and just a delightful listen. They really helped me get into the X-Men and now, hopefully I'll help some others as well. So we're going to go through every member of the classic X-Men team in chronological order.
In this first chapter, we will cover the initial team and all of their recruits throughout the 1960s, including origins, history, and current status.
                                                                                  Source: comicbasics.com
1. Professor X
AKA "X" AKA Charles Xavier
Joined: X-Men (1963) # 1
Charles Xavier is the founder and originator of the X-Men. Born to two parents who were involved with nuclear testing, Charles lost his father at an early age and was adopted into the Marko family, an abusive home where he would eventually harness his telepathic powers. After coming of age, he left to search the world for mutants like him, eventually coming into contact with Erik "Magnus" Lensherr. The two of them became close friends but eventually diverged after it became clear that they had very different interpretations of how to help mutant kind.
Then Xavier got his spine snapped by Lucifer. No, not THAT Lucifer, the alien one. No seriously, look it up. Comics are weird. Wanting to help other young mutants, he founded the Xavier School and welcomed his first five students as a trial program. As the school blossomed, HE WOULD DIE AND COME BACK AND WALK AND GET RE-PARALYZED and you know, other normal stuff. Also, he loves his space-bird girlfriend. He was burninated by Cyclops and the Phoenix force some years ago, but now he's back and kicking amongst the Astonishing team.
CURRENT STATUS: ACTIVE (Astonishing X-Men)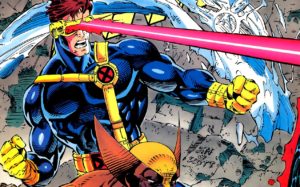 Source: blogspot.com
2. Cyclops
AKA Eric the Red AKA Phoenix AKA Slym Dayspring AKA Scott Summers
Joined: X-Men (1963) # 1
I love Cyclops. No one loves Cyclops but I do. He's a fantastic character who has grown but not changed his essential aspects over the course of 50 years.  Scott Summers was struck by tradgedy when his parents were abducted by aliens and he and his brother Alex (more on him later) were thrown from the plane wearing the same parachute.
Upon landing, Scott smacked his head so hard it caused perminant brain damage and awakened his mutant powers. That's right, you know how Cyclops can't control his eye-beams? That's not part of his power, it's because he damaged his brain. That's kinda funny.
He eventually met Professor Xavier,who gave him Ruby-Quartz glasses that could block his beams and he became the first student of the Xavier School and the first X-Man. He alternately served on and lead the team for decades, met and married his sweetheart Jean Grey (after ditching his first wife like an a-hole) and became one of the Marvel Universe's big dogs. And then he fought the Avengers, got possessed by the Phoenix, and barbequed Professor X. A little while after that, he tried to fight the Inhumans and wound up getting gassed to death.
CURRENT STATUS: DECEASED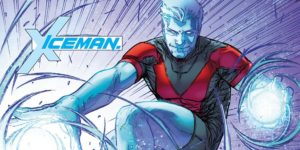 Source: womenwriteaboutcomics.com
3. Iceman
AKA Rampage AKA Frosty AKA Iceheart AKA Robert "Bobby" Drake
Joined: X-Men (1963) # 1
Iceman is my personal favorite X-Man of all time. And I know that's a weird pick. Most people would go for Wolverine or Kitty Pryde or Cyclops but not me. I just absolutely love Bobby Drake. Bobby came from a pretty normal home but in his early teenagerhood, he was attacked by a bully and recponded by encasing the dude in solid ice. The town panicked and Professor Xavier came and rescued him, making him the second X-Man. Bobby was the youngest of the original team and had a sort of immature jokester mentality.
However beneath all that, he's been revealed as an omega level mutant with incredible potential. Over the years, he has really grown up, becoming a brave and strong while still maintaining his sense of humor. A few years ago, with the help of a time travelling younger version of himself (just go with it), Bobby finally came to terms with his sexuality and came out of the closet as a gay man. And, as a straight guy who loves Iceman and related to him more than any other X-Man"¦ I like it.
And TBH it doesn't make me relate to him any less. I mean, I'm not gay myself but I also can't shoot ice out of my hands and that never stopped me. Plus the Sina Grace-written Iceman series is one of the most fun Marvel comics in a few years. And not only is it cool to have an openly gay founding X-Man, Iceman possibly being gay was hinted at since all the way back in the "˜80s so anyone who tells you it "came out of nowhere" just plain doesn't know their comics.
CURRENT STATUS: ACTIVE (Uncanny X-Men)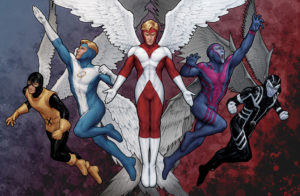 Source: actionagogo.com
4. Angel
AKA Archangel AKA Death AKA Apocalypse AKA Warren Worthington III
Joined: X-Men (1963) # 1
The high-flying Angel is maybe the most changed of the X-Men throughout time. Warren started as the most physically outcast of the team, with his huge wings having to be restrained with harnesses under his clothes. After he left the X-Men, he spent some time with the Defenders and Champions, where he got two incredible costumes. They rule.
When he returned to join the original X-Factor squad, he got his wings impaled and surgically removed. This made him suicidal and he was captured by Apocalypse and given new metal wings, turning him into the Horseman of Death.  This would kick off Warren's Scene period, in which he would rename himself Archangel. And writers would get super indecisive about which version of the character they wanted so he's pinballed back and forth forever since.
CURRENT STATUS: ACTIVE (Unassigned)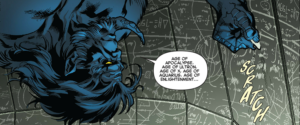 Source: tinypic.com
5. Beast
AKA Henry "Hank" McCoy
Joined: X-Men (1963) # 1
The Beast is a weird one. He started as just a dude with big hands and feet who could also jump around. But then he experimented on himself and turned himself into the world's earliest recorded furry. He tends to be the X-Men's official science guy due to his intelligence and high-falutin' attitude.
He was also the first X-Man to cross the desert and get himself on the Avengers, setting a precedent others would later follow. (Scarlet Witch and Quicksilver would be the first mutant Avengers but neither were ever X-Men). Beast would continue mutating later, when his secondary mutation turned him into a cat-man.
Experimenting even more with his own DNA turned him into the current neo-classic Beast we have now. I mean, I like it better that friggin' cat-Beast, and I like the Morrison X-Men run.
CURRENT STATUS: ACTIVE (Astonishing X-Men)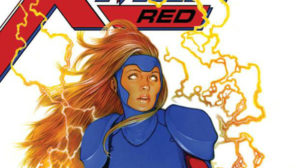 Source: antyradio.com
6. Jean Grey
AKA Marvel Girl AKA Phoenix AKA Dark Phoenix AKA Redd Dayspring
Joined: X-Men (1963) # 1
The most convoluted X-Man this side of Wolverine, Jean was the final addition to the original team. She stuck around through the Uncanny years, got swapped out with a space bird goddess, appeared to die, resurfaced in Jamaica Bay, founded X-Factor, went back to the X-Men, died for real, and just recently came back again.
There are a lot of jokes about Jean's frequent deaths and rebirths, but there really aren't that many. And I'm actually glad she's back since she serves a great purpose in modern X-Men comics. Plus, Jean's been dead since, like, the Morrison run so maybe after 15 or so years without her, she has a place waiting for her in the X-Men universe again.
CURRENT STATUS: ACTIVE (X-Men: Red)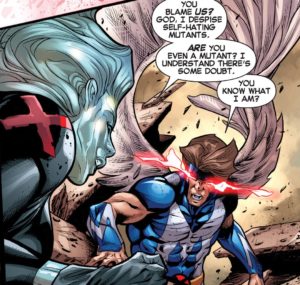 Source: marvel.wikia.com
7. Mimic
AKA Calvin Rankin
Joined: X-Men (1963) # 27
And here's where we start getting to the weird ones. Calvin Rankin AKA Mimic was the first non-original mutant recruited to the X-Men, even if he didn't last too long. His powers allowed him to mimic the unique abilities of anyone within a certain (poorly defined) radius of him.
After fighting the X-Men and then apologizing, Mimic would get his shot on the team when Jean Grey had to temporarily leave the Xavier School. Dude even made Deputy Leader. Unfortunately, he wasn't patient enough or humble enough for the X-Men and lost his powers in a fight. He'd regain them and spend a few decades as a villain again.
Even serving on Norman Osborn's Dark X-Men trial team until HAMMER totally fell apart. The X-Men tried to recruit him again but he and his Dark X-Men buddy Weapon Omega were just done with being X-Men.
CURRENT STATUS: ACTIVE (Independent)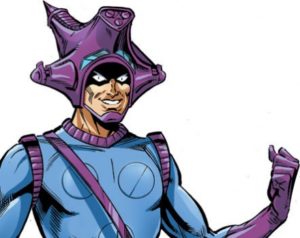 source: hero.wikia.com
8. Changeling
Joined: X-Men (1963) # 40
Changeling is one of the least developed X-Men so wringing a paragraph out of talking about him isn't easy.
He originally was a villain working with Factor Three, an organization that also weaponized Banshee, but he was defeated and betrayed the evil organization. He was a shapeshifter, if that wasn't clear from the name, by the way. But Changeling would soon discover that he was dying of cancer and would arrive at the X-Mansion seeking help. And Xavier, who is a huge jerk, saw this dying man as a golden opportunity.
See, Xavier had detected an alien invasion from a race called the Z'Nox and needed to prepare SO HE HAD A PLAN. He would go prepare and Changeling would take his place with the X-Men, while pretending to be him. I have no clue why he did this and didn't just tell his students all of this. Changeling was killed, and the X-Men buried him, still thinking he was Professor X. God that's sad.
CURRENT STATUS: DECEASED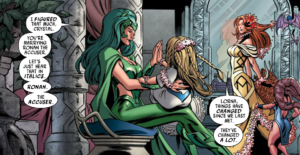 Source: tumblr.com
9. Polaris
AKA Magnetrix AKA Malice AKA Pestilence AKA Lorna Dane
Joined: X-Men (1963) # 60
Any of you familiar with the FOX show The Gifted are already familiar with Lorna Dane, albeit a different version. Lorna was the illegitimate daughter of Magneto and inherited his magnetic superpowers, but with sweet green hair as a bonus. She was discovered by the X-Men and joined the team for a time, where she'd meet the love of her life, Alex Summers, who we're talking about next.
She and Alex tried to retire from the X-Men numerous times but they just kept getting dragged back in by various superhero events. She would eventually give up and go superhero full time alongside her beau on the second iteration of X-Factor. Her powers were stripped during M-Day but Apocalypse gave them back with a heavy supply of "being a horseman of Apocalypse". She bounced around a lot but usually found herself on the many incarnations of X-Factor, sometimes alongside Havok, sometimes not.
CURRENT STATUS: ACTIVE (X-Men: Blue)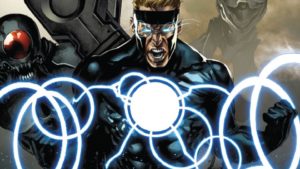 Source: syfy.com
10. Havok
AKA Magistrate Summers AKA Goblin Prince AKA Alex Summers
Joined: X-Men (1963) # 65
Havok is in my top five favorite X-Men of all time and I can't quite figure out why. Cyclops's brother, Alex gained more focused powers, able to radiate force blasts from his chest outwards. He got a great costume and joined the X-Men. Like I previously mentioned, he and Polaris operated as a sort of package deal on various X-Men and X-Factor teams, usually with Havok leading. I just love that Havok is stuck in the shadow of Cyclops. The world's most stick in the mud adult. And Havok has to be just as much of a stick in the mud sometimes. But he gets to do interesting stuff too!
One time he got lost in another dimension full of evil versions of the X-Men and he had to pretend to also be evil. Oh and also he lead an Avengers team. Yeah, Captain America chose him to be the guy in charge of the Avengers Unity Squad, a team designed to bring together mutants and humans. And he did a great job"¦ until he turned evil. But he's fine now. And is leading an X-Men team again!
CURRENT STATUS: ACTIVE (Astonishing X-Men)
And there you have it, every member of the X-Men added in the 1960s. Next time, we'll power through a retcon and cover the classic beloved Uncanny team. Wolverine fans, you're coming up soon.