DC's Elseworlds was a line of fun alternate reality stories and mini-series published mostly in the mid to late nineties. Each one explored a different, unique scenario that could never be done within the normal DCU continuity, transporting our favorite heroes to new locales and time periods to see what kind of stories resulted. And the result was usually super-duper fun! And every once in a while it was really, really bad, but we're not talking about those times today.
We're talking about the most common types of Elseworlds stories. Because whenever you give a creator free reign to write whatever he wants, he'll always wind up writing"¦about Batman. But I've already talked about the Batman Elseworlds, so this time let's talk about the Superman stories.
So come with me as we ask the question:
"What if Superman"¦
                                                Source: comicvine.gamespot.com
10. The Superman Monster
"¦were the Frankenstein Monster?"
Yes, there was also a Batman Elseworld where HE became a Frankenstein. No, I don't know why DC's so obsessed with making characters into Frankensteins.
But anyway, this story follows Vicktor Luthor, who finds a crashed rocket with a dead baby inside. The rocket blasts Luthor with the history of Krypton, and he discovers how to use the rocket's built in Revival Matrix to bring back the dead. So he gathers a buncha dead people parts and makes a Frankenstein. The Frankenstein wanders off, as Frankensteins are wont to do, and it meets Johan and Martha Kant, who name him Klaus. Vicktor leads a mob to the Kants' home.
Stuff goes as you'd expect: Klaus escapes, Vicktor dies. It's a Frankenstein story – you know how these go.
It's a fun one and it interestingly sticks closer to the original novel, as opposed to the more iconic Universal Film. Give it a read.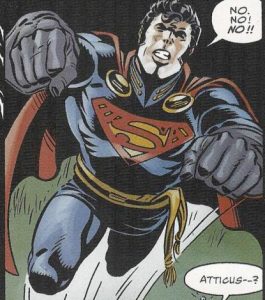 Source: comicvine.gamespot.com
9. Superman: A Nation Divided
"¦fought in the Civil War?"
A Nation Divided is actually a pretty fun story for how short it is. In the tale, Private Atticus Kent of the Union Army is hit with a cannonball. He then discovers that he's super powerful, and just full-stop charges into Confederate troops and knocks "˜em down like bowling pins.
He is then deployed by General Grant and President Lincoln as an agent of freedom. PS: The fact that the S on his chest is now the center of the word USA written across his pectorals is kinda awesome.
But Atticus winds up doing more damage to the Confederates than Sherman's march to the sea, and forces Robert E. Lee to surrender. He also stops the assassination of Lincoln before setting out to become a cowboy in the American West.
Not gonna lie, this is mostly on here because it is ridiculously satisfying to watch Superman beat up Confederate soldiers by the dozens.
SO SATISFYING.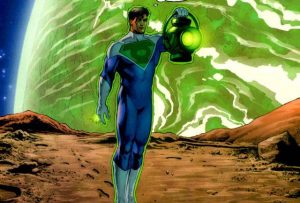 Source: comicvine.gamespot.com
8. Superman: Last Son of Earth
"¦were born on Earth and sent to Krypton?"
COMIC BOOKS. CONFUSION. EXCITEMENT. Yeah, this one is more complicated a sell than the rest of the stories.
So Clark Kent was born on earth, right? But earth was about to be hit with a meteor, so his father Jonathan put him in a rocket and shot him into space to keep him safe, ok? So he lands on Krypton, where the red sun and enhanced gravity make him unable to live without an exoskeleton. But then, a Green Lantern dies, Clark gets the ring, and now he's a Green Lantern himself.
But then he remembers, "Hey, I was from earth, I should head back there." So he goes to earth, which is pretty much fine. He falls in love with Lois Lane and fights Lex Luthor. But because he was on Krypton for so long, he has adapted to its atmosphere, so on earth he has superpowers.
Got all that?
I can't hear you.
No, seriously, this is a one way, text-based interaction. I literally can't hear you. So me asking was kinda pointless and confusing. As confusing as the very comic book we are currently talking about!
FULL CIRCLE!

                                                   Source: 4guysandazombie.com
7. Superman: Speeding Bullets
"¦were Batman?"
This is another one of those Elseworlds stories with a great premise that doesn't entirely deliver.
In this one, baby Kal-El is discovered by Thomas and Martha Wayne, who name him Bruce. So when the Waynes are (spoiler alert) murdered, Baby Bruce uses his new superpowers to become the dark vigilante known as the Batman. Until, that is, he grows out of it and goes on to become the bright and colorful hero we all know.
If all of that sounds familiar, it's because this was on my list of Batman Elseworlds, but hey, it counts here too and that means slightly less re-reading for me to do. As I said last time, this one is good, but it falls short of greatness. It's such a great premise that the actual book itself doesn't really compare to the potential.
But I do still love the idea that Batman was just Superman's equivalent of a Hot Topic phase.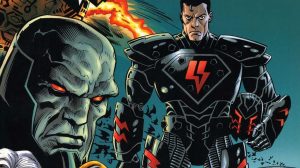 Source: geeknation.com
6. Superman: The Dark Side
"¦were raised by Darkseid?"
OK, OK, CALM DOWN. I will explain why that clearly awesome idea is so low on this list.
It's because "Superman is Darkseid's adopted son" is the premise of the first issue and the first issue only. The rest is about Kal learning to be a hero and betraying Darkseid. It's still a fun read, and I respect anything that pays as much tribute to Jack Kirby's Fourth World as this does, but it just feel like it falls short of the promise it made.
And while I get a guilty sense of pleasure out of the ridiculous armor Evil Superman wears, it doesn't last nearly long enough.
It's essentially the plot of the first Thor movie, if Thor had been banished for NUKING A PLANET. Yeah, Supes exterminates all life on New Genesis. And then we're supposed to accept him as a redeemed hero because now he knows it's wrong. Well, I'm glad he knows genocide is wrong NOW. That makes it all better.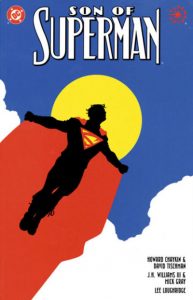 Source: wikipedia.com
5. Son of Superman
"¦had a son?"
This one is decently fun and is maaaayyyyyyybe still in print. Maybe; I'm not sure.
In the story, Jonathan Kent is your typical teen living in the future. One day, his life starts to get all weird as he starts to develop superpowers. He confronts his mother, Lois Lane, about it and she tells him the truth: His father was Superman himself before he disappeared. Jon starts taking on the role of Superman until the aging Justice League takes note of him. After Jon finds a top secret government base where his father is being held and frees him, they go off father and son Superman-ing.
But Clark and Jon disagree about politics and The Man because this comic is kinda dated in late '90s edginess. Like, I never ever criticize something by saying, "Ugh, that is, like, so (insert specific year here)" because I think doing that is s***y, unprofessional criticism. But, yeah, it is indeed obvious that this comic came out in 1999. Reeeeaaaally obvious.
But it's still an enjoyable read and if you can find it, check it out.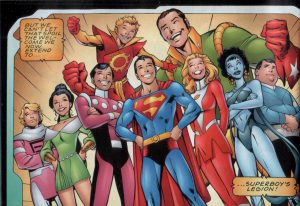 Source: openlettersmonthly.com
4. Superboy's Legion
"¦landed in the far future?"
This one really barely feels like an Elseworlds story. Although that might be because "someone wrote a new origin story for the Legion of Superheroes" is a phrase spoken only slightly less often than the phrase "Why is Kelsey Grammer in this terrible movie?". But this is a fun one of those.
In the story, baby Kal-El lands in the 30th century and helps found the Legion of Superheroes, alongside Saturn Girl and Cosmic Boy. The first half of the book covers the Legion getting together, and as such is mostly introduction. The only real story beat is Ultra Boy being a mega jerkface, but that gets resolved pretty quickly. The rest of the thing is about Superboy's Legion fighting the Fatal Five.
It's mostly just typical Legion of Superheroes fair, but I like that stuff, so I like this. And you probably will too.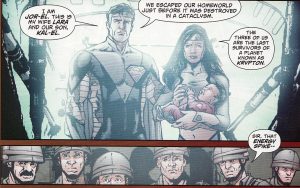 Source: comicboxcommentary.com
3. Superman: The Last Family of Krypton
"¦weren't the only one to come to Earth?"
Last Family of Krypton is actually quite a brilliant set up by old school great Superman writer Cary Bates.
The premise? Jor-El and Lara escape the destruction of Krypton with their son, landing on earth in true "we come in peace" fashion. Jor-El uses Kryptonian technology to start Jorcorp while Lara starts Scientology Raology. Kal is given to the Kents so he can be rasied as a naturalized citizen. And it plays out from there. Lex Luthor is taken in to work at Jorcorp as the son Jor-El never had (cold, rational, logical), Lara saves Bruce Wayne's parents, and so much more.
The series is a fascinating exploration of why Superman is the way he is and it's because of his real parents. By which I mean Jonathan and Martha Kent.
People don't really seem to acknowledge it, but Superman is kind of the premier adopted Superhero and it's nice to get a story that addresses how important that is.
Also, the idea that the Els accidentally stopped multiple DC superheroes from having their origin stories is great.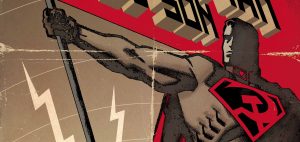 Source: themarysue.com
2. Superman: Red Son
"¦landed in communist Russia?"
Superman: Red Son is really, really clever and entertaining. Mark Millar tells the story of the Soviet Superman and his battle with American Scientist Lex Luthor and the Russian terrorist known as Batman.
Plus tragic Bizarro, monarchical Wonder Woman, and the USAF Green Lanterns. It's a smart book, and one that you really should check out if given half a chance. It's a thoughtful examination of who Superman is and why he is that way.
Plus, it's a great look at the horrors of an authoritarian Superman, but one that also shows that no matter what, Superman is still Superman. And although I think the very end crosses the line into being too smugly clever, I appreciate the book as a whole and think it's one of – if not the – finest of Millar's comics.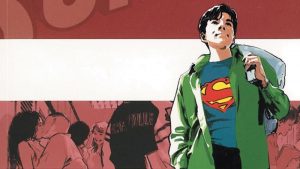 Source: comicsverse.com
1. Superman: Secret Identity
"¦lived in our world?"
I love Superman: Secret Identity so diddily-darn much.
The story follows a young boy named Clark Kent who"¦is relentlessly mocked by his peers and his classmates for being named after a comic book character. Admittedly, at least if you have to be named after a comic book character, better to be Clark Kent than Roy G. Bivolo. So you LUCKED OUT, mister.
But anyhoozles, the actual story continues from there, with Clark going out into the woods on a camping trip to clear his head"¦only to wake up floating 50 feet in the air. As Clark begins to manifest Superman's classic power set, he has to deal with unwanted publicity and the intervention of the US military in one of my favorite Superman stories ever. It's just so perfect.
Kurt Busiek's writing is excellent as always and Stuart Immonen's artwork is heart-stoppingly beautiful. And these two creators, whose worst stuff is better than most people's best, work together to bring this virtually perfect piece of comic booking excellence to life.
Perfection.