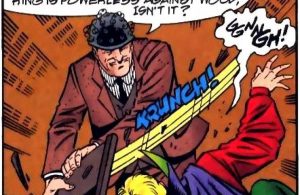 Source: idigitaltimes.com
9. The Thinker
Cliff DeVoe was a brainy Keystone City District Attorney who literally disgraced himself rather than harshly question a woman. He presumably ended the case by tipping his fedora at her and muttering, "M'lady."
Newly out of work, Cliff went to a local mob boss and offered to work for him as a "thinker" who could cleverly work behind the scenes to keep the boss' criminal underlings  out of jail. Through this role, he eventually managed to take over the crime family as The Thinker. And Jay Garrick, alias The Flash, threw him in jail.
Cliff decided to defeat The Flash with numerous scientific inventions, the best of which was his Thinking Cap, a helmet designed to boost his brainpower and produce a mental force. Using the Cap, Cliff menaced Keystone and The Flash for years, joining forces with Icicle and Fiddler on numerous occasions.
Eventually, after a near-death experience during a Suicide Squad mission, Cliff had a change of heart and reformed, befriending his former nemesis before he died.