I've talked about it before, but The Flash is by far my favorite DC superhero, and may be my favorite comic book character of all time. He also has my bar-none favorite rogues gallery of memorable villains. The whole squad of Rogues and assorted Flash baddies are my super favorites. Even the weird ones. Oh, who am I kidding? ESPECIALLY the weird ones. And here are some of those weird ones.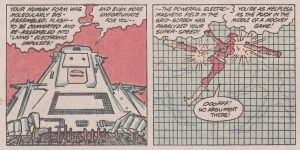 Source: getmovienews.com
10. Colonel Computron
I LOVE Colonel Computron. He's the friggin' bees knees.
The W Wiggins Toy Company made a mistake one day, and inspired a vicious criminal to adopt the persona of one of their toys and start a horrible criminal rampage. And that guy called himself"¦Captain Boomerang. And then, a couple of years later, the exact same thing happened all over again, but this time Colonel Computron was created.
Look, Willard Wiggins, I'm not going to tell you how to do your job, I'm not even going to openly mock your name, but maybe, MAAAAAYYYYYYYYBE, if your company creates not one but TWO distinct supervillains, maybe you should reconsider your methods? Colonel Computron patterned himself after the Captain Computron toy, and beamed The Flash into a video game, because this was the eighties and video games were cool.
Seriously, this dude was just a fad-based supervillain. So we're lucky that in the last five years we haven't seen a supervillain based on Silly Bandz or Fidget Spinners or Wacky Stabbers or whatever.
What's great about that joke is that I totally made up one of those three things, but a year from now, no one will remember which one is fake.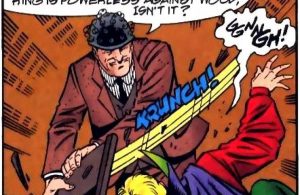 Source: idigitaltimes.com
9. The Thinker
Cliff DeVoe was a brainy Keystone City District Attorney who literally disgraced himself rather than harshly question a woman. He presumably ended the case by tipping his fedora at her and muttering, "M'lady."
Newly out of work, Cliff went to a local mob boss and offered to work for him as a "thinker" who could cleverly work behind the scenes to keep the boss' criminal underlings  out of jail. Through this role, he eventually managed to take over the crime family as The Thinker. And Jay Garrick, alias The Flash, threw him in jail.
Cliff decided to defeat The Flash with numerous scientific inventions, the best of which was his Thinking Cap, a helmet designed to boost his brainpower and produce a mental force. Using the Cap, Cliff menaced Keystone and The Flash for years, joining forces with Icicle and Fiddler on numerous occasions.
Eventually, after a near-death experience during a Suicide Squad mission, Cliff had a change of heart and reformed, befriending his former nemesis before he died.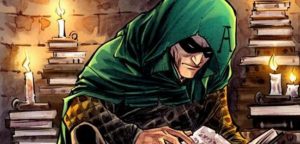 Source: heroesvillainsandsidekicks.com
8. Dr. Alchemy
Everyone knows Two-Face. Everyone loves Two-Face. But where's the love for some of the other split-personality supervillains?
There are a bunch of them. And a lot of them are pretty cool. Especially Albert Desmond.
Desi started his criminal career under the name Mr. Element, with a freaky gas mask and a special pistol. After The Flash hauled him to jail, Albert discovered the legendary Philosopher's Stone (which, unlike the Sorcerer's Stone, is a thing), and went through a successful re-branding to become Dr. Alchemy. Also, he had a twin brother named Alvin, who turned out to not even be real, because Dr. Alchemy is a weird character with a needlessly complicated history.
Desmond's weird planning also ran afoul of The Batman when he started setting up bonus labs in Gotham City. This caused the GCPD to team up with the KCPD in a fantastic arc of Gotham Central.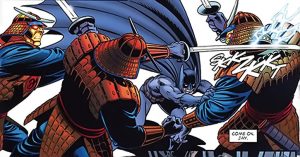 Source: writeups.com
7. The Samuroids
God darn, I love the crazy weird Silver Age BS that came about in the '60s.
Like the Samuroids, which are giant samurai robots. Giant. Samurai. Robots. That's just straight-up perfect. They couldn't get any better. Except they one thousand percent could, because they were invented by a guy named Baron Katana.
They were built so the Baron could revenge himself on the United States for World War 2. The Samuroids were built with jet packs, which is rad, and lightning swords, which is double rad. On a trip to Japan, Barry Allen found the Samuroids and Baron Katana and stopped them from ending the world.
Years later, The Penguin bought a cache of the things and re-weaponized them with Dr. T. O. Morrow's help. Jay Garrick and Batman destroyed the new batch. Finally, during the DC Rebirth event, "The Button", The Samuroids made a quick cameo re-appearance as the threat, distracting The Flash and keeping him from helping Batman in his fight with The Reverse Flash.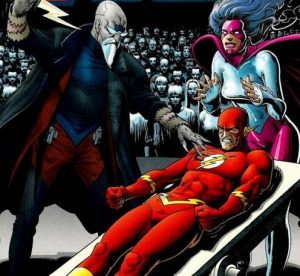 Source: headhuntersholosuite.wikia.com
6. Cicada
David Hersch was your typical wife-murdering psycho, except for one thing: he felt a little bad about it.
So he was racked with guilt, and decided to end his own life for good, buuuuut he got struck by lightning and gained his own speed force-adjacent ability: the power to steal other people's life forces and add them to his own lifespan. He also became crazy obsessed with The Flash, convinced that the two were united by a shared origin.
Hersch took on a new identity as a cult leader, going by Cicada, a name coined for his lengthy lifespan. He gathered followers who believed that Cicada, if supplied with enough life force – including the Flash's – could resurrect his dead wife. Turned out, he could! Working with Magenta, Cicada captured and stabbed Wally West with his special knife, absorbing his life energy and that of every person he'd ever saved (which, as a Justice Leaguer, should include everyone on earth, five times over, but whatever), and brought his wife back.
His wife freaked out because, reminder, it was Cicada who MURDERED HER IN THE FIRST PLACE. And Cicada killed her again. The Flash kicked his ass, and then he was imprisoned and shot into space. Look, comics are weird, okay?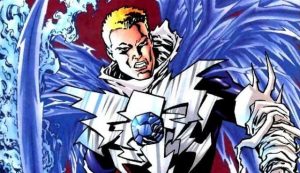 Source: laatinoreview.com
5. Cobalt Blue
Hey, remember Barry Allen? Of course you do. Remember his twin brother? No? Well, let's talk about him.
In a plot twist ripped straight from a soap opera, it turns out that Nora Allen gave birth to twins, but one was swapped out for another woman's stillborn infant. That woman: Charlene Thawne. Thawne? But""yes, yes, you are getting ahead of me here. Hang on a minute.
The baby, raised as Malcolm Thawne, grew up wondering why he didn't have the same blue fire powers as his parents. When he discovered the truth, Malcolm tracked down his twin brother, and even got a job as a janitor for the CCPD to get closer to him. After his grandmother taught him the secret of the blue fire, Malcolm decided to destroy his twin (who, he had discovered, was secretly The Flash) under the name Cobalt Blue. He lost. After Barry died, Blue resurfaced, only to get his butt thoroughly handed to him by Wally West, Barry's successor.
Oh, also, the Thawne family line would eventually lead to Eobard Thawne, The Reverse Flash. That, too.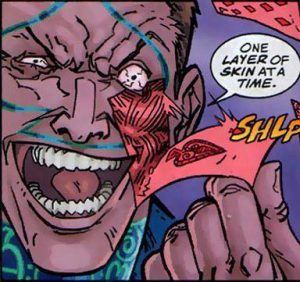 Source: dc.wikia.com
4. Double Down
Welcome back to another edition of if your last name is a double entendre, DO NOT live in the DC Universe, because you WILL be turned into a supervillain, and that will be no one's fault but your own.
This time, Jeremy Tell. He was a gambler/con man. Get it? Tell, like how some people have a tell when gambling? Get it? Well, he ran afoul of a gambler with a cursed deck, and that deck of cards flew at Tell, burned off all of his skin, and bonded to his body as new skin.
Jeremy found that he could peel off his new skin into razor sharp skin playing cards and throw them at people. Um, gross? And also dangerous. No, not for the people who are being impaled by playing cards, but for Tell himself. What do I mean? Well, I'll explain.
There is a reason we have skin. It's not super healthy to keep pulling it off and flinging it at people. That s**t will get you infected VERY QUICKLY.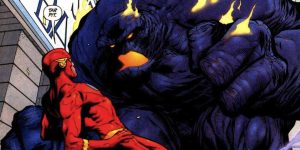 Source: birthmoviesdeath.com
3. Tar Pit
Joey Monteleone is a real glass-half-full kinda dude.
His older brother Jack was a drug kingpin in Keystone, and Joey took right to helping him with runs. But Joey got arrested. But, hey, no problem there, either. In prison, he practiced meditation and relaxation, which allowed Joey to discover his secret mutant ability. That ability was to beam his consciousness into objects and bring them to life.
He did this for a while, until he accidentally beamed himself into a vat of boiling tar and got stuck being that forever and ever. So he became a burning tar man. Like Clayface, but made of tar, and also constantly on fire. But he was totally cool with being that. See what I mean? Glass-half-full kinda dude. He spent another long period of time getting beaten up by the Flash, and was last seen getting beaten up by Kid Flash on Christmas Eve.
Still kept his sunny outlook, though!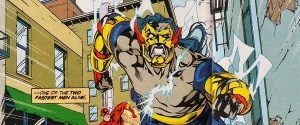 Source: cinemablend.com
2. Savitar
Another evil super speedster, yes, but one from Mark Waid's Flash run, so he's obviously a great one.
Savitar was a Cold War era test pilot, test flying supersonic fighter jets. During a routine test flight, his plane was struck by lightning. Fun fact: This happens to planes LITERALLY ALL OF THE TIME. Like, if you've ever been in a plane, you've most likely been in a plane that was struck by lightning. It is shockingly (pun intended) common. But this time, for some reason, this lightning strike downed the plane and gave the pilot super powers. He realized that not only was he super fast, he could also weaponize his speed and use it to heal himself.
He also went totally coo-coo for cocoa puffs, named himself Savitar after the Hindu God of Motion, and decided to hunt down and kill other speed force users. Wally West eventually imprisoned him in the speed force, Barry Allen accidentally let him out, and then Allen accidentally killed him.
Oops.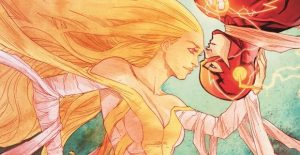 Source: screenrant.com
1. Golden Glider
Evil runs in the family. Especially in the Snart family.
Older brother Leonard became the ruthless and mercenary Captain Cold, and his sister Lisa was headed down much the same path. When she started dating one of her bro's buddies, specifically Roscoe Dillon, aka The Top, Lisa learned how to spin herself incredibly fast. She took on a role as a member of the Rogues and a villain in her own right.
She also found herself equipped with a cold gun and some ice skates capable of producing their own ice. She also occasionally used her boy-toy Roscoe's top weapons when they came in handy. In the end, she renounced her villainous ways, and took on the role of a rescue and recovery expert. Then back to crime again, and then to a short stint as a weapons supplier to numerous supervillains, under the name Chillblaine. Short, because one of them killed her.
And there you have it, some of my favorite C and D-List Flash villains for you to appreciate and learn about. Hope you enjoyed! I could do an endless number of these. Next time, the Fiddler and Rival!