Hey, you know who has a bunch of villains? Green Arrow. That dude has some cool villains. Not, like, as many as Batman or Spider-Man, but still! He has some! And I want to talk about them. Now, these villains are eligible based on what I feel counts as Green Arrow villains, because there's no definitive list. For instance, Prometheus? Not a Green Arrow villain. Justice League villain? Yes. Batman villain? Arguably. The dude fought Green Arrow like twice. If that counts, Weather Wizard's a Batman villain. But you know who DOES count?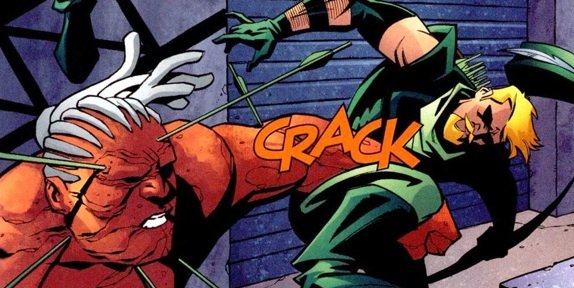 Source: comicvine.gamespot.com
10. Brick
After Green Arrow dealt with a buncha demons and stuff, Star City was a city without a crime lord. Until Danny Brickwell stepped in.
Brickwell was a hired enforcer secretly harboring a devious criminal mind. He began conquering Star City's gangs and making them a well oiled machine, especially in terms of the drug trade. And the Mafia took notice. They invited Brickwell, now just going by Brick, to a dinner and threatened him. He responded by having the gang annihilate the restaurant with a rocket launcher. Brick, invulnerable, walked out unscathed.
That's some hardcore s**t right there. Like, for serious.
Green Arrow eventually dueled with Brick, and almost suffocated him with a glue arrow, leading Brick to back off in his operations. He was eventually murdered by Cupid, a much worse Green Arrow villain. But then, he showed up perfectly alive not too much later, because sometimes editors make mistakes (Not ours though, they are wonderful).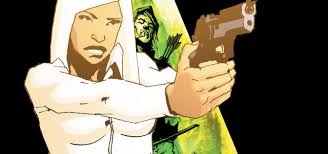 Source: greenarrowtv.com
9. China White
Green Arrow: Year One is hands down my favorite Green Arrow story of all time.
It's an origin that's action packed, character focused, and has a great villain. That villain being China White. Real name Chien Na Wei, White took over the South Pacific drug trade, controlling heroin imports for most of the world. She began manipulating millionaire idiot Oliver Queen into unknowingly financing her operations.
But when Ollie started to notice something was up, White had him thrown from his boat, the Pacific Queen, hoping he'd drown. Unfortunately for her, Oliver survived, and washed up on her supply island. He found White's poppy fields and waves of slave labor, and decided to take her down, while also teaching himself to not die. During this journey, he became the Green Arrow, and gained the courage and survival skills he needed to topple White's empire.
Sorry, China, looks like you threw the wrong guy off a boat!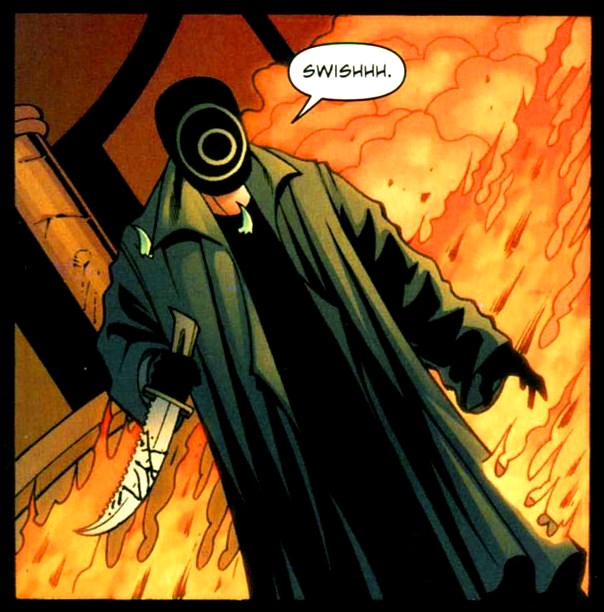 Source: dc.wikia.com
8. Onomatopoeia
Onomatopoeia (which I'm just gonna shorten to "O" from here on out, for convenience's sake ) is a creepy serial killer who tends to target non-powered superheroes. He seems to have a compulsion to verbally imitate the sound effects he hears around him, which is how he earned his name.
His first major target was Connor Hawke, the second Green Arrow, whom he shot. Connor was saved by his father, Oliver Queen, who scared O off. O returned to murder Connor in his hospital bed, only to have Oliver and Black Canary stop him yet again.
He participated in the Battle of Metropolis, alongside the Secret Society of Supervillains, and was even considered for Suicide Squad recruitment during the Missing Year, but he didn't pop up in earnest until he started masquerading as new hero Baphomet and hanging out with Batman.
He eventually revealed his true identity, aaaand…We don't know, because, holy heck, can Kevin Smith not finish a comic book to save his life. I get it, he's busy, but still.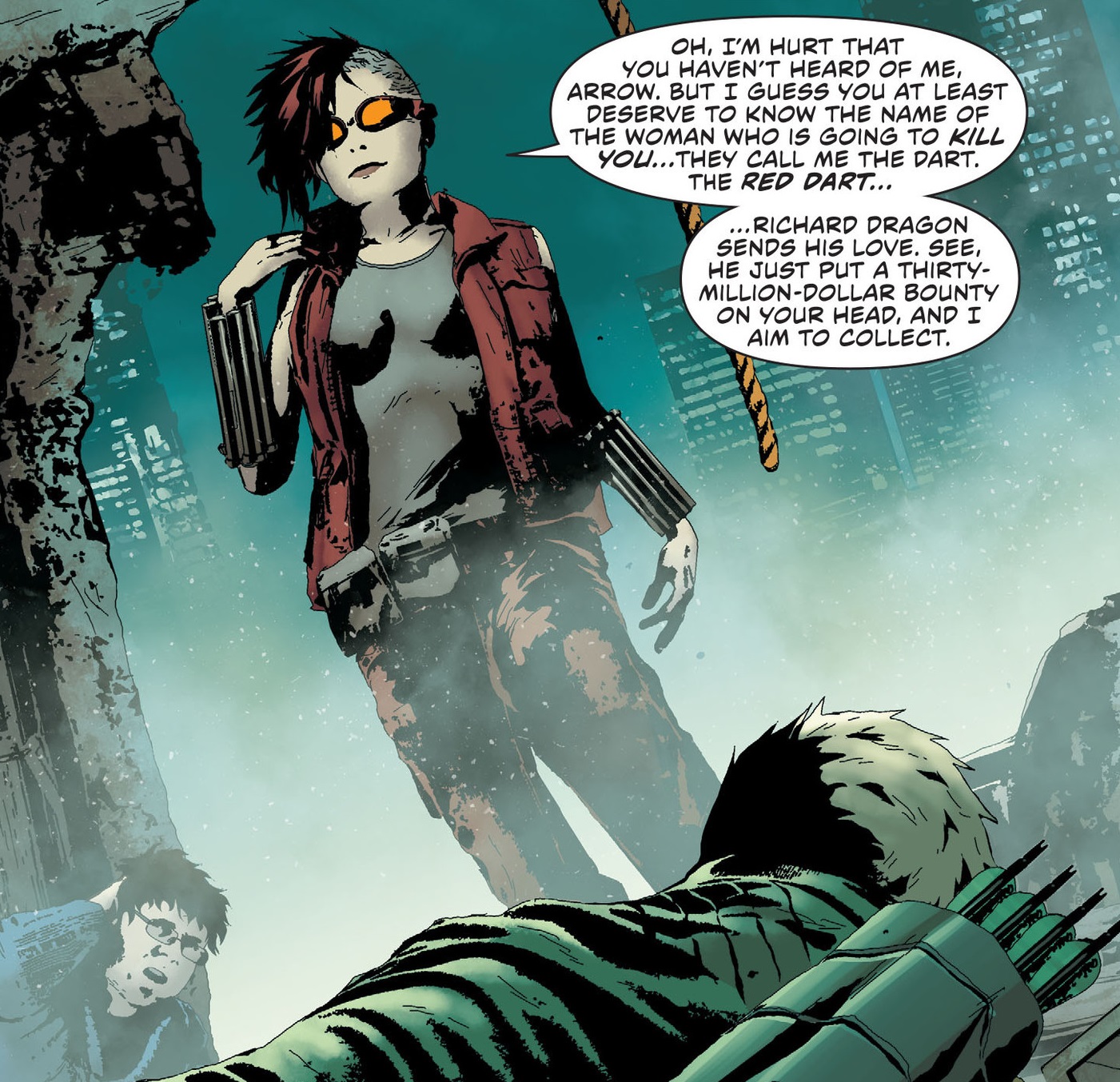 Source: comicvine.gamespot.com
7. Red Dart
There have been multiple Red Darts throughout time, none of them SUPER notable, but all of them interesting.
The original Red Dart was Jonathan "Midas" Mallory. Mallory pretended to be a hero to trick Green Arrow and Speedy, who was his ward at the time. But he failed, and the duo beat down his male pattern baldness ass.
The second Red Dart was named Anthony. He appeared in exactly one issue of JLA, and then never showed up again. But he WAS technically created by Grant Morrison and Howard Porter, so that's one hell of a pedigree for a dude who barely exists. Dude did steal Kyle Rayner's Green Lantern ring during a prison riot, though, so that gets some props from me any day. Plus, he gave the ring to Prometheus, setting up HIS assault on the League.
The third Red Dart is from the New 52 continuity, wherein which she rolls around armed with wrist-mounted dart launchers. She teamed with Brick and Killer Moth under Richard Dragon's guidance, but got her butt whooped by Green Arrow and his own team.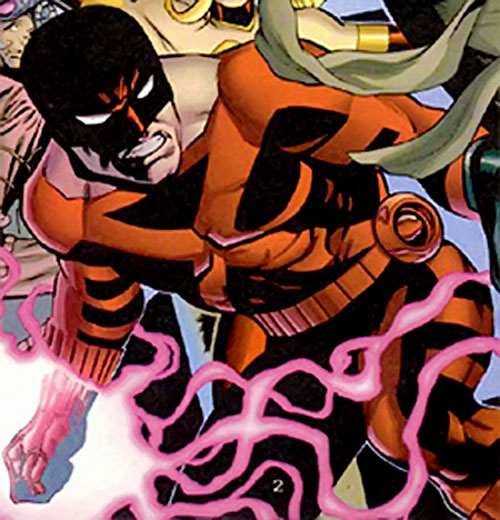 Source: writeups.com
6. Electrocutioner
Aside from his rad-as-heck name, the Electrocutioner is one of those identities with multiple franchise holders, so let's get into it.
The first was a crazy murder vigilante who killed criminals he felt weren't punished enough. While fighting with Batman, Electrocutioner fell out a window and into a river like the protagonist of a silent slapstick comedy, but he lived. He eventually did die, though, and wound up in Limbo, where he got tricked into sending himself to hell.
Oops.
Electrocutioner 2 appeared a grand total of once.
Electrocutioner Part 3, aka Lester Buchinsky, was the brother of the first, and took over the identity. He tried to rob an armored car with the Cluemaster, but got stopped by Spoiler in the worst Take Your Daughter to Work Day ever. Electrocutioner helped Prometheus by planting a bomb that leveled Star City and killed Red Arrow's daughter along with it. So Red Arrow/Arsenal tracked Lester down and killed him.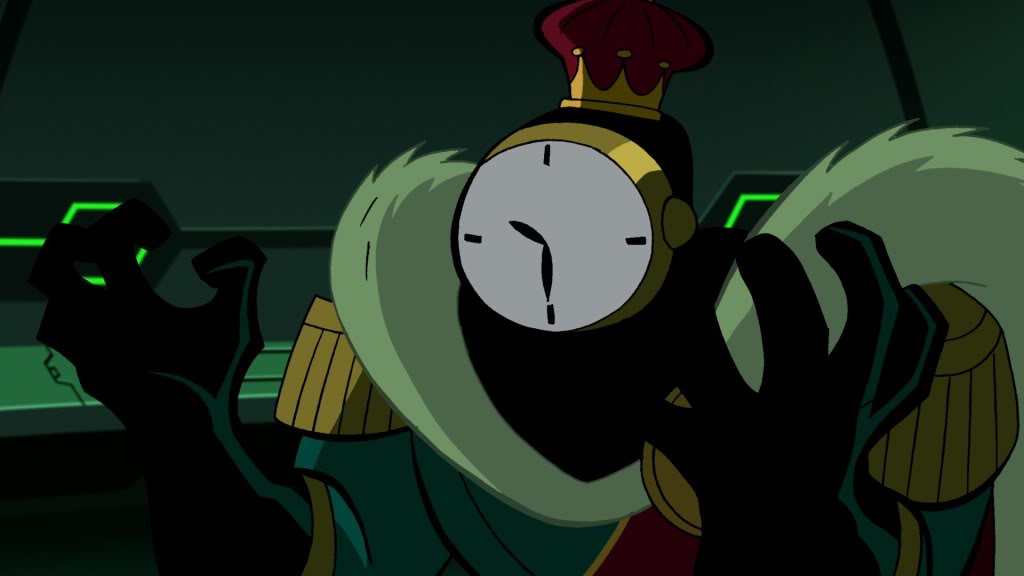 Source: comicvine.gamespot.com
5. Clock King
The Clock King is a good example of a guy who had other options that weren't supervillainy.
William Tockman was a good guy who spent his time taking care of his terminally ill sister. But a doctor told him that he only had six months to live, and he panicked, worried about his sister's future well-being. So he decided to perfectly time a bank robbery, which he would have carried through completely flawlessly, except Green Arrow showed up and beat the hell out of him.
In prison, Tockman discovered that the doctor had mixed up some paperwork and Tockman WASN'T actually dying! Oops. That's a serious lawsuit right there. Like a big deal money-earning lawsuit.
All Tockman had to do was pursue it legally and not dress up in a super villain costume and try to kill people…Oh wait, that's exactly what he did. Dammit, William, you had one job.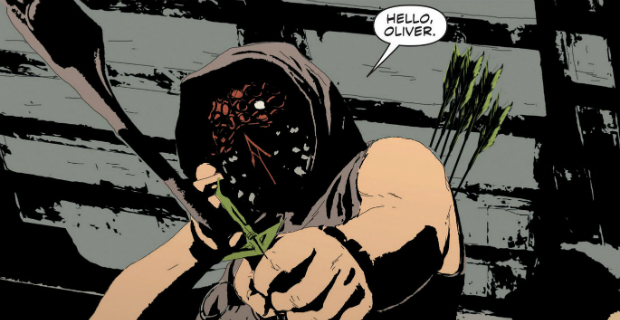 Source: screenrant.com
4. Komodo
Hey, a recent one!
Simon Lacroix was a poor kid with a brilliant streak. He landed himself a job at Queen Industries, where he caught the eye of the CEO"¦Robert Queen. Simon quickly rose through the ranks and was eventually invited on Robert's quest to find the totem of the ancient Arrow Clan. When they got close, Simon murdered Robert, and found his own fortune as the man in charge of Steelmoor International.
Years later, Simon noticed that Robert's son, Oliver Queen, was on the way to finding the arrow totem himself, so he destroyed him financially and framed him for murder. He took on the masked identity of Komodo, and attempted to set The Outsiders against Queen. Queen fought back, and took out Komodo's eye in the battle, making him a much worse archer.
Green Arrow, Shado, a shockingly not-dead Robert Queen, and Emiko took Komodo on, resulting in Komodo killing Robert (for realsies this time) and Emiko killing Komodo, once and for all.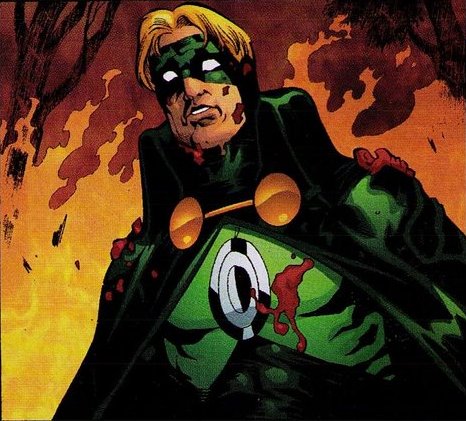 Source: dc.wikia.com
3. Count Vertigo
Suicide Squad cred for life!!
Werner Vertigo was born with a horrible inner ear problem that dramatically altered his balance. He had a medical device put into his body, and it helped correct this issue, but Werner was not content with that. By screwing around with his implanted medical device (note: doctors overwhelmingly do not recommend this), he learned how to blast others with a wave that would cause them to experience balance and perception issues.
He used this to go to Star City and attempt to steal some jewels, but Green Arrow and Black Canary beat him down. In order to shorten his prison sentence, he signed up for the Suicide Squad branch of Amanda Waller's Task Force X. While there, he battled emotional issues as well as villains, and learned that he had bipolar disorder.
He would eventually return to rule his home country of Vlatava. But then, The Spectre killed everyone, because this is the DC Universe, and that's just a thing that happens sometimes here. Poor Vertigo.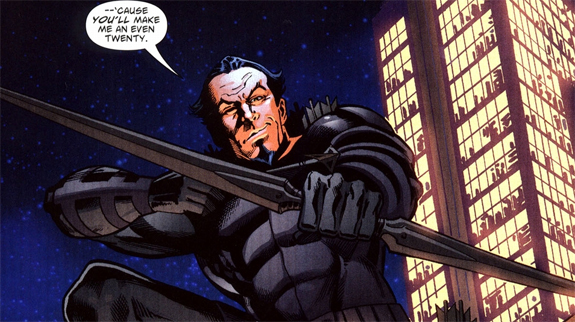 Source: tumblr.com
2. Merlyn
There are a lot of Dark Archer-type Green Arrow villains. I mean, this makes sense, because when you're trying to come up with a villain for a dude who shoots arrows, "a different dude, who is evil, who also shoots arrows" is probably gonna come to mind pretty early.
Merlyn is one of those guys. He was born Arthur King, which is a solid name, but was nicknamed "Merlyn the Magician" due to his rad arrow skillz. He was a master assassin and a member of the League of Assassins famously headed up by Ra's al Ghul.
In their first battle, Merlyn bested Ollie Queen and bailed, but in their follow-up conflict, Queen managed to hold his own, even if he still failed to capture the evil archer. After parting ways with the League of Assassins (Which seems like a thing you couldn't do? Like, did he give his two weeks' notice?) he stayed in the game as a freelance assassin.
Of course, this led to him taking some bad jobs, one of which got him stabbed in the face with his own arrow by Azrael. Tough break, kiddo.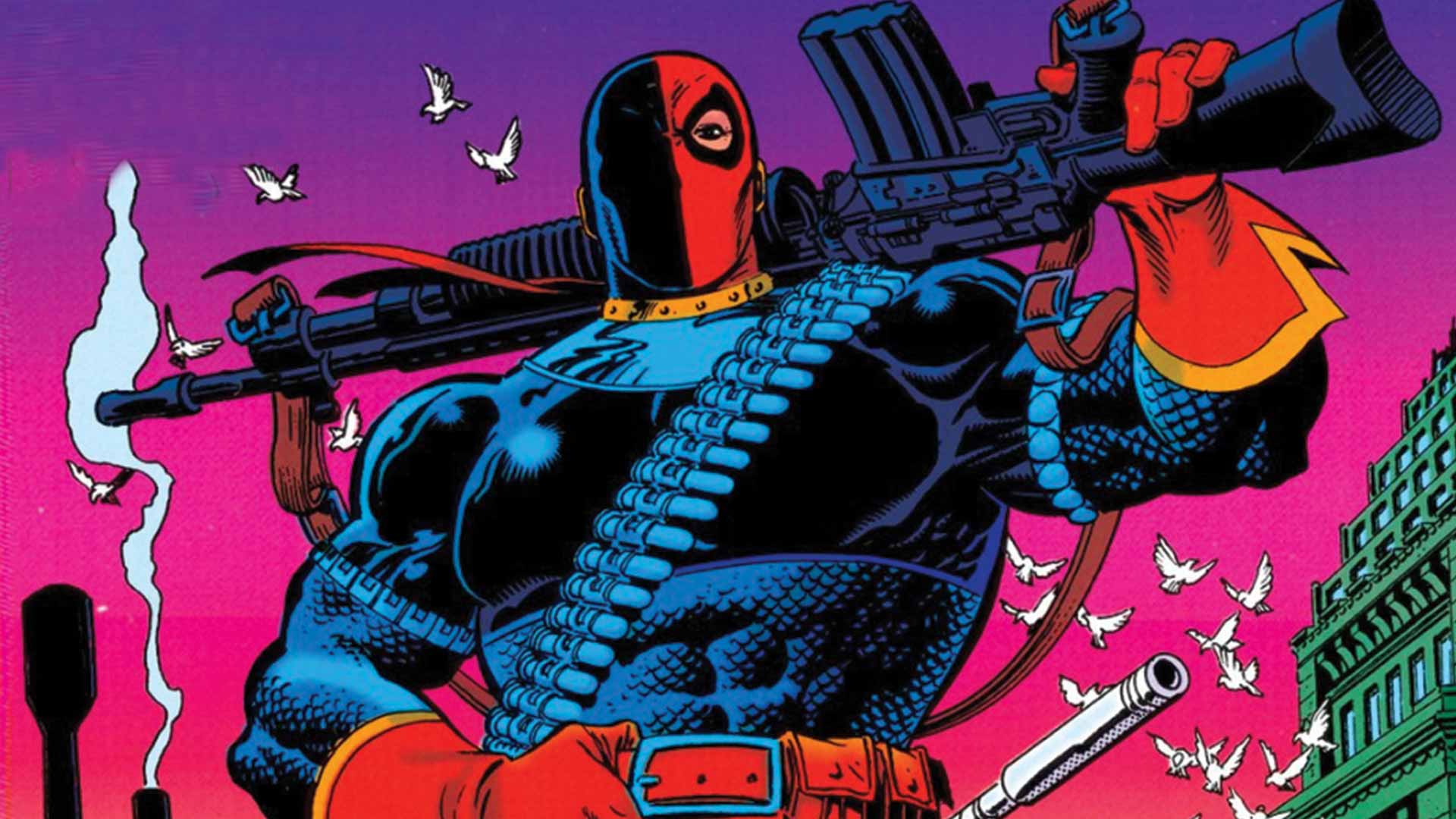 Source: dccomics.com
1. Deathstroke
Slade Joseph Wilson was an early enlister in the US Army, serving in the Vietnam War and several subsequent conflicts. He eventually signed up for a sort of super soldier program that would leave him unmatched as a soldier.
The experiment didn't quite work as intended, but when he woke up from the coma (oops), he had the ability to use more than ten percent of his brain was changed in some way that WASN'T that dumb unscientific BS about brain use percentages. He became a big game hunter!
When Slade's son Joseph was kidnapped, Slade tracked them down and murdered the kidnappers, resulting in Joseph being injured and losing his ability to speak. Slade's wife was not happy with this. So unhappy, in fact, that she shot his eye out like she was a Red Rider BB Gun in A Christmas Story. Slade became a full-time mercenary, eventually taking on a contract to kill the Teen Titans.
During Identity Crisis (ick), Green Arrow jammed an arrow in Slade's non-working eye, starting a feud between the two. Arrow and Deathstroke eventually fought for real, resulting in Green Arrow successfully landing Slade in prison.
And there we go! Told you there were enough Green Arrow villains to make a list! A solid list, too. Because Green Arrow villains are friggin' rad. They are great. So I hope you've gained more appreciation for them. Because if so, then your opinions are"¦right on target.