I've written numerous times about DC's Elseworlds and Multiversity and other DC alternate universe stories. In fact, I've done it so much that I often feel like I've missed out on the predecessor to them both. The great granddaddy of alternate earth stories. Not a hoax! Not a dream! But instead, an imaginary story!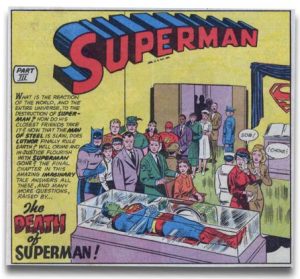 Source: boom-pop.blogspot.com
10. The Death Of Superman
(Superman #149)
I have to say first and foremost that I LOVE this comic book. Like, it's a fantastic comic. Every part of it is insane and perfect. You can't believe it's happening as you read it.
I literally read this comic book while loudly narrating it to my girlfriend across the room because I could not believe what was going on.
So the first thing that happens is Lex Luthor cures cancer. Yes, that is the starting point. After that, Luthor decides to be a good guy and help the world, so Superman helps him get parole and immediately decides to be friends with him. I kind of love this version of Superman. He's just such a sweetheart; he wants to be Luthor's friend, no matter what happened in the past. He even saves Luthor's life when gangsters want to kill him. He gives Lex a signal watch!!!!!!!!!
But then, it turns out that Luthor only did all of this as part of a plot to kill Superman. And he does. That's right, Lex Luthor CURED CANCER IN 24 HOURS JUST SO HE COULD KILL SUPERMAN. That's amazing. That's the best thing ever.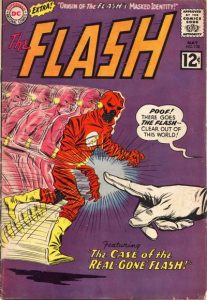 Source:dc.wikia.com
9. The Origin of the Flash's Masked Identity
(Flash #128)
I'll be honest. This one isn't much of an imaginary story, it basically just exists to show how much of a loser Barry Allen is.
The story is a flashback (pun intended) to just after Barry got his powers. He's deciding whether or not to wear a mask as the Flash, so he daydreams about what it might be like if he didn't. In his daydream, he just holds a press conference and tells everyone he's the Flash (not sure how police scientist and whitest man on earth Barry Allen got ANYONE to come to his press conference, but whatever). The next day, a bunch of people swarm Barry at work, which almost makes him miss an art heist.
He doesn't miss it. But he ALMOST does. And that's enough to convince Barry that he needs a mask.
The thing that convinced him to wear a mask wasn't the safety of his friends and family or his own privacy, it's that it would make being the Flash mildly more difficult. MILDY. Barry's such a loser, but that's why I love him.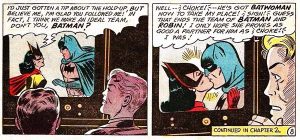 Source: thebatmanuniverse.net
8. Batman's New Secret Identity
(Batman #151)
Comics are so weird.
In this story, Batman and Robin get into a car accident in the Batmobile, which causes Batman's mask to fly off, and everyone finds out he's Batman. So he decides to just stop being Bruce Wayne and make a new secret identity.
Bruce goes off and settles his affairs, and then he just becomes another dude. Specifically a cab driver named Bret Wilson, presumably picked so he wouldn't forget his initials. Batman tools around as a cab driver for a while, until someone discovers the new batcave and figures out that Bret Wilson is Batman. So Batman, Batwoman, and Robin all go beat up the bad guys and Batman decides he needs a BRAND NEW secret identity.
And then it turns out that this whole story was just fanfiction Alfred wrote because he was bored. Alfred writes a lot of Batman fanfiction, apparently. I find this weird. I'm not sure if I'm the only one.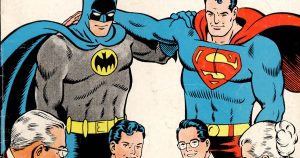 Source: wfcomicsblog.blogspot.com
7. Superman and Batman – Brothers
(World's Finest Comics #172)
This is, strangely enough, the most Elseworlds-y premise of anything on this list.
In it, Jonathan and Martha Kent adopt newly orphaned Bruce Wayne, and he and Clark Kent become brothers. But, as they're growing up, Clark realizes that Bruce is kind of a weirdo. And that he seems really super obsessed with crime. So after Clark foils a bank robbery in which the criminals are using TANKS, he notices that Bruce is really interested in the robbers.
Also, can we acknowledge that it was a TANK BANK ROBBERY? The street crime in Metropolis is craaaazy.
One night, Bruce comes home in a Bat outfit, and Clark thinks his brother has become a criminal. Bruce trips and accidentally opens Clark's closet full of Superboy Robots, which honestly feels like it should be locked or something, and discovers that Clark is Superboy. Clark attacks Bruce, but Bruce reveals that he's actually a crime fighter, not a criminal. So the duo teams up as Superboy and Batboy. And then they grow up, and Batman goes to fight people in the future with the Legion.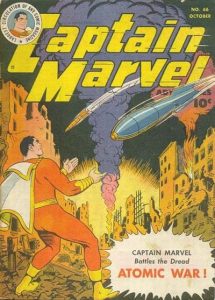 Source: dc.wikia.com
6. The Atomic War
(Captain Marvel Adventures #66)
Hey, look, a Captain Marvel imaginary story! We don't get so many of those.
In this one, Billy Batson goes into work to report the news over the radio. As he's doing his thing as an eleven-year-old boy who is somehow an accredited reporter, his boss bursts in with a new report: Chicago's been destroyed with a nuclear warhead. Oops. Billy shouts his magic word SHAZAM and transforms into Captain Marvel so he can fly to Chicago and help.
He pulls a woman from her house, but she's already dead from radiation burns. Captain Marvel decides to head back to Fawcett City to report on the tragedy, but he spots a flood of atom bombs on the way. He tries to stop one, but fails, and it blows up. When he does get back, he tries to inform everyone that they need to get out of the major cities, but Whiz Station is struck by a bomb, killing everyone but him. He eventually finds like five dudes just a-firing missiles in literally every direction to"¦destroy the world, I guess.
But, hey, it was just a fake TV broadcast Billy did to warn America about the dangers of nukes. This one is less fun than that story about Superman becoming two other Supermans.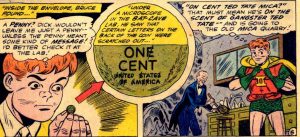 Source: dc.wikia.com
5. The Second Batman and Robin Team
(Batman #131)
Ah, yes, the Second Batman and Robin team. This one is quite strange.
In it, Batman has become too old to keep Batman-ing, so Dick Grayson takes over as the new Batman. This means that he wears a giant Roman numeral II on his chest below the Batman Logo. Because sense that doesn't make.
Oh, also, Bruce Wayne married Kate Kane (aka Batwoman). And they had a kid named Bruce Wayne, Jr. And then he became Robin. Sorry, Robin II. On the mission, Robin II screws up, like a dumbass. Batman II gets captured, and Robin II heads after him, followed by Old Batman and Old Batwoman.
They crash a train and beat up some bad guys, and then it turns out that ALFRED WROTE THIS ONE AS FANFIC TOO!!!!! OMG, ALFRED JUST CAN'T STOP WRITING FANFIC ABOUT HIS FRIENDS. He's like if Tina from Bob's Burgers was an old British man.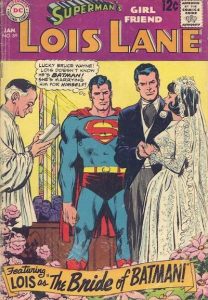 Source: dc.wikia.com
4. The Bride of Batman
(Superman's Girlfriend Lois Lane #89)
Ewwwww. This one is already off-putting.
It opens – OPENS – with Batman going into a secret Wayne Manor room that's a shrine to Lois Lane. Dude, even if she WASN'T your best friend's girlfriend, that's still just creepy.
Bruce goes to a costume party with Robin, and creeps on Lois Lane a bit, until a horse gets knocked into the pool and Superman shows up to save it, because that is apparently worth Superman's time. He tells Lois that he has to go stop a crime, hopefully one more important than a horse drowning. Lois gets mad, because this is the fourth date that Supes has called off. Bruce swoops in on the rebound, and starts dating Lois. He eventually proposes to her.
They marry and have a kid, who Batman IMMEDIATELY begins training to be a crime fighter, because Batman is less of a parent and more of a vicious psycho who employs child soldiers. When exactly Batman shows his wife the horrifying shrine he built to her is sadly left unexplored.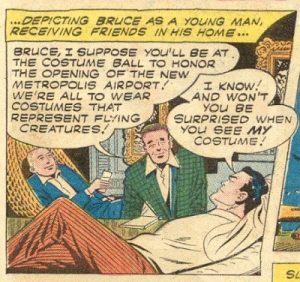 Source: sacomics.blogspot.com
3. The Second Life of Batman
(Batman # 127)
This imaginary story asks what would happen if Bruce Wayne's parents hadn't been shot.
In it, his parents die in a car crash once Wayne is an adult. Wayne just becomes a major friggin' jerk. He shows up at a costume party dressed as Superman, but the party is interrupted by a criminal: Blue Bat, the underworld tyrant, who"¦just dresses exactly like Batman.
The real Superman shows up, and Bruce Wayne helps him catch the last of the criminals, but the Blue Bat gets away. Wayne steals a spare Blue Bat costume, infiltrates the gang, beats up the Blue Bat, and becomes a new hero: Batman! Wearing the exact same outfit made famous by a master criminal.
That seems like a flawed idea at best, Bruce.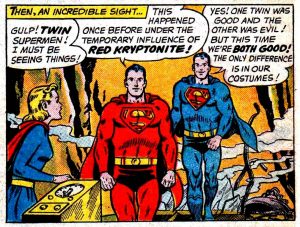 Source: dc.wikia.com
2. The Amazing Story of Superman Red and Superman Blue
(Superman #162)
Hey! It's a really long, really weird comic book!
This issue starts with the Kandorians calling Superman to the Fortress of Solitude, where they tell him he's bad at being Superman. They tell him he's really been dragging his feet on the whole "fixing Kandor" thing. Which is true. Superman's met like three shrinking superheroes at this point; you'd think one of them could figure it out. But anyway, Superman creates a list of all the stuff he has to do in the next six months, or else one of the Kandorians will take his place.
This list is as follows:
Restore Kandor to Normal Size
Find Antidote to Green Kryptonite
Wipe Out Crime and Evil
That third one is a massive change of pace. Like, that is a massive undertaking, Supes.
To accomplish these things, Superman makes and puts on a terrifying helmet, which explodes and splits him into two Supermen, one wearing red and the other wearing blue. And they solve all the earth's problems and get married and stuff. Honestly, this issue is too weird to talk about everything here. I will get to it in its own column in the future, I swear.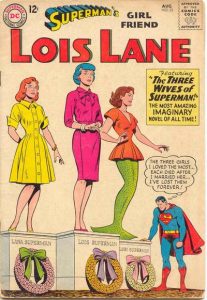 Source: dc.wikia.com
1. The Three Wives of Superman
(Superman's Girlfriend Lois Lane #51)
Who came up with this story, and what were they on when they wrote it?
Superman marries Lois Lane in this story. And then he makes her a super serum to give her powers, but it accidentally poisons her, and she dies. One year later, Superman is back on earth after an absence, and he swears he'll never marry again. So his high school sweetheart, Lana Lang, accepts the newly reformed Lex Luthor's proposal of marriage.
But on their wedding day, Superman changes his mind, interrupts the wedding, and proposes to Lana on the spot. This results in the single best facial expression I've ever seen in comics, provided by Lex Luthor. Seriously, that poor dude. If any comic has ever made Lex Luthor's villainy perfectly justifiable, it's this one. So Lex tries to kill Superman, but Lana sacrifices herself to save him.
Months later, Superman marries his one-time mermaid ex-girlfriend, Lori Lemaris, and she dies too, because this comic book is straight up surreal.
So there we go! Some imaginary stories for you to enjoy. All of these are balls-to-the-wall crazy, so I'd highly recommend giving them a read. Well worth your time.