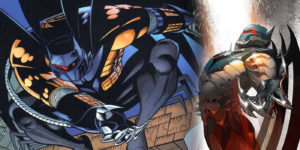 Source: cbr.com
9. Azrael
An out-of-left-field pick for some, but I think it's a solid one.
Azrael's story got jumbled a bunch, but in the end, it's a good one. And it's one that, if modified, would make for an excellent movie. Jean-Paul Valley is an indoctrinated, mentally ill cult member with a violent streak. So for a film, use that, but augment the plot line from Knightfall. Don't have Batman give Jean-Paul the Bat Mantle; have him take it. There's a new Batman in Gotham, and he's massacring criminals by the handful. Batman has to step in and stop it.
Part of the point behind Knightfall was to show that a nineties-ed up Batman would wind up being a terrible idea. And with the DCEU's Batman loving murder just as much, this could be a refreshing change of pace. A good Batman movie about the Dark Knight facing off with a much more brutal crime fighter.
This wouldn't be a story about a villain pretending to be a hero, it would be a story about a villain who fully believes himself to be a hero. Azrael believes that he's right, and it's up to Batman to teach him why that isn't the case.