We've had a lot of Batman movies over the years. And we seem destined to get at least one more in the immediate future. But which villains do we need? Which ones need to be re-done, and which ones need a first chance to steal the hearts and minds of audiences?
                                                         Source: dccomics.com
10. Clayface
I'm honestly shocked that we haven't seen a Batman film about Clayface yet.
He's the type of visually interesting villain who hits as hard as possible and looks awesome while doing it. Guy would've been tailor made for a 1990s Batman film. His malleability and shifting form would have fit Tim Burton's gothic-ly odd aesthetic OR Schumacher's weird camp sensibilities. I'm just surprised that we got Bane before we got Clayface. But we aren't fantasy-casting a make-believe "˜90s Batman flick; we're talking about a brand new one.
So how would Clayface work? Well, a shapeshifting assassin would make a great mystery, and a brutal force of nature would be an excellent physical threat. Clayface isn't the most arch of Batman's foes, but why does he need to be? Why can't we just get a nice old-school Batman adventure? And that's exactly what this would be.
A nice, fun time to be had by all.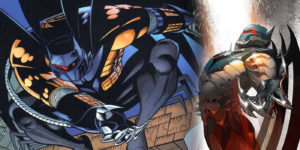 Source: cbr.com
9. Azrael
An out-of-left-field pick for some, but I think it's a solid one.
Azrael's story got jumbled a bunch, but in the end, it's a good one. And it's one that, if modified, would make for an excellent movie. Jean-Paul Valley is an indoctrinated, mentally ill cult member with a violent streak. So for a film, use that, but augment the plot line from Knightfall. Don't have Batman give Jean-Paul the Bat Mantle; have him take it. There's a new Batman in Gotham, and he's massacring criminals by the handful. Batman has to step in and stop it.
Part of the point behind Knightfall was to show that a nineties-ed up Batman would wind up being a terrible idea. And with the DCEU's Batman loving murder just as much, this could be a refreshing change of pace. A good Batman movie about the Dark Knight facing off with a much more brutal crime fighter.
This wouldn't be a story about a villain pretending to be a hero, it would be a story about a villain who fully believes himself to be a hero. Azrael believes that he's right, and it's up to Batman to teach him why that isn't the case.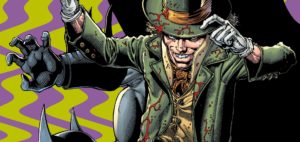 Source: dccomics.com
8. Mad Hatter
If I were going to pick one classic Batman villain who's tailor-made for a dark and gritty re-imagining, it would be Jervis Tetch, the Mad Hatter.
Specifically, this is the version of the Hatter that came about as part of Batman: The Animated Series. The BTAS Hatter was a great reinvention as a Nice Guy who snaps and uses his cleverness to refine mind control technology. He was never used all that much, which is tragic. Angry twenty somethings turning violent after being "friend zoned" (hardest possible air quotes on that one) has never been more common, and a Batvillain based around that idea would be fascinating.
Also, Hatter is smart and cunning, and he could provide an interesting mystery for the Dark Knight to solve. I've always liked Tetch, especially in his guest roles in Gotham Central and Secret Six, and having him as a creepy weirdo with an unhealthy obsession is a great take.
Most Batman villains are scary in an uncommon way, but Hatter is scary in an all too real way.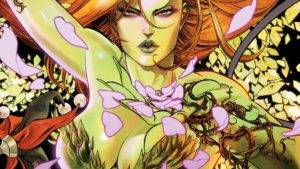 Source: dccomics.com
7. Poison Ivy
I love Ivy, but there haven't been that many seminal Ivy stories.
House and Garden from the Animated Series is pretty great. Nature (the Gotham Central issue) is neat as well, but most Pamela Isely stories are more about someone else. As good as they are, all those Harley and Ivy stories are really Harley stories first; Ivy stories to be determined at a later date.
She also got completely wasted in Batman and Robin, a famously bad movie that damaged the character to a serious degree. Ivy is such a great character. She truly feels and cares for what she does. She likes plants; not so hot on people. She's a sympathetic villain. A good one. A character whose inhumanity makes her tragic, but also terrifying.
She's a good Batman villain, my personal favorite femme fatale for the Dark Knight (Catwoman's fine), and one of the all-time great villains.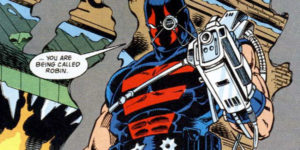 Source: cinemablend.com
6. KGBeast
I know this one is out of left field, but that's precisely why I think it'd work.
Anatoli Knyazev was a Russian super soldier who was amped up with cyber technology. His cohorts called him The Beast, a nickname that led to his CIA-coined code name. When KGBeast came to Gotham, his opening move was to commit a string of collateral damage-filled assassinations that resulted in over one hundred deaths. KGBeast is so hardcore that when Batman used his grappling hook rope to restrain him, The Beast cut off his own hand to escape without a second thought.
As far as serious physical threats to Batman go, KGBeast is a great one. He's a force to be reckoned with, a weapon of muscle and machine, of meat and steel. A brute, but one who can slaughter with the best of them.
Plus, given our current political climate, a KGB-based villain wouldn't be the LEAST timely idea.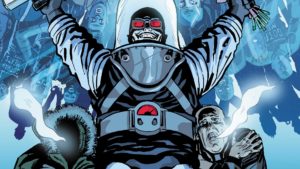 Source: dccomics.com
5. Mr. Freeze
Cold, bitter, calculating, tragic. These are all words that have been used to describe one of the best Batman villains of all time.
The Batman: The Animated Series reinvention of Mister Freeze was so good that the comics almost immediately adopted him as-was. Also, the episode that spawned him, Season One's "Heart of Ice", won an Emmy. Sadly, when he was brought to the big screen in Batman and Robin, he was turned into an angry, overly emotional psycho who spurted out ice puns. Look, I love puns, but they just don't work for certain characters.
If modernized, Mr. Freeze could easily become a tragic figure, a villain driven by loss. Freeze is what Batman would have become if he'd lost himself in the sadness of his parents' death. He's cut off from all emotion, and ruled by his inhumanity.
A Freeze-centric Batman film would be really built around the character's psychology, which is something we've sort of gotten in the past, but not very much.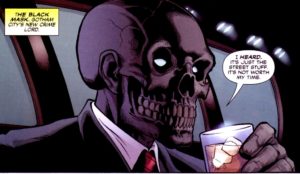 Source: dc.wikia.com
4. Black Mask
Roman Sionis was the child of a rich family in Gotham. But after seeing how they pretended to like people in order to improve their social status, Roman became bitter and jaded.
He was also attacked by a raccoon.
That's true.
Roman would later burn down his house with his parents inside. After he destroyed his father's company, he broke into his crypt and smashed up his coffin, then fashioned a skull mask out of the pieces. Taking the name Black Mask, Sionis became a crime kingpin in Gotham, and usually rivaled Penguin and Great White Shark in power. Mask has done some horrific things in the past, most significantly that time he tortured Spoiler to the point of near death. As a big mob threat, he'd make for an excellent antagonist in a Batman movie. That way, you could do a story about Batman fighting organized crime, but you'd have an antagonist who's more visually interesting than a Falcone or Maroni.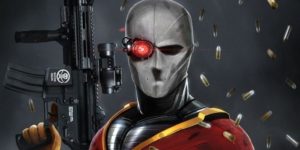 Source: pinterest.com
3. Deadshot
As I've said before, previous entries in the Bat-film canon have lacked an engaging mystery story. And imagine the kind of Batman movie we could get out of Deadshot.
The best idea would be to blend his original 1950s origin story with a little bit of his Arkham City depiction.
Imagine this: A series of horrific assassinations sweep through Gotham and touch off a crime wave. And who steps in to fight it but Gotham's newest hero, a gun-toting vigilante known as Deadshot. Not only must Batman come to grips with his no-killing policy in a world where people are fawning over a more brutal crime fighter, he must also trace the source of the assassinations, and the trail seems to lead right back to Deadshot.
I've always loved that Deadshot pretended to be a hero in his first appearance, and I think that exploring Batman's methods from a new angle could make for a fascinating movie.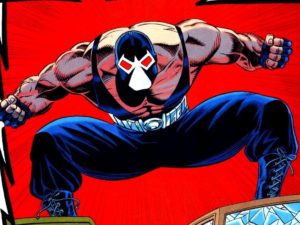 Source: comicvine.gamespot.com
2. Bane
We've had a couple shots at Bane in recent memory, but all of them were lacking.
Batman and Robin's Bane was just a mindless brute who lacked any of the intelligence of his comic book counterpart. And in Dark Knight Rises, Bane was a carbon copy of Anarky with a terrible voice, who wasn't even the central villain in his own movie. But comic book Bane is a vicious fighter and a brutal tactician, who also happens to be constantly pumped up on steroids. I really like Bane, but you wouldn't know why from watching his previous film appearances.
A Bane movie would be focused around a tense strategy battle between Batman and his foe, leading up to a no-holds-barred physical fight. Perfect movie structure, right there. Bane is frightening as a villain, mostly because he can fight Batman on multiple levels. He's smart and strong, and a cunning opponent in all fields.
Bane's one of the few physical opponents of the Dark Knight who's smarter than a box of rocks, and for that reason, he'd be perfect for the next Bat-Film.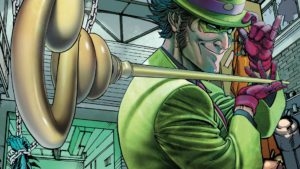 Source: dccomics.com
1. The Riddler
Oh look, it's my favorite Batman villain of all time. How did he get here?
It's shocking to me that we haven't had a true-to-comics big-screen depiction of The Riddler yet. There's Gorshin, as interpreted by Jim Carrey in Batman: Forever, but a smart, cunning, brilliant rival for Batman's title of smartest man in Gotham? We don't have one of those. And getting one would solve my biggest problem with every Batman movie to date: We've never seen a movie in which Batman is a smart guy.
Seriously. I would love a Detective Batman movie with The Riddler as the villain. He's a genius with a tragic compulsion that results in riddles and deathtraps. And if there's one thing movies need more of, its elaborate deathtraps. I'm usually a fan of a less-lethal interpretation of the Riddler, but hey, if there was ever a villain to turn into Batman's version of Kevin Spacey in Se7en, Riddler's the guy.
And there you have it. My picks for the next Batman movie's villain, as well as a couple of pitches for how they could be handled. Have your own idea? Put it in the comments or hit me up on Twitter. Have a good week, and read some good comics, folks.