Since the golden age of comic books, great heroes have had great superhero sidekicks. And while the concept of the sidekick fell out of favor sometime in the mid-sixties and never really recovered, there are still a ton of great ones to choose from.  One thing before we get started: I'm only picking one character per identity. That means one Robin, one Batgirl, one Kid Flash, etc. Otherwise half of this list would be Robins and that wouldn't be very fun now, would it?
11. Wong (Marvel Comics)
While Doctor Strange has been one of the most powerful and premiere heroes in the Marvel Comics universe for decades, the general public didn't become familiar with his sidekick and fellow sorcerer Wong until 2016's Doctor Strange movie was released. But now, audiences are aware of Wong and his very powerful abilities as one of the most talented sorcerer's in the world. Wong has been a staple of the comics since the beginning of Stephen Strange's journey that began in the pages of Strange Tales. While Stephen Strange is the Sorcerer Supreme, many of the magician's greatest adventures would not have been possible without Wong by his side. To that point, The Oath, largely considered to be the greatest Doctor Strange story ever told, hinges very heavily on Wong. He's an excellent sidekick but, in many ways, is much more than that.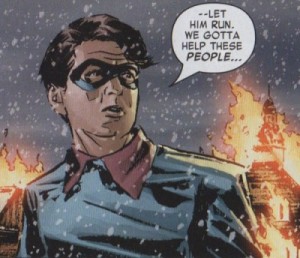 10. Bucky Barnes (Marvel Comics)
Comic book Bucky was really very different from MCU Bucky. Comic book Bucky was a legit teenage sidekick who palled around with Cap being charming and inoffensive. For almost seventy years, the most important thing Bucky did was die. And then Ed Brubaker got ahold of him.
Under Brubaker and artist Steve Epting, Bucky became the covert assassin of World War 2, sneaking around enemy lines and stabbing Nazis in the throat while Steve fought in public. Bucky was a young teenager who wasn't afraid to get his hands dirty and that contrasted him really well with Steve. Bucky gave all he had and sacrificed himself in the line of duty. Only"¦ he didn't die.
I don't know why I wrote that like it was a twist, you've all SEEN "Winter Soldier". Anyway, Bucky came back under heavy mind control and had to fight to break it, eventually trying to find a place as Captain America's partner, before having to take on the mantle himself. Then he died except he didn't and then he became some sort of cosmic assassin or something I don't know, Original Sin was weird you guys.
Whatever, point is, Bucky was a loyal soldier and a true partner who's finally worth more alive than he was dead.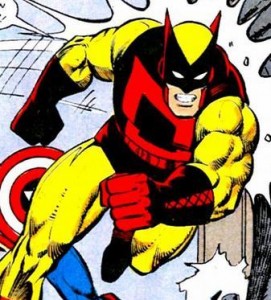 9. D-Man (Marvel Comics)
Back when I wrote my list of the worst Avengers, I had people asking me why D-Man wasn't on the list. He wasn't on the list because D-Man is great what are you talking about?
Dennis Dunphey AKA Demolition Man AKA D-Man is a good guy who just wants to do his best. After failing as a professional wrestler and being brainwashed a couple of times, D-Man donned his Daredevil meets Wolverine costume and took up a post as Captain America's on again off again sidekick. Although he's been called a joke and has fallen victim to some mental instability, D-Man has always had his heart in the right place.
Here's the thing about D-Man: D-Man also crashed a plane into the arctic only Dennis ain't Captain America, so he was seriously damaged by the incident. Dennis is what would happen if a regular person tried to be a superhero in the Marvel Universe. And that's why he's great. He's just a guy who wants to do good. And now he's currently serving as Sam Wilson (AKA Captain America)'s personal pilot and assistant. You can't keep a good man down for long.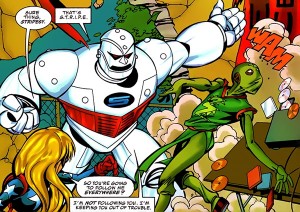 8. Stripsey/S.T.R.I.P.E. (DC Comics)
Back in the forties, people were constantly trying to crank out new characters in an attempt to equal the popularity of Superman and Batman. One of the strangest attempts was the creation of the Star-Spangled Kid and Stripsey. The gimmick here was that the teenager was the superhero and the adult was the sidekick! Yeah, that is just as ridiculous as it sounds. Duggan was decently strong and pretty good at fighting, but he was still a sidekick to a kid, and was just as much of a joke as can be anticipated from that fact. So, when they brought Duggan back in the 2000s, it was necessary to do some reinvention.
Duggan, now an adult, took on the mentor/partner role with his step-daughter Courtney Whitmore AKA Stargirl. Of course, this time he did his crime fighting in a giant badass robot suit. Because Pat Duggan, now known as S.T.R.I.P.E. knows how to reinvent himself. Pretty good stepdad, too.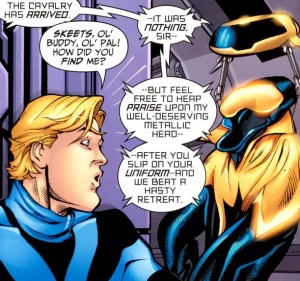 7. Skeets (DC Comics)
Booster Gold is probably in my top ten favorite comic book characters of all time. The time traveler from the future heading back in time to get famous is an immensely lovable protagonist and his robot buddy Skeets is equally so. Skeets was a security robot for a space museum until Booster commandeered him, at which point he became Booster's friend and personal database of the past. Skeets plays the ultimate cybernetic straight man to Booster's unceasing bravado. Without Skeets to save his butt, there's no telling what kind of trouble Booster would have gotten himself into. Plus, Skeets's animated incarnations have been routinely played by Billy West and if that isn't enough to get you to love a character, I don't know what will.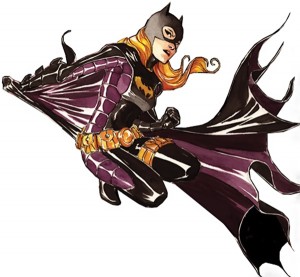 6. Batgirl (Stephanie Brown) (DC Comics)
Well, here is where my opinions get controversial. Or at least, as controversial as you can get writing about fictional characters.
I don't believe Stephanie was the best Robin (No, we'll get to him later in this list) but I wouldn't hesitate to call her the best Batgirl. True Barbara Gordon was Batgirl first, but Barbara came into her own truly as Oracle, not as Batgirl. Cassandra Cain on the other hand is a character I never really formed an attachment to. But Stephanie? I wholeheartedly adore Stephanie.
Stephanie Brown's brief tenure as Batgirl was an absolute joy to read and ran on pure unadulterated fun. The first issue of Stephanie's Batgirl run I read was #14, in which she and Supergirl have to fight 24 Draculas in the span of one issue. I don't care who you are, that's amazing. Stephanie brought a cheerful upbeat energy to the book that hasn't been matched since. I do love the current Batgirl of Burnside stuff going on, but I'd be lying if I said I wouldn't rather have Stephanie back under the mask. Well, at least she survived the New 52 reboot as Spoiler, the DCU would be a worse place without her.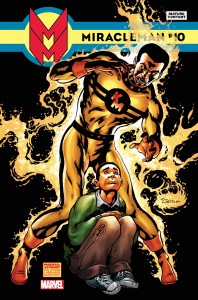 5. Kid Miracleman (Eclipse Comics)
Ok, ok, ok, this one I probably have to justify a bit. Because anyone who hasn't heard of him is going to be confused as to why he's on the list and anyone who HAS heard of him is going to be shocked he's on a list of the BEST sidekicks.
Kid Miracleman was originally created as a Captain Marvel Jr. knockoff, a young boy given great power from shouting the name of his hero (Miracleman). In Alan Moore's run on Miracleman, Kid Miracleman became an insidious business tycoon and sociopath, trapping his original human identity inside for good. Kid Miracleman is legitimately terrifying on pretty much every level, from his corporate attire to his piercing eyes to his cold and calculating demeanor. The interpretation is pretty clearly lifted from Demoniac, villain of the obscure 1977 novel Superfolks, but it works incredibly well here. Now admittedly, Kid Miracleman wasn't very good at being a sidekick but he is probably the most interesting and best written character on this list, so that all balances out to put him somewhere in the middle of the list.
Oh and yes I DO know that the character was originally called Kid Marvelman but since his best stories came about while he was Kid Miracleman that's the name I picked for the heading.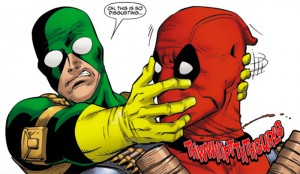 4. Bob, Agent of HYDRA (Marvel Comics)
As much as I like Deadpool, my favorite part of his stories has always been his supporting cast. Whether we're talking Bind Al, Weasel, the Ghost of Ben Franklin, or whoever, I have a soft spot for them. But there is one Deadpool Sidekick who stands out above the rest: Bob Agent of HYDRA.
HYDRA sucks at recruitment and training, so it was inevitable that one of their agents would betray them and go rogue. It was also inevitable that agent would be a quivering coward. And that's what Bob is. In fairness, he was literally trained to be cannon fodder. HYDRA training even dictates that if you hear the sound of Wolverine's claws popping, you run like hell. Bob is the kind of poor sap who would try to be a pirate and wind up with scurvy. And yes, that literally happened. Poor Bob.
As you would expect, being Deadpool's sidekick is not the safest of jobs and Bob's track record proves that. The guy has been shot, stabbed, and had both his legs broken and still he is ever willing to team back up with Deadpool. Bob is Deadpool's Harley Quinn, but only in the "psychologically unhealthy relationship" sense.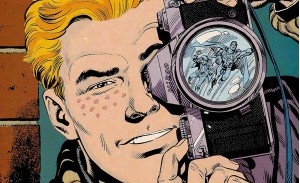 3. Jimmy Olsen (DC Comics)
Jimmy Olsen is easily the most under-appreciated DC Comics character of all time. Superman's Pal was an iconic part of the DCU for decades yet today he's always viewed as a joke. Heck, Jimmy had his own comic book back in the day which ran over a hundred issues and gave birth to many incredible successful DC characters and concepts.
You ever hear of Darkseid? He first appeared in an issue of Jimmy Olsen. Part of Olsen's success was due to Jack Kirby's tenure on the series, but Jimmy kind of embodies the fun side of the DCU. Jimmy's been more than just Superman's Pal on many an occasion, taking up the identities of Turtle Boy and Elastic Lad among others whenever he's granted with superhuman abilities.
Jimmy's constant ability to get himself in and out of scrapes really made him a lovable supporting character and his classic silver age team-ups with Robin are fun reads if you can track them down. If there is a single character who represents the silver age as a whole and all the wacky fun it contained, it's Jimmy Olsen.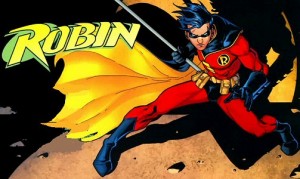 2. Robin (Tim Drake) (DC Comics)
HOLD ON LET ME EXPLAIN MYSELF! Before you jump to aggression let me make this clear: my favorite character to read about who went by the name Robin was Dick Grayson. But I would still argue that Tim Drake was the best Robin of the five or six or thirty depending on how you count them.
Part of it comes from Tim's origin, which was easily the best. Tim Drake figured out who Batman and Robin were at the age of nine. NINE!! Call Batman the world's greatest detective all you want, he wasn't that competent in his pre-pubescence!! Years later, after Jason Todd got killed, Tim noticed Batman was growing angry and violent and something needed to be done about it.
Tim proved himself worthy of taking on the identity of Robin and joined Batman as a true partner. He's also notable for having actual non-Batman parents or at least a father) for years after becoming Robin.  Tim was supergenius levels of smart and made a better one-to-one partner for the Dark Knight than any Robin has before or since.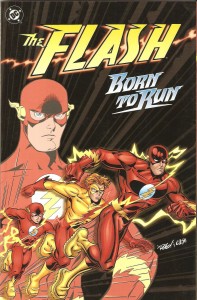 1. Kid Flash (Wally West) (DC Comics)
Why is Wally West the best sidekick, you ask? Why isn't Robin, as the most famous sidekick, voted as the best? Here is why: Wally West did what NONE of the other sidekicks on this list did: He surpassed his mentor.
Wally spent years as Barry Allen's faithful sidekick, but when Barry gave his life for the universe, Wally took over for him and became THE classic Flash in many people's eyes. Before the recent TV show, Wally was the only Flash most people new about and he's still the best one in the eyes of many. Sure, Dick Grayson became batman and Bucky became Captain America, but would any human being call them better than their predicessors? No, because they weren't.
Wally did what every sidekick should do from a narrative standpoint: take over and advance the role in his own right. But of course, it makes sense for the best sidekick of all time to be the one who never stopped moving forward.