Warner Bros. has revealed the official 4K Ultra HD box art for DC's upcoming CG-animated film Batman and Superman: Battle of the Super Sons, which pits Damian Wayne/Robin and Jonathan Kent/Superboy against their fathers, as well as the rest of the Justice League, who have been enslaved by the villainous Starro the Conqueror.
Battle of the Super Sons is slated to release on 4K Ultra HD, Blu-ray, and Digital on Tuesday, Oct. 18. The 4K Ultra HD + Blu-ray + Digital combo pack retails for $29.99 USD, while the Blu-ray + Digital pack retails for $24.99. The film's box art naturally places Robin (Jack Griffo) and Superboy (Jack Dylan Grazer) in the foreground, while Batman (Troy Baker) and Superman (Travis Willingham) occupy the background.
Battle of the Super Sons is directed by Matt Peters from a script by Jeremy Adams. In addition to Grazer (Shazam!), Griffo (The Thundermans), Baker (Soul Eater), and Willingham (Camp Camp), the film stars the voices of Laura Bailey (The Elder Scrolls V: Skyrim – Dawnguard) as Lois Lane; Darin De Paul (Overwatch) as Lex Luthor and Starro; Tom Kenny (SpongeBob SquarePants) as Green Arrow and Penguin; Zeno Robinson (Pokémon) as Jimmy Olsen and Melvin Masters; Nolan North (Uncharted, Deadpool) as Jor-El; and Myrna Velasco (Star Wars Resistance) as Wonder Girl and Lara.
"Produced by Warner Bros. Animation, DC, and Warner Bros. Home Entertainment, the PG-13 rated Batman and Superman: Battle of the Super Sons begins as 11-year-old Jonathan Kent discovers he has superpowers, thrusting the half-Kryptonian into the complicated world of Super Heroes and Super-Villains — who are now under attack by a malevolent alien force known as Starro!" an official synopsis reads. "It's a race against time as Jonathan must join forces with assassin-turned-Boy-Wonder Damian Wayne to rescue their fathers (Superman & Batman) and save the planet by becoming the Super Sons they were destined to be!"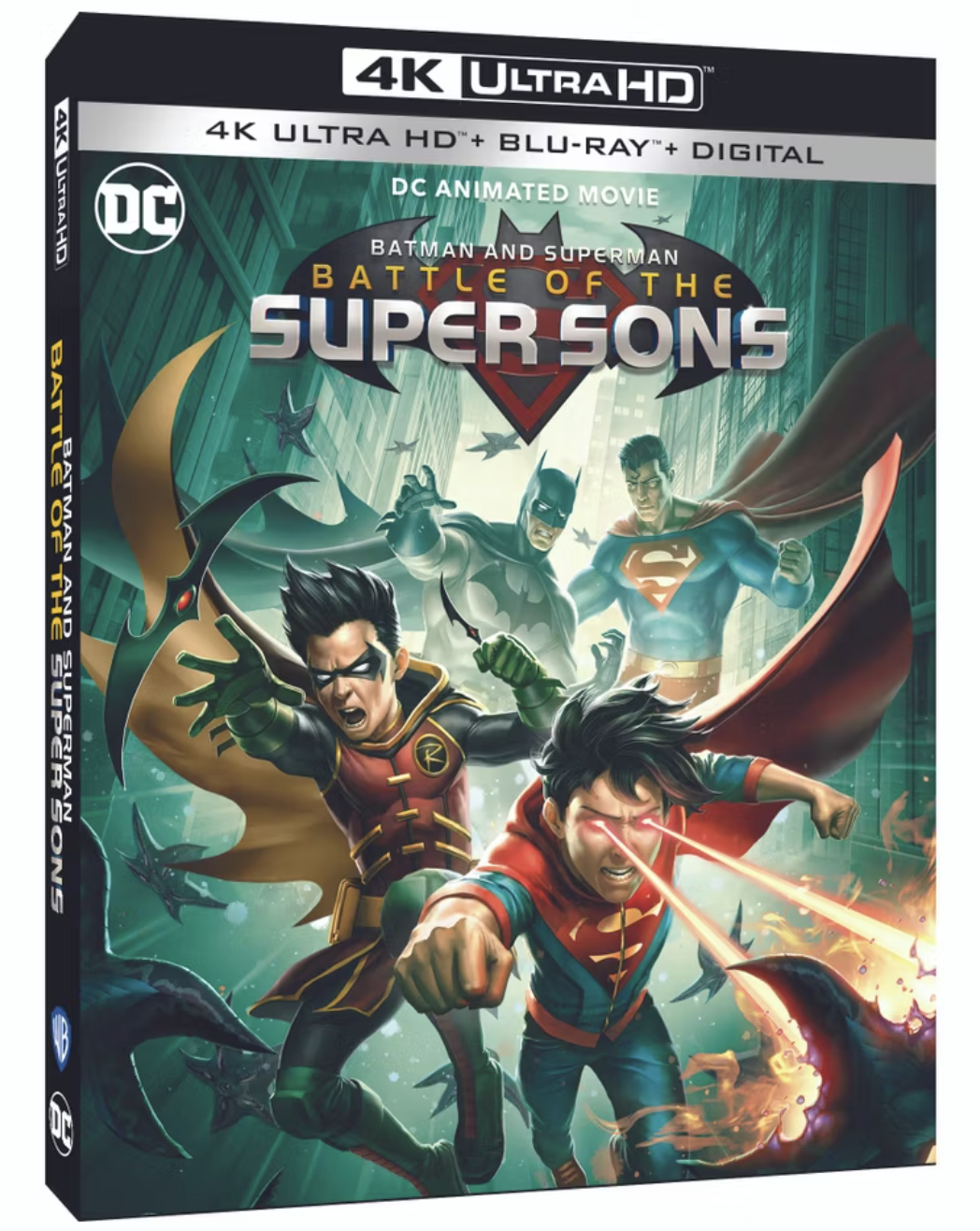 In addition to the 79-minute film itself, the Battle of the Super Sons includes a new featurette titled Rival Sons: Jonathan and Damian. "Legacies collide as Jonathan Kent and Damian Wayne set aside their differences, forming an unlikely alliance to save the world," its official description reads.
Created by Grant Morrison and Andy Kubert, Damian Wayne — the son of Bruce Wayne/Batman and Talia al Ghul — was formally introduced to the DC Universe in 2006's Batman #655 (Bruce and Talia's son was initially introduced as Ibn al Xu'ffasch in the non-canon 1987 graphic novel Batman: Son of the Demon). Damian soon became the fifth character to take up the mantle of Robin in the mainstream DC continuity, succeeding Dick Grayson, Jason Todd, Tim Drake, and Stephanie Brown.
Meanwhile, Jonathan "Jon" Kent was created by Dan Jurgens, first appearing in 2015's Convergence: Superman #2 as the son of Kal-El/Clark Kent/Superman and Lois Lane. Jon became the third major DC character to go by the name Superboy, following Kal-El/Clark Kent himself, as well as Kon-El/Conner Kent. In 2021, Jon even assumed the mantle of Superman in his father's absence. Jon and Damian first joined forces as the Super Sons in late 2016 amid DC's Rebirth initiative.