I read a lot of comics. Like, A LOT of comics. Maybe too many. But for all the comics I read, there's one publisher I'd point to if asked, "Which company has the most consistently great comic book lineup?" That would be Valiant Entertainment. Seriously, Valiant's focus on no more than nine books in any given month allows them to ensure unique levels of quality across the board.
I only discovered the Valiant line a year or two ago, and I have been on a deep dive ever since. I wanted to give others a solid list of what to read based on my own experience. There's so much good stuff that I had to cut some of it out. So stuff like The Valiant and Ninjak didn't make the cut, but they are for sure honorable mentions.
                                                        Source: comicbook.com
10. Bloodshot
Bloodshot is a story about a regenerating government weapon with false memories who is hellbent on rebelling against his former masters at Project Rising Spirit in as vicious a manner as possible.
I have to admit that Bloodshot's name and design always put me off. I mean, the dude seems like the first character a thirteen-year-old would create after deciding to be an edgelord. But the Valiant reboot turned him into a character I could really be interested in. Especially his role in the Harbinger Wars crossover, which really endeared him to me.
Watching the very human Harbinger Renegades have to deal with the inhuman murder machine that is Bloodshot was a treat to behold. Fun book; it really does its job of "setting the world on fire".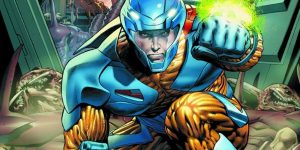 Source: comicvine.gamespot.com
9. X-O Manowar
I think the problem with most Valiant characters is that, while they aren't any stranger than other comic book superheroes, they're less familiar than the Marvel or DC crowd, so they seem that way. Like, we all have a frame of reference for Batman, but X-O Manowar?
That's a little stranger.
Aric is a Roman-era Visigoth barbarian who iss abducted and enslaved by aliens. And he gets his hand cut off. So Aric eventually leads a slave rebellion and obtains the alien's greatest weapon, a suit of armor known as the Manowar. Aric puts it on, obliterates the aliens, and flees to earth, only to find that it's been hundreds of years and earth has changed a lot.
So he decides to just approach everything like a barbarian with crazy powers and a suit of laser armor. This is why X-O Manowar is great.  Just so, so great.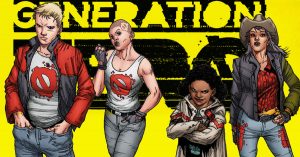 Source: cbr.com
8. Generation Zero
Revolution!
Teenage revolution, to be precise. The kids of Generation Zero spun out of the Harbinger Wars crossover between Harbinger and Bloodshot. And now they have their own series! A pretty good series, as well, one that is fairly new but still works in context with the larger Valiant Universe in many ways.
Gen Zero is also aided by its locale, a small corporate town ruled by corporate interests. There's definitely something creepy going on, and who better to tear down a horrible corporate adult-run organization than a group of rebellious pseudo-anarchist teens. Look, this book has a sentient telepathic fetus. If you don't think that's rad as hell, I can only say it again, but louder. SUPER FETUS.
All of the characters are surprisingly nuanced right off the bat, from the quietly anxious spoiled rich girl to the anarchic but in over his head team leader. While maybe not the best of all teenage superhero teams, if you want something current and easy to get into, Generation Zero is the way to go.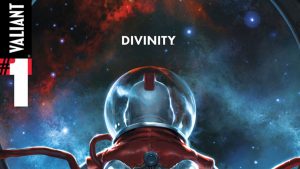 Source: avclub.com
7. Divinity
Post reboot, Divinity is the first new superhero created for the Valiant Universe, and what a first he is.
One of a team of three cosmonauts sent deep into space, Abram Adams hit something"¦ strange. When he returned to earth, he did so as a god. A kind god, who decided to give everyone exactly what they wanted while reliving his own life and past tragedies. Adams' return spawns a series of reactionary measures, including an operation by superteam Unity.
But what happens when a strike team – including people like Ninjak, X-O Manowar, Livewire, and Gilad the Eternal Warrior – comes up against not a villain, not an alien, but a god? This is the starting point for an emotional, interesting, brilliantly written series that is unlike anything else published by any comic company.
One particular issue, involving Divinity halting Unity through time manipulation, is stunningly crafted, a real tour de force of art and writing. Divinity was lauded by many news sites and pop culture periodicals, and it's easy to see why.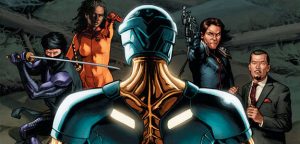 Source: newsarama.com
6. Unity
Hey look, it's Valiant's preeminent superteam.
Unity is a fun comic, and a good ongoing unification of the Valiant universe. The team includes a few of Valiant's heavy hitters, starting with Gilad Anni-Padda, the immortal fighting machine known as the Eternal Warrior. Also in attendance are the armored Visigoth; Aric, alias X-O Manowar; Ninjak, MI-6's resident ninja; and Livewire, Toyo Harada's former right hand.
The team originally formed with the previously mentioned Harada as a member and X-O as the threat they were fighting, but things change, you know. Plus, Aric the armored barbarian megadeath machine is STILL a better teammate than massive a-hole Toyo Harada. Unity may have banded together to fight the Manowar, but they stuck around through Webnet, Divinity, The Valiant, and many more world-ending crises.
If you need a team of heroes to save the day in the Valiant universe, Unity is the team to call.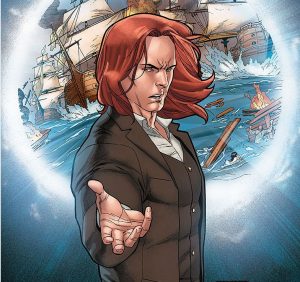 Source: comicvine.gamespot.com
5. Ivar, Timewalker
Hey, Doctor Who fans! You want a comic book to read that'll remind you of your favorite show? Well, look no further than Ivar, Timewalker.
In the series, immortal Anni-Padda brother Ivar takes the inventor of time travel on a cross-time adventure that bounces between multiple periods. This includes the future, dinosaur times, and the death of Hitler. The book is full-stop hilarious, as well as being a real charm fest.
This one also features a great cameo from Armstrong and my favorite Eternal Warrior usage of all time. Ivar is the Doctor, but he's unable to fully control where he's going, thanks to his method of travel, the time arcs. The series is short (limited to three volumes) but Making History, Breaking History, and Ending History are twelve issues of fantastic that you shouldn't miss out on, even if you aren't a Doctor Who fan.
Because, you know, Ivar is better.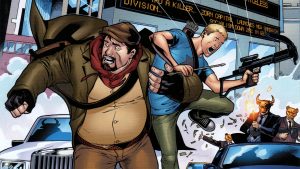 Source: idigitaltimes.com
4. Archer and Armstrong
One is an immortal party machine, driven by revelry and alcohol. The other is a trained yet naïve badass who's been raised in a religious cult to kill the first. Now they're traveling the globe, uncovering conspiracies and saving the world.
If that doesn't sell you immediately, I guess I'm not doing my job properly. Archer and Armstrong is one of the first titles of the Valiant reboot, and it's also one of the strongest. The duo are made to contrast beautifully in a way that endlessly charms and delights. Armstrong's party-hard attitude makes him the perfect guy to introduce Archer to the world so long denied him.
Also, the joys of seeing each arc's conspiracy bend and twist around historical truth is a fun exercise. Seriously, seeing Armstrong pop up in that Ninjak vs. the Valiant Universe teaser made me squeal really loud.
I'm very lucky I didn't wind up waking anyone and having to explain why I was giddily clutching my laptop.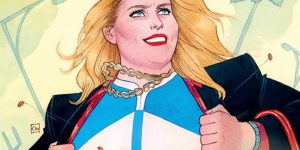 Source: blastr.com
3. Faith
Gosh darn, Faith is fantastic.
A spin-off of Valiant launch title Harbinger, Faith follows Harbinger Renegade Faith Herbert, alias Zephyr, and her quest to save the city of Los Angeles. Holy heck, this book is great. Faith was the breakout star of Harbinger, so giving her a book of her own makes perfect sense.
As an LA native, it's immensely fun to see the city I love represented in a great superhero book. The first trade is even called Hollywood and Vine! Get it? Like Vine as in the alien race and Vine as in the street that crosses Hollywood Blvd.! I"¦I have a lot of hometown pride, okay?
Anyway, Faith is an immensely charming and fun book, with a charming protagonist who you want to see succeed. In addition, Faith is a plus-sized female protagonist, which is really neat, and a great role model for young girls who maybe don't look like Wonder Woman.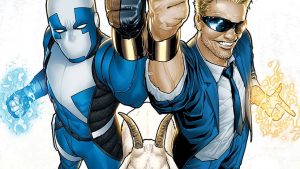 Source: nerdist.com
2. Quantum and Woody
One of the funniest comics of all time, and easily my favorite comic book duo ever, the Asmus run of Quantum and Woody is easily one of the best comics in recent memory.
The story follows Eric Henderson and Woody Van Chelton, adopted brothers estranged by years of mutual animosity. When their father dies, the two are drawn back together and, in an attempt to investigate the mysterious circumstances of their father's death, they wind up in an accident that gives them superpowers.
The downside: The duo must make physical contact every 24 hours, or else both will dissipate and die horribly. Eric becomes the force field-slinging Quantum, while Woody"¦keeps the name Woody, but can now shoot laser blasts. Along with the escaped lab experiment Vincent Van Goat…whose name is VINCENT VAN GOAT. OH, MY GOD, HOW GREAT IS THAT??!!! Perfect. Genius.
Why isn't there more Quantum and Woody?! The four volumes we got are great, but they aren't enough to feed my hunger.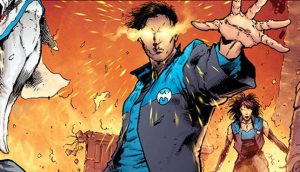 Source: 411media.com
1. Harbinger
So it was recently announced that Harbinger and Bloodshot would make their way to the big screen, and I could not be more psyched.
Harbinger is one of the best comic books of the decade, and it's criminally underappreciated. Peter Stanchek is a psiot, a person born with impressive mental abilities. But he's on the run from the law, and barely gets by with the help of controlled substances. But when he's snatched up by billionaire Toyo Harada's Harbinger Foundation, he seems to have found a place for himself.
Or not.
Because Toyo's plans are big and bad, and Peter wants none of it. So it's up to him and the Renegades, a ragtag band of humans and psiots, to stop Harada for good. Harbinger is like the best of young adult fiction tied in with a morally complex, but still fun, superhero story. All in all, if you read one single Valiant Comic, you need to make it Harbinger.
And there we go folks, the best books to get you started on Valiant comics. I'd highly recommend you give these a chance if you want to expand your horizons. And, who knows, the next big superhero movie universe could have a big letter "V" branded across it, so you might wanna read up.