With New Mutants coming out before too long, and Runaways reaching streaming even sooner, it's time to talk about young hero teams. Because there are so many of them. And a lot of them are awesome. So, who are the best teams of superheroes whose members can't yet legally rent a car?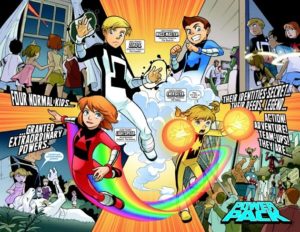 Source: comicsalliance.com
10. Power Pack
(Marvel Comics)
The Power kids (Alex, Julie, Jack, and Katie) were normal children who had no superheroing potential, until they met a weird horse alien named Aelfyre Whitemane.
The horse alien was dying, so he gave his powers to the four kids. Katie Power, aka Energizer, gained the ability to blast so-called power balls out of her chest. There's a confusing lottery joke in there somewhere. Julie, aka Lightspeed, gained flight and speed, and became a rainbow-colored human bullet.
Jack, aka Mass Master, gained the ability to change his own density to become a diffuse cloud or hard core of substance. And Alex, aka Zero-G, gained control over gravity. The team fought together, foremost as a family, but even more so as parts of the Marvel universe. Julie would fight alongside the Avengers Academy, and Alex had a long and illustrious career with the Future Foundation.
A great team and a better family.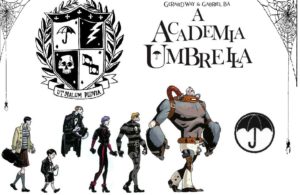 Source: umbrellaacademy.wikia.com
9. The Umbrella Academy
(Dark Horse Comics)
With a Netflix series in development, the Umbrella Academy are starting to gain some notoriety, and that's a good thing.
Created by artist Gabriel Bá and musician/comic book writer Gerard Way, I've previously described the team as What if Tim Burton had created the X-Men?
Years ago, the cosmic forces aligned, and an atomic elbow drop radiated throughout the universe. This caused babies with great potential to be spontaneously born worldwide. Professor Hargrieves gathered seven of these babies and raised them as the Umbrella Academy heroes. Much of the series takes place around the grown-up versions of the kids, but we do see them as child heroes a few times, and it's always great. Plus, Number 5, "The Boy" is perpetually a child. Spaceboy, Rumor, Séance, they're all interesting and weird and fun to watch. I only hope Netflix gives us even more of their childhoods.
Fingers crossed, guys.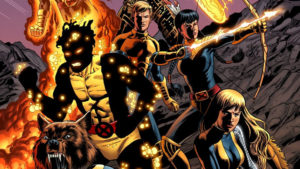 Source: nerdist.com
8. New Mutants
(Marvel Comics)
The New Mutants were created out necessity, because there was a gap to fill. The X-Men were hugely popular, but all of the members were too old to be students, so the whole "school for superheroes" concept was being wasted.
After all, who the hell wants to watch Wolverine sit at his desk through an Econ lecture or see Cyclops cram for a midterm. I mean, me. I would want to watch that, but no one else would.
Marvel created the New Mutants, a young class of X-People, to fill the gap. The original team included some iconic team members, including Cannonball, Sunspot, Wolfsbane, and Dani Moonstar. Eventually, Doug Ramsey and Warlock (no, not that one) joined, changing the lineup dramatically. Professor X and Magneto took turns teaching them, and they grew into heroes in their own right. Some of them went on to become the initial X-Force team, and others wound up joining the main X-Men and X-Factor. Cannonball and Sunspot even locked down spots on the Avengers roster.
The upcoming movie will probably ignore all of that, but still worth knowing!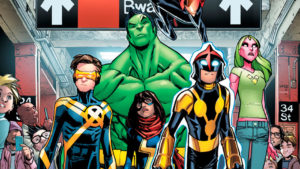 Source: marvel.com
7. The Champions
(Marvel Comics)
Here's a newer team, but they have some promise.
After Secret Wars, the Avengers launched their All-New All-Different lineup. The team had new heroes with old names, such as Sam Alexander (Nova), Miles Morales (Spider-Man), and Kamala Khan (Ms. Marvel). When Civil War 2 came around, these three became disgusted with the actions of their adult cohorts and quit to form their own team.
They added The Vision's daughter Viv, the newly hulked-up Amadeus Cho, and the time-lost teen Cyclops, to form a new version of a forgotten Marvel team called The Champions. They seek to change the world, not simply protect it. However, as children, that's an awful lofty goal to aim for. But they're making headway, especially now that they've reconciled with the Avengers and frequently team up with them.
They've also been known to work with Nadia Pym (The Wasp) and Joaquin Torres (The Falcon). Specifically, this team was assigned to Black Widow as a sort of secret assassination squad during Secret Empire.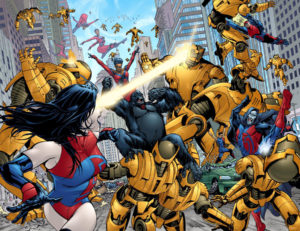 Source: deviantart.com
6. Dynamo 5
(Image Comics)
Dynamo 5 has one of my favorite pitches for a series.
Created by Jay Faerber and Mahmud Asrar, the story of the team goes like this. Captain Dynamo was a beloved hero and icon. Until he died. After his death, his wife found a little notebook with the names and numbers of tens of women: Captain Dynamo's little black book of mistresses. At first, she was heartbroken by her husband's unfaithfulness, but then she had an idea. Of these women, five gave birth to children.
She gathered these illegitimate sons and daughter together, and found that each had inherited one of Captain Dynamo's superpowers. Operating as a team, this group learned to be a family and fought villainy for 25 issues, a follow-up miniseries, and a one-shot.
Dynamo 5 seems to have sunk into obscurity, but hopefully people go and dig these comics back out, because they're excellent.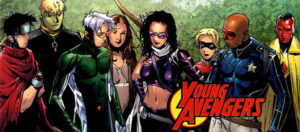 Source: moviepilot.com
5. Young Avengers
Can you change your future?
That's the question the young Kang the Conqueror asked when he found out about his murderous destiny. If he couldn't, he'd die trying. So Kang traveled back in time, met up with some young heroes, and decided to be a hero and remake his own life. He took a new name: Iron Lad. And he picked a squad of brand new heroes to fight alongside him that included Patriot, the grandson of the Original Captain America; Hulkling, a secret Kree-Skrull hybrid with marvelous origins; and Asgardian, a spellcaster who wasn't the only witch in his family.
Along the way, they picked up more allies: Among others, Kate Bishop, the Hawkeye who isn't a Hawkguy; Stature, Ant-Man's size-changing daughter; and a young version of the Vision.
A great team, and one for the ages. Building on Marvel's legacy to establish its future. And a team that established many new Marvel mainstays.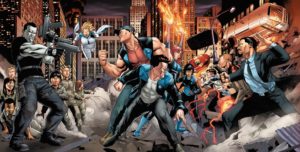 Source: slashfilm.com
4. The  Harbinger Renegades
(Valiant Entertainment)
Harbinger is a fantastic comic book, and its band of main characters are part of the reason.
Peter Stanchek is a psiot, or a person born with vast psychic abilities. He's also an Omega, one of the few with insanely high power levels. He's first recruited by Toy Harada's Harbinger foundation. But when he sees they want to use him for evil, he goes on the run and recruits other psiots to his team of Renegades.
The team included Kris, a friend-turned victim of Peter's who hid her fear of him to work alongside him for the greater good; Torque, a young hothead who masked his frail form with a beefy projection of manliness; Flamingo, a fun loving firebird stripper, who kicks ass and burns down the enemy; and Zephyr, a nerdy fangirl who flies high and stays true to herself. The team ran for a 25-issue series that included a crossover with fellow Valiant title Bloodshot. In addition, the Renegades are making headway in their own new series, Harbinger: Renegades and they continue to dot the Valiant universe with appearances.
And they have a film in pre-production, so check "˜em out sometime.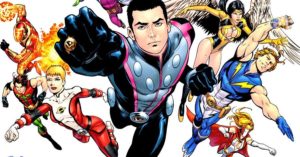 Source: wegotthiscovered.com
3. Legion of Super Heroes
(DC Comics)
I love the Legion. So much.
A lot of people find them too confusing or weird, and I can't entirely blame them. There's an army of characters and multiple reboots to figure out. But they're so great. In the future, teens from all planets are inspired to join up with a brand new superteam composed entirely of teens. Sometimes they're rebels starting a teenage revolution, sometimes they're just bored kids looking for some shenanigans to get into.
Old school Legion comics may be silly, but they invented modern superhero comics. Characters dying and then coming back years later? Characters losing limbs or being permanently disfigured? Heavy story continuity? That's all straight from the pages of the Legion. Back in the 50s and 60s, too.
Those Legion of Superheroes Showcase Presents volumes are worthwhile investments for anyone who wants to learn where comic book storytelling came from.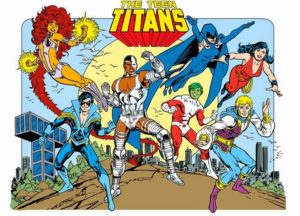 Source: nerdist.com
2. Teen Titans
(DC Comics)
How. Could. I. Not.
I mean, come on, are you kidding me? The most famous teen team. It was between these guys and Young Justice for this slot, but the Teens have it on lock. Originally started by Robin (Dick Grayson), Kid Flash (Wally West), and Aqualad (No one cares), the team very quickly gained new recruits Speedy and Wonder Girl to become the Fab Five of superhero comics.
Those 60s Teen Titans comics are weeeeiiiiirrrrrdddd. They are deeply weird, mostly because of writer Bob Haney, whose comics are one hundred percent worth reading for their fascinating oddness. Titans was bursting with moderately outdated teen slang and oddly written dialogue.
As they progressed, Wolfman and Perez picked up the baton with the New Teen Titans, and added Starfire, Beast Boy, Cyborg, and Raven. This incarnation is by far the most famous, and it was the inspiration for the beloved cartoon series. Later on, more people founded teams, Arsenal and the Atom in particular, as well as the adult Titans team, which dropped Teen from the MO. In the 2000s, however, the former Young Justice team graduated to become the new Teen Titans. And then New 52, and then Rebirth.
Overall, a long and illustrious career.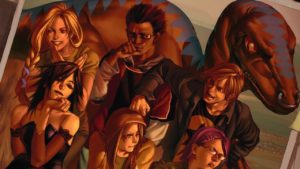 Source: inverse.com
1. Runaways
(Marvel Comics)
Of course this is Number One.
Brian K. Vaughn and Adrian Alphona's Runaways is one of the all-time best comics for teens and tweens, but it's also enjoyable for all ages. And I'm glowing with excitement in anticipation of the Runaways Hulu series. It's gonna be great.
The team was made up of kids of varying ages whose parents were friends. Every year, they were forced to hang out while their parents did boring adult stuff. It just turns out that said "boring adult stuff" included ruling the criminal underworld and killing people. When the kids discovered this, they went on the run to save the world and beat their parents. Chase, Gert, Nico, Karoline, Alex, and Molly (plus Old Lace and the Leapfrog) fought evil for years in sunny Los Angeles.
They lost team members to death and betrayal, gained a few along the way, and formed their own little family. A family of runaways.
And there you have it, a list of ten of the best young hero teams. Many didn't make the cut, so if you have a favorite, let us know in the comments below.