Image Comics is celebrating their 25th anniversary right now. Of course, I wanted to use that fact to get to talk about some of my favorite recent Image comics. A quick heads up: These are just a few of MY favorites. I could easily fill three more articles with honorable mentions. Like, I love Image. A lot. They're fantastic. And this is just a tiny selection of recent (last two years or ongoing) books.
                                     Source: inverse.com
10. Outcast
Robert Kirkman. Paul Azaceta. Need I say more? I mean, evidently I do, because it's my job. But I shouldn't have to.
Recently adapted to television, Outcast is an A-number one horror story that spooks me like no other. It's a real straight-up creep show, and I love every second of it. The story follows Kyle Barnes, a young man with a tragic past full of horrible incidents. You see, people close to Kyle Barnes tend to go completely insane. Or perhaps get possessed by demons?
But that would be crazy, it's not like demons are real, right?
Barnes and Father Anderson go on their journey to free the town they live in from the darkness that surrounds them. But why are these people drawn to him? These hideous shadow demons? And what does it mean when they start referring to Kyle as"¦The Outcast? A fantastic and underrated series, Outcast is a must-buy if you're a horror fan.


                                Source: majorspoilers.com
9. Ghosted
Joshua Williamson, Goran Suduzuka, Miroslav Mrva.
An amazingly brilliant work of horror crime that reads shockingly well as a complete series. Jackson Winters is a master thief. That is, until a job goes wrong, kills his crew, and lands him in jail. But when a rich collector who wants to enlist his services breaks him out, Jackson finds himself with a very strange assignment.
His job? Steal a ghost from a haunted house.
Ahem, I said, STEAL A GHOST FROM A HAUNTED HOUSE!!!!!
Do you understand how frigging rad that is? I read that premise and bought Volume One in the same minute. Later volumes would pit Jackson against very different foes and goals, building to a solid and fantastic ending that still rings true with me. Jackson and his female ghost cohort, Anderson Lake, as well as characters like Trick and Markus, are immediately memorable and empathetic (for the most part). Missing out on this one would be"¦a crime.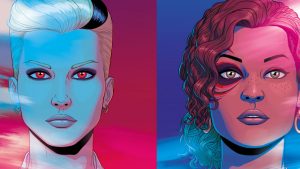 Source: nerdist.com
8. The Wicked + The Divine
One of the weirdest and most unique comics on the stands right now, and one I can't help but recommend with all my heart. Kieron Gillen and Jamie McKelvie weave a story of legends and mythology and abuse of power.
Meet the Pantheon, a circle of gods and goddesses who are reincarnated every 100 years. They are loved, they are idolized, and, as the book tells us early on, they'll all be dead within two years. But the gods are reincarnated, not as immortal beings, but as (for the most part) pop stars. That might sound ridiculous, and it kind of is, but in a really, really good way.
Our protagonist is just a star-obsessed fan girl at first, but eventually it becomes apparent there's something bigger at hand. Wic/Div does so much beautiful handcrafted work with the medium, it's almost offensive.
Honestly, I'd hold up issue #14, The Re-Re-Remix, as one of the most mind-blowingly innovative things I've ever seen in a comic book.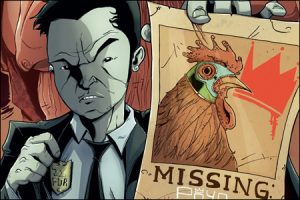 Source: racebending.com
7. Chew
So I literally just finished the final issue of Chew, and it's the one that made me want to write this list.
Chew is a master work of comic booking that is solidly and overwhelmingly brilliant. It's just so darn good. The premise: Tony Chu is a Cibopath. Whatever food he eats gives him a psychic impression, allowing him to read history through eating.
Alongside his cyborg partner, John Colby, Tony hunts down super- powered food criminals the only way he can: By eating a bunch of weird s**t. There's A LOT more to the book than that, but I figure it's best for you to discover that on your own.
But yeah, from giant space writing to baseball books to murder chickens, Chew is a thrill ride like no other. Oh, yeah, I said murder chickens. A cybernetic, bad ass, occasionally demonic murder chicken. Also known as Poyo, the greatest comic book character, maybe ever.
John Layman and Rob Guillory nail the heck out of this one.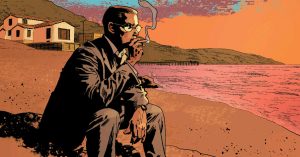 Source: nothingbutcomics.com
6. The Fade Out
Hey, look, it's an Ed Brubaker/Sean Phillips comic book. I'm sure there'll be at least one more of those on this list, because they're absolute magic together.
The Fade Out captures a type of story that you don't often see. It's a novelistic murder mystery that takes place in Golden Age Hollywood. If that isn't everything you've ever wanted, I don't know how to help you.
Charlie Parish, a Hollywood screenwriter in 1948, has returned from the war deeply broken by the events he's witnessed. He helps his friend Gil get pseudonymous work after Gil's blacklisted for Communist leanings.
But Charlie is in a deep downward spiral that culminates in waking up from a night of blackout drinking to find himself face to face with a dead movie starlet. His investigation into just what happened will lead him through the back alleys and ranch houses of late forties Hollywood.
From the Red Scare to the studio system to prevalent racism and sexism, this book is the perfect picture of an era filtered through a noir lens.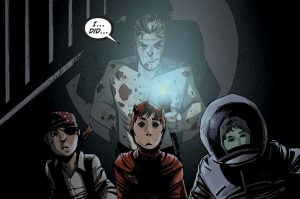 Source: imagecomics.wikia.com
5. Nailbiter
My favorite horror comic of all time.
This beautiful story by Joshua Williamson and Mike Henderson just wrapped up this week, although my store got shorted, so I haven't read it yet…No spoilers, plz. It's horrific in the way only the best slasher flicks are.
Welcome to the town of Buckaroo, Oregon, a town that has, inexplicably, birthed sixteen of the world's most fearsome serial killers. Detective Carroll reports that he's figured out why this is. When he disappears, the troubled Agent Finch goes in to find him, alongside Sheriff Crane and the recently acquitted Buckaroo Killer Number Sixteen, the enigmatic but charming Edward Charles Warren, aka The Nailbiter.
What ensues is a mystery that twists and turns throughout the darker corners of America, with some wonderful long-term plotting and some mind-blowing standalone one-shot issues. Now that it's over, go ahead and binge this one, you will not regret it. This was, month to month, one of my favorite books on the stand, bar none.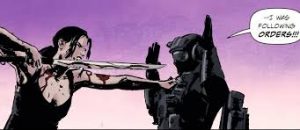 Source: bigbcomics.com
4. Lazarus
Oh, so good.
Like, how Lazarus isn't already an HBO television show, I fully don't understand. It's like post-financial apocalypse Game of Thrones. Who would not watch that? Lazarus takes place in a future in which the earth has been carved up into dominions held by several super rich families. But, unlike Game of Thrones, these families are less "bad ass warrior lords" and more "s****y rich people", so none of them can fight.
One member of each family is augmented through biological or cybernetic means into becoming each family's Lazarus, their warrior envoy. The protagonist in our series is the Carlyle family's Lazarus, Forever Carlyle. Forever is a super bad ass who starts to suspect things are very, very wrong. And the conspiracies, conflicts, and conundrums that follow create twists and turns that make each issue fly by.
Greg Rucka and Michael Lark have always been great, but together, they're unstoppable.

                                     Source: nerdist.com
3. Sex Criminals
NSFW to the extreme. So, like, consider your age before checking this one out.
In this story, Suzie is a librarian who stops time when she has an orgasm. Jon is a guy with definite mental problems who"¦also stops time when he orgasms. They find each other, have sex, and decide to combine their powers. Specifically, they use these powers to rob a bank.
Although this pitch might make this seem crude…well, it can be. But it's also funny and sweet and awkward and real. It's so raw at its emotional core that you just have to love it. Aside from being one of the best depictions of what it means to be in a relationship, its also a weird little fun time.
Aside from being a book my girlfriend loves more than she does me (I'm pretty sure), it's also one you can share with anyone who struggles to figure out what they're doing in life. This book means so much to me that it's hard to convey. Matt Fraction and Chip Zdarsky seemingly have a window straight to my soul.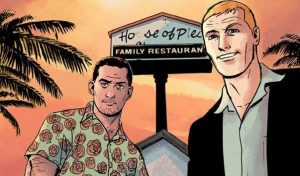 Source: monkeysfightingrobots.com
2. The Fix
The funniest comic book on the stands.
I fell in love with Nick Spencer and Steve Lieber's work when I read Superior Foes of Spider-Man, aka my favorite Marvel book of the twenty-first century. Their follow-up, The Fix, is a series about LA cops who are also criminals, and all the shenanigans that befall them.
It's a perfect comic book for me personally, and not just because the mini-golf course I frequented as a child makes a cameo. Lieber's skill at visual comedy is downright impossibly impressive. He's a friggin' genius. And Spencer's eye for character is top notch. Josh, the murderous hipster crime boss, is the most unique villain I've seen in years. Also, Pretzels the beagle is my favorite, and I love him. The series includes so many solid and colorful characters, I could just list them off. From Mac and Roy themselves to The Mayor and Deal, no one isn't incredible.
Perfect comic books.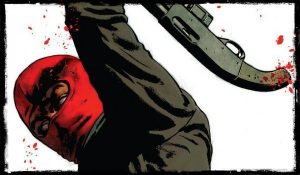 Source: monkeysfightingrobots.com
1. Kill or Be Killed
Ed Brubaker and Sean Phillips are two of the best people working today, and THE most consistently great team in the comic book business. And their latest outing is perfection.
Dylan is a depressed and suicidal college student who decides one night to go through with his darkest impulse. He regrets the decision immediately and survives. He thanks his good fortune, but it isn't all good, because a demon appears and informs him that if he wants to keep on living, he has to start killing. Specifically one person a month for the rest of his life.
So Dylan becomes an urban vigilante, taking his vengeance out on those who "deserve it". What ensues is a dark and twisted romp that is both charming and horrific. Dylan is both relatable and repulsive, and I can't wait for each monthly issue to arrive. If you aren't reading this right now, you are missing out on one of, if not THE, best comic on the stands.
Absolute perfection.
And there you go…Ten recent Image books to check out if you missed them before. Because you always need something new to read. Maybe I'll do another one of these, since there's so much more to get to. I mean, I didn't even address Deadly Class, Morning Glories, Invincible, Walking Dead, Black Science, Manhattan Projects"¦