The Marvel Cinematic Universe is famous for putting out rumors to lure fans and create curiosity. One such speculation has been going around Marvel's Halloween special Warewolf by Night which will be released through the Disney+ streaming platform in October. The runtime has been revealed to be 52 minutes and 37 seconds for this one.
Although for the star cast, every Marvel comics horror character has been discussed to be appearing in this thriller-adventure project. From Blade to Ghost Rider to Vampire By Night, hopes are set really high.
What Is 'Werewolf By Night' Exactly?
Marvel's Horror special has been hailed as one of the best projects of the Marvel Cinematic Universe. The Werewolf by Night depicts two fictional characters who are werewolves. Written by Heather Quinn and Peter Cameron, this one is receiving critical applause from everywhere already.
At the D-23 Comics con, the first look was revealed and fans haven't been calm since then. In the one-and-a-half-minute long trailer, you witness a man transformed into a horrific fear-eating swamp monster! Werewolf by Night is a one-of-a-kind MCU project that is inspired by early horror films.
When Mahershala Ali's voice-only cameo took fans by thrill in Eternals, his next appearance in Werewolf By Night is certainly a much-awaited one. A lot of rumors have been going around about whether he would be making an appearance in the comic series or not.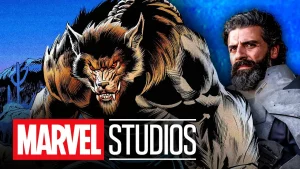 When the director Michael Giacchino was asked to give validity to these statements, he said, "You know what, rumors are insanely inaccurate I would say…99.9% of the time. The thing about the Marvel Cinematic Universe is everyone thinks that every single thing is going to be connected. Every single thing. And it doesn't mean that we're not connected. But, I didn't feel the need to blatantly say we were.
Now this says a lot. We have got our answers and our eagerly waiting for this release. Streaming on Disney+ on October 7.