Well before the movie was released, we heard that Avengers: Age of Ultron will feature our favorite Marvel Cinematic Universe supervillain Loki. But when we went and watched the movie, to our surprise, we didn't even catch a glimpse of the character.
Why was Loki cut off from the movie? We weren't offered a clear answer to this question until now. And now, finally, Tom Hiddleston has come up with an apparently incredible but quite reasonable explanation for what made Marvel Studio cut off his sequence from the second installment of Avengers. Furthermore, the actor also offered some new pieces of information concerning Thor: Ragnarok - and we don't know yet what to make of them.
In the meantime, Drax the Destroyer actor Dave Bautista shared his excitement towards the notion of a crossover between the Avengers and the Guardians of the Galaxy.
And, he bragged like any respectable wrestler should, when it came to talking about the other wrestler-turned-actor from the other comic book shared universe! The following segments of this post will offer details on all these exciting tidbits - and potentially more, since there is also some new info about the last part of the Thor trilogy.
Next Check out What Loki said about his role from Avengers: Age of Ultron!
Loki Was Cut Out To Avoid Confusion!
Well before Age of Ultron finished shooting, word got out that Tom was spotted on the set of the movie. In a recent interview with Digital Spy, Tom Hiddleston said that his Loki was a "˜part of the dream sequence' of Chris Hemsworth's Thor in Avengers: Age of Ultron.
Thus, all the time he needed to shoot the scene was just a single day. According to the actor, that was an extremely enjoyable day. However, later on, he came to know that the audiences in the test screenings have misinterpreted the scene and "˜over-emphasized Loki's role' in the Joss Whedon flick. He explained:
"They thought that because I was in it I was controlling Ultron, and that it was misbalancing people's expectations."
Kevin Feige and Whedon felt that the sequence was "˜confusing people' for which they decided to cut it off eventually. That might seem to be a real absurd reason if you are a Loki fan but to be honest their perspective is quite understandable.
Until now, the Marvel Cinematic Universe is known for bringing just one totally awesome villain - obviously, Loki. Having him in a dream sequence involving the Infinity Stones in a movie about a robot trying to take over the world would have certainly make the people believe that the God of Mischief had something to do with it.
Add the fact that he was the previous owner of the Staff (which basically created Ultron) and we can totally understand why the director cut the character out of the movie. But there is more about Loki - check out the next page too and see when we can expect (or not) to see him next!
Thor: Ragnarok - don't bet just yet on Loki appearing
During a recent interview while promoting Crimson Peak (which is a must, not just for the Hiddleston or del Toro fans), the actor made quite the reveal as far as his character is concerned.
The last time we saw him it was during the events of Thor: The Dark World. After being imprisoned and after helping, to a certain degree, to bring down Malekith the Accursed, all the Asgardians believed that the God of Mischief has died. Little did they know, he was actually sitting on the throne, impersonating Odin - as Alan Taylor (the director) said, the All-Father is definitely dead. The usurper didn't just impersonate him - he actually killed him.
And this lead us all to believe that Loki's role will be of great importance for the events of Thor: Ragnarok. In a movie concerning the end of Asgard as we know it, in which most likely Thanos will bring the destruction, and in which one of his former generals is sitting on the throne, we couldn't have had it any other way.
Or at least this is what everybody - literally everybody - believes. Tom Hiddleston now comes and tells us otherwise. Simply put it - he isn't certain that he will actually come back into the MCU.
What does he mean? Check out the next page!
It's all just a trick - or maybe not!
Thor: Ragnarok is set to arrive on the 3rd of November 2017, 7 months before the first part of the Infinity War. Besides the general lines of the story (Asgard falling), nobody knows anything - well, Feige and some screenwriters know.
So it would be understandable if Tom Hiddleston hasn't yet received a call. After all, besides Chris Hemsworth (and maybe Josh Brolin), everybody is expendable. Maybe in some behind the scenes twist it is revealed that Loki isn't on the throne"¦
Yeah, this is highly implausible. So the main reason why Tom said he doesn't know whether or not he will return to the MCU is just because he is playing a trick on us - a trick dictated by Marvel. Maybe his reveal as one of the antagonists will come with a spoilery price.
After all, Marvel did announce 3 unnamed projects in 2020. Who knows - maybe announcing Loki so early on would ruin a certain surprise"¦
What is known is that Tom Hiddleston did say, "you know, I don't know. I think I won't be able to help it if I ever play him again, and I just don't know when that's gonna happen, if that's gonna happen." (via Screen Crush).
Check out the next page to find out where you will find Loki for certain!
Loki and Ultron vs. Asgard & Avengers
As said, bringing Loki in Avengers: Age of Ultron wouldn't have been such a good a move for the movie itself, since everybody would have believed that Loki is somehow behind the menacing AI. And it wouldn't have been the first time when that happened"¦
Want to know when that happened? In the near future!
Disney Interactive is just about to release the next chapter of Disney Infinity 3.0, chapter titled Marvel Battlegrounds. In it, Loki and Ultron team up in order to take the powerful Infinity Stone from Asgard. In order to do that, they need to distract the heroes of the world (and universe, at the same time). And they do so by creating robotic replicas of Captain America, Hulkbuster, Black Panther, as well as others.
https://www.youtube.com/watch?t=1&v=qHmAjKKb2WY
And while the robots fight the heroes in locations such as Wakanda, the S.H.I.E.L.D. Lunar Base, and even a Brooklyn train yard, the villains need to find a way to fulfil their plans. You can check out the first trailer below and you can expect for more heroes to be announced in the following months!
On the next page, check out the latest rumors concerning Thor: Ragnarok!
Loki, replaced by Tyr
Obviously, calling an Asgardian a guy is a reference to the fact that Odin doesn't think of his race as being gods or demigods.
This being said, there is an interesting rumor circulating on the web, according to which Loki's presence is not necessarily needed during the events of Thor: Ragnarok. His place is taken by the Norse God of War, Tyr, who is also Thor's half-brother. While Tyr is known for defending Asgard time and time again, he is also known for rebelling against his father on several occasion.
The reason is simple - because Odin has favorited Thor more than his other children (and this sounds familiar). Allegedly, Tyr will only have one hand in the movie, since he has already fought Fenris - a god who has the ability to shapeshift into a giant wolf.
Another reason why Loki won't be needed is that the movie will already be packing all sorts of villains and villainous characters. Thus, besides Tyr and Thanos, Thor: Ragnarok will also feature a colossal fight between Thor himself and Jormungand - also known as the Midgard Serpent (who, in the comics, is also known as one Iron Man villain Fin Fang Foom).
Apparently, the fight takes place as a part of an ancient prophecy, which says that Thor and Jormungand will died by each other's hands.
Check out the next page for more from Tom Hiddleston!
I Saw the Light
During an extensive interview with The Guardian, the Loki actor has talked about what it's like being famous. And he has talked with such grace and conviction that you wouldn't even believe that he is a world renowned superstar.
His next movie after Crimson Peak (which will be released on the 16th of October) is called I Saw the Light and is a biopic of Hank Williams, the genius musician dead at 30 - one of the most influential American singer and songwriter of the 20th century, he struggled with alcoholism until succumbing from heart failure.
You might want to check this movie out, when it is released on the 27th of November not just because Tom Hiddleston is in it. The movie is regarded as one of the contenders at the next year Academy Awards, while also starring another Marvel Cinematic Universe star. She is none other than Elizabeth Olsen, the Scarlet Witch from Age of Ultron and who will also appear next year in Captain America: Civil War.
Speaking of the MCU, you might want to check out the next page - Dave Bautista talks about the much awaited Avengers and Guardians of the Galaxy crossover!
Bautista PRAYS For Avengers & GOTG Crossover!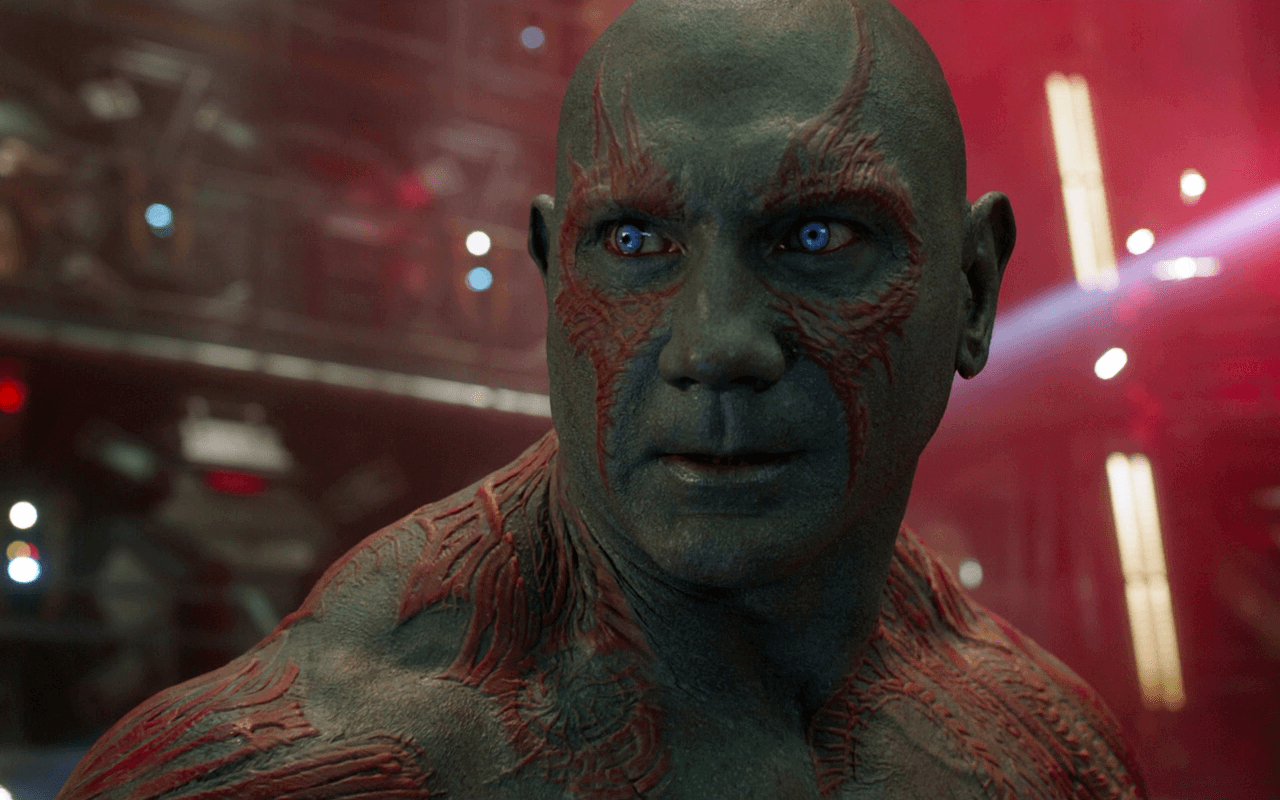 While speaking to Screen Rant recently, the WWE superstar Dave Bautista claimed that an Avengers – Guardians of the Galaxy crossover is nothing more than a "˜rumor' at the moment (most likely, a rumor like the one saying that Loki won't appear in Thor: Ragnarok). However, since at the core of him is "˜the biggest geek you've ever met' and since he is a "˜superhero fan first and foremost', he definitely wishes for it to happen! Here's what the actor said:
"I pray every day"¦and night, and afternoon, and after you walk out the door I'll go pray and say, "Please let Drax be in "˜The Avengers.'
Rest assured, Dave - we are certain that the Guardians will meet the Avengers sometime during the Infinity War. There is even a rumor saying that Iron Man is the one to bring them to Earth. Apparently, after the events of the Civil War, Tony Stark decides to exile himself and heads into space - he then meets the Guardians and has plenty of time to return in order to appear in the first Spider-Man flick.
So there is no doubt that the Guardians and the Avengers will crossover. The only question is: how many jokes will Star Lord and Iron Man exchange?
You may also want to check out the next page - Drax destroys a supervillain! Or at least this is what Dave Bautista says!
The Rock & Dave Bautista
In another recent interview, this time with MTV, Dave Bautista claimed that his Marvel character would beat Dwayne The Rock Johnson's DC Extended Universe character Black Adam in an intergalactic showdown between the two! He did want to know out of curiosity whether they had asked the same question to his former WWE mate, but was confident enough about going with his guy.
Dave also hinted in the interview about the possibility of getting to watch Drax in a new look in the second installment of James Gunn's Guardians of the Galaxy series. He stated:
"I put in my two cents with Marvel because I thought Drax needed a few more tattoos. I had some specific ideas, but what they want to do with Drax at the end of the day is up to the Powers That Be."
Here's the interview clip for you!
Check out the next page for more about Drax!
Drax's backstory for Vol. II?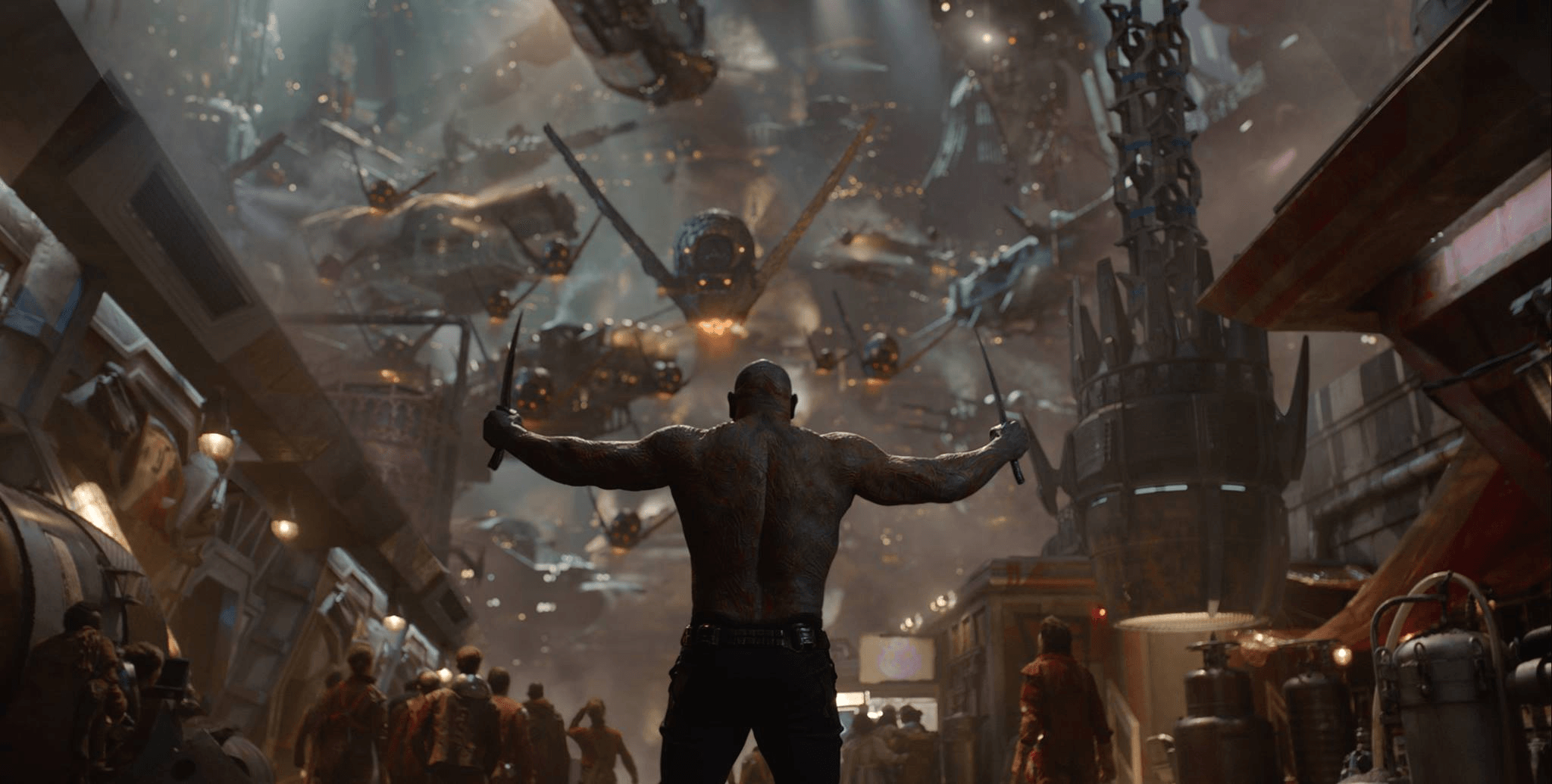 During the same interview with MTV, Dave Bautista also talked a bit more about the much awaited Guardians of the Galaxy: Vol. II. According to him, we will get to know who Drax is much better than we did in the first movie.
Thus, if in the first one we knew that his family was killed by Ronan the Accuser, in Vol. II we might even find out from where Drax got his awesome power. And we do want to see that – though we doubt that it will be the origin story from the comic books.
In any way, we can believe Dave Bautista when he says that Drax's backstory will be featured. Quite a while ago, James Gunn also said that he doesn't intend to bring in any other characters into the fold (except for an essential one), because he wants to delve into the past of the already existing Guardians.
The director also said that the second Guardians of the Galaxy movie will be about fathers – while this is a strong hint that we will find out who is Star Lord's father (sure we know – but only in the comics), this is also a hint for the former father Drax was.
So what do you think? Will Loki appear in Thor: Ragnarok? Will we see a family man transforming into Drax the Destroyer?