It's said that our schooldays are the best days of our lives but, let's be honest, very few children actually enjoy doing their schoolwork, so it's important to encourage them do it by stimulating them a little.

A good way to do that is to make they equipment they use to do their work more fun and colourful – and there's nothing more fun and colourful than the characters of the Marvel universe!

In this piece, we'll be taking you through thirty Marvel stationery products that will help make working and learning that little bit more fun for your child…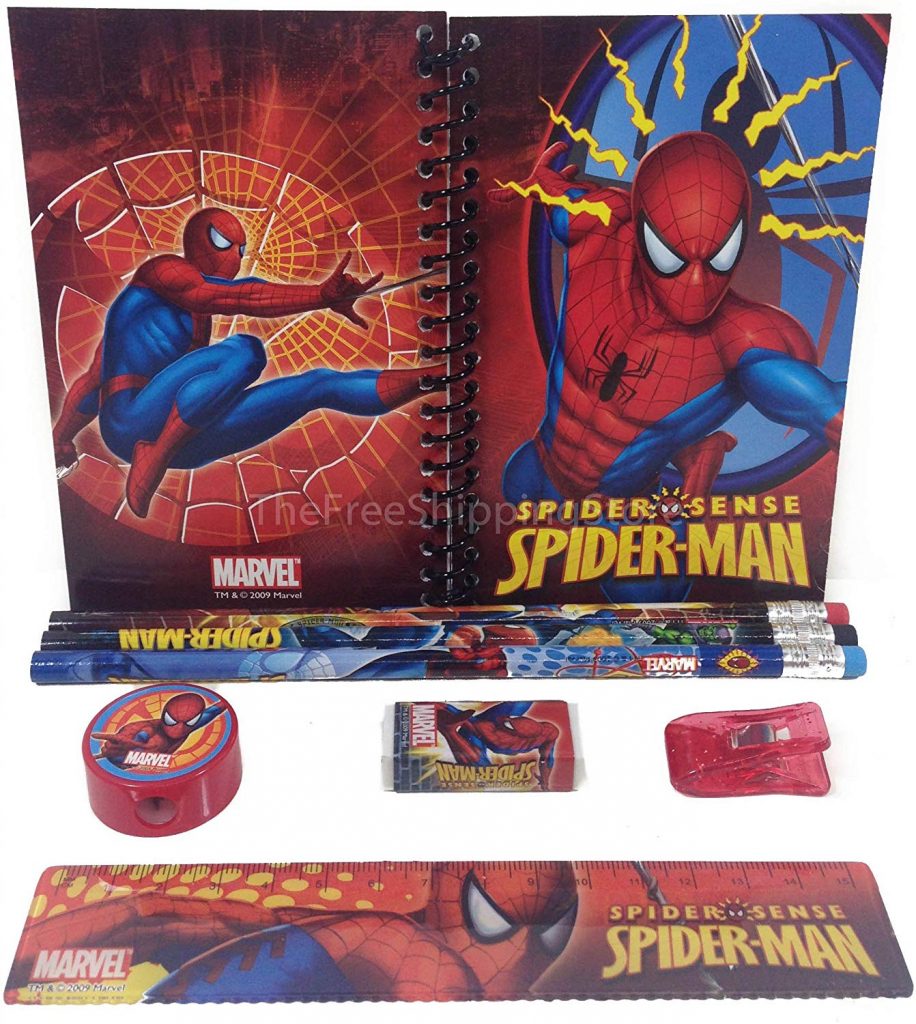 What better way to kick things off that with a fun stationery set featuring Marvel's most iconic heroic character?

We are, of course, talking about the amazing Spider-Man – and this eight piece stationery set has the Webbed Wonder's name and image absolutely all over it!

It includes a notebook, three pencils, a ruler, an eraser, a pencil sharpener and a clip. Buy it at once!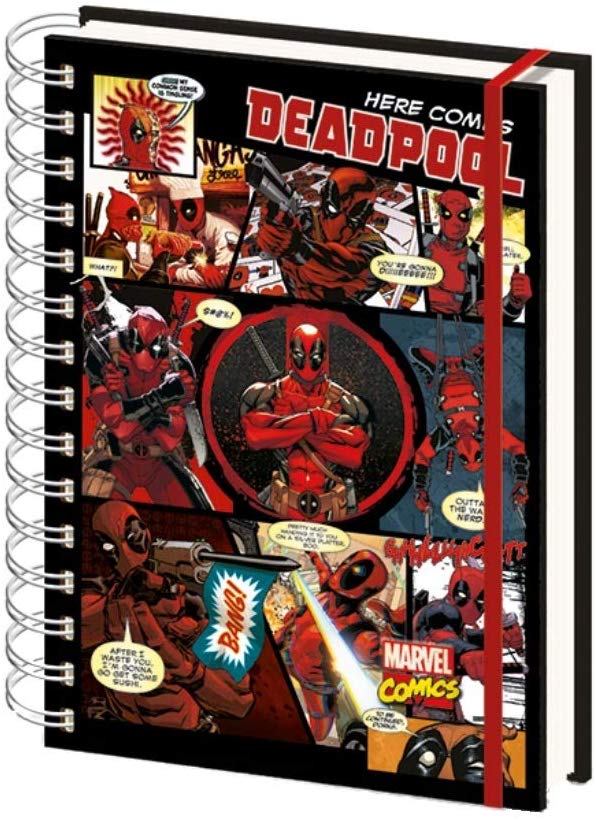 If all your kid (or even you) needs is a notebook, then look no further than this awesome Deadpool journal notebook!

It features tonnes of classic comic book images of Deadpool, as well as the Merc with a Mouth's logo on the inside of the cover and a handy elastic band closer.

We do, however, absolutely dread to think about the kind of things Deadpool would write and sketch in this notebook!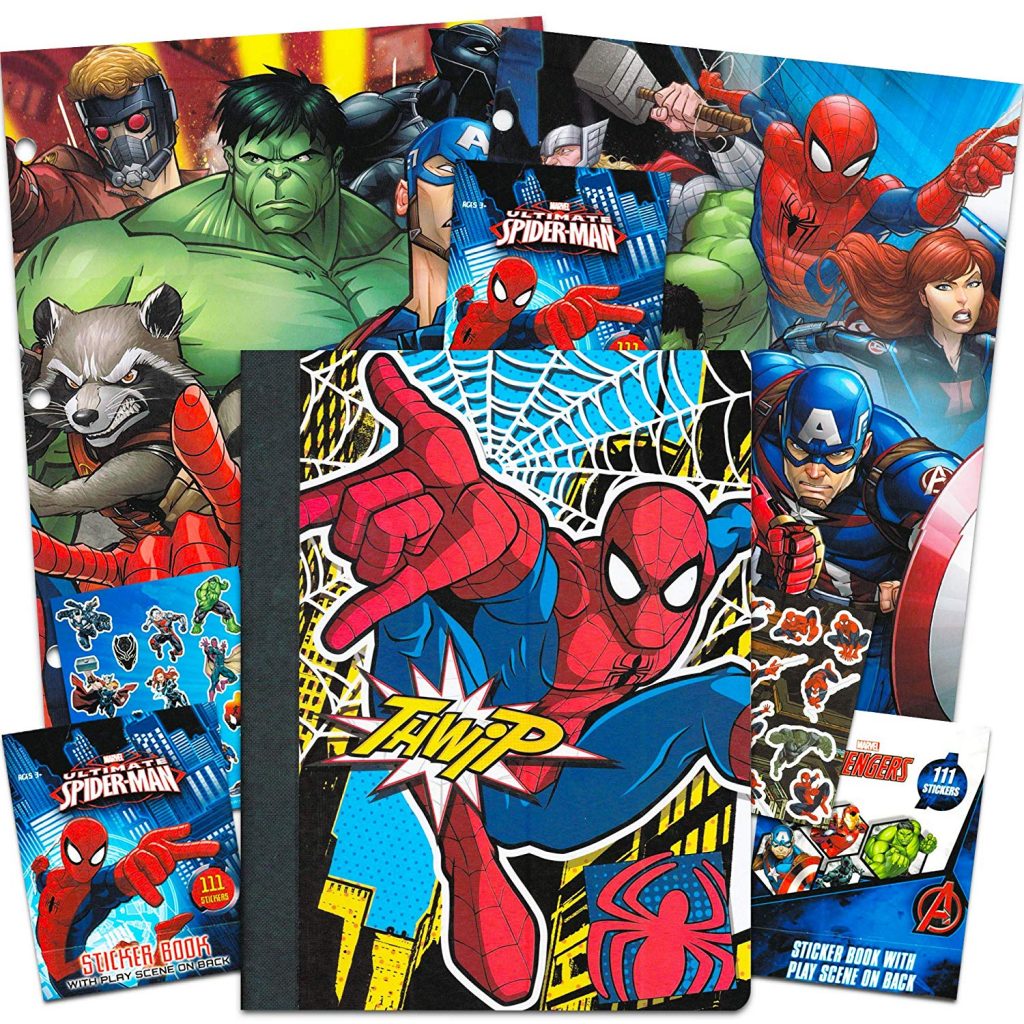 Spider-Man, Captain America, Black Widow, Thor, Rocket Raccoon and Black Panther – just some of the popular Marvel characters who appear on the items in this fun little set.

It contains a couple of folders, a notebook and, most excitingly, a bunch of cool stickers!
Read More: Marvel (Avengers) Board Games

Nothing brightens up a schoolday like having stickers all over your books and stationery – and that's what your kid could use these for!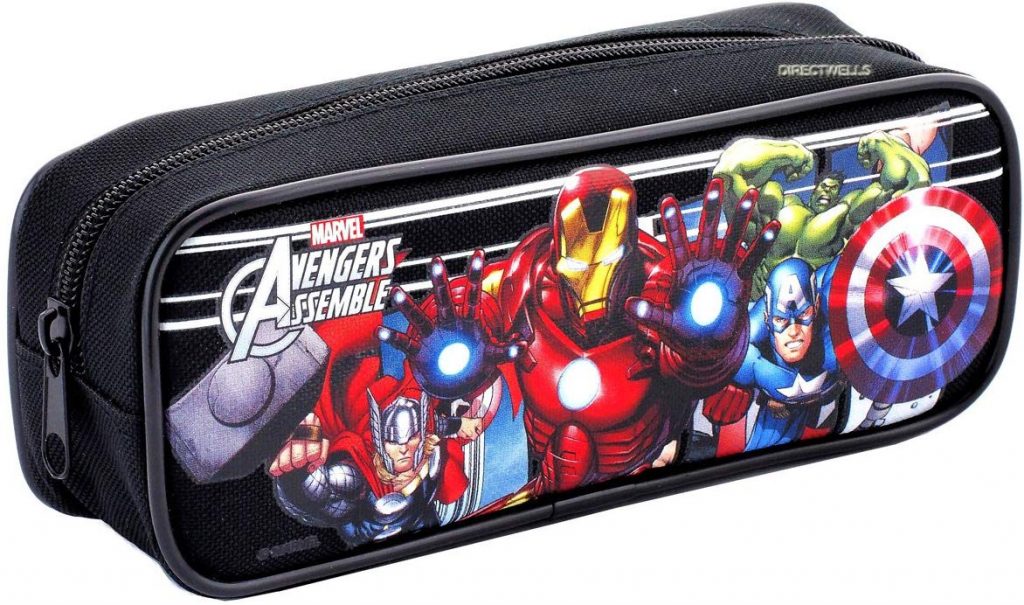 Pens, pencils, erasers, pencil sharpeners – they've all very small and fiddly and your kid will need something to carry them around in. That's where this pencil case comes in!

It's an Avengers pencil case with the iconic "Avengers Assemble" slogan on it – and it features only the most iconic members of the team.

Specifically, Thor, Iron Man, Captain America and the Hulk will keep your kid company at their desk if you make this purchase!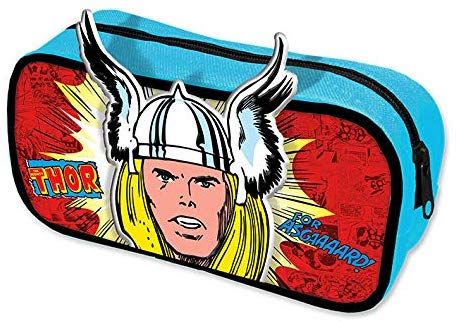 Alternatively, your kid might be such a huge fan of Thor that they don't need Iron Man, Captain America and the Hulk on their stationery – they might be content with this God of Thunder pencil case.

It's got classic Thor comic book art on it – and the mighty one is screaming "FOR ASGAAAARD" in typical warrior fashion.

This pencil case will hold your child's stationery in the same way the mighty Thor holds Mjolnir – with distinct worthiness!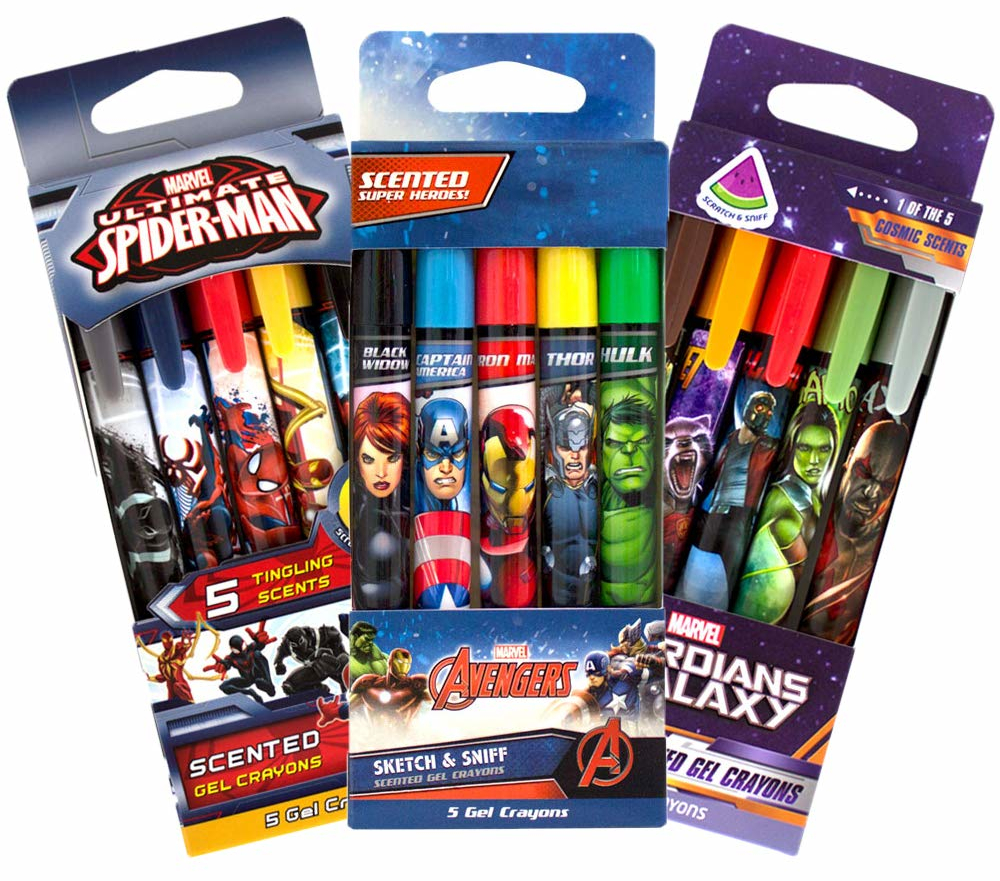 If your child is still young enough that their schoolwork still involves a little colouring-in, why not make that activity even more fun with these Marvel scented gel crayons?

There's a Spider-Man pack, an Avengers pack and a Guardians of the Galaxy pack!

The scents include Watermelon, Pineapple, Blueberry, Cherry, Super Soldier Snow Cone, Rainbow Bridge Sherbet, Gamma Sour Apple Smash and Covert Cherry – how fun is that?!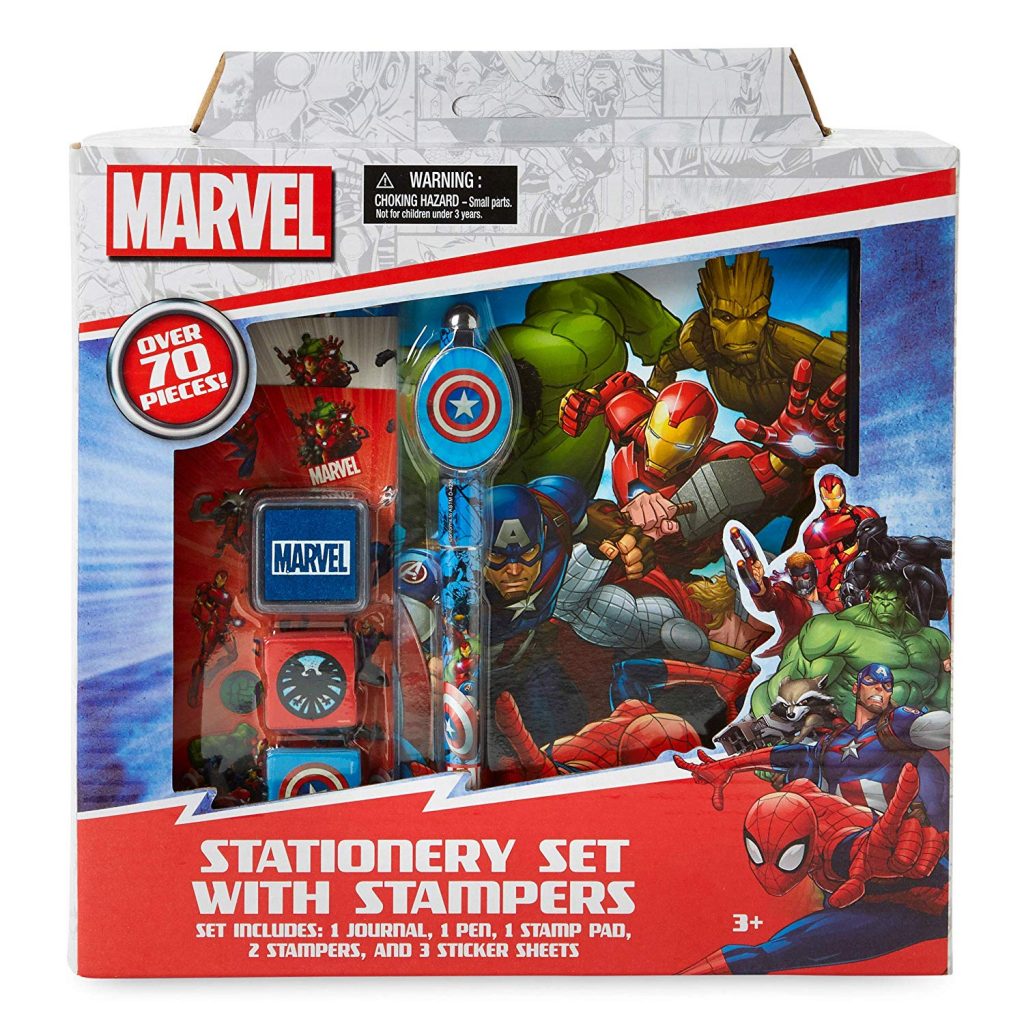 This very cool stationery set includes a journal, a pen, a stamp pad, two stampers and three sticker sheets.

It will enable your child to completely personalise their journal with stickers and stamps, enhancing their creative talents and allowing them to have fun in the process.

The stamps include a S.H.I.E.L.D logo and Captain America's shield, while the other items are absolutely laden with countless iconic Marvel heroes and imagery.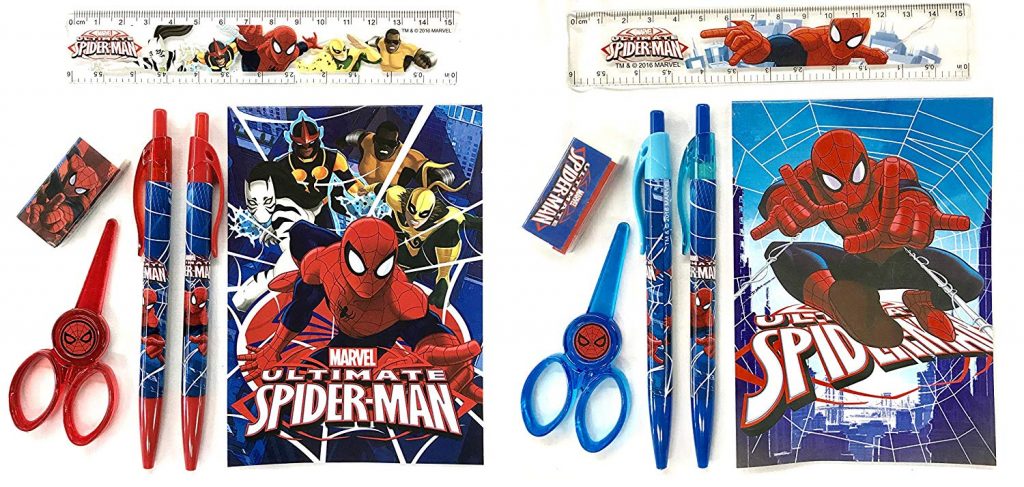 Back to Spider-Man now – and this time it's a double stationery set, each of which contains six items (meaning twelve items in total).

The sets each include one ruler, one eraser, one pair of safe plastic scissors, one pen, one mechanical pencil and one notebook.

They're all covered in Webbed Wonder imagery and, depending on the day, your kid can take whichever set they wish to into school!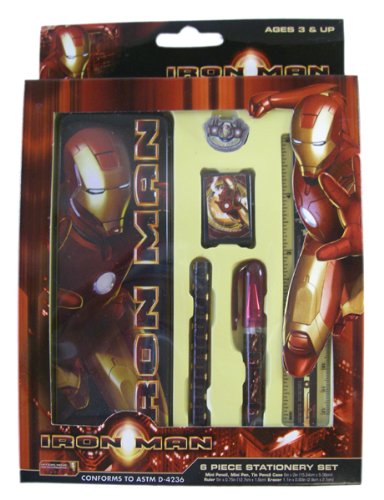 Now we come to the most popular superhero in the Marvel Cinematic Universe (or at least he was before his heroic sacrifice in this year's Avengers: Endgame), it's Tony Stark AKA Iron Man!

This six piece study kit will have your kid well on the way to becoming a bona fide genius like Stark himself!

It includes a pen, a pencil, a pencil box, a ruler, a pencil sharpener and an eraser – buy it now!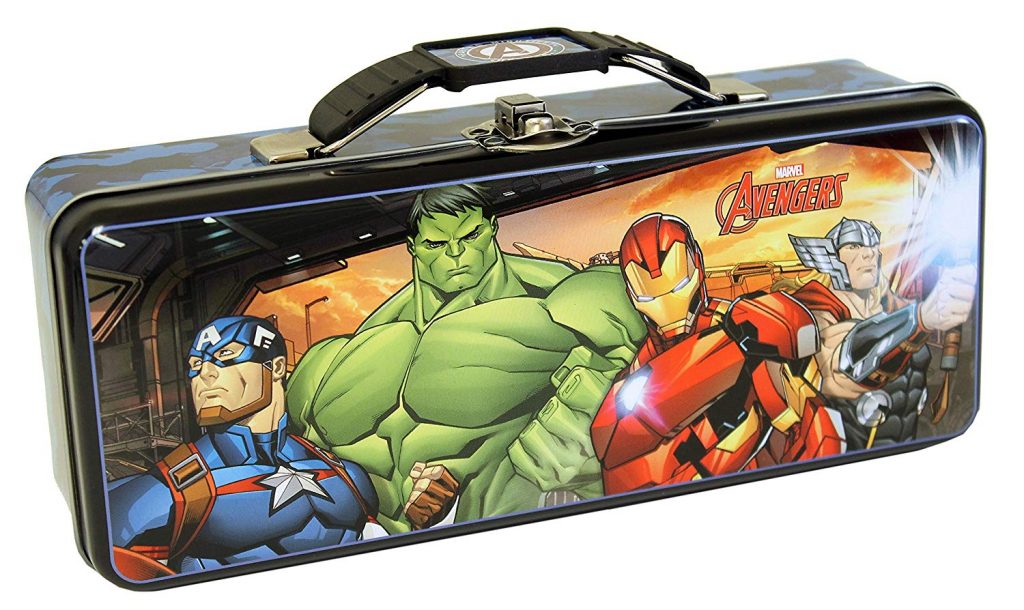 If your kid is looking for something very sturdy and very cool to hold their pencils and whatnot in, they need look no further than this fantastic Avengers pencil box.

It's made of tin and has a handle, a clasp and a hinge, so it's perfect for carrying around as many pencils and bits and bobs as they could possibly ever need.

It's got Captain America, the Hulk, Iron Man and Thor on it as well, so it's extra cool.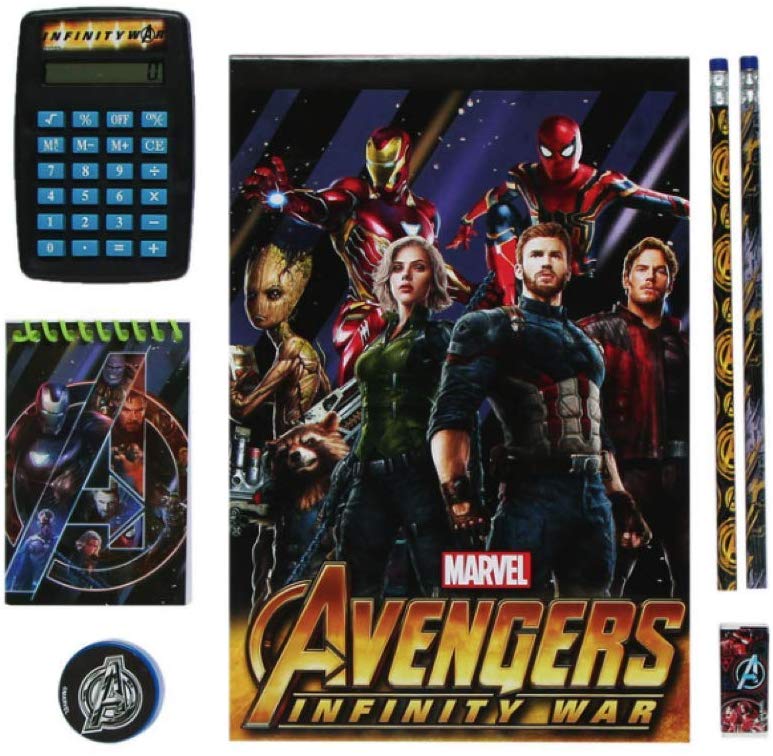 Amidst all the understandable love for Avengers: Endgame this year, 2018's Avengers: Infinity War has been somewhat forgotten about, so let's throw things back a year with this product.

It's a seven piece Infinity War stationery set that includes a calculator, a pencil sharpener, two different sized notepads, two pencils and an eraser.

It has your favourite MCU characters plastered all over it – and what could be better than that?!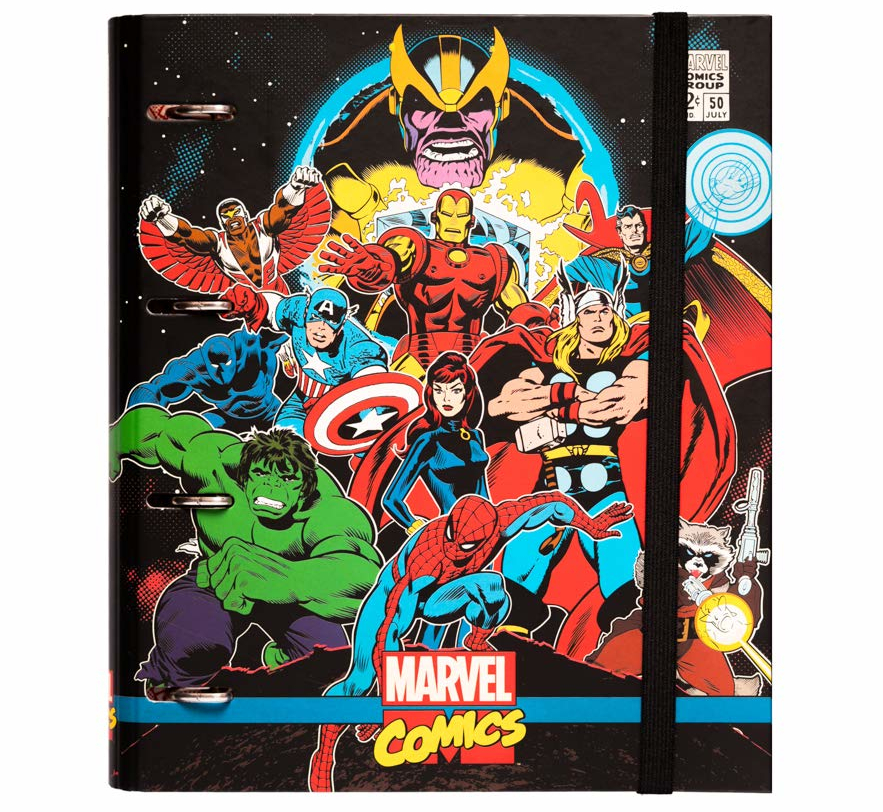 Homework, to-do lists, ideas, question sheets – kids use a lot of paper in their school years, so they'll need somewhere to store it all.

This Marvel ring binder is perfect for that. It's embossed cardboard with an elastic closure band to keep it tightly shut.

If features a number of prominent Marvel superheroes, including Spider-Man, Black Widow, the Hulk, Black Panther, Rocket Raccoon, Doctor Strange, Falcon and Iron Man, as well as the villainous Thanos!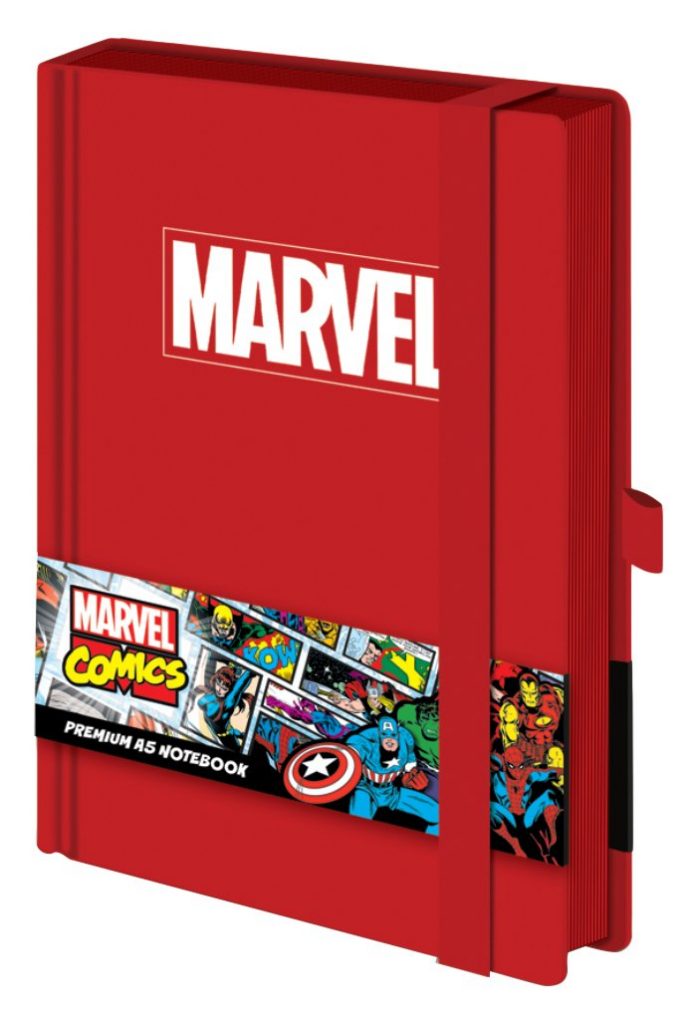 This is a very simple notebook, but it's ideal for anyone who's a Marvel fan – and that includes adults, in this instance, as it's by no means aimed solely at children.

It's an A5 notebook in red with the Marvel logo on it – and isn't it incredibly cool?

Whether it's for use at school, at college, at university, at work or otherwise, it's a great little item – and it has an elastic band to keep it closed when it's not in use. Lovely stuff!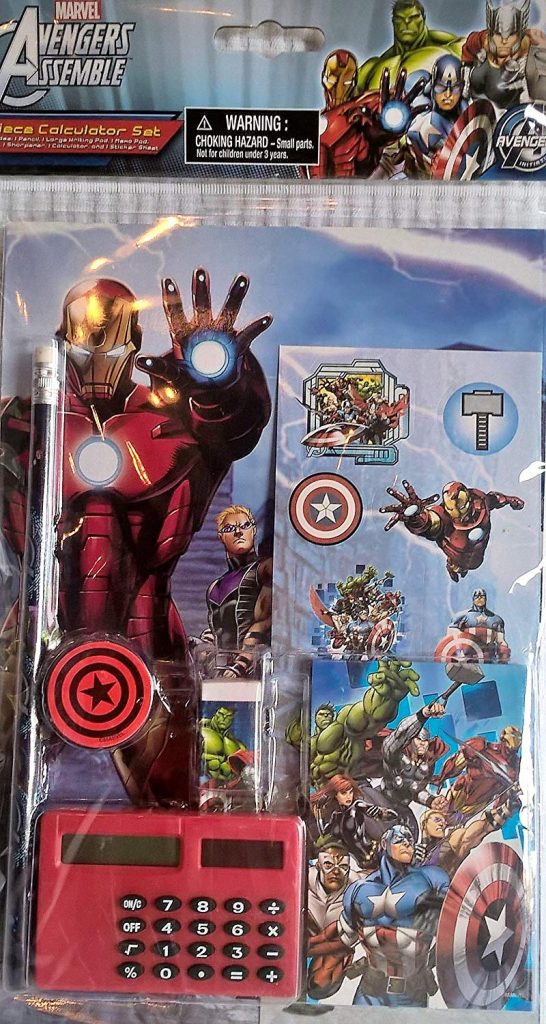 Here's another stationery set that has (almost) everything your kid needs for when they go back to school.

There's a calculator, a large writing pad, a pencil, an eraser, a pencil sharpener, a memo pad and a sticker sheet to make all of their school books look cooler.

It's an Avengers-themed that features characters like Iron Man, the Hulk, Captain America, Falcon, Black Widow, Hawkeye and Thor.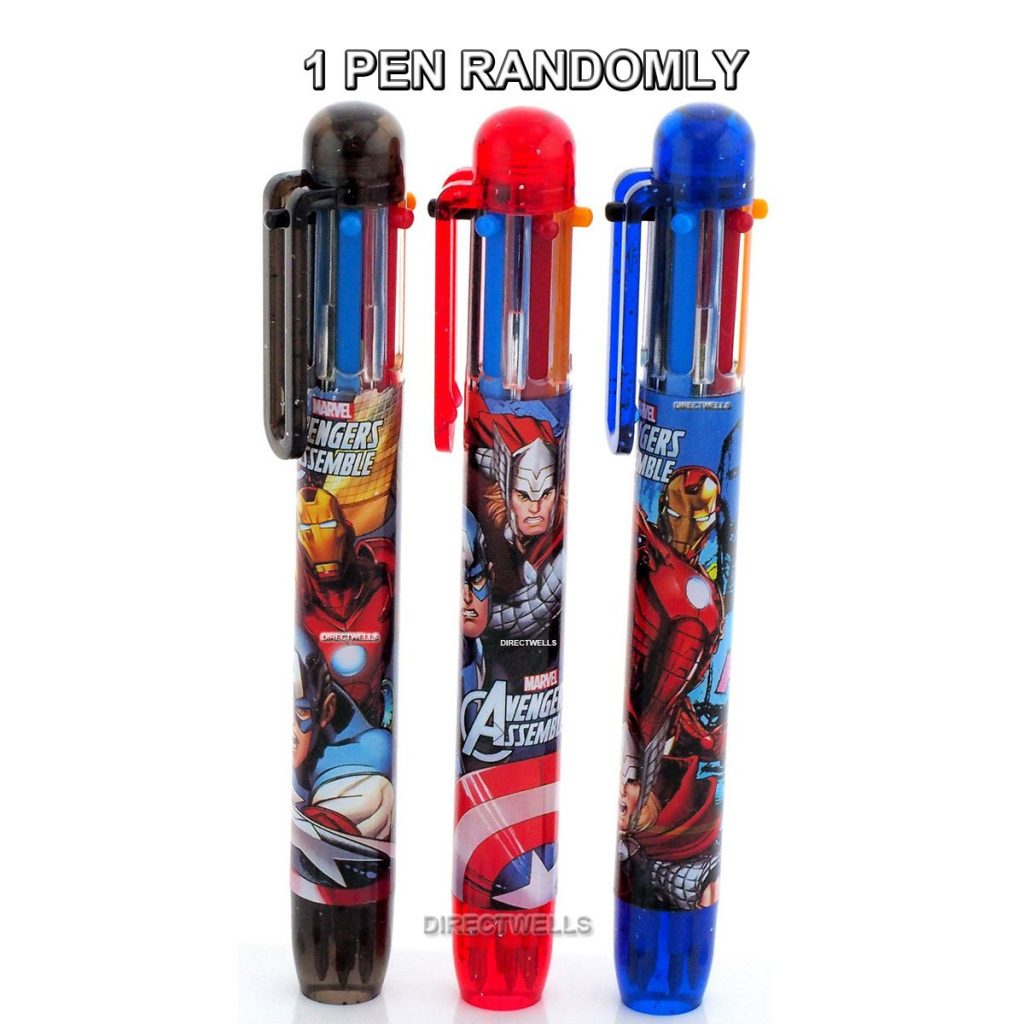 Remember those funky multicoloured pens we all used in school? Well now you can get these awesome Marvel multicoloured pens!

You know the type – you can choose to write in blue, black, red or otherwise with the same pen, courtesy of the press of a little button.

Please note that, as the image above suggests, only one pen will arrive per order – and which one you receive will be completely random based solely on stock availability!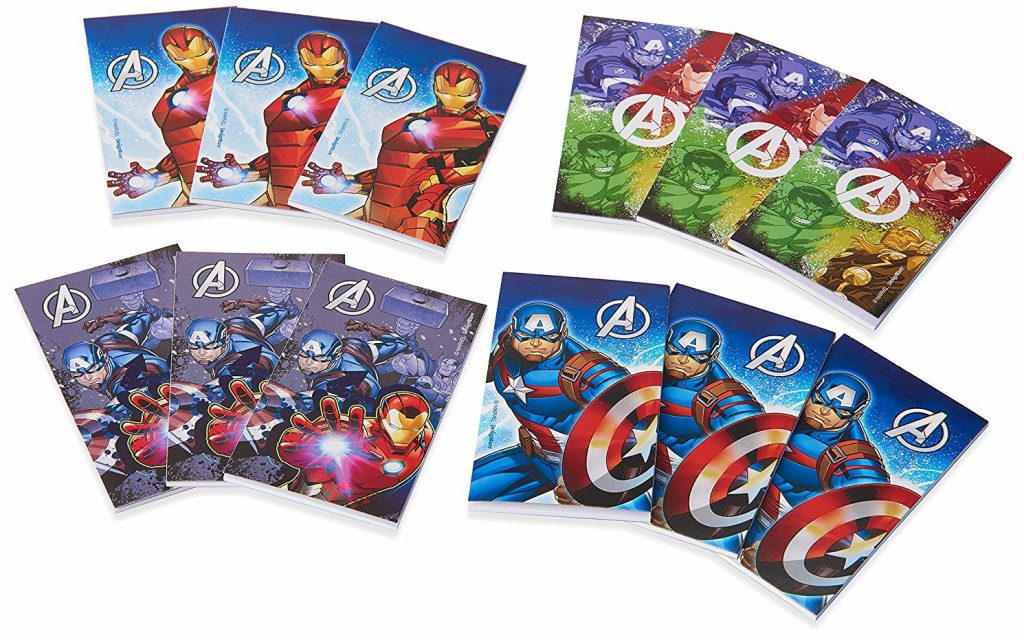 Now, with these items, you've got a choice regarding what you're going to do with them.

You see, it's a pack of twelve Marvel notepads – and you could either give them all to your kid(s) and let them use them all until they're full, or you could hand them out as part of a party pack at your kid's birthday party!

There' four different designs; an Iron Man design, an Avengers design, a Captain America design, and a design with both Cap and Iron Man on.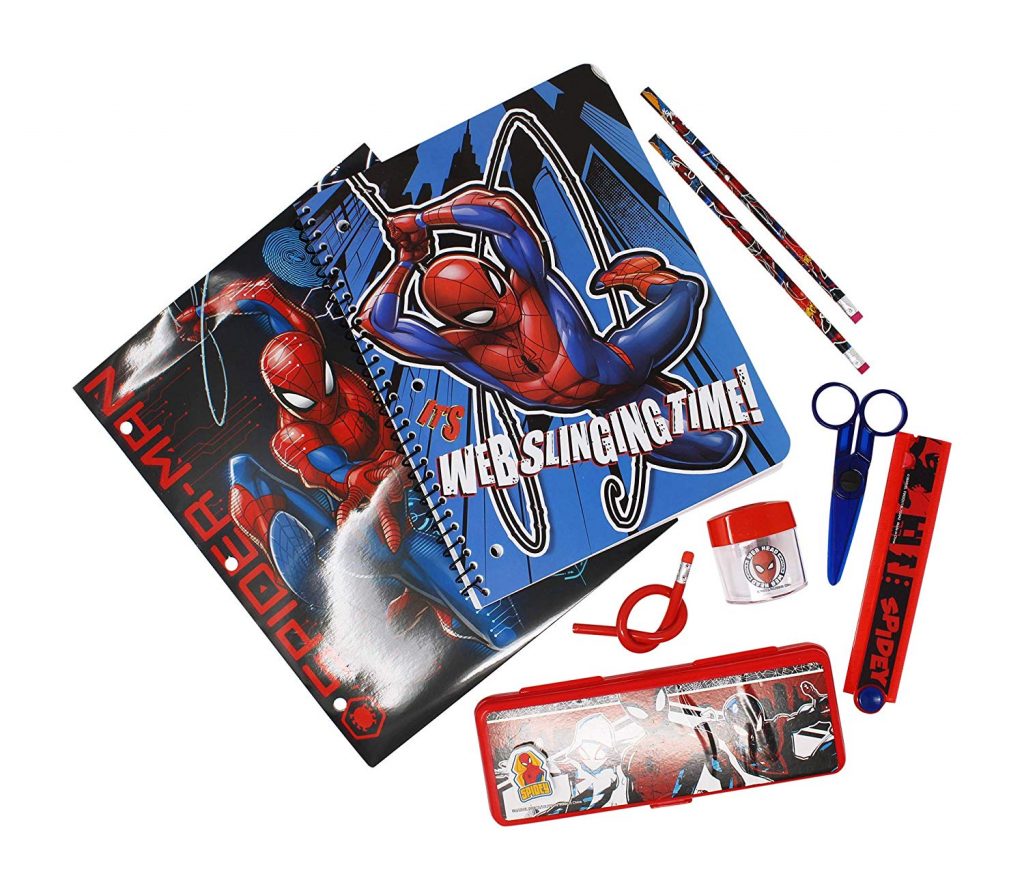 More Spider-Man fun now – and this time it's another set with just about everything your kid will need when they return to school.

Emblazoned with the Webbed Wonder himself, this set features a seventy sheet lined spiral notebook, a pocket folder, a hard pencil case, two #2 pencils, a fun twisty pencil, a ruler, a pencil sharpener, an eraser and scissors.

Of course, everything included (other than the folder and notebook, obviously) fits inside the pencil case! Useful!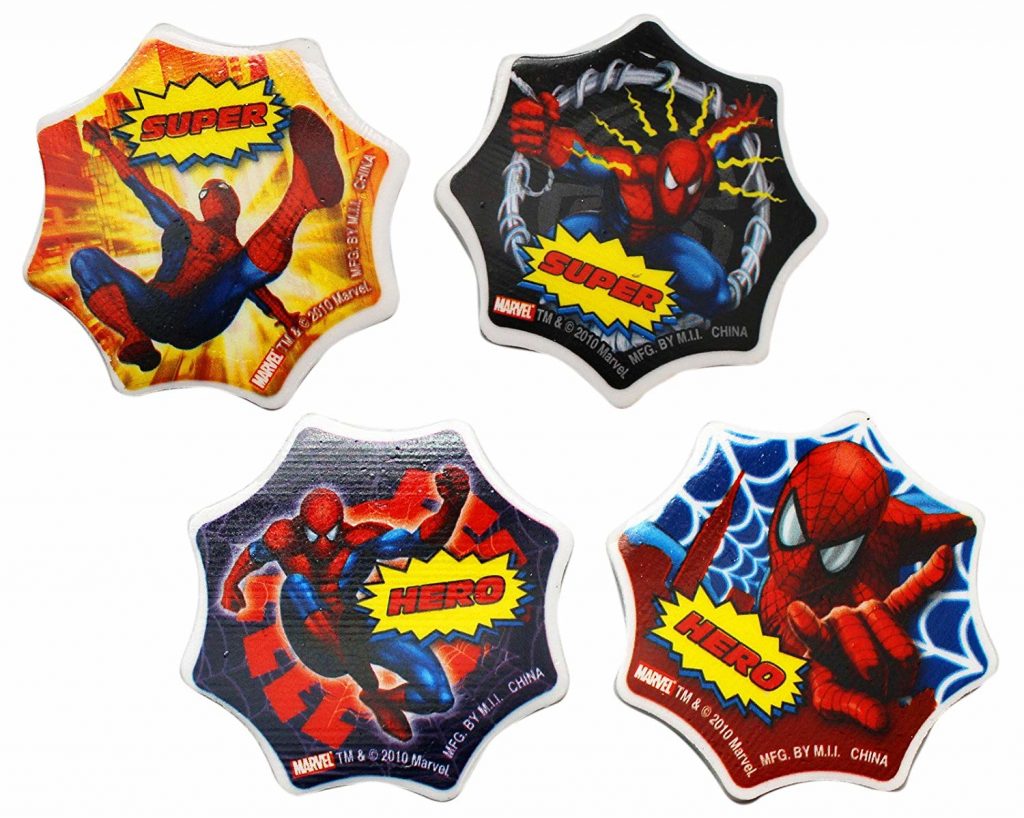 Gee, Spider-Man really is popular, isn't he? There are loads of Spidey products out there – especially when it comes to stationery.

If you're in need of erasers and your kid is a big fan of the Webbed Wonder, these Spider-Man erasers are perfect!

Specifically, it's a pack of four – each of which have a different Spider-Man design on them – and, as far as erasers go, they're very cool.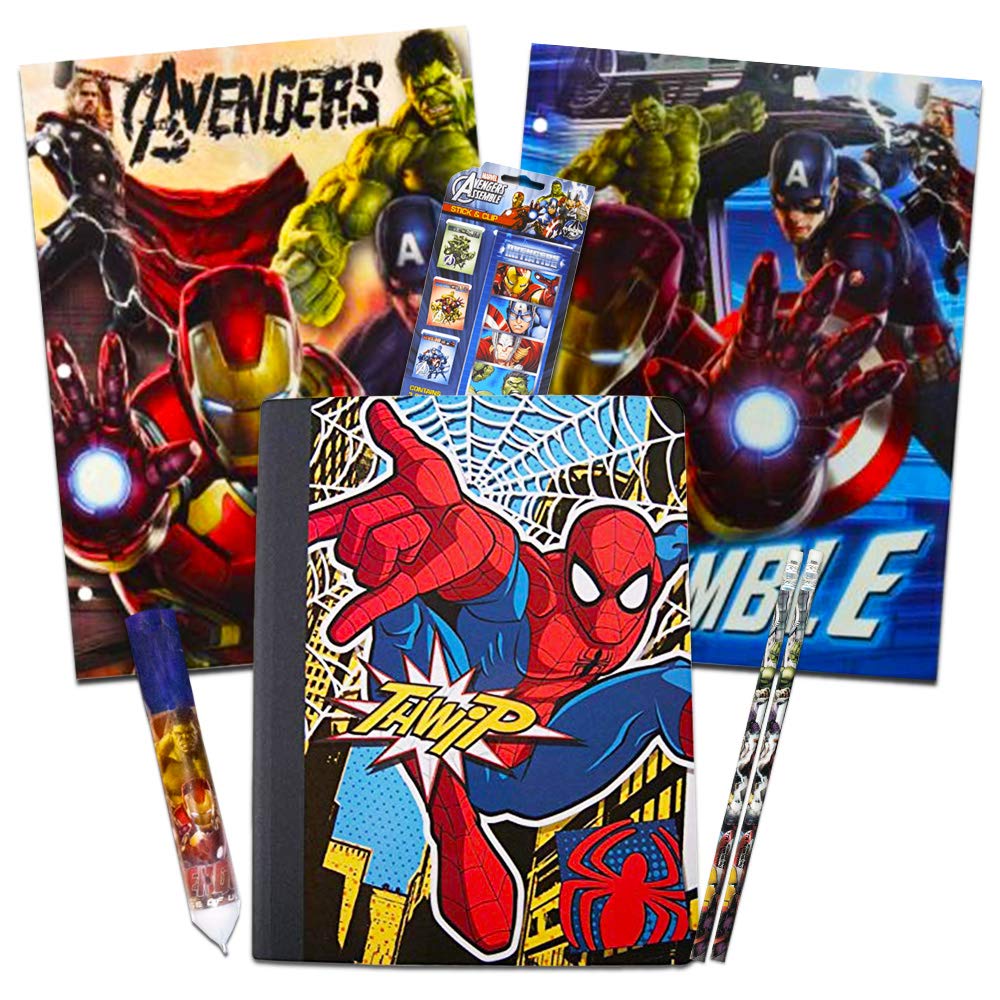 No kid could ever have enough school supplies with the Avengers on them, right? So why not buy this fantastic Avengers school supplies set for yours?

It includes folders, a notebook, a pen, pencils, stickers and some bookmarks – almost everything required to send your child to school with!

All the major Avengers are featured on the included items, such as Spider-Man, Iron Man, Thor and the Hulk – brilliant!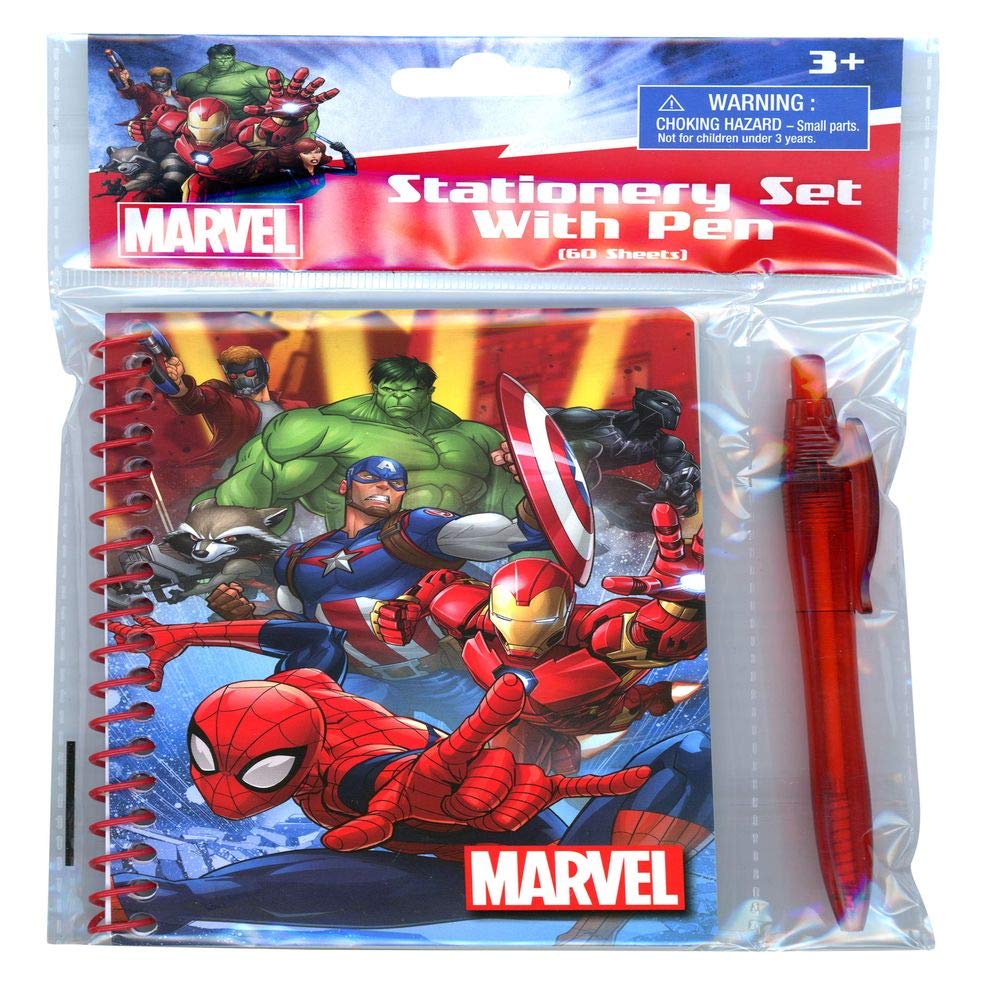 Sometimes, the only things a situation calls for is a notebook and pen – perhaps when taking notes in a classroom or lecture theatre, for example – so what better product for that situation than this?

It's a Marvel notebook and pen – and it features a number of popular Marvel superheroes!

There's Star-Lord, the Hulk, Black Panther, Rocket Raccoon, Captain America, Iron Man and Spider-Man – someone for everyone, essentially!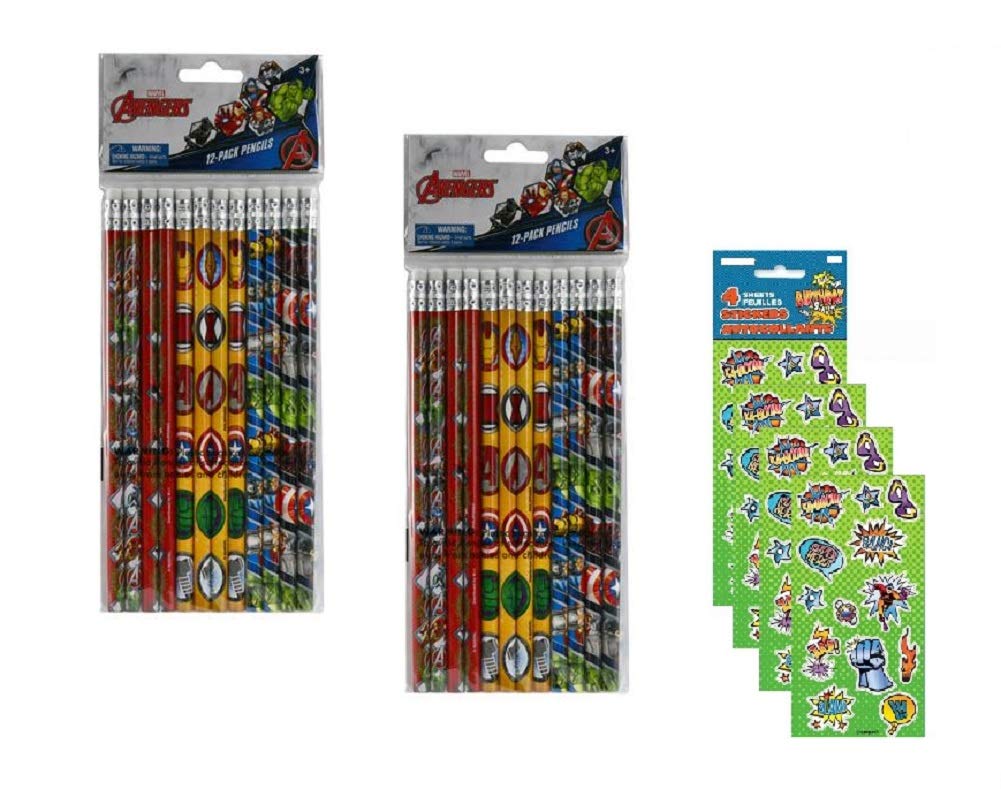 Let's face it, children go through a lot of pencils! Not only do they use them for working, they also draw and doodle a lot – so they'll be needing lots of them!

This twenty-four pack of Avengers pencils is just the ticket – and they feature imagery associated with the likes of Spider-Man, Iron Man, Captain America and the Hulk.

Moreover, they come with four fun sheets of comic book stickers! Brilliant!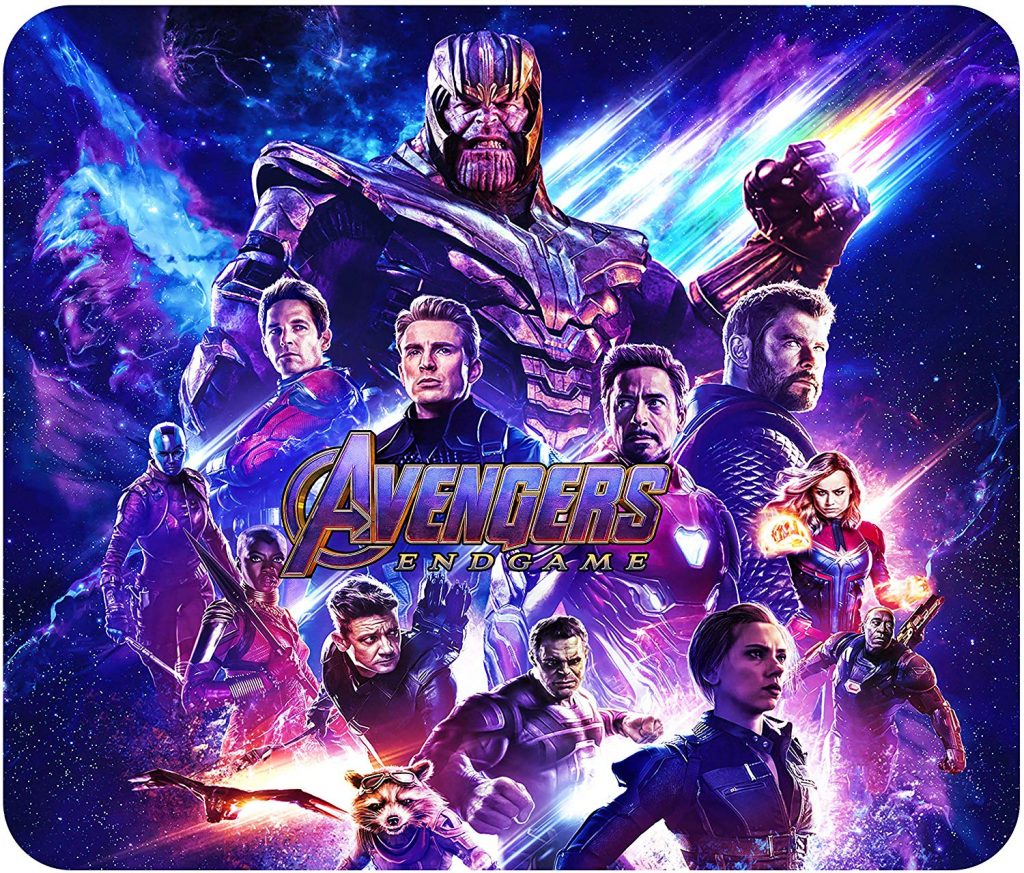 You may not think of mouse mats as "stationery", but anything that falls into the category of "office supplies" fits the bill, so here we are!

These days, even the youngest children use computers for schoolwork – so why not make their time spent in front of that monitor more exciting with this Avengers: Endgame mouse mat?

It's got all the movie's main characters on it; Thanos, Iron Man, Ant-Man, Thor, Captain America, the Hulk, Nebula, Okoye, Captain Marvel, Black Widow, Rocket Raccoon, War Machine and Hawkeye!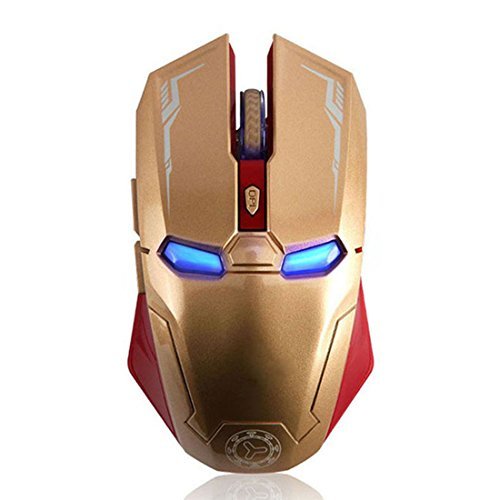 Yup, office equipment also falls into the category of "stationery", so we just had to include this fantastic USB wireless mouse!

It's in the shape of Iron Man's iconic mask – and it even lights up at the eyes, just like Tony Stark's does is the Marvel Cinematic Universe!

Seriously, what better way to encourage learning on a computer than by making the mouse this cool? Your kids will love it!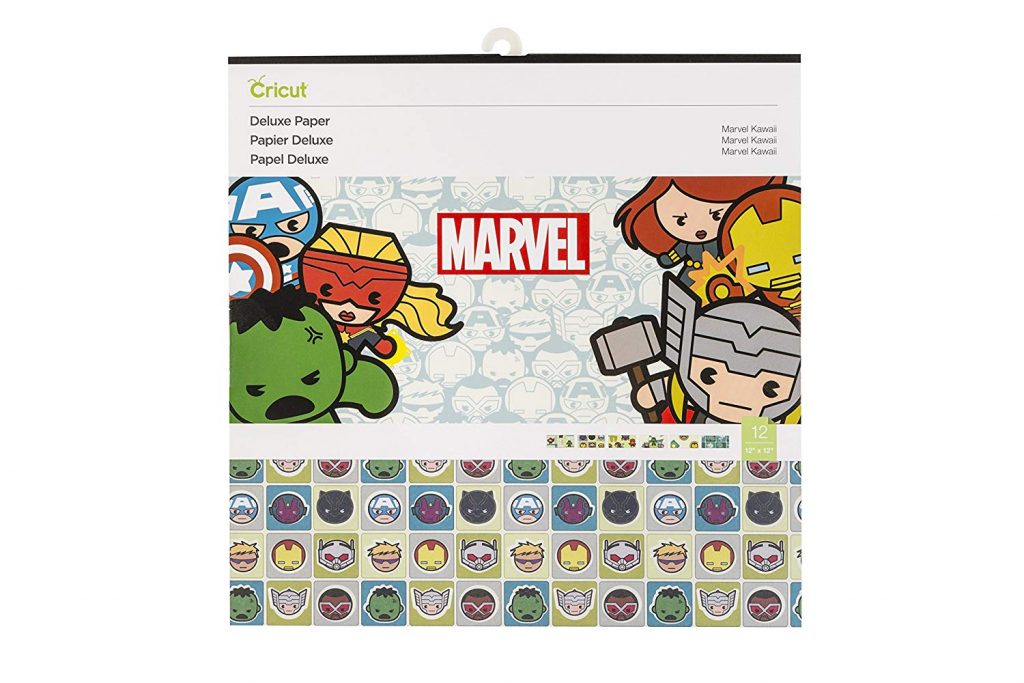 Something as simple as more interesting paper can make working more fun and stimulating for younger children, so this Marvel paper is a great idea!

Of course, they won't be able to do homework on it, but it's great for making notes or just having a little sketch!

It features cute versions of a number of Marvel superheroes, including Captain America, Captain Marvel, the Hulk, Black Widow, Iron Man and Thor!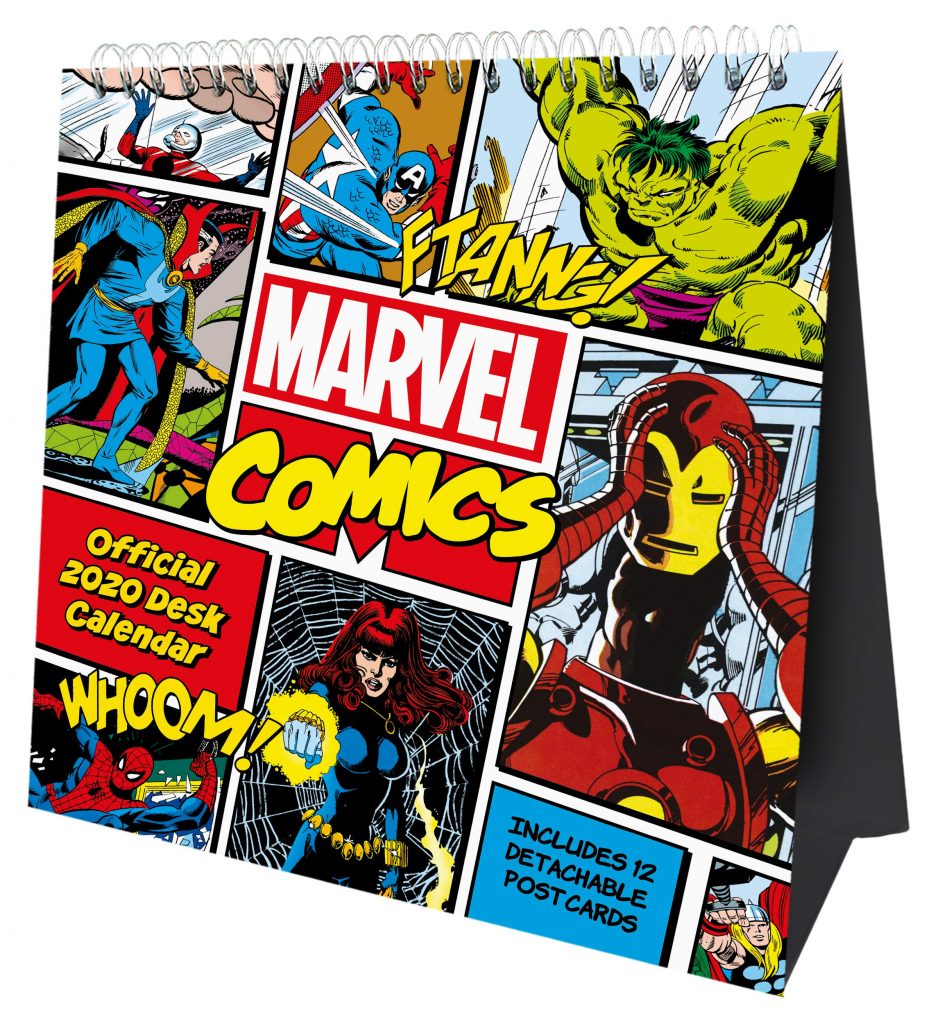 What about this for a cool way to help your kid keep themselves organised in 2020?

It's a very nice Marvel desktop calendar, with every month represented by a detachable postcard that can be kept for future use (putting on display, for example!).

We have a sneaky suspicion to might want one of these for yourself as well, so don't be afraid to buy one for your kid AND one for you!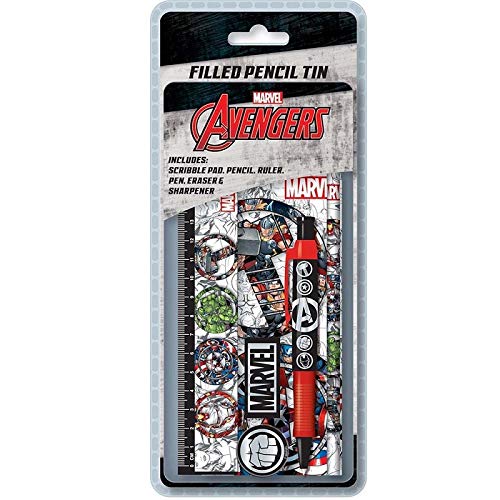 If you're wanting a pencil tin that comes complete with the items to fill it with, look no further than this one!

It's an Avengers pencil tin that also comes with a scribble pad, a pencil, a ruler, a pen, an eraser and a pencil sharpener!

These are some really nicely designed items with some very cool Marvel imagery on them. You should definitely make the purchase!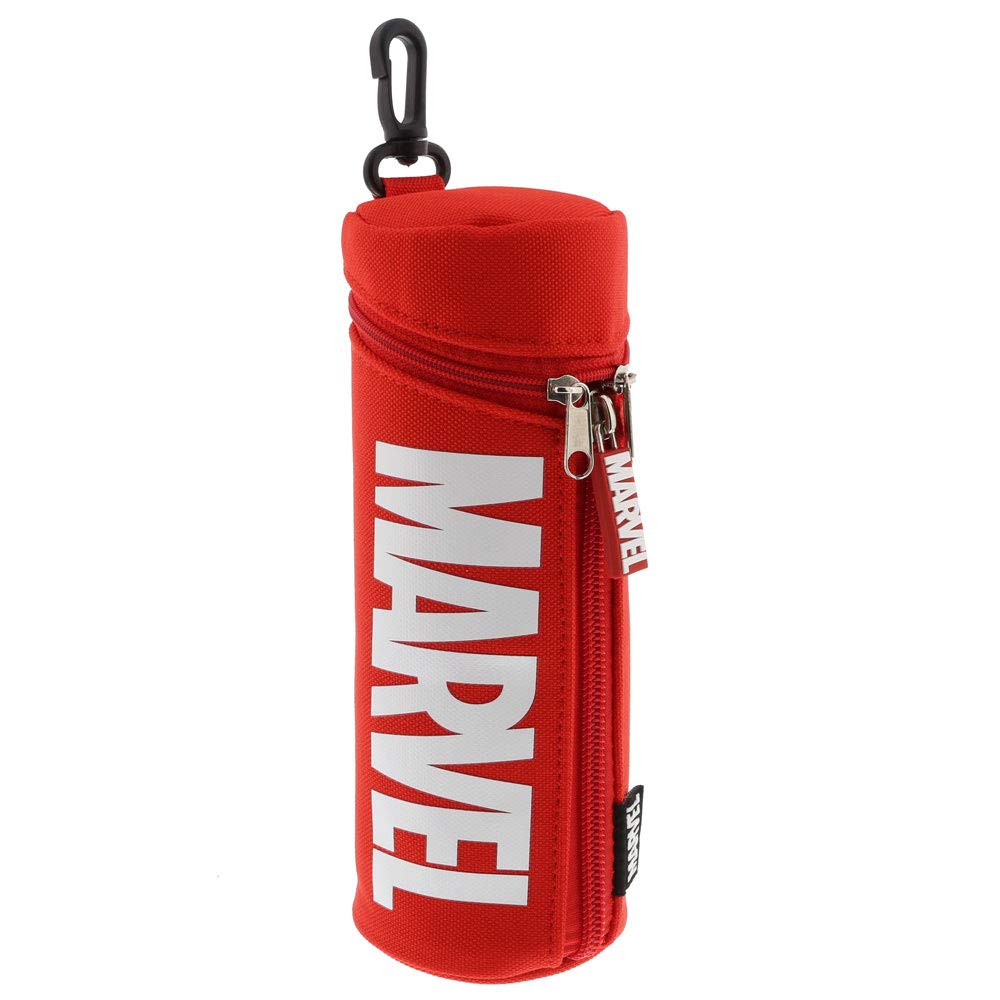 Isn't this a cool item?! It's very simple, but the best products usually are!

It's a cylindrical pencil case in bright red, complete with the Marvel logo on it!

It zips up, as you would expect a pencil case to you, but it's also got a little clip on it that enables the owner to attach it to their waist or even their schoolbag – what a great idea!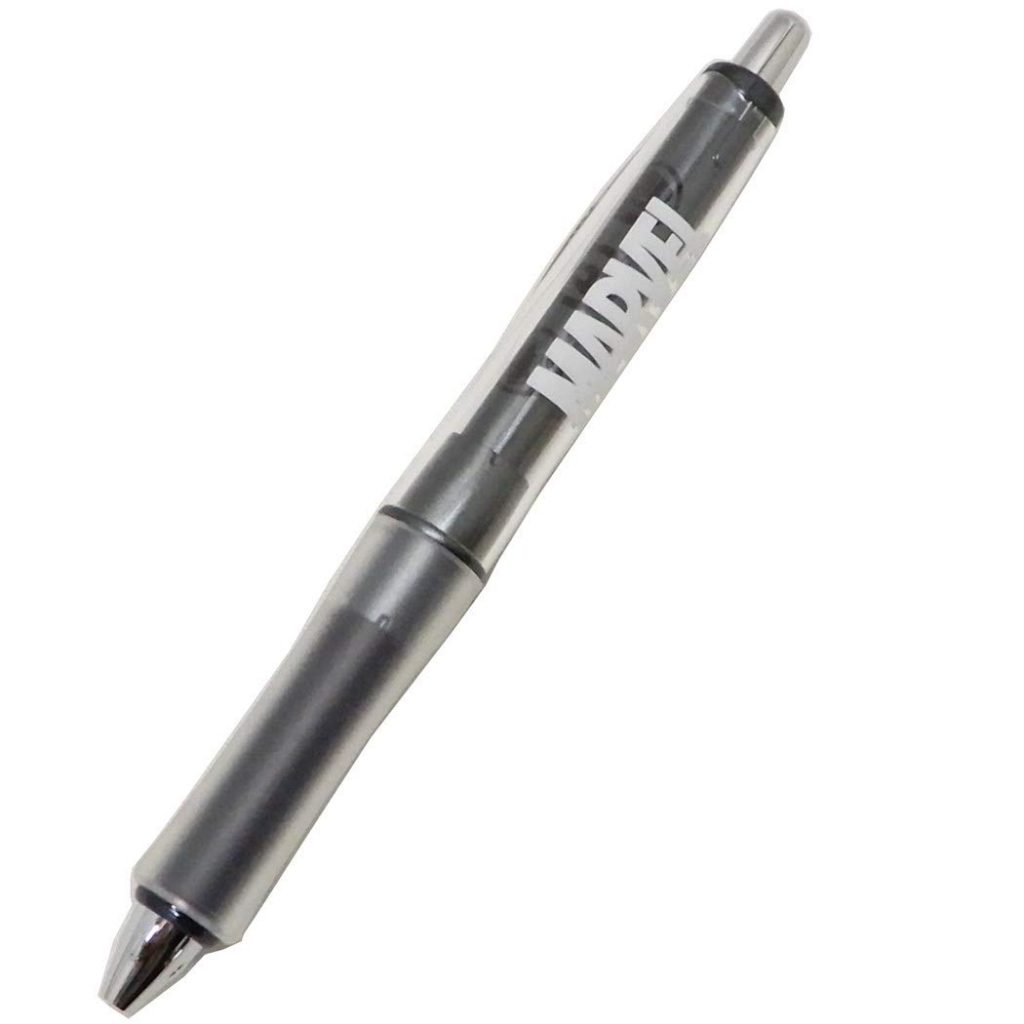 Perhaps you're just looking for a nice Marvel pen for your kid (or maybe even for yourself) – and this one is very smart!

It's a grey/silver ballpoint pen with the Marvel logo on the side!

It would make a nice gift – perhaps a stocking filler at Christmas – for an older child, but there's no reason a younger child wouldn't like it either (or, as we already mentioned, you!).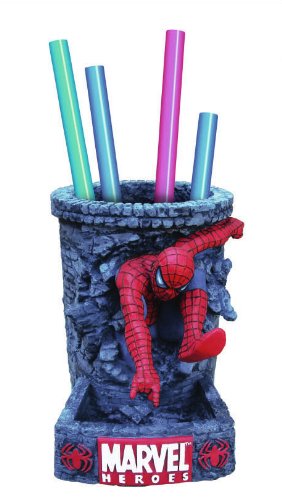 When your kid is sitting at their desk doing homework, they'll want somewhere to store their pens and pencils that makes it easy to access them when they need them – this product is ideal for that.

It's a Spider-Man pencil holder – and it's a really cool looking item!

It features Spidey smashing through a stone wall – and it's big enough to house several pens and pencils, which is great and very useful.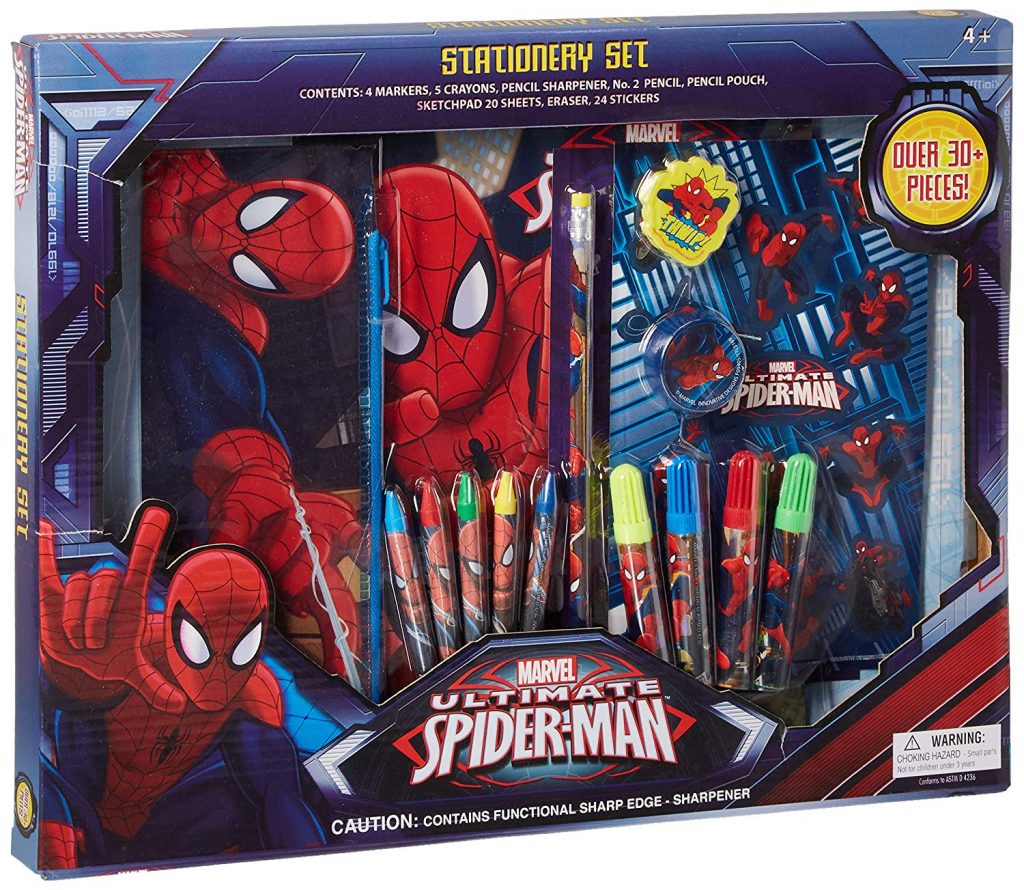 If you're looking for the ultimate back to school kit for a young child, look no further than this Spider-Man mega stationery set!

It contains more than thirty pieces of stationery, including marker pens, crayons, a drawing pad, a pen, a pencil a pencil sharpener and an eraser.

The Webbed Wonder will really encourage your kid to be creative with this awesome set, so what are you waiting for? Buy it now!
Did you like any of these products? Which ones did you buy? Let us know!