Superheroes are everywhere these days – in the movies, on TV, on the internet, on shelves in stores – and now you can have them on your feet!

Seriously, there's LOADS of superhero footwear out there for you to get your hands on (or, more specifically, your feet).

From canvas shoes to flip flops and from slip-on shoes to slippers, there's an example of superhero footwear for everyone!

So, let us present to you thirty amazing pairs of superhero footwear you simply must own…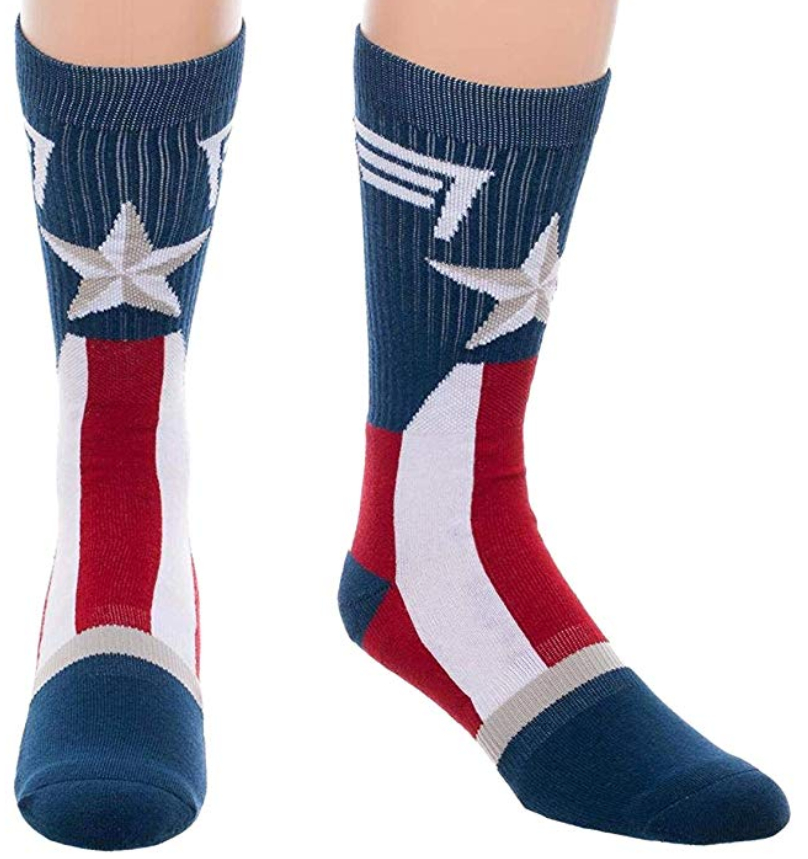 Hey, socks are footwear too! And we simply couldn't NOT include these, because they're fantastic!

They're Captain America socks – complete with the super soldier's iconic colours and symbol – and they're so cool that, frankly, you could wear them on almost any occasion.

For example, you could either wear them under a suit or with training shoes when you head out for a jog. These are versatile garments, guys!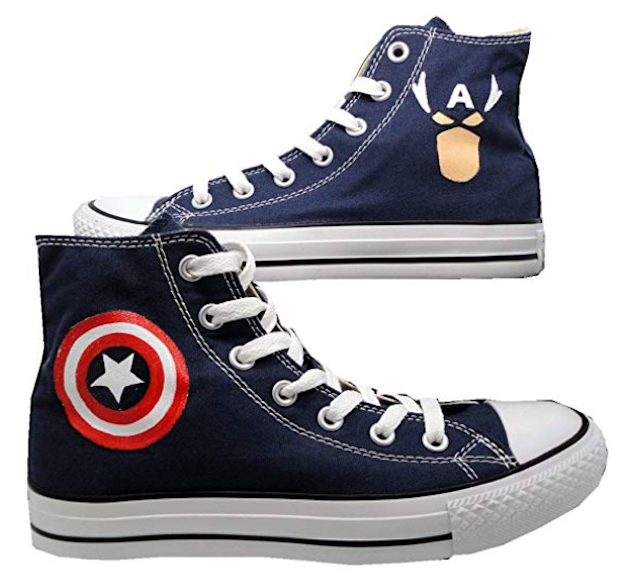 Sticking with the Captain America theme, these high top canvas shoes are pretty damn sweet!

They're a pair of navy blue bad boys and they'll make you look cool as hell – and they're perfect for everyday wear.

The outside of the shoe has Captain America's shield on it, while the inside has a simplified depiction of his face. They're awesome and you should definitely treat yourself to a pair!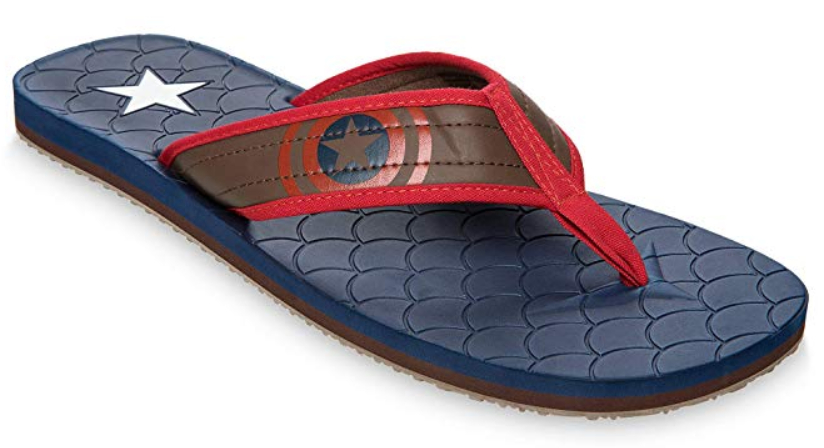 You're going to need something wear on those warm days, around a pool, or when you're on vacation by the beach – and these flip flops are perfect for you!

Like the two previous products, they come in a cool Captain America design!

They have a blue sole with a white star on and a red strap with Cap's iconic shield design on it – you'll look awesome by the pool wearing them!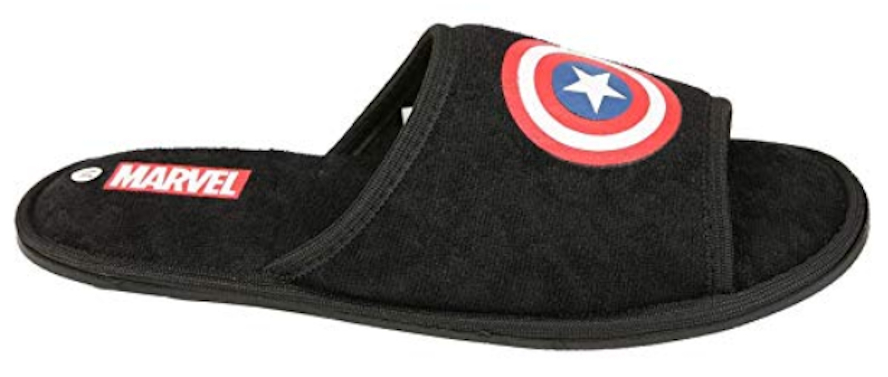 The final Captain America item on our list comes in the form of these lightweight open toed slippers. Don't they look comfortable?

They're black and feature Captain America's shield logo on the front, as well as the iconic Marvel logo on the sole.

We must warn you, however, you probably won't be able to run and fight like Cap while you're wearing these – they're really not made for that!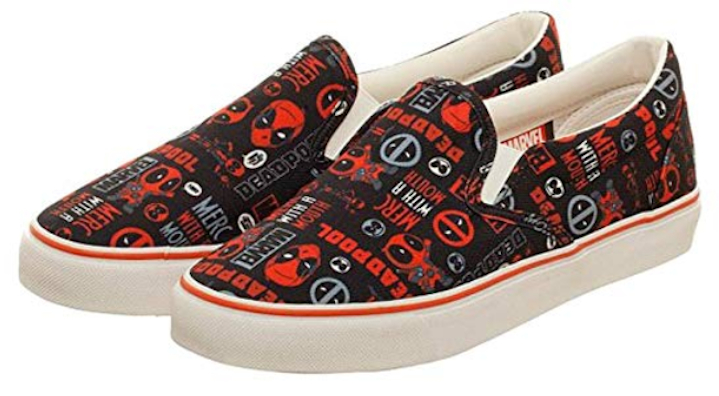 Ah Deadpool. The world is definitely a better place thanks to the existence of the iconic Merc with a Mouth – and your world will become a better place with the purchase of these awesome Deadpool slip-on shoes!

They feature all kinds of Deadpool imagery; his mask, a mini-Deadpool, his symbol, the name "Deadpool" and his aforementioned nickname "Merc with a Mouth".

You'd look awesome wearing them, so get them bought!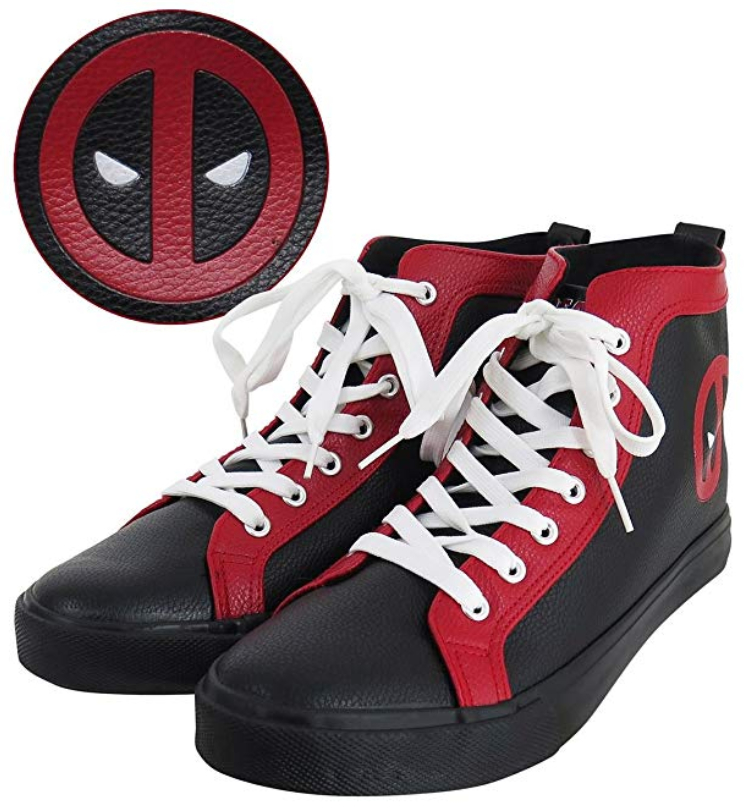 More Deadpool footwear now – although these ones are very different to the previous product. They're sneakers!

There are three key differences: 1) These bad boys are lace-ups as opposed to slip-ons, 2) they have a higher top and 3) rather than having a variety of Deadpool imagery on them, they simply have Deadpool's logo on.

You'd undoubtedly be the envy of all your friends if you were parading around in these!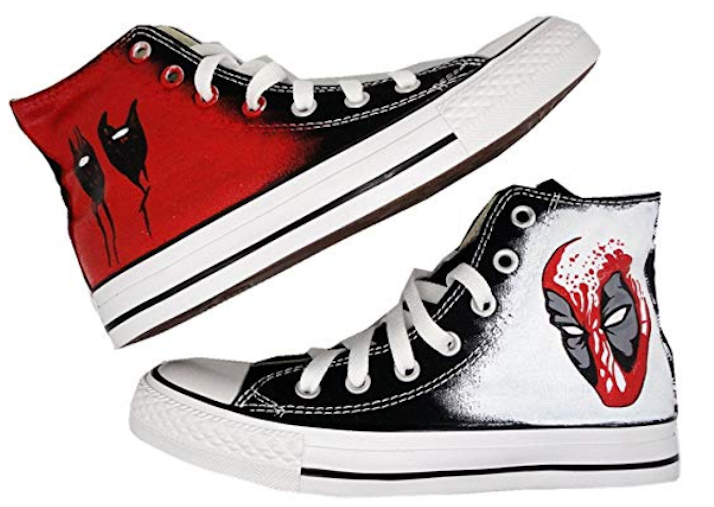 These shoes are kind of a cross between the last two pairs – and, of course, they feature Deadpool as well.

They're high topped lace-ups, just like the previous pair, but they're canvas shoes rather than sneakers, like the pair before those.

The two images of Deadpool are of his whole face in one instance, and his eyes in the other instance – and they're undoubtedly very cool indeed.
23. Deadpool Bunny Slippers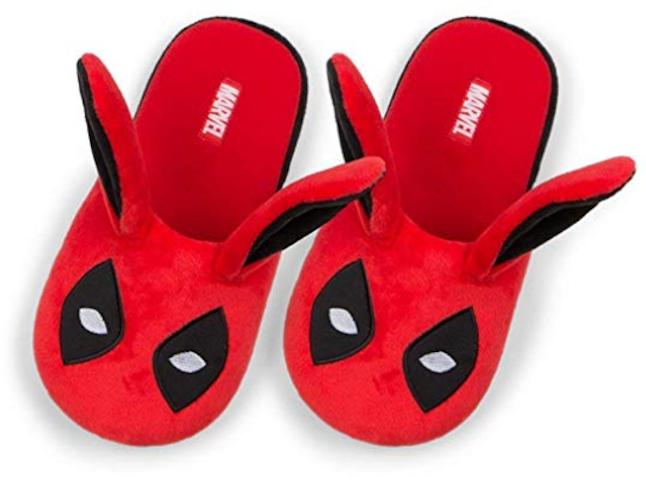 We couldn't feature a bunch of Deadpool products without including one that's absolutely ridiculous – and that's where these hilarious items come in!

They're Deadpool slippers, but with a twist – they're in the form of Deadpool as a bunny rabbit!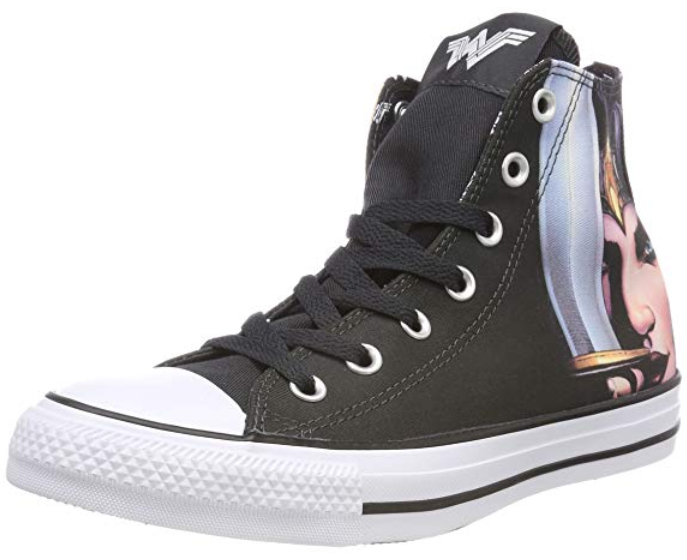 We haven't forgotten female superheroes in this piece – and there's definitely some cool footwear out there with lady bad-asses on it – starting with these incredible Wonder Women converse.

They've got the Amazonian warrior's logo on the tongue, her face on the outer foot, and an awesome shot of her on the inner foot.

She's one of the most popular characters in fiction – and you'd be mad not to consider buying these shoes!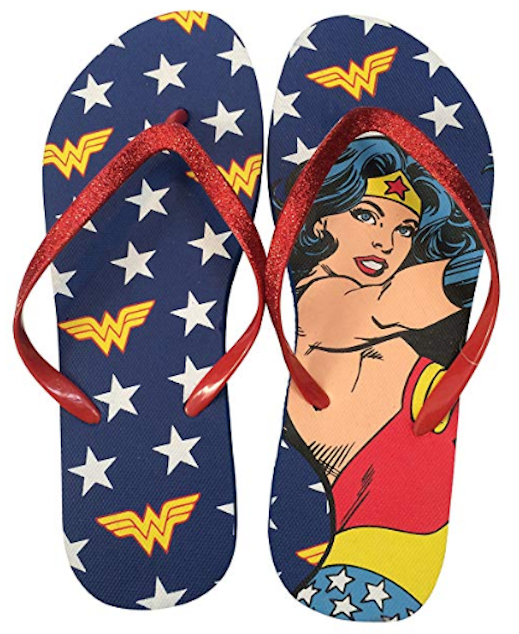 Our final Wonder Woman item comes in the form of these very trendy Wonder Woman flip flops!

They're really colourful and ideal for those bright sunny days – whether they're spent on the beach, around a pool or otherwise.

Funnily enough, given Wonder Woman's costume, these flip flops wouldn't actually look out of place on her feet – but you should consider buying them regardless of what gender you are!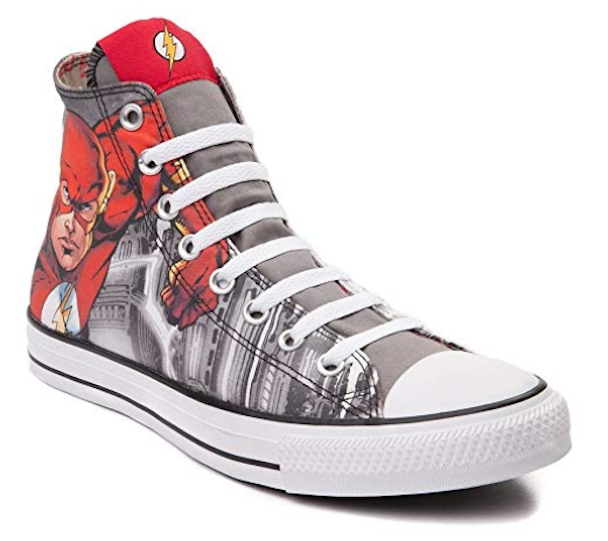 It's time to give the Flash some love – albeit very quickly (which is kind of appropriate, when you think about it) with a single pair of shoes.

Never fear, though, as it's a very cool pair of shoes – it's these awesome high topped Flash Converse!

They've got a black and white city background with a full colour Flash doing his thing on them. But, be warned, they won't give you super-speed!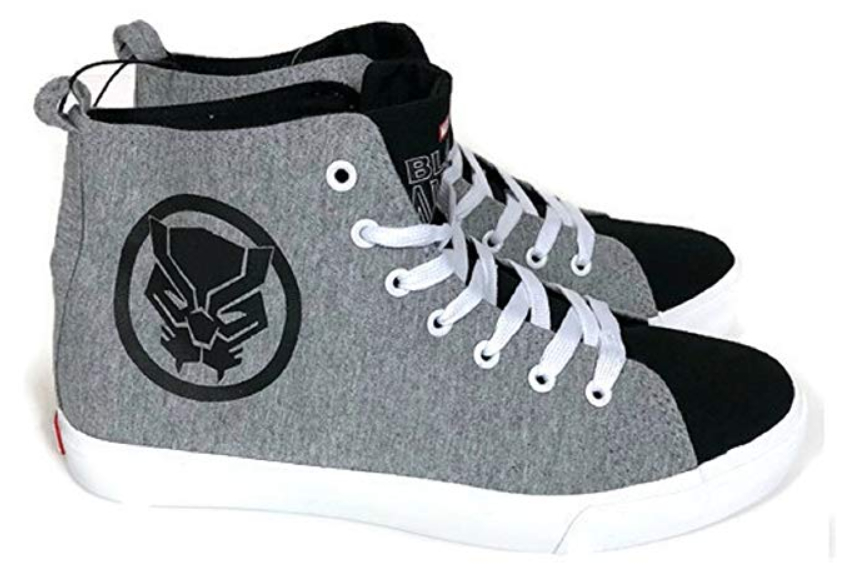 Now these are cool – and they feature the logo of one of the most current and popular characters in all of pop culture.

Black Panther has become a mainstream cultural phenomenon since the release of his live action MCU movie in 2018 – and these canvas sneakers let you represent T'Challa in the coolest way.

Unfortunately, unlike the sneakers Shuri made from the titular hero in his aforementioned movie, they won't make your footsteps completely silent!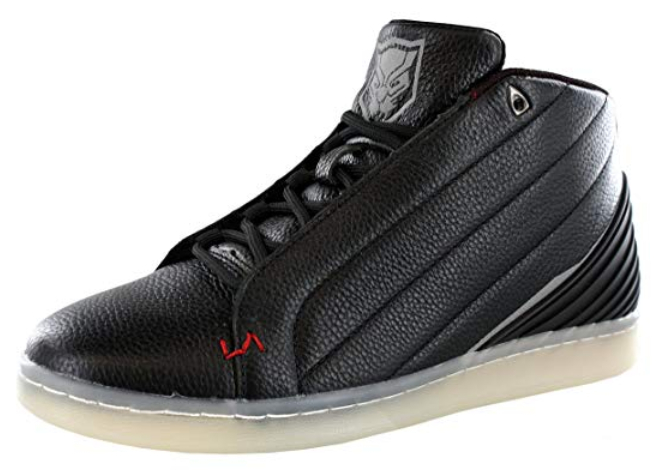 Another Black Panther item now – this time in the form of these awesome Black Panther skate shoes.

Whether you're a skateboarder or not, these are great for everyday wear, as they both offer comfort and look incredibly cool indeed.

With the Black Panther logo on the tongue, they could very easily be part of the Black Panther armour – you know, apart from the white trim around the bottom.

The final Black Panther item on our list comes in the form of these trendy Black Panther flip flops.

They feature the Marvel logo on the sole, as well as a lot of cool Wakandan imagery – and you should definitely buy them!

Rather fittingly, if you were visiting Wakanda, this is the kind of footwear we'd expect you to don – and we can definitely imagine T'Challa himself rocking them in his downtime!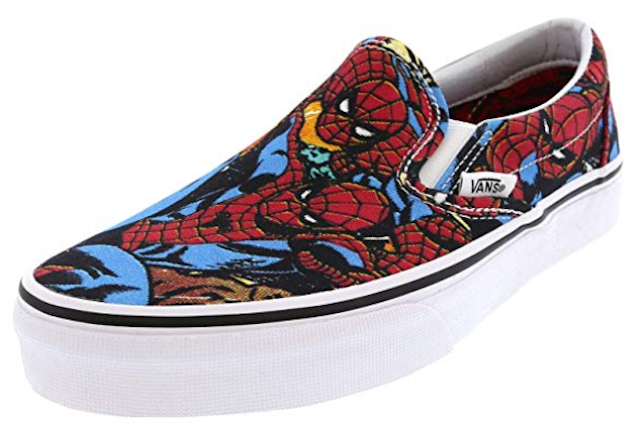 Now, we obviously couldn't put this list of superhero footwear together without including some footwear with Marvel's most iconic superhero on them!

That is, of course, Spider-Man – and these Spider-Man Vans are absolutely beautiful! Don't you agree?

They feature a number of images of the famous Webbed Wonder on them and you'd look freaking incredible wearing them! So what are you waiting for? Make the purchase right now!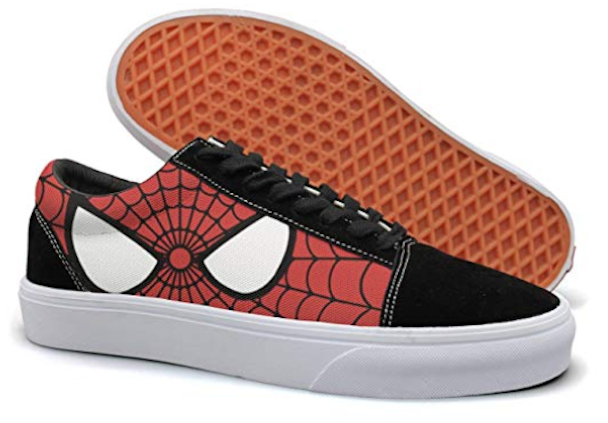 Sticking with Spider-Man one last time, take a look at these very cool Webbed Wonder skate shoes!

They're low topped and incredibly flexible and durable – just like Spidey himself is – and they feature a very cool image of the iconic superhero's face on the side.

They might be called skate shoes, but these beauties can be worn for everyday wear – seriously, they'd look cool as hell with a pair of jeans or shorts!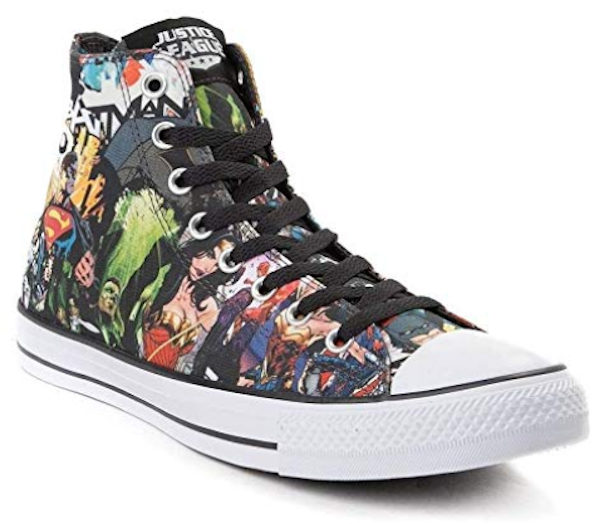 Their recent live action movie might not have been particularly well received, but the Justice League remain DC's flagship team of superheroes.

Well now you can represent the iconic team with these awesome high topped Converse, which features images of the team's instantly recognisable members.

There's Superman, Wonder Woman, Batman, Green Lantern, the Flash, Cyborg and more – and you'd look absolutely great in them, don't you think?!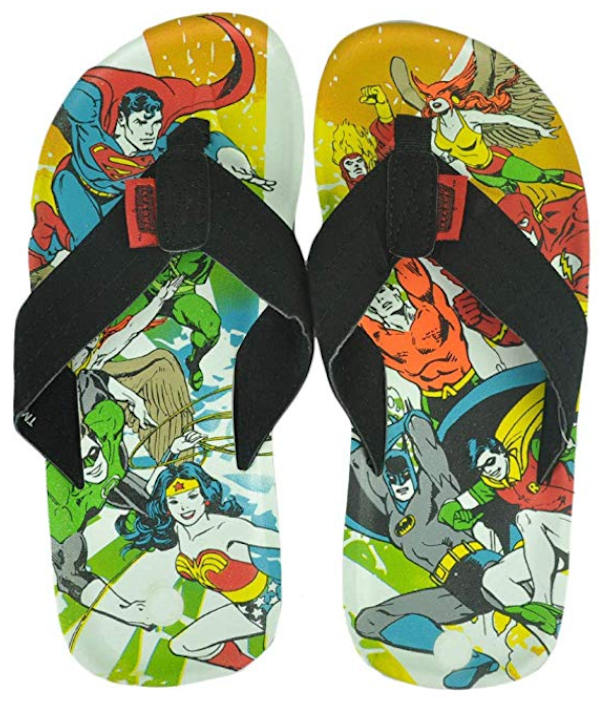 We've got one more Justice League treat for you now – and they come in the form of these wonderful flip flops!

Aren't they colourful? They've got Superman, Batman, Wonder Woman, Robin, Green Lantern, Hawkgirl, Firestorm, Aquaman and the Flash on them – all the big names!

You'd be the envy of everyone at the pool if you were walking around in these beauties! Get them bought ready for summer!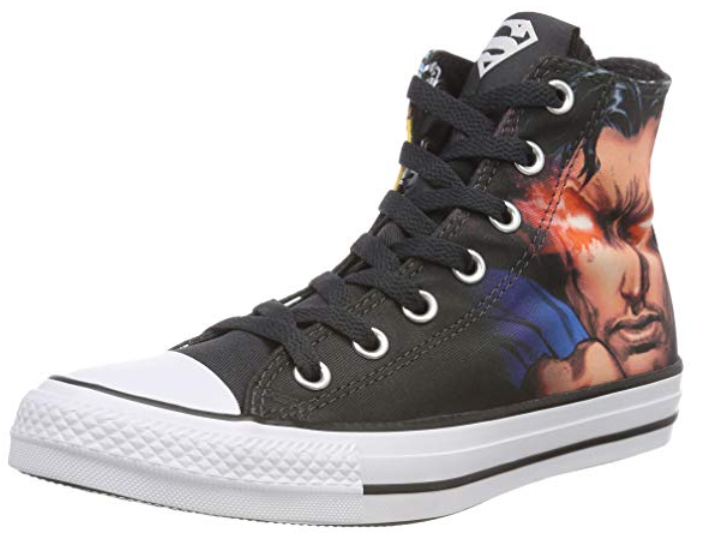 Superman is, of course, DC's most iconic character – heck, he's one of the most iconic characters in fiction – so we were always going to include some Superman footwear here.

In fact, we'll be featuring several such examples – starting with these awesome high topped Converse!

They've got great Superman imagery on both sides – but, be warned, they won't give you the ability of flight or enable you to leap over buildings in a single bound!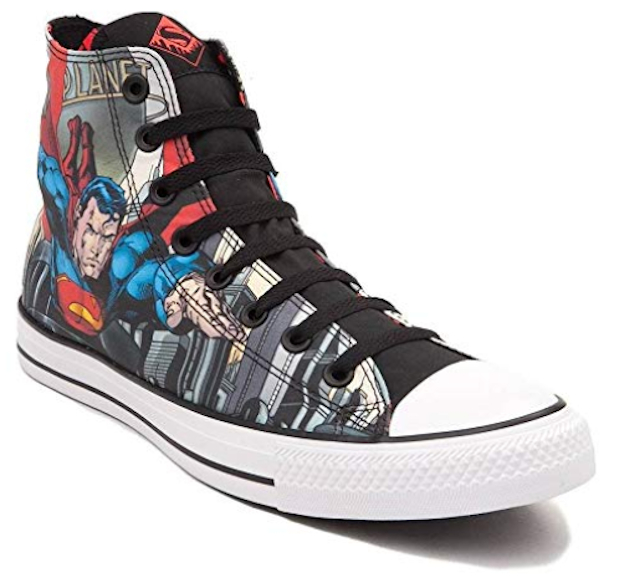 In all fairness, these shoes are very, very similar to the ones we've just discussed – but they're still pretty awesome, regardless of that fact!

They have Superman on them again, but the imagery is different to that previous pair.

On this pair of high topped Converse, the Man of Steel can be seen flying through the air with the Daily Planet in the background – and you should buy these, AS WELL AS the aforementioned pair, if you're a true Supes fan!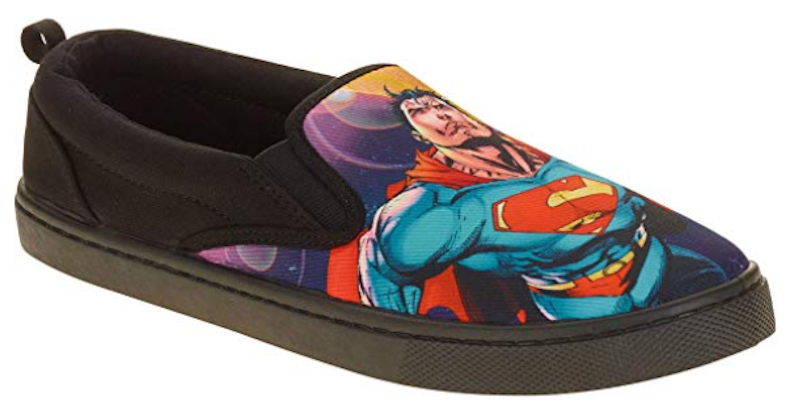 We're not done with Superman footwear just yet – far from it in fact – as we come to these very cool Man of Steel slip-on shoes!

They're different to the previous Superman offerings, as they don't have laces and they're not high topped – but they do feature some very cool Supes imagery.

In this case, it's Clark Kent's alter-ego flying through space – and you should definitely make that purchase immediately!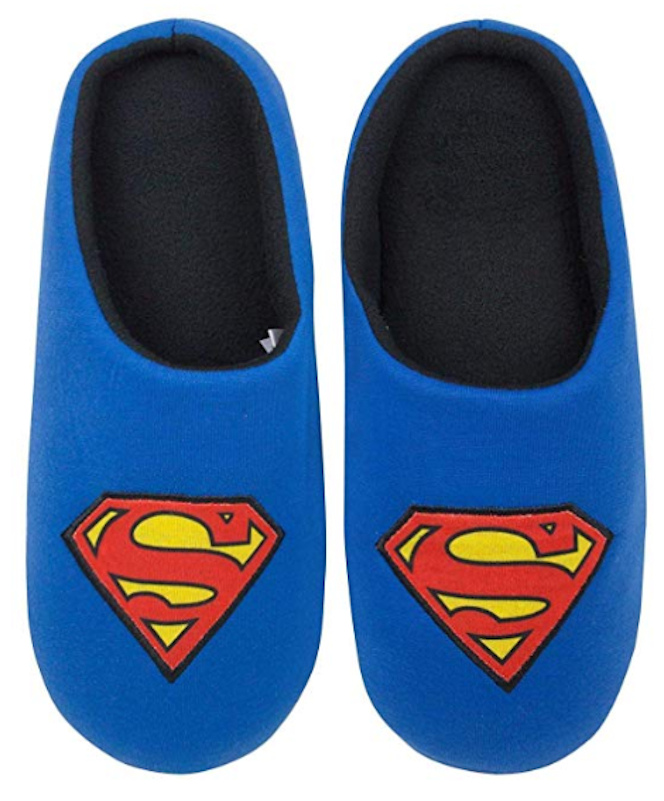 More Superman goodness now – and now we've arrived at some Man of Steel slippers!

Don't they look comfortable? They're bright blue and feature Superman's logo – and they essentially look like they could be an extension of the Kryptonian hero's iconic costume.

Of course, it's hard to imagine Superman with his feet up in front of the fire – which is what you'll be doing when you buy these beauties!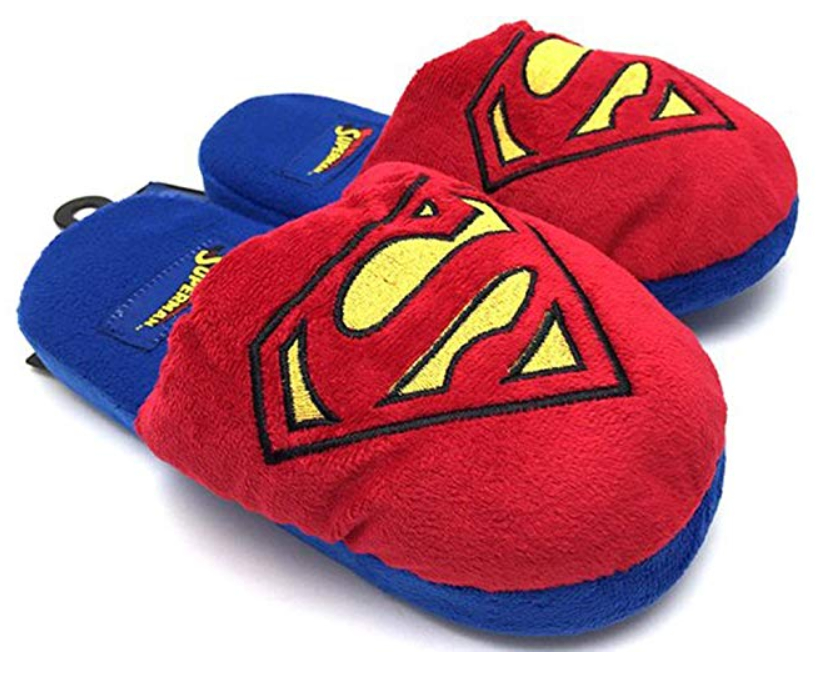 Now we come to our final Superman item – and we believe we've saved the best one for last!

If you thought those previous Superman slippers looked comfortable, just take a look at these Man of Steel plush slippers!

Like the others, these ones also feature Supes' iconic logo, but they're predominantly red, rather than blue. Your feet will feel like they're in heaven when you wear them!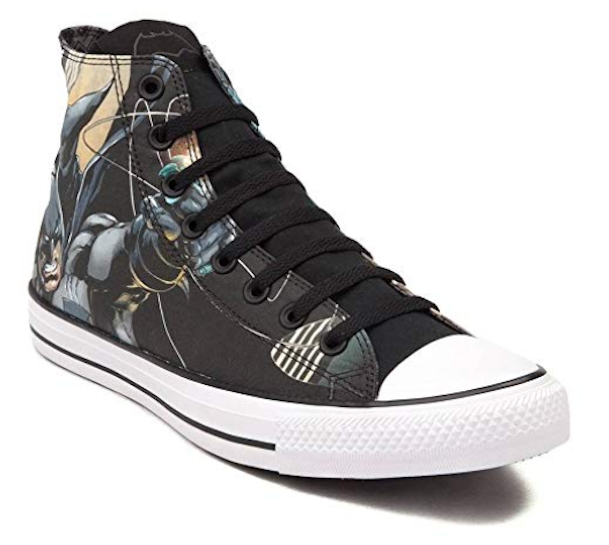 Having already featured some Superman footwear, of course we're going to feature some Batman footwear as well! They are, of course, the two most popular characters in the DC universe.

These high top Batman Converse are awesome and feature a great image of the Dark Knight in action in Gotham City.

If you're as much of a fan of Batman as us – and we bet that you are – you'd be mad not to buy these shoes!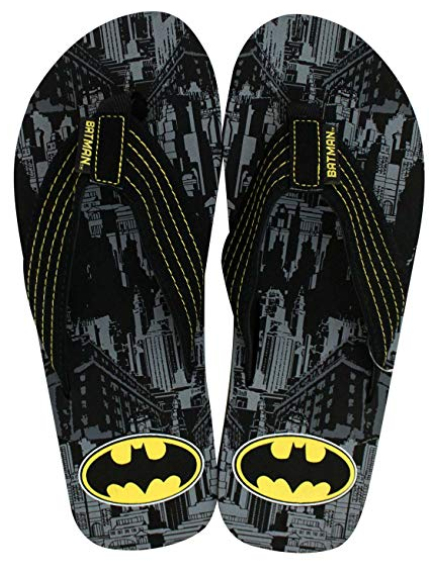 More Batman footwear now – and this time it's in the form of these snazzy flip flops with Gotham City imagery and the Batman logo!

When you think of sunshine, sea, sand and swimming pools, the last you thing you probably think of is the Dark Knight – but while he might not be on your mind when you bask under the sun's rays, you can have him on your feet!

They're perfect for wearing in warm weather – but we really can't imagine Batman himself ever wearing them!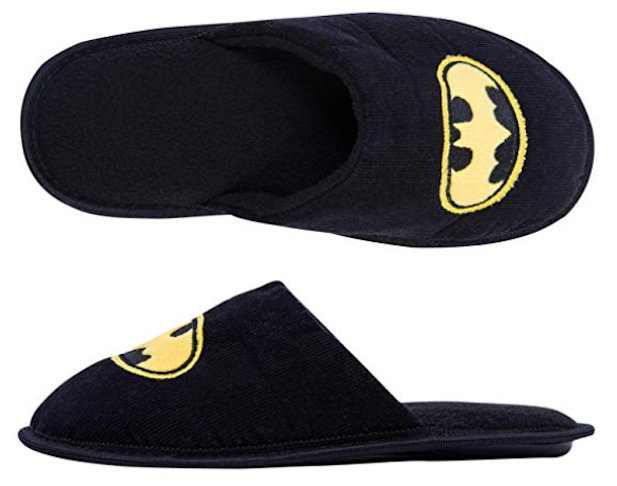 Speaking of Batman footwear that we really can't imagine Batman himself wearing, feast your eyes on these funky Dark Knight slippers – complete with Batman logo!

Then again, maybe when Bruce Wayne is sitting by the fire in Wayne Manor, he'd actually consider putting his feet up with these bad boys on!

They do look extremely comfortable, after all – and they'd go down a treat after a hard day of fighting crime!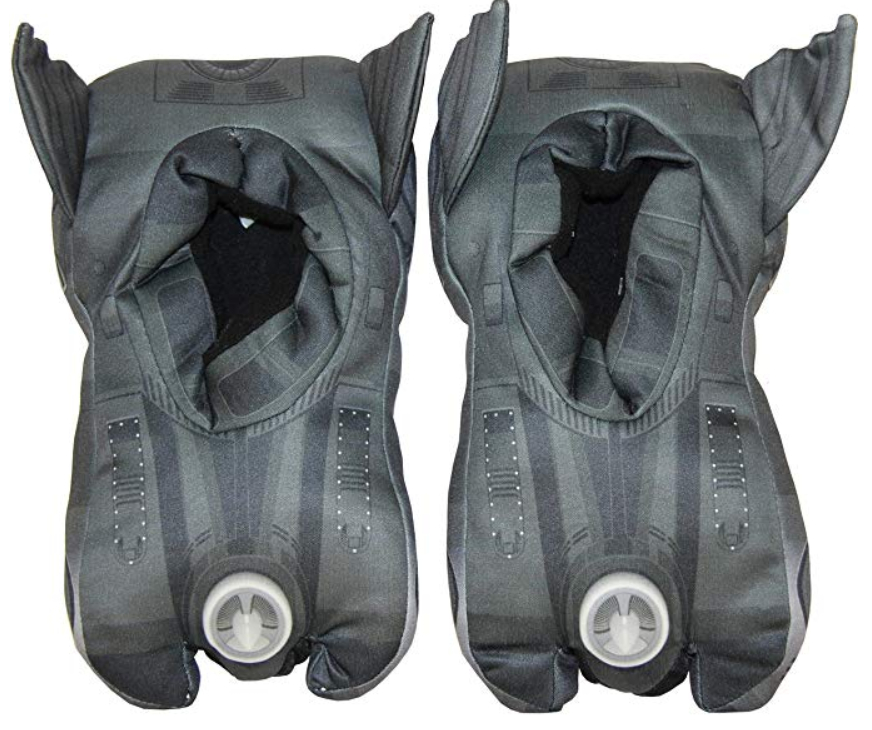 Forget Batman for a moment – because we're going to focus on the Batmobile when it comes to this product.

These Batmobile slippers are so much fun! And don't they just look incredibly comfortable?

Don't get us wrong, you're not going to be zooming around Gotham City at breakneck speed in these bad boys, but you will be cosy and warm at home in them!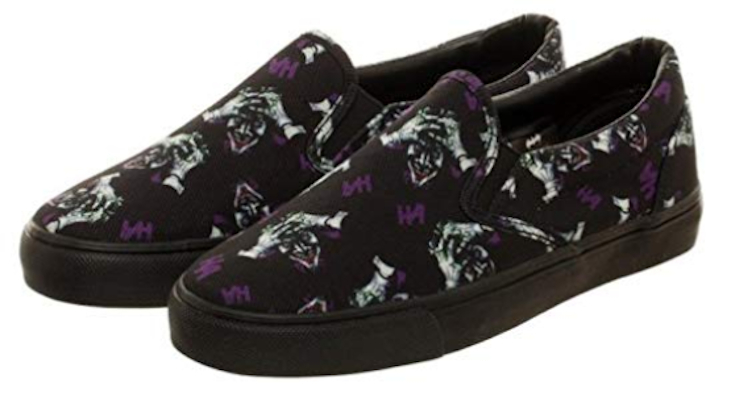 Yes, the Joker is a villain, as opposed to a superhero, but he's such a popular character that we just had to include these shoes!

They're slip-on canvas shoes with the Clown Prince of Gotham (and several examples of the word "ha") all over them!

Specifically, it's the Joker as he was in the 1988 graphic novel The Killing Joke – and they're cool as hell, so buy them at once!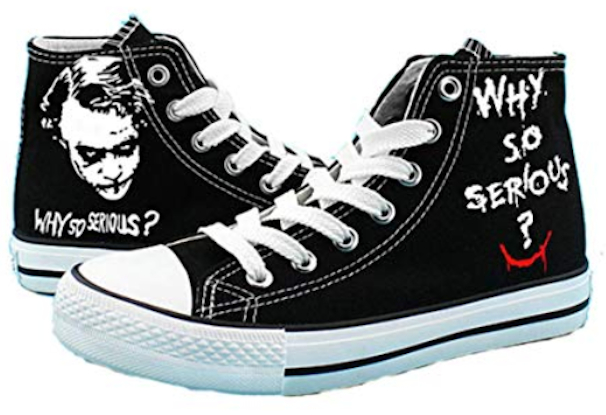 Sticking with the Joker one more time, we now come to these fantastic high top canvas shoes.

They feature the late Heath Ledger's iconic version of Batman's arch-nemesis from 2008's movie The Dark Knight – along with his equally iconic quote from that very movie, "Why so serious?"

These are some seriously cool shoes and any true fan of the Joker should be purchasing them immediately without hesitation!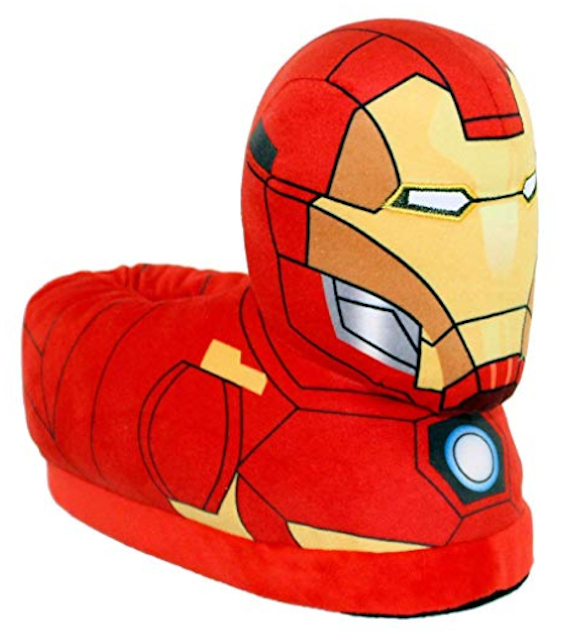 Finally, we bring this piece to an end with an absolutely wonderful item – a pair of slippers that will brighten up anyone's day!

They're Iron Man slippers – and as well as being lots of fun, they look very comfortable indeed!

They've got Iron Man's head and his trademark arc reactor, coloured in that iconic red and gold way. You couldn't fail to smile a huge smile whilst wearing these beauties!
Did you like any of these products? Do you own any of them already? Let us know!