So, you're a fan of Marvel Comics, are you? In which case, you'll no doubt be interested in Marvel merchandise.

With that in mind, why not go the whole hog and totally "superfy" your home with masses of Marvel homeware?

We can help you with that – because, in this piece, we'll be taking you through thirty amazing pieces of Marvel homeware to superfy your home.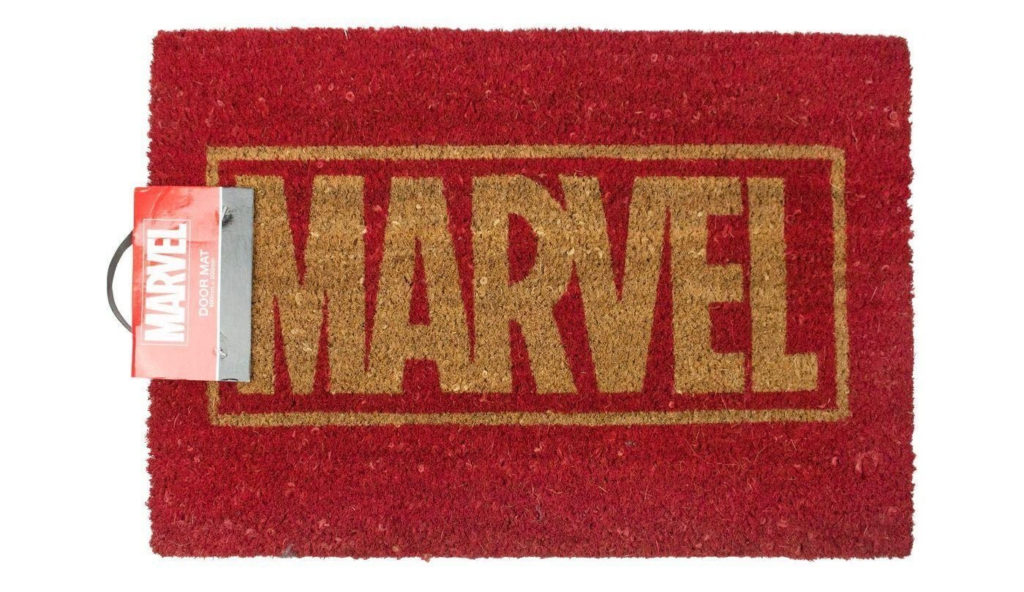 If you're a truly proud Marvel Comics fan with a "superfied" home, you'll be wanting to let everyone know about your love of the company before they even step inside your house – and the best way to do that is with this welcome mat.

It's made of the typical coconut brush material and features the iconic red Marvel logo, ensuring that everyone will know they're dealing with a superhero buff when they're in your presence.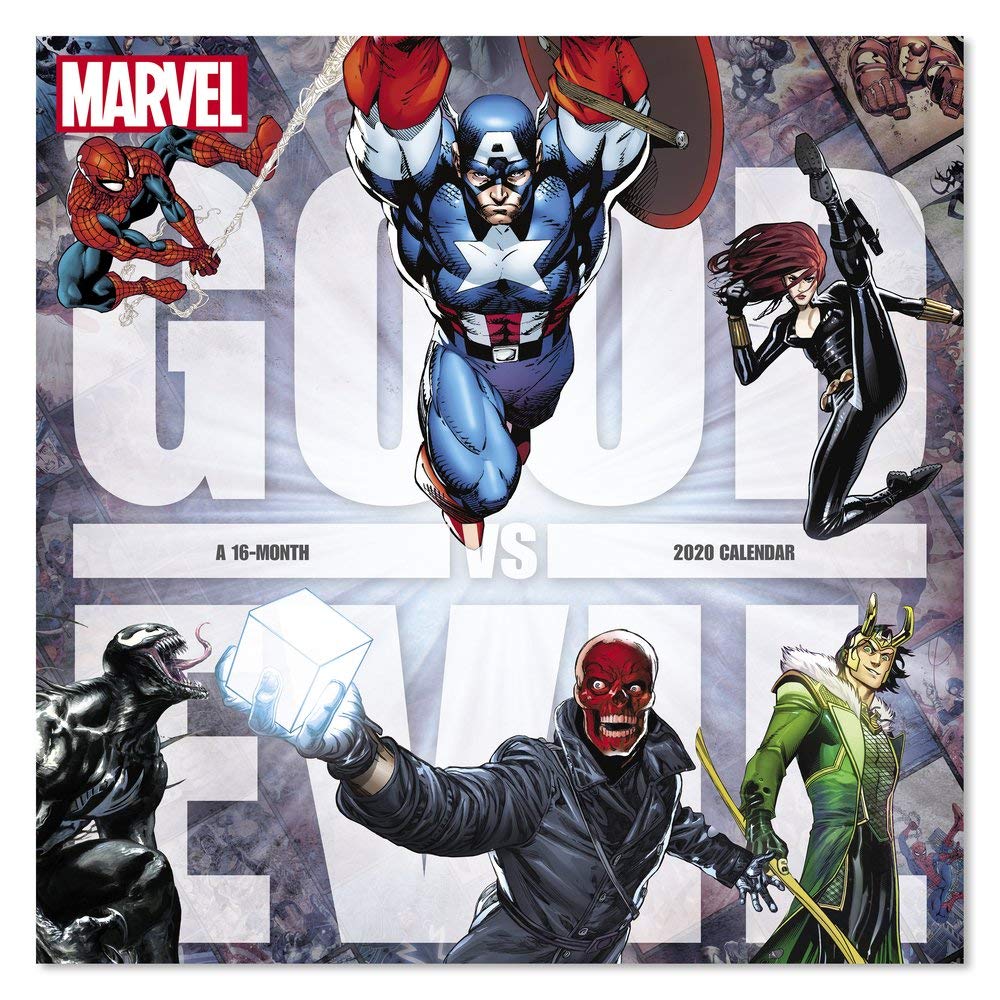 Before we know it, 2019 will be coming to an end (seriously, how fast has this year gone?!) and you'll be needing a new calendar to hang up in your kitchen to manage and monitor your schedule.

As a Marvel fan, it's only right that your 2020 calendar is a Marvel one – and this one fits the bill perfectly, featuring characters as diverse as Iron Man, Captain America, Red Skull, Spider-Man, Venom, Black Widow and Loki.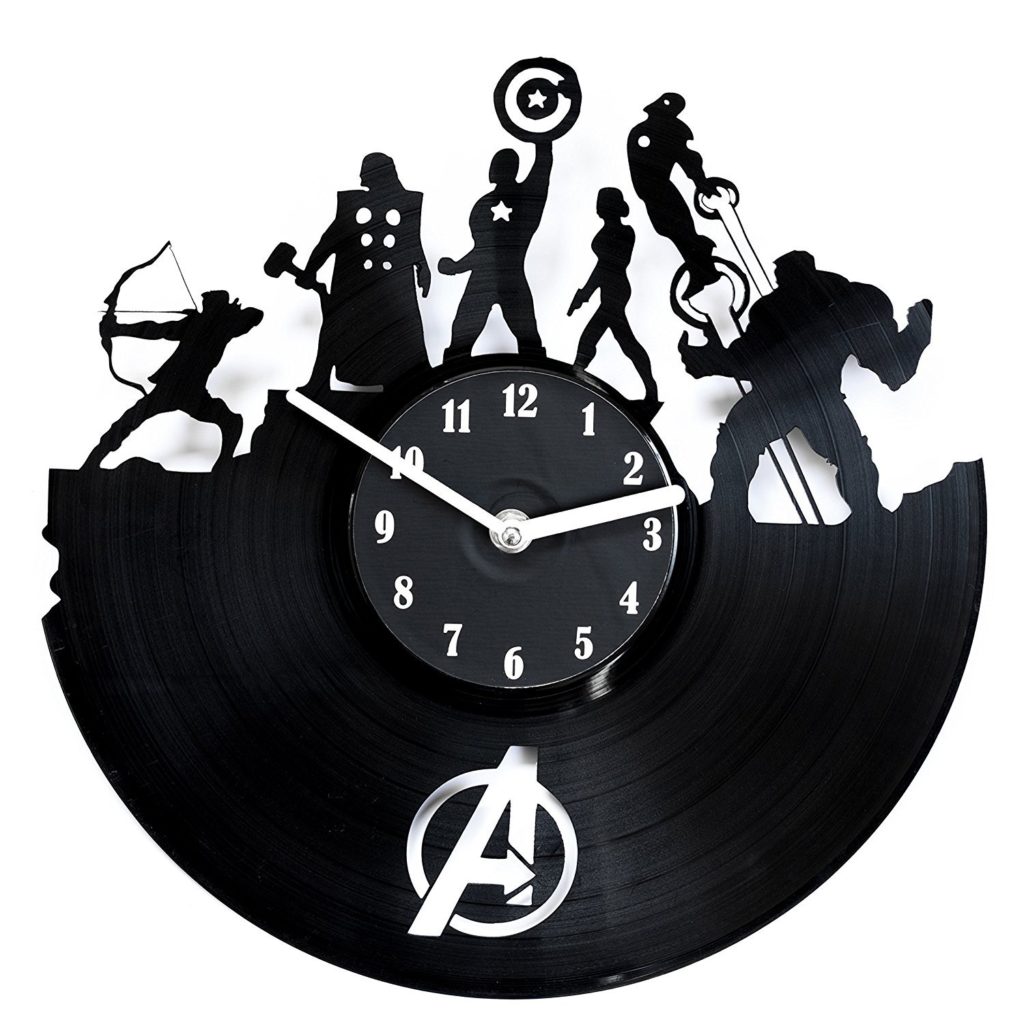 Of course, another sound way of managing your schedule and maintaining your punctuality is with a reliable clock – and if that clock also happens to be cool as hell, that's an added bonus.

This clock is an old vinyl record customised into the shape of the Avengers (Hawkeye, Thor, Captain America, Black Widow, Iron Man and the Hulk) and the Avengers' logo! It looks absolutely awesome – plus, we bet your friends won't have one of these!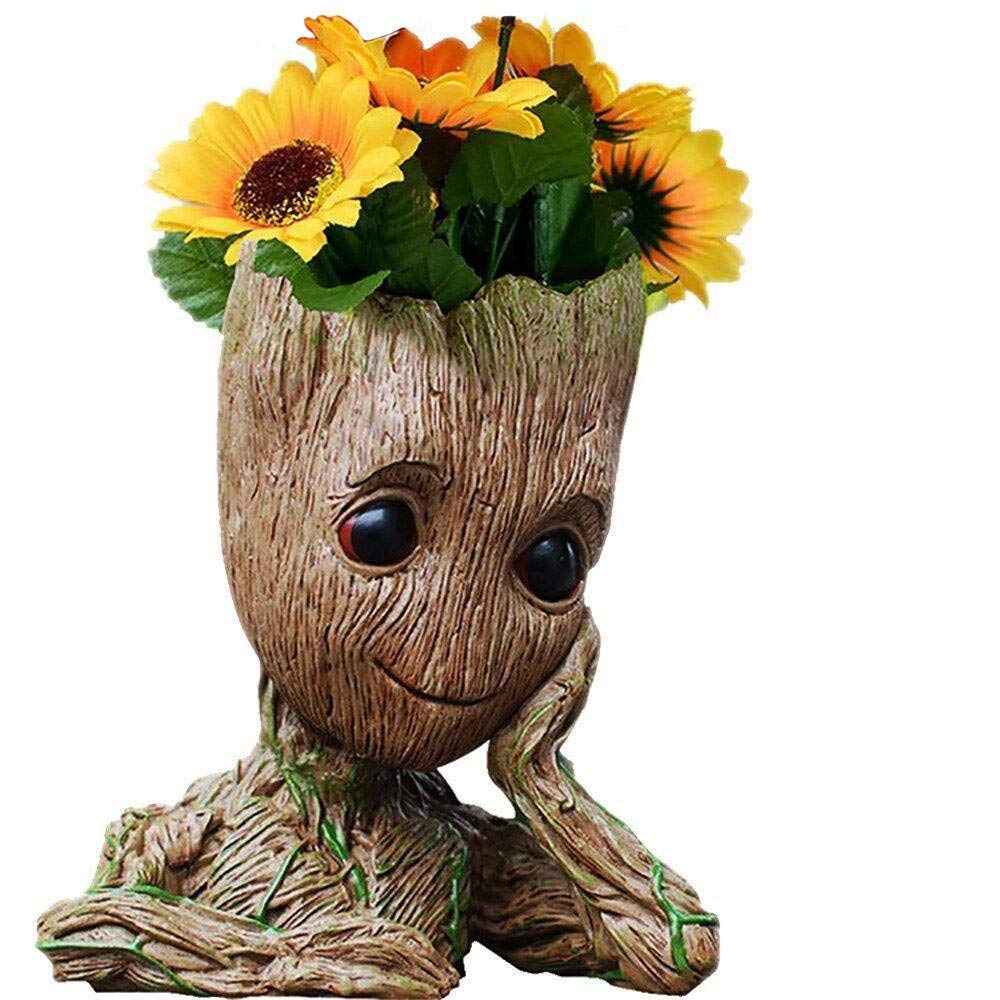 Nothing brightens a home up quite like a bunch of flowers does – and now you can house your flowers in this lovely little Groot plant pot!

It's incredibly cute, as it resembles the baby version of the character from 2017's Guardians of the Galaxy Vol. 2 and it looks as though the flowers are growing out of Groot himself – and if you're not into flowers, you could even use it to store pens, pencils and other stationary on top of your office desk!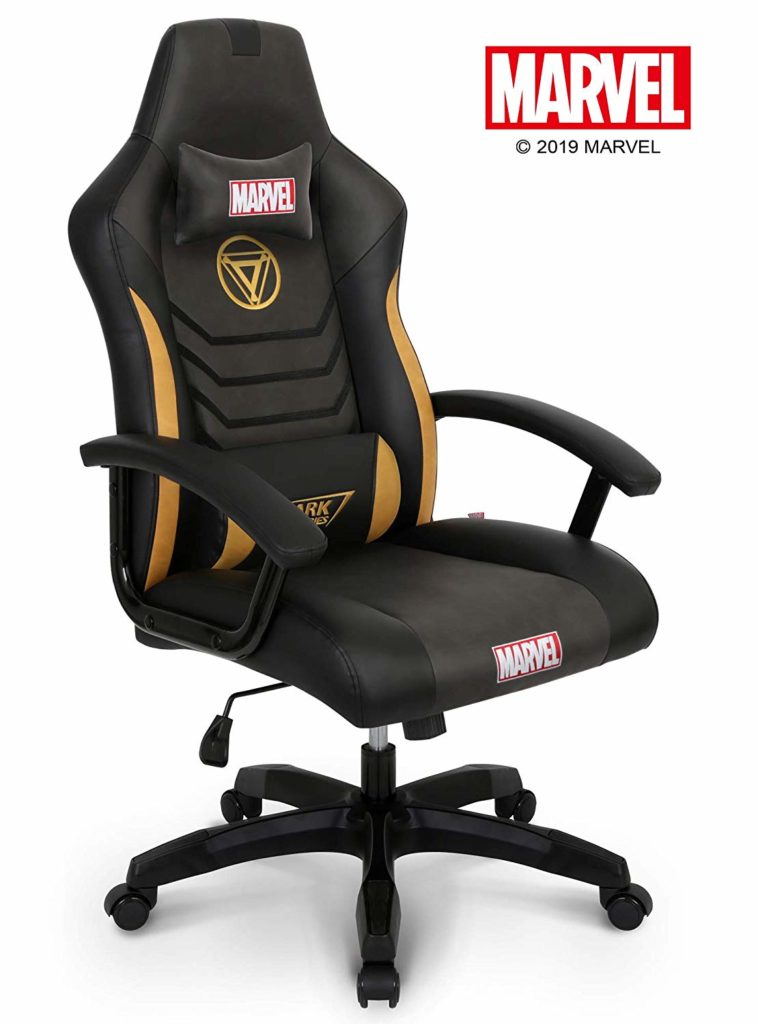 If you're a fan of Marvel Comics AND a keen gamer – and why wouldn't you be, when there are so many awesome Marvel games on the various consoles available today? – then you might consider purchasing this awesome Marvel gaming chair!

Of course, if you're not a gamer, but are still a fan of Marvel, there's no reason whatsoever why you shouldn't consider purchasing this chair for general office use – it IS absolutely fantastic, after all!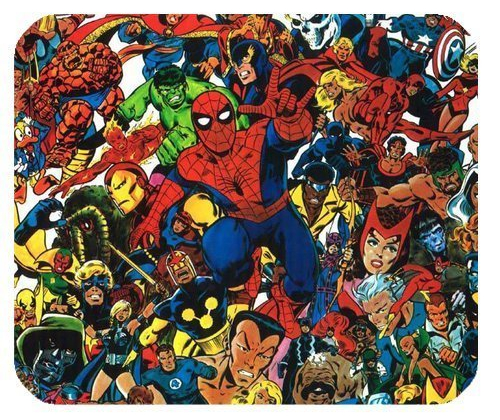 Somewhat tediously linking in with the gaming theme, we come to our next item – in the form of this snazzy Marvel mouse pad.

You might be a PC gamer, you may like to surf the web on a desktop computer, or maybe you work at a desk and use a PC to type – and this mouse pad will brighten your day up in any of those cases.

It features dozens of characters, including Spider-Man, Iron Man, Scarlet Witch, Hercules, Nova, Namor the Sub-Mariner and Vision.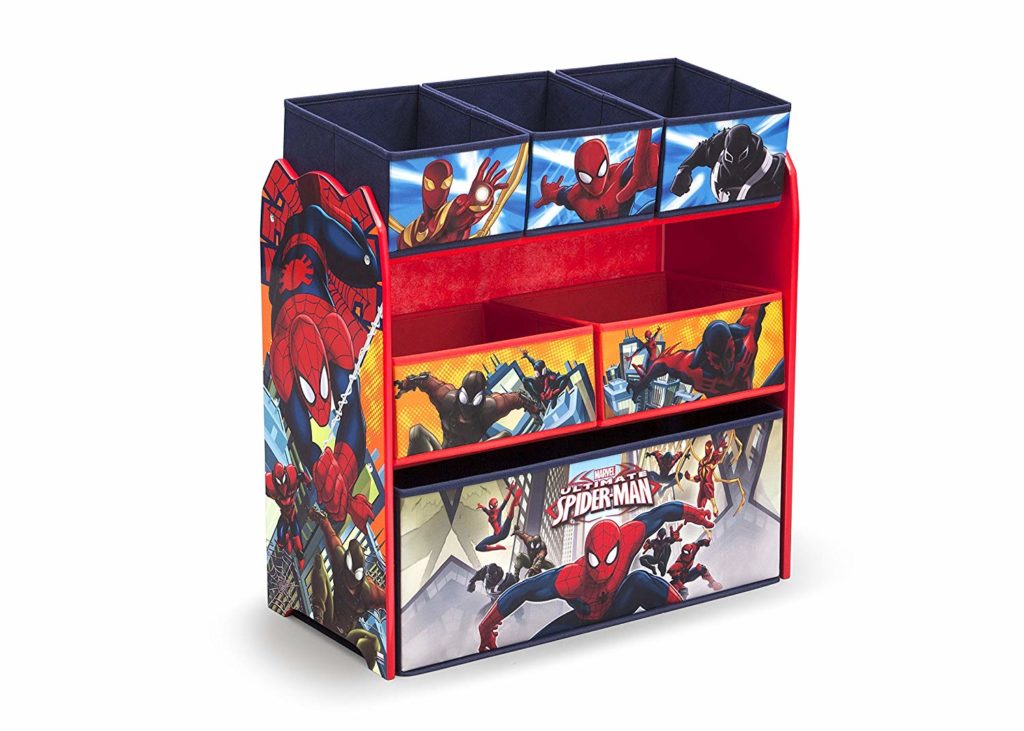 Now, this product is obviously aimed solely at children, but a) You might have children of your own and b) You might be such a huge Marvel fan that you don't actually care who it's aimed at!

In all fairness, regardless of your age, this Spider-Man toy bin is ideal for storing all kinds of different items – Marvel-themed or otherwise!

You could put toys, clothes, those cables you can't identify that all houses have, or anything else in here!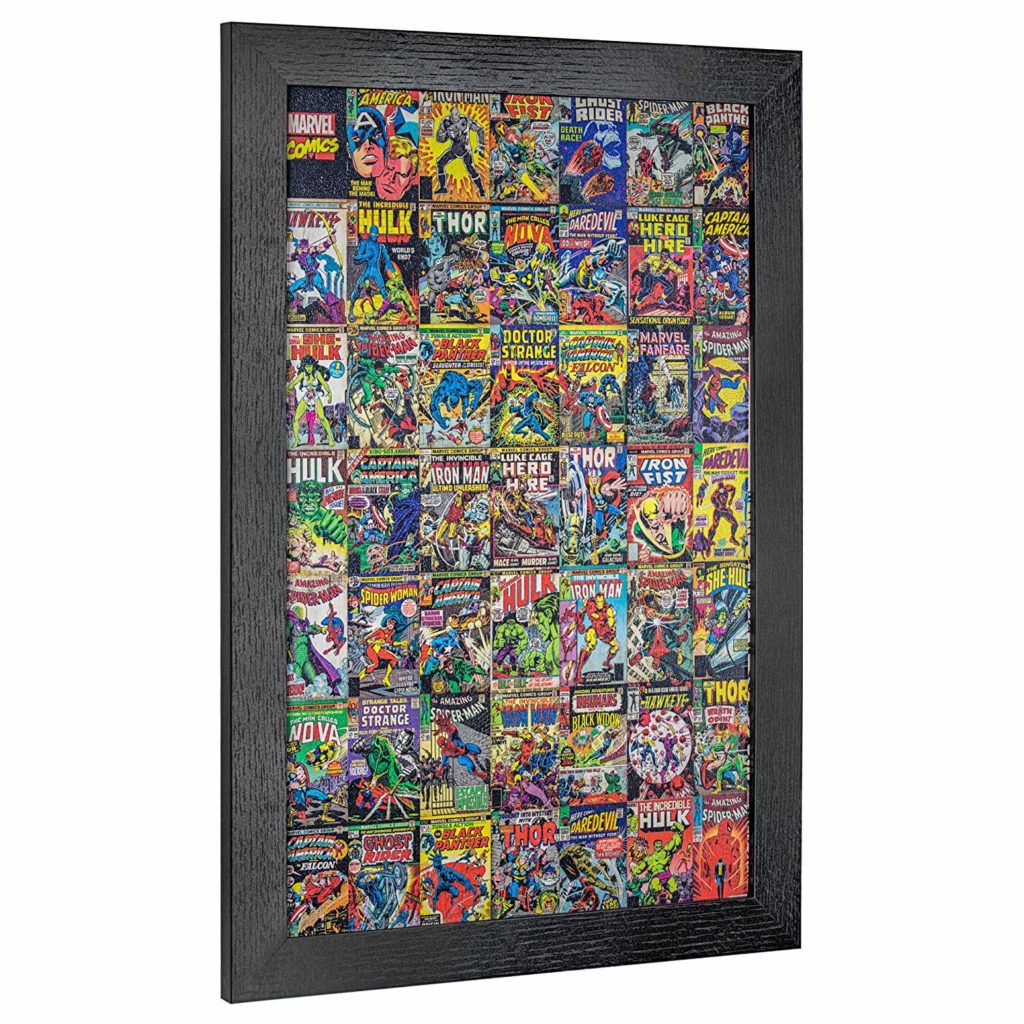 Nothing finishes off a room quite like a good piece of wall art or two – and if you're a fan of Marvel Comics, this is the ideal piece to get you started in that regard.

It's a framed piece that features dozens of front covers from Marvel comic books throughout the years – with titles ranging from The Mighty Thor, The Invincible Iron Man and The Amazing Spider-Man, to The Man Called Nova, Marvel Fanfare and The Incredible Hulk.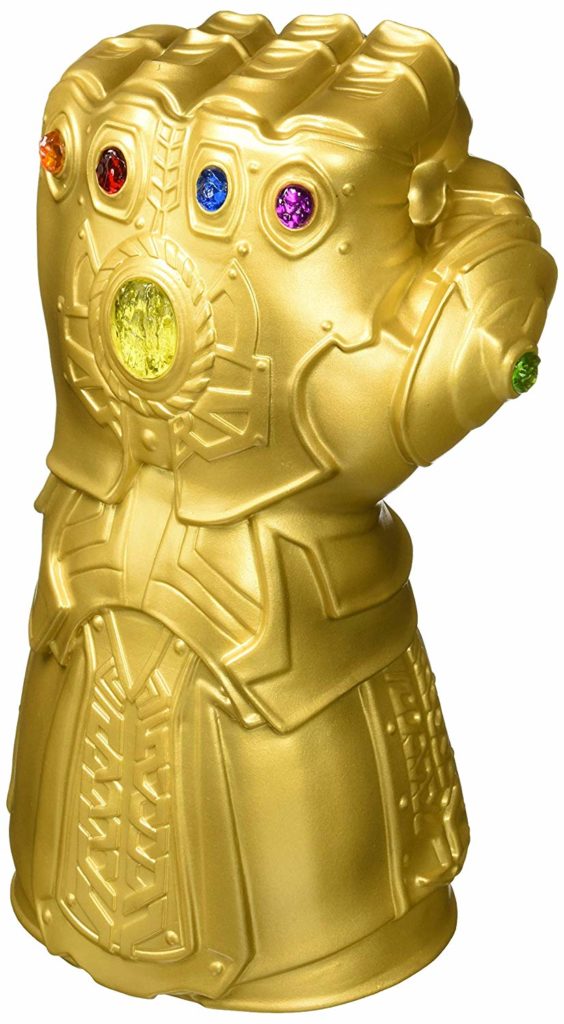 We all end up accumulating a lot of loose change – and it can sometimes be a chore storing it all. We have a very cool – and rather appropriate – solution to that problem!

This Infinity Gauntlet coin bank is ideal for all those small value coins – and by the time it's full, it'll be almost as valuable to you as the Infinity Stones are to Thanos!

Of course, you (thankfully) won't be able to snap half of all life out of existence with your amassed dollars!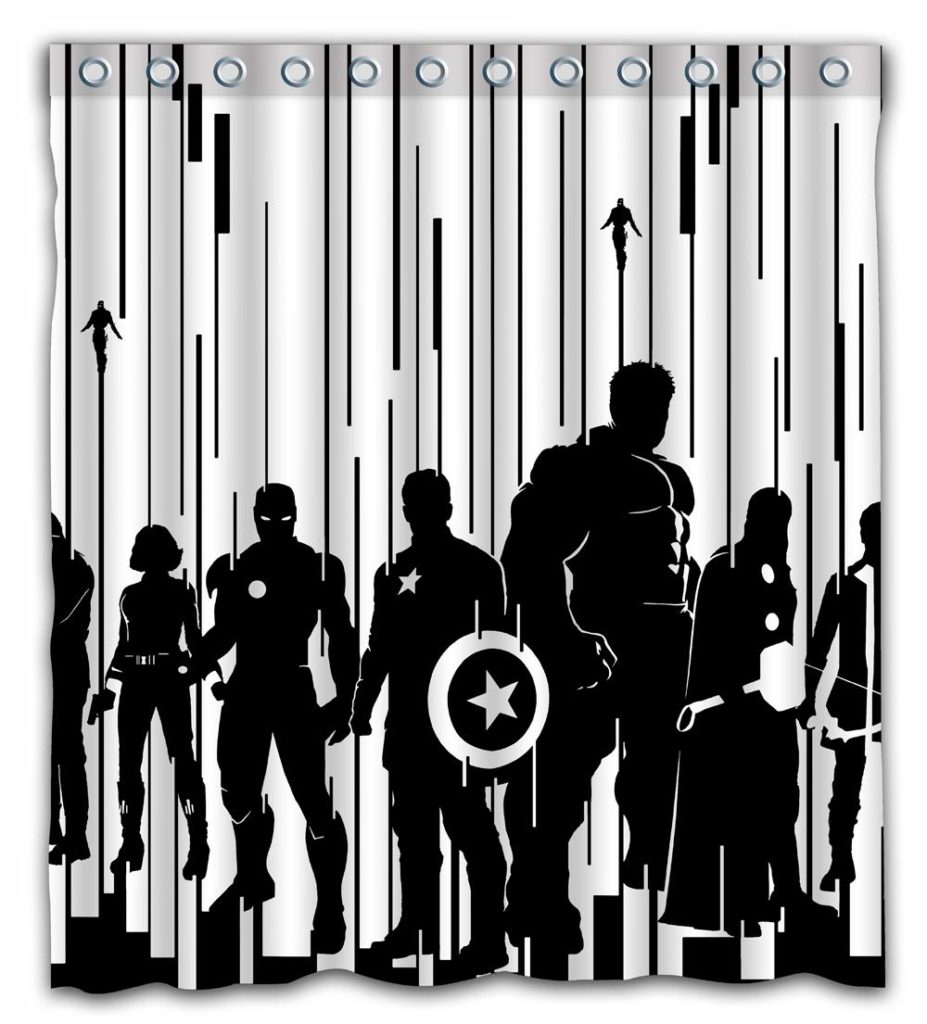 If you're a true Marvel Comics fan and want to COMPLETELY superfy your home, you'll definitely need to put some Marvel merchandise in the bathroom as well – and you can start by purchasing this awesome Avengers shower curtain!

Featuring several of your favourite heroic characters – including the likes of Black Widow, Iron Man, Captain America, the Hulk and Thor – this shower curtain ensures Earth's Mightiest Heroes will be keeping watch while you're keeping yourself clean!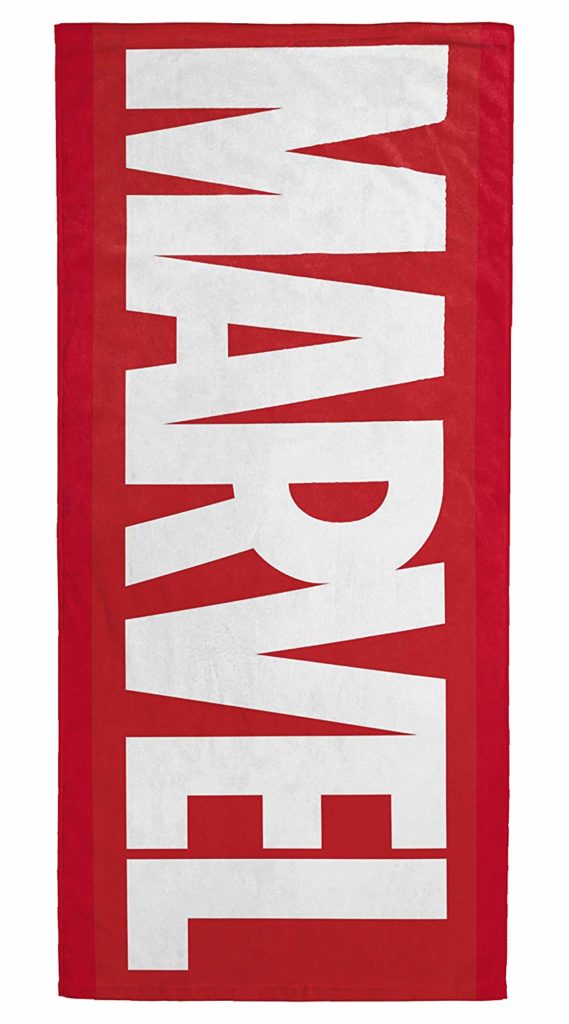 Of course, once you've been in the shower, you'll be needing to dry off – and as a fan of Marvel Comics, there's no better way to do that than by using this very cool Marvel towel.

It's red with the classic white Marvel lettering on it – and when you're wrapped in this after showering, there'll be no doubting your status as a bona fide Marvel fanatic.

You could also take it to the pool or beach with you, obviously!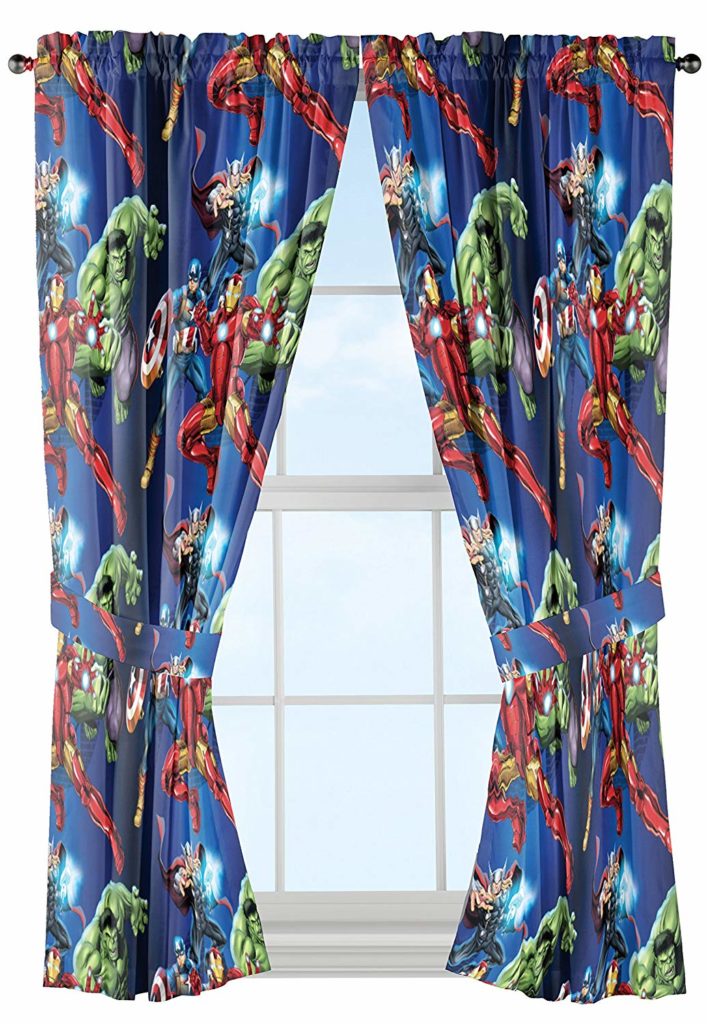 Shower curtains aren't the only type of curtains (duh) and you may want to adorn your windows with some Marvel Comics merchandise as well – these curtains are absolutely perfect for that!

These particularly colourful drapes have Iron Man, the Hulk, Thor and Captain America on them – and even though they're obviously aimed at children, if you don't have kids, they'll still make your man cave or geek room look a lot more bright and fun!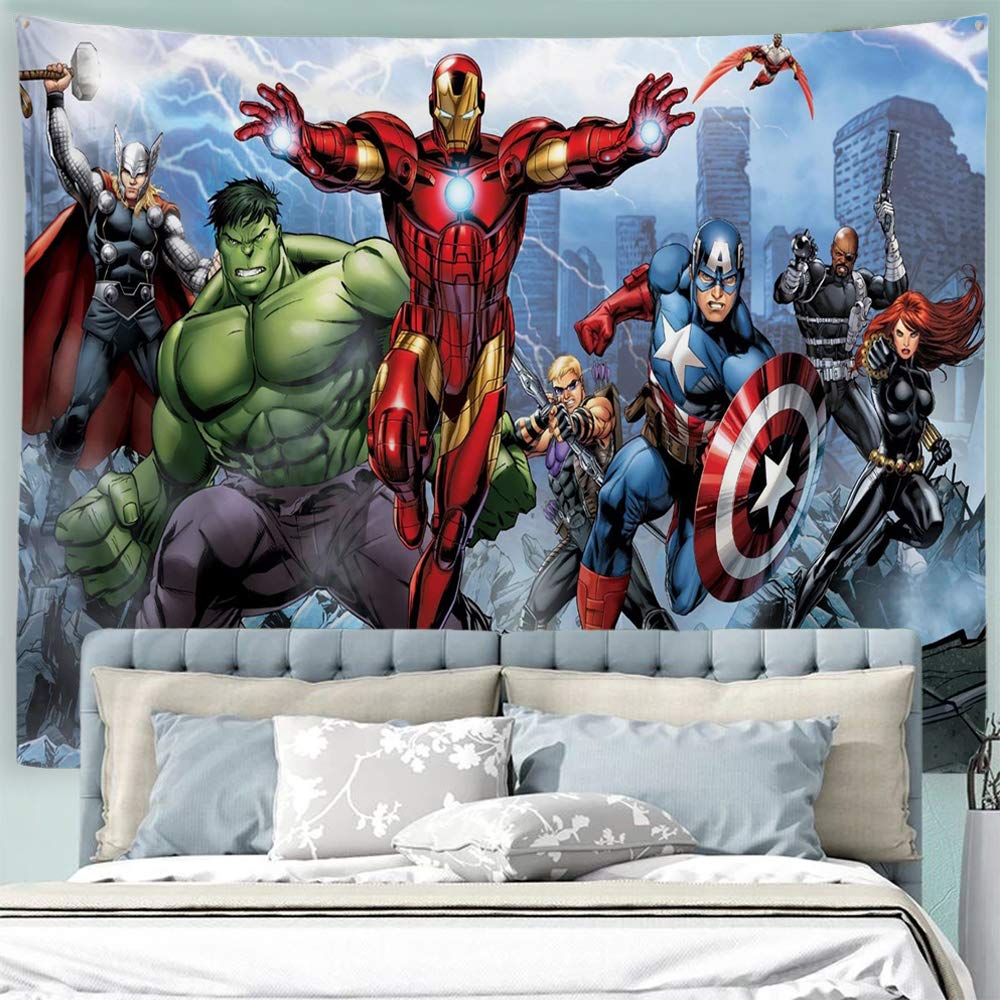 When you think of pictures to hang on your wall, you tend to think of framed images and canvases – but there is another type of picture that can fill a very large space on any vertical surface.

Tapestries are very cool – and generally inexpensive – and this Marvel superheroes tapestry is superb!

It features Thor, the Hulk, Iron Man, Hawkeye, Captain America, Falcon, Nick Fury and Black Widow – and it would look fantastic in any room of your house!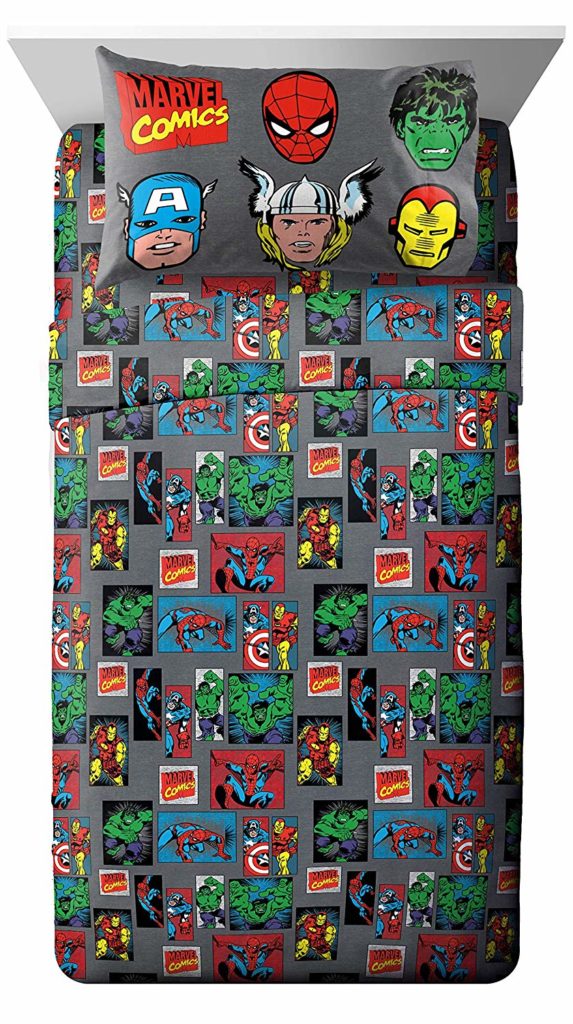 Again, you may have children of your own, or you may just have a bedroom devoted to your geeky guilty pleasures – and, in either case, you'll definitely be needing these brilliant Marvel bed sheets!

They're grey in colour and feature various images of the old Marvel logo, as well as a number of the company's most iconic superheroes in striking poses, such as Spider-Man, the Hulk, Captain America and Iron Man.

You'll sleep easy with those guys watching over you.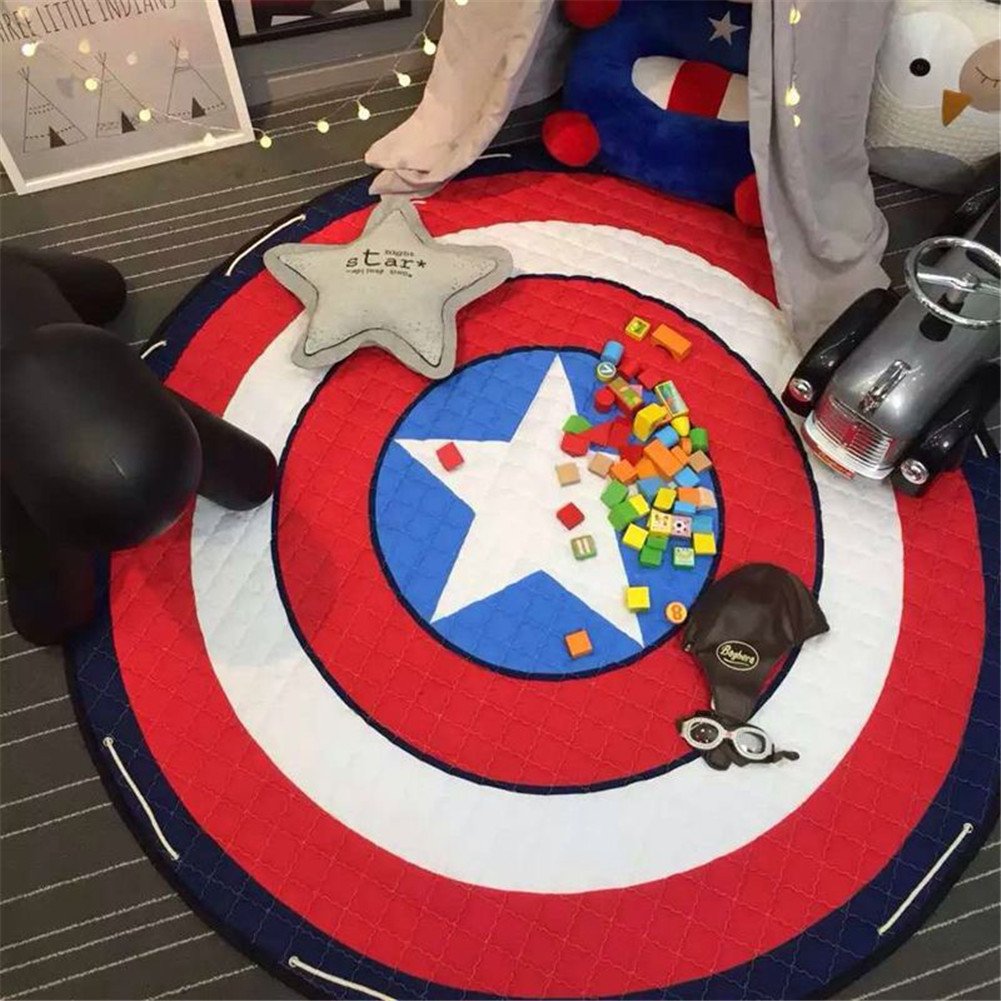 When it comes to decorating your house with Marvel merchandise, don't forget the floor!

This rug is shaped and coloured like Captain America's iconic shield – and it's multipurpose, just like the real vibranium weapon!

For one thing, you could just use it as a standard, decorative rug. But it also functions as a play rug for your children and their friends – it's certainly big enough for a couple of them to sit on and do what they do!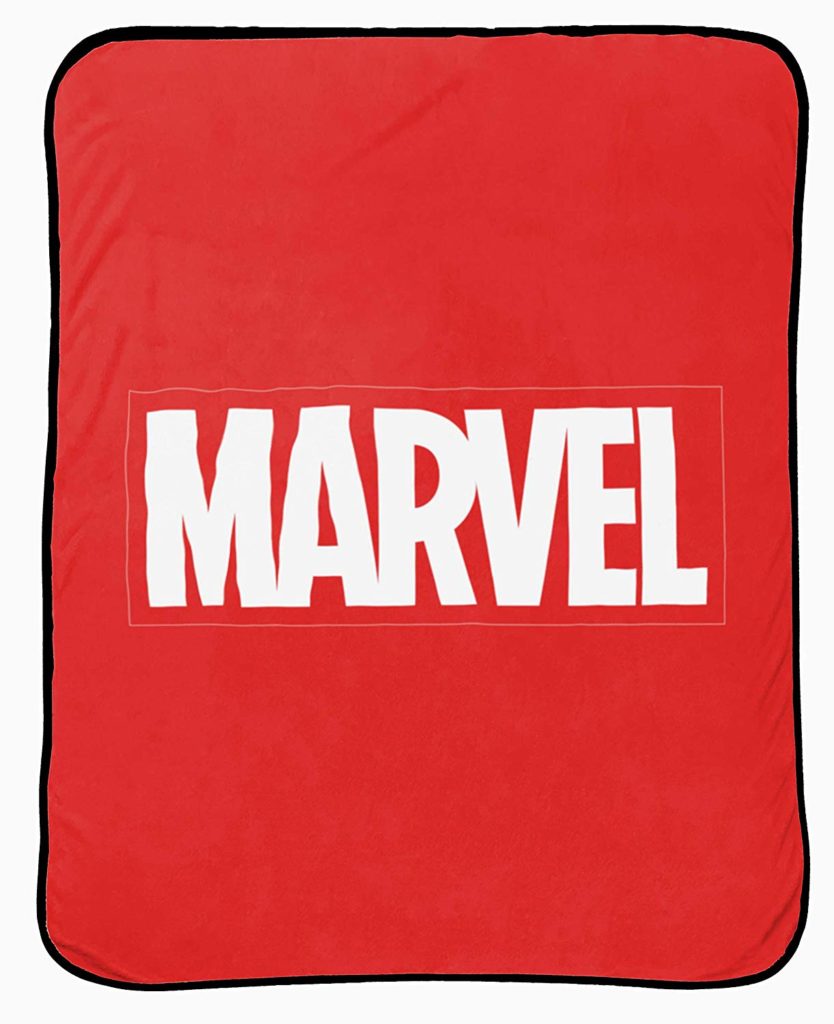 Sometimes, items like sofas, chairs and beds need embellishing a little – and one of the best ways to do that is with a throw blanket.

This particular throw blanket is perfect for any Marvel Comics fan, as it features the iconic Marvel logo.

Given that the Marvel logo is predominantly red, it will make any room brighter. Can you see yourself sitting on your sofa with this thrown draped over it? We bet you can!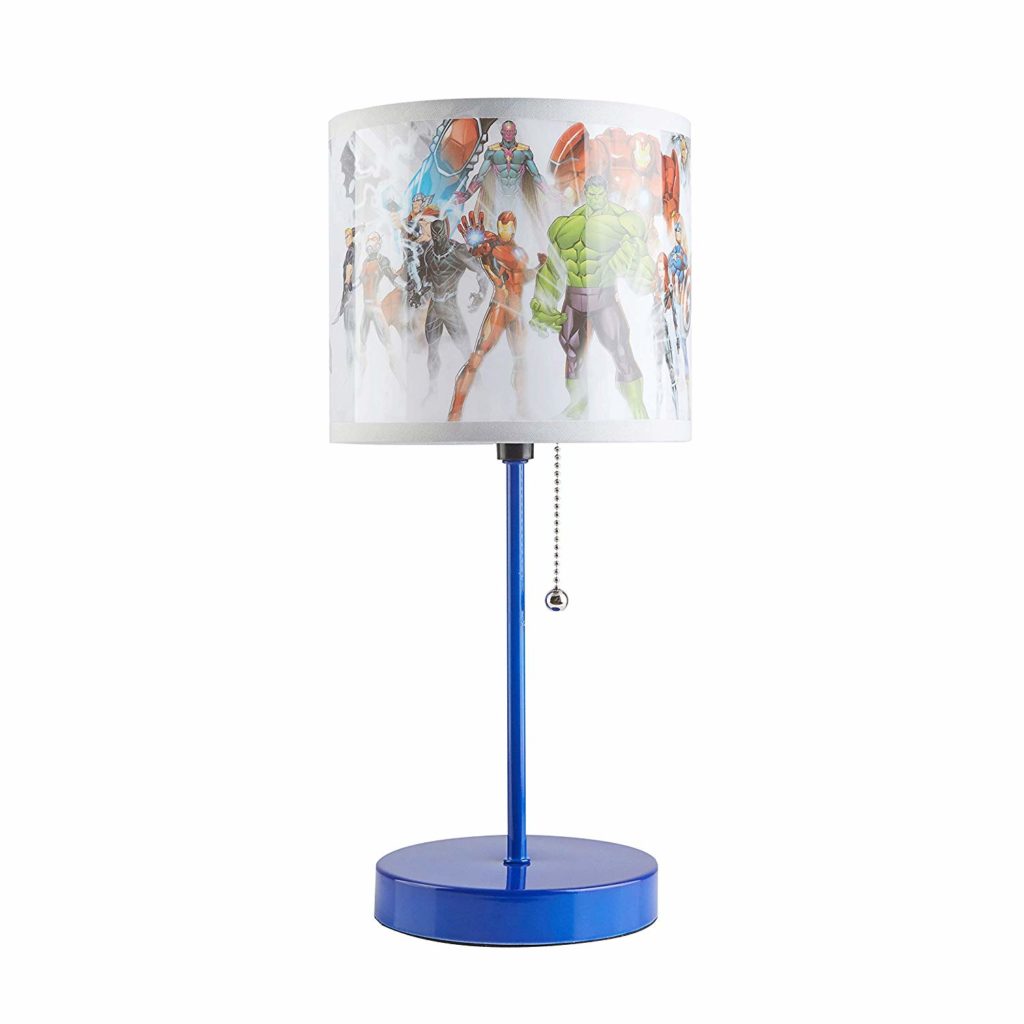 Every home needs some lighting – and if you're a Marvel Comics fan looking to superfy yours, this lamp is absolutely ideal for you.

It features the likes of the Hulk, Iron Man, Black Panther, Ant-Man, Hawkeye, Vision and Captain America – and you can use it however you like!

It could be a bedside lamp, a desktop lamp or otherwise! Regardless of where you put it, it's cool and it'll definitely make the place look better!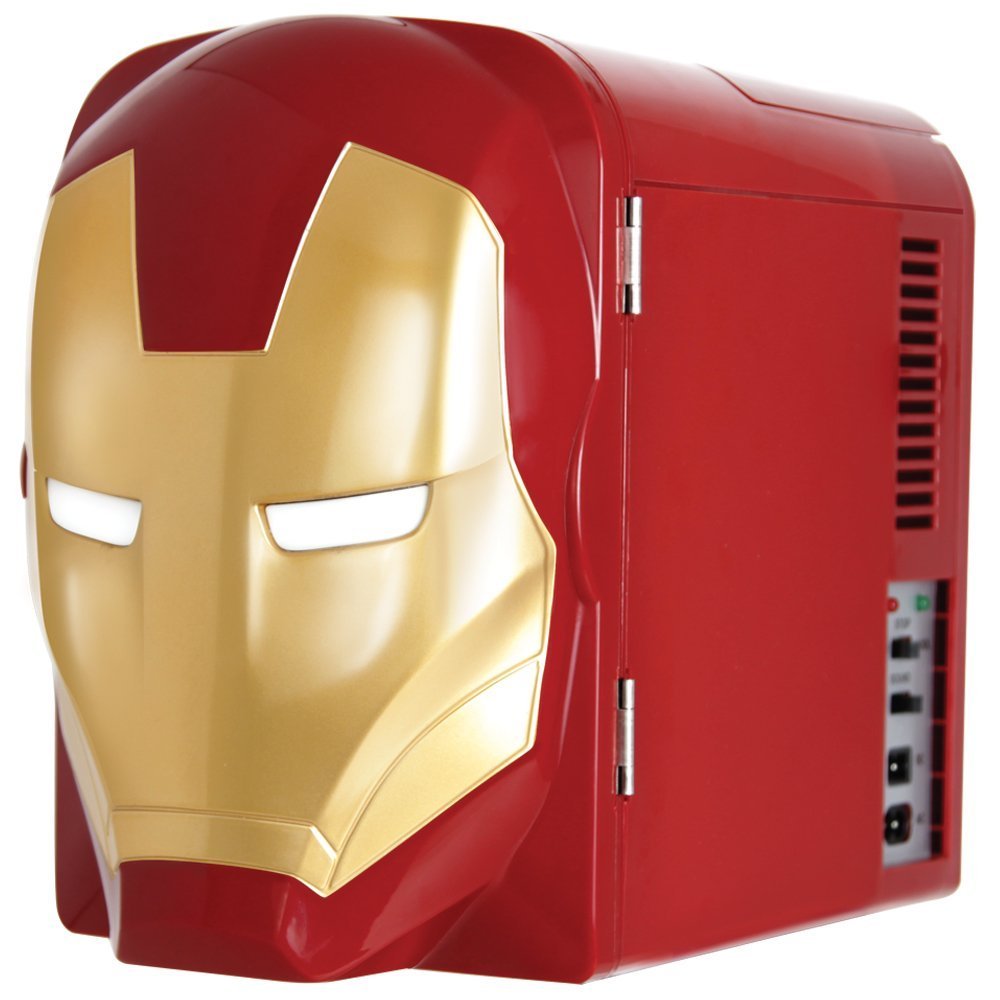 When you think of "Marvel homeware", you probably don't imagine that there are actually fridges with a Marvel theme – but there are! And this one is absolutely awesome looking!

It's an Iron Man mini fridge, in the classic red and gold colour scheme of the character, with Tony Stark's iconic mask on the door.

It's absolutely perfect for keeping drinks cold in your favourite geeky room or man cave! This one really is a must-have!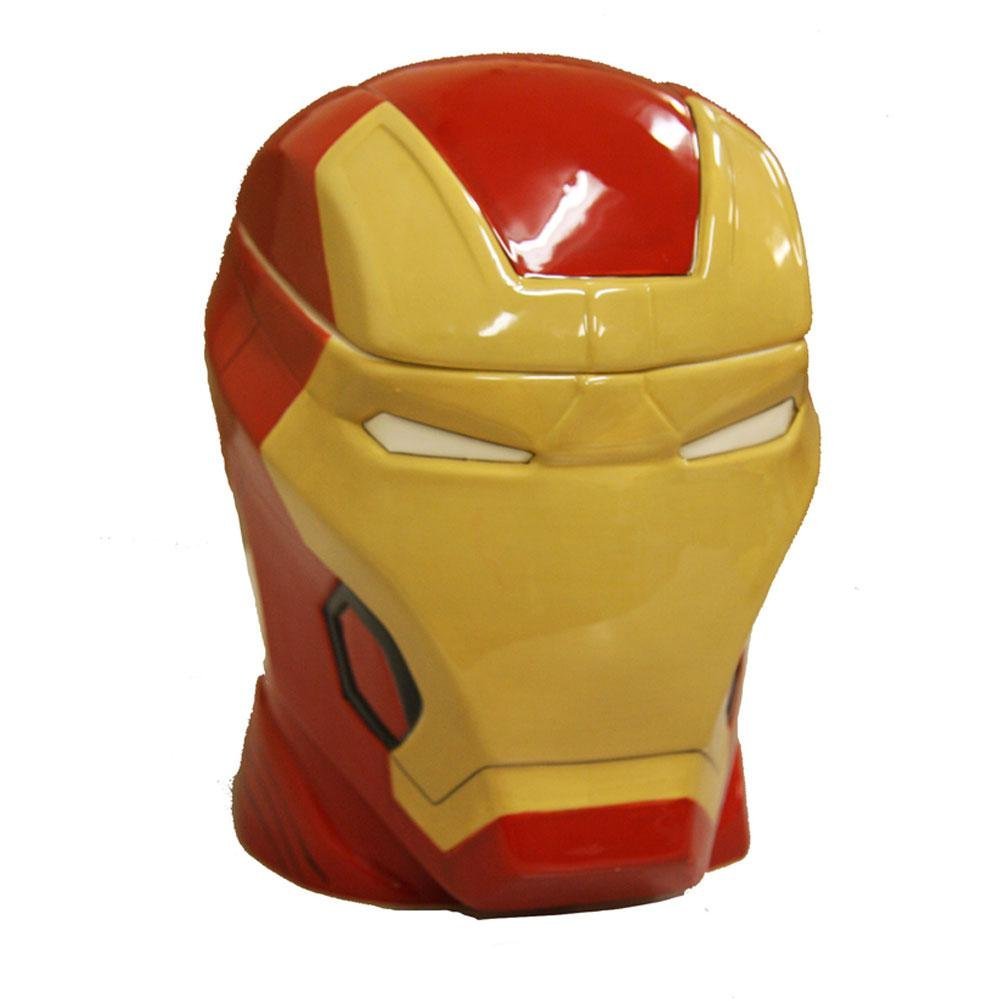 Sticking with the Iron Man theme, we now have another product based on the iconic character – and it's another product in which you can store things!

In this case, it's a genius, billionaire, playboy… cookie jar? And it's the perfect place in which for you to store your favourite crunchy snacks!

Again, it's red and gold and resembles Tony Stark's famous mask – and just imagine how fantastic this would look sitting pretty on your kitchen worktops!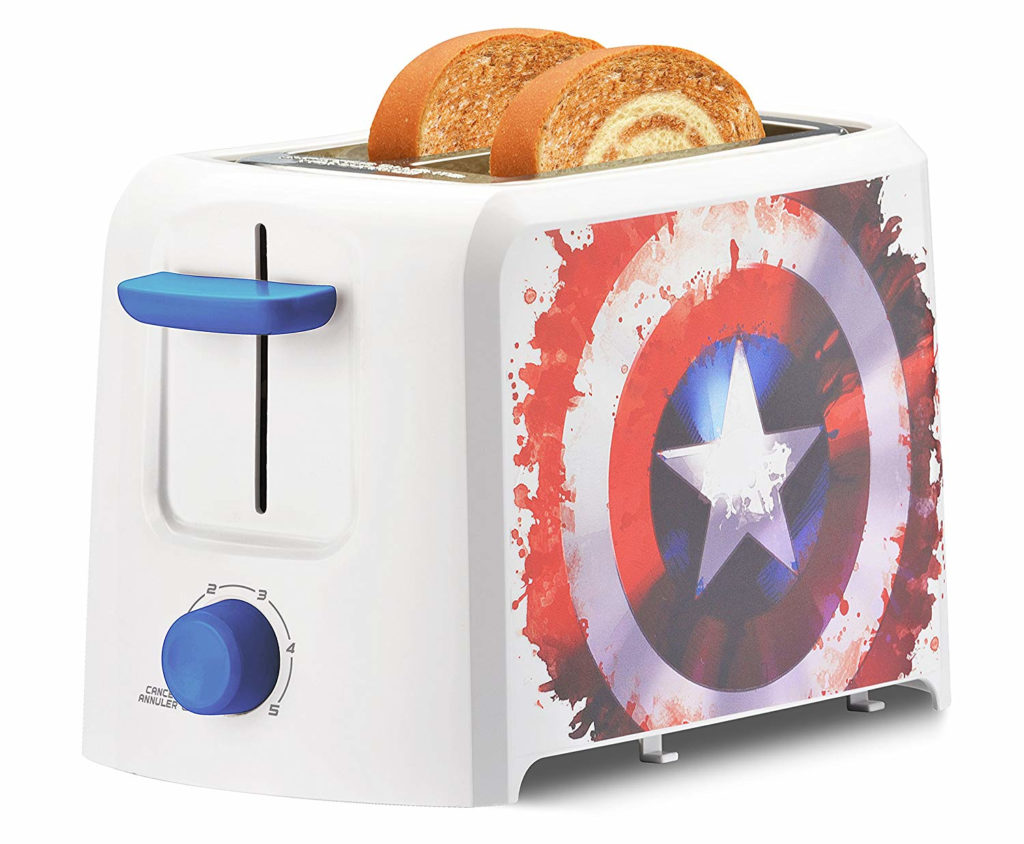 Toast is one of everyone's favourite snacks, isn't it? But, at the end of the day, it's just a slice of bread with a crunchy twist, which is undoubtedly a little bit dull.

This product adds a touch of excitement to your crunchy bread – a touch of Marvel excitement, to be exact!

You see, it cooks in a design in the shape of Captain America's iconic vibranium shield! How awesome is that?! You won't even want to tarnish it with butter!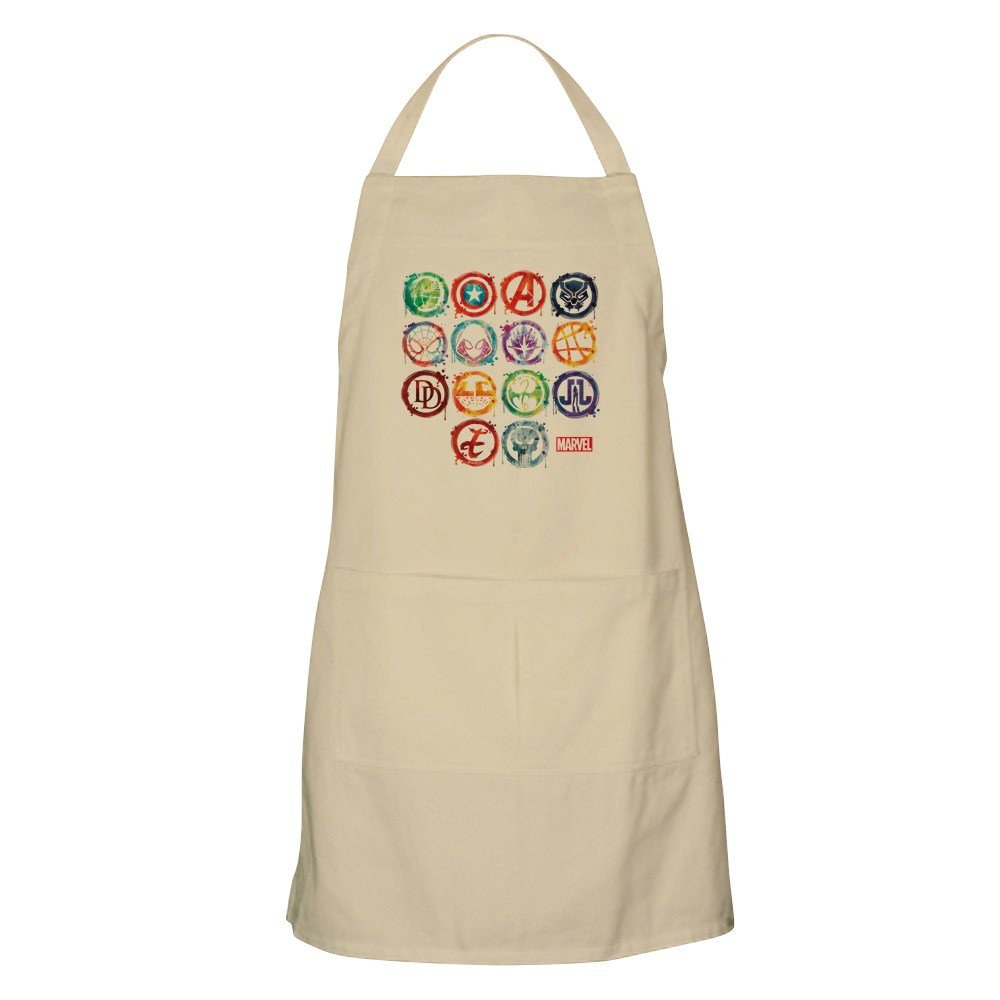 When you're being a superhero in the kitchen, wouldn't you love to be covered in the emblems of some of Marvel's most iconic heroic characters? Of course you would!

So why not buy this kitchen apron that's emblazoned with a number of Marvel superhero logos?

It has the logos of the likes of the Hulk, Captain America, Black Panther, Daredevil, Iron Fist and the Punisher! Get it bought and be a kitchen god or goddess!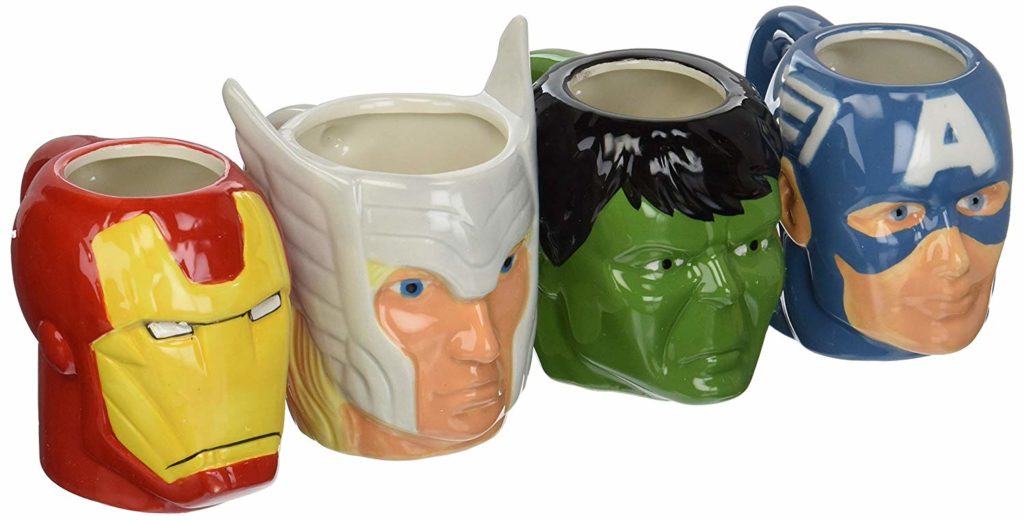 Everybody loves a hot drink – whether that's coffee, tea, hot chocolate or something else – and that means everybody needs something to drink them out of!

These mugs are perfect – and they come with the faces of four of the most iconic Marvel superheroes on them.

So if you'd like to drink from the heads of Iron Man, Thor, the Hulk or Captain America, these mugs are definitely for you! So buy them at once – you know you want to!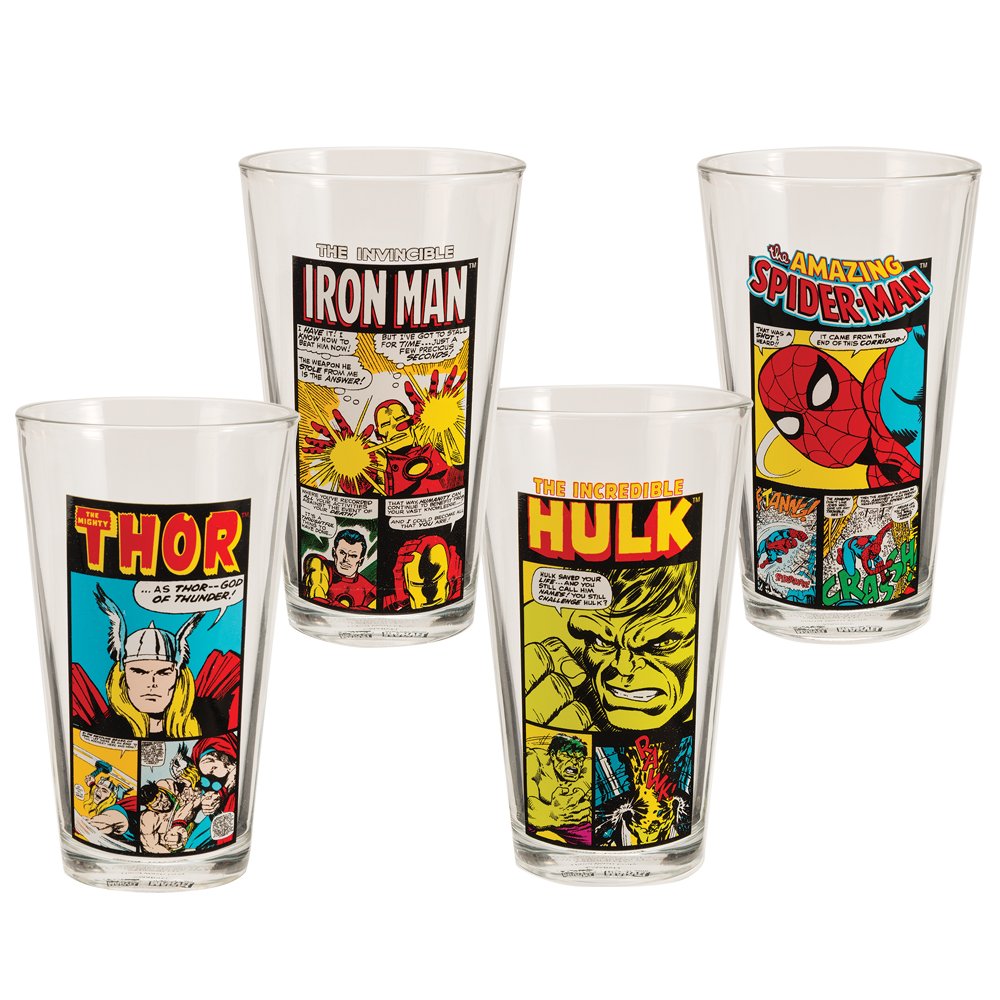 Of course, there are other options to hot drinks when you've got a thirst on. You may simply require a glass of juice, some fizzy soda, or a nice big gulp of ice cold milk.

And you don't want to drink any of those things out of a mug – so you'll be needing some superhero drinking glasses!

This quartet of Marvel drinking glasses features three of the same heroes as the previously discussed mugs – Thor, Iron Man and the Hulk – but instead of Captain America, the fourth one has Spider-Man on it. Buy them now!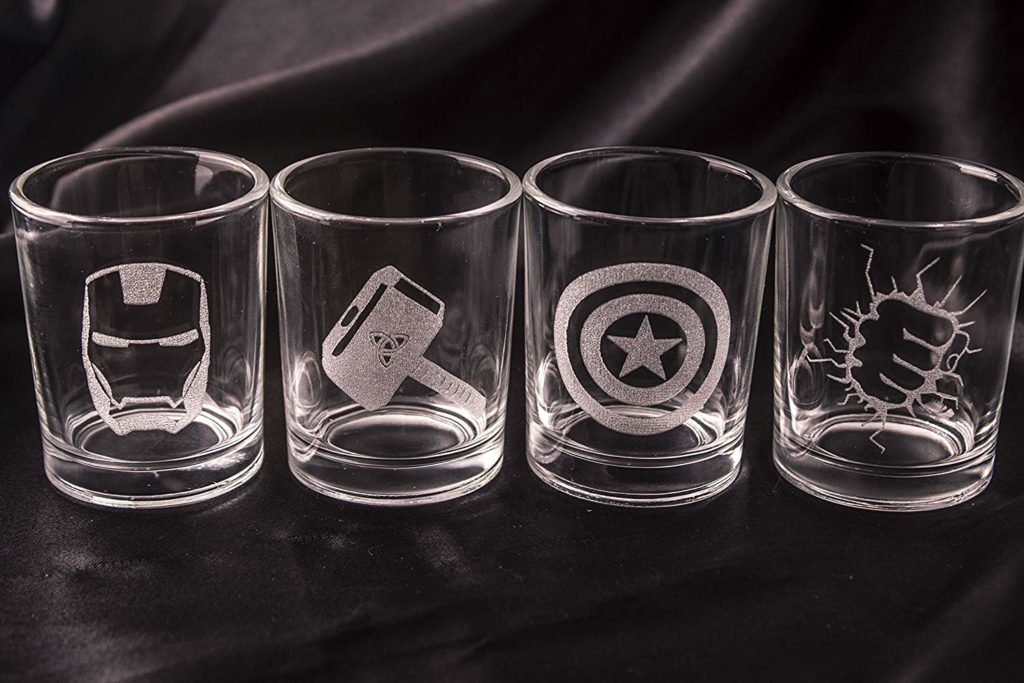 There is, of course, one other kind of liquid refreshment – and it comes in the form of alcohol!

Now, granted, you could drink beer from an ordinary glass – such as the ones we just discussed – and you obviously drink wine from a wine glass, but when it comes to shots, you're going to need something else.

These Marvel shot glasses are awesome – and they feature the logos of Iron Man, Thor, Captain America and the Hulk.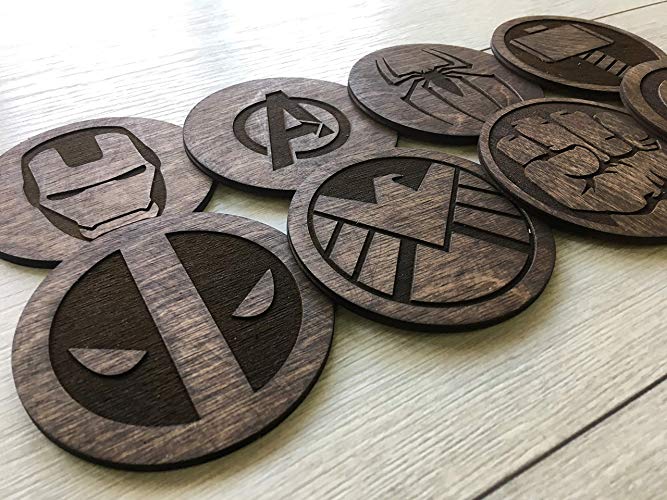 You're going to need somewhere to place your Marvel mugs, drinking glasses and shot glasses while you're using them and once you're finished drinking out of them – and what could be better for that than these Marvel coasters?

They've got various emblems and logos on them, such as the Avengers logo, S.H.I.E.L.D.'s logo, and logos associate with characters like Iron Man, Thor, the Hulk, Deadpool and Spider-Man.

Try your best not to argue about who uses which coaster, though!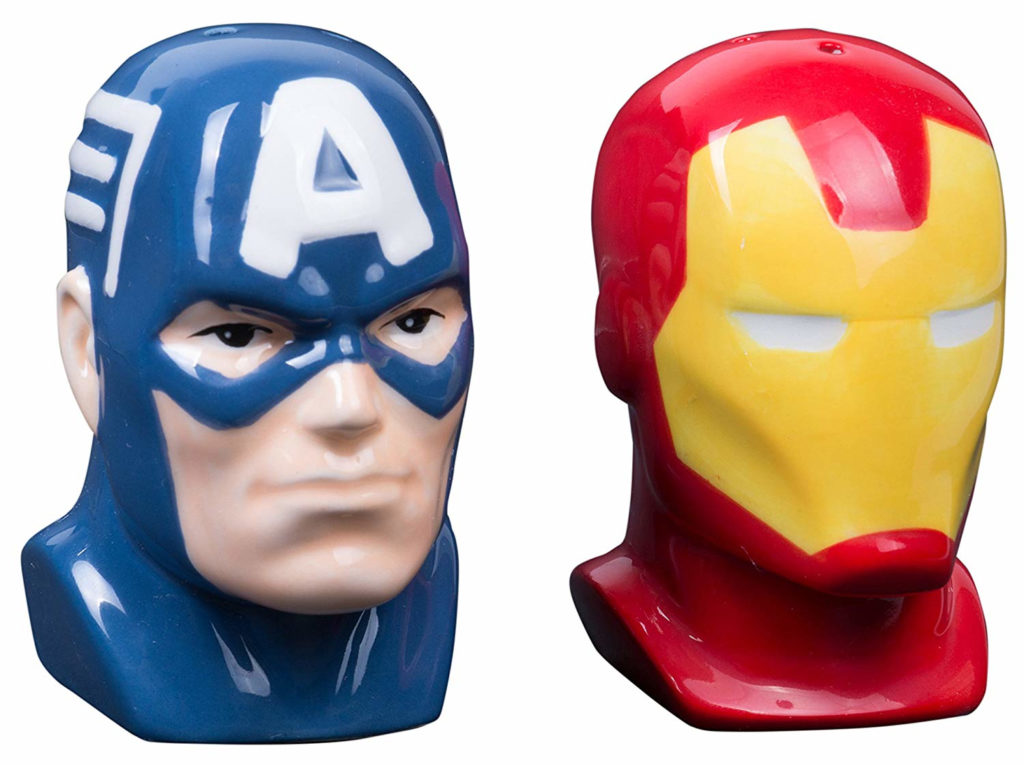 Salt and pepper shakers are normally pretty boring, right? Well not these ones! No, sir!

You know how the Civil War story pitted Captain America and Iron Man against each other – both in the comics and on the big screen? Well now you can reenact that with your salt and pepper shakers! We bet you never thought you'd read that sentence!

These shakers are shaped like Cap and Iron Man's heads – and they're very cool indeed.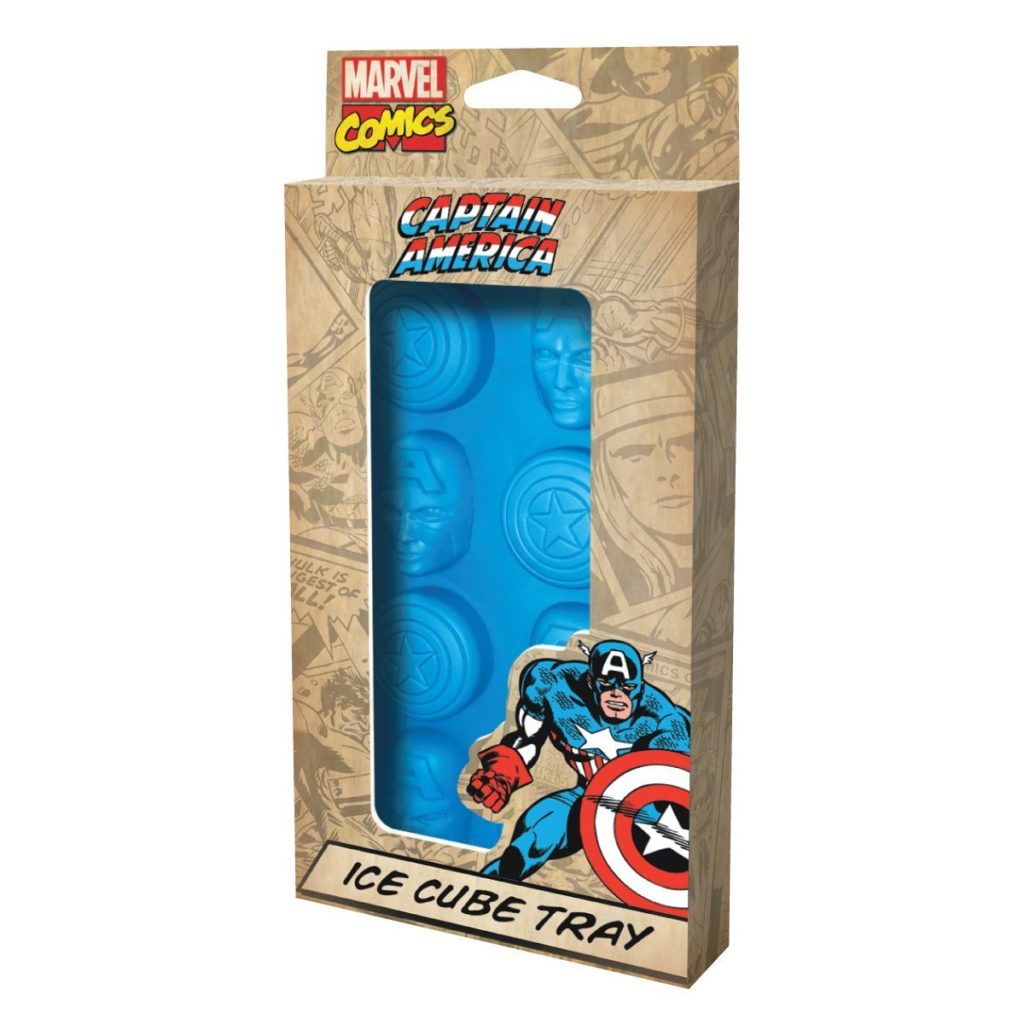 On a hot day, there's nothing better than an ice cold drink filled with ice cubes to lower your temperature.

Normally, ice cubes are soulless… well… cubes – but that won't be the case when you buy this very cool (no pun intended) ice cube tray!

It'll make your ice cubes emerge in the shape of Captain America's shield, complete with the iconic stars and stripes pattern – and it's very appropriate, given the decades Cap himself spent on ice!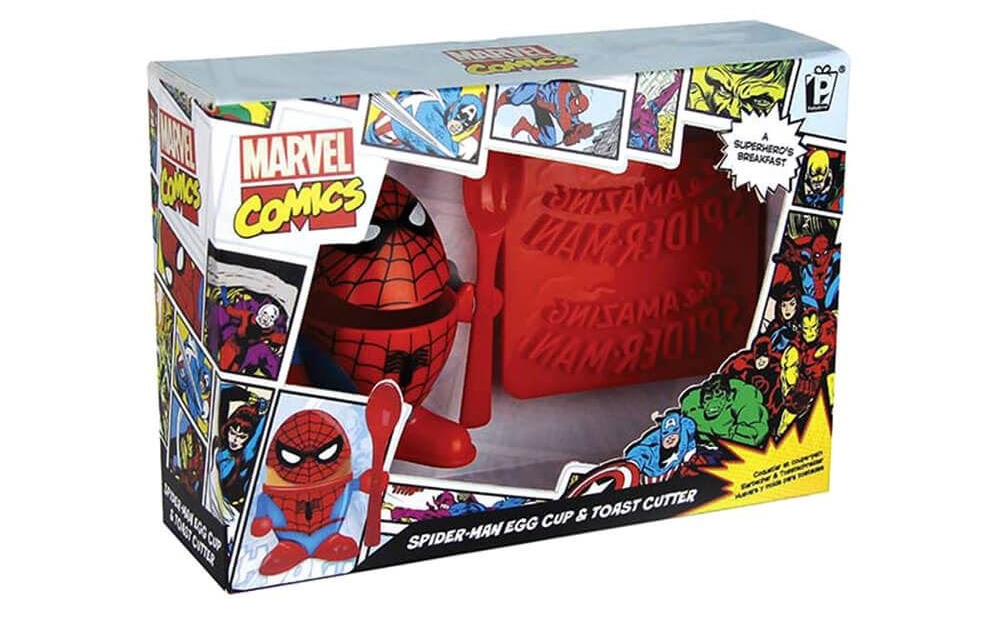 This is a very fun product! Yes, even for adults to enjoy! Right? RIGHT??!

It's a Spider-Man egg cup and toast cutter! So now, you can eat your boiled eggs out of a little Spider-Man egg character, and eat it with toast that's been shaped into a fun Amazing Spider-Man design!

Seriously, while this is clearly aimed at the younger generation, don't be ashamed to enjoy your dippy eggs Spidey style, even if you're a fully grown adult!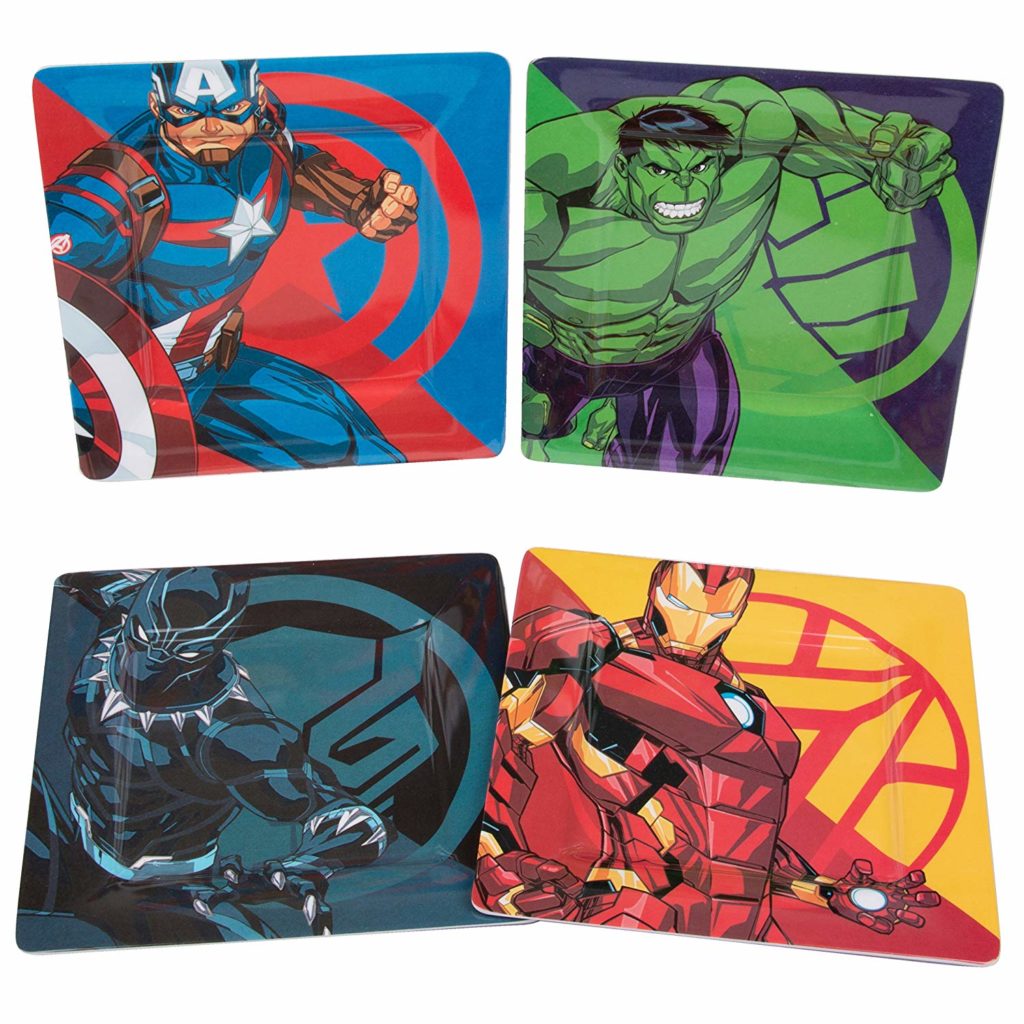 Do you know what would make eating your dinner even more enjoyable than it usually is? Eating it off a plate with a Marvel superhero on it, of course!

These four awesome dinner plates feature Captain America, the Hulk, Black Panther and Iron Man – and they all look absolutely amazing!

Just imagine the colourful image of your favourite character slowly emerging as you make your way through your favourite meal! What a fun little treat!

Let's finish with a VERY cool product, in the form of this lava lamp which has an extremely quirky twist.

It's no ordinary lava lamp, because it's actually made to look like it's a S.H.I.E.L.D. containment unit for Venom, with the black mix of mineral oil, paraffin wax and carbon tetrachloride representing the Spider-Man villain's infamous gooey symbiote – so it'll look like you're responsible for Venom's safekeeping.

Just think yourself lucky that's not really the case!
Did you like these items? Do you own any of them already? Let us know!