If you're a fan of Marvel Comics who also happens to have a baby (or a baby on the way), you might want to do your best to ensure the little bundle of joy follows in your superhero-loving footsteps.

Well, we'd like to help you with that!

We've brought together lots of items that are generally geared towards babies and toddlers, so you can make your little one into a bona fide mini superhero!

Here are 25 cute Marvel baby products to superfy your kid…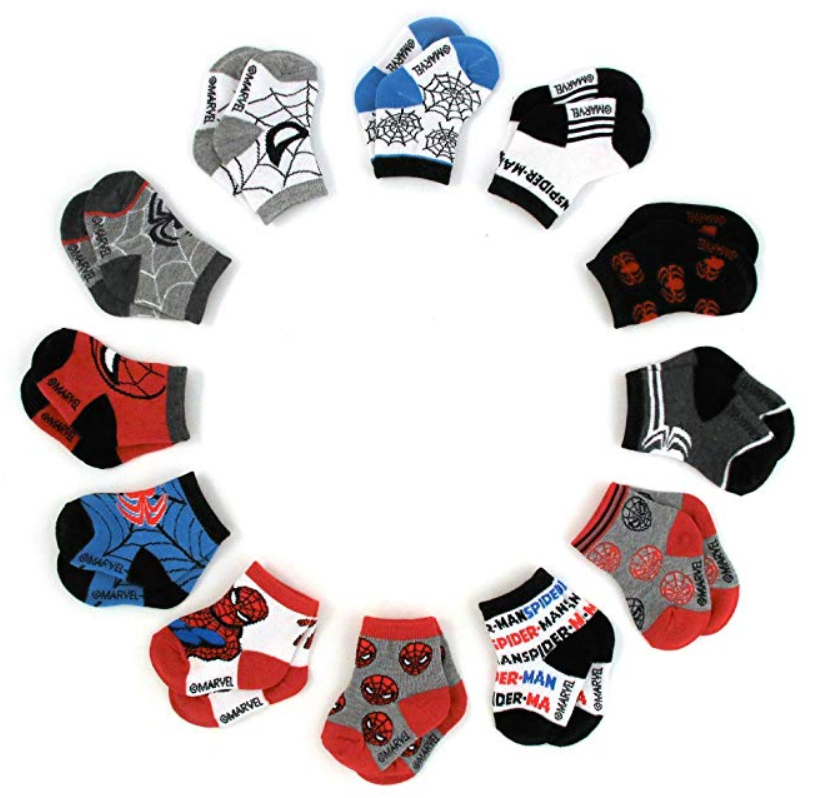 You'll want your baby to be superfied from head to toe, right? Well, we're kicking things off with the toes.

This twelve pack of assorted Spider-Man socks are a great way to start when it comes to giving your little one a complete Marvel makeover.

Just be warned – while they are adorned with Webbed Wonder imagery, these socks won't help in any way whatsoever when it comes to your baby potential crawling up a wall!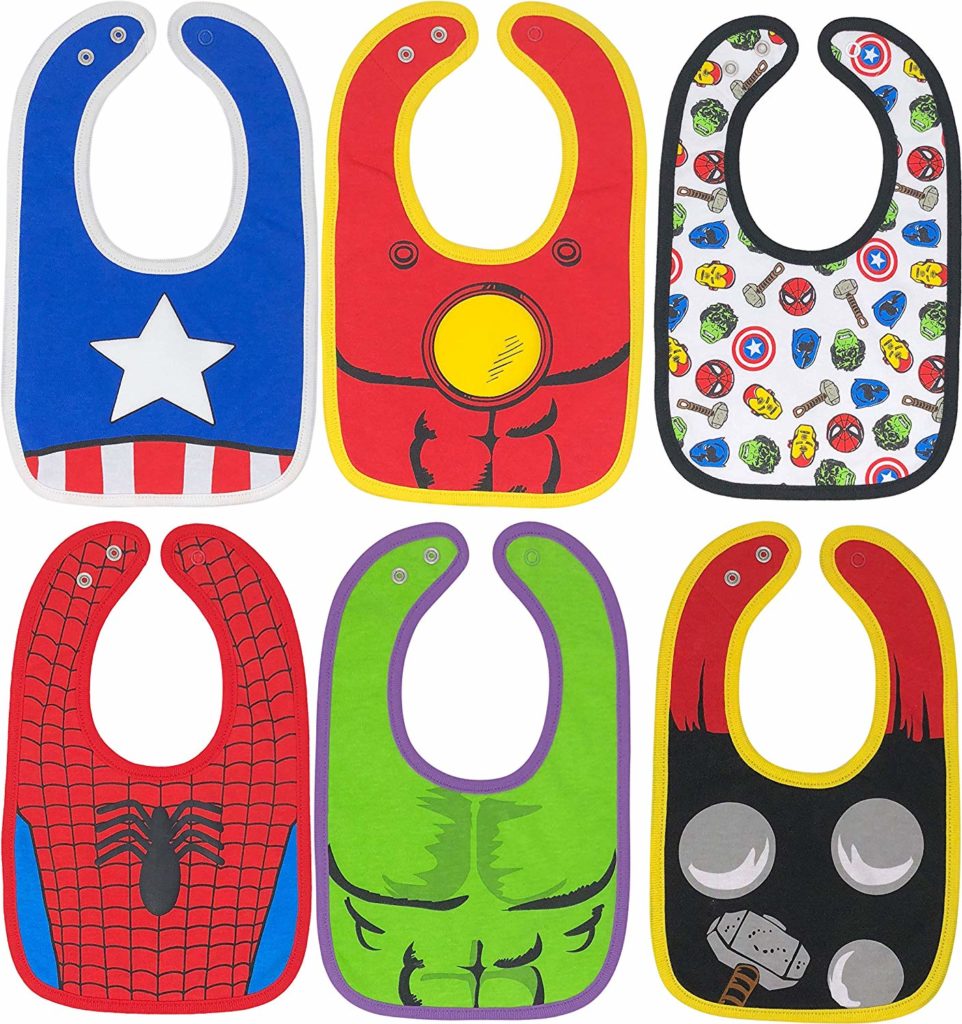 Babies make a mess when they eat, that's a given. It's not their fault, it's just that their little hands aren't fully functional yet.

So you're going to need bibs for your kid – and there are no cooler bibs out there this assortment of Marvel bibs!

It's a pack of six that includes a Captain America bib, an Iron Man bib, a Spider-Man bib, a Hulk bib, a Thor bib and a bib with images representing various Marvel superheroes on it.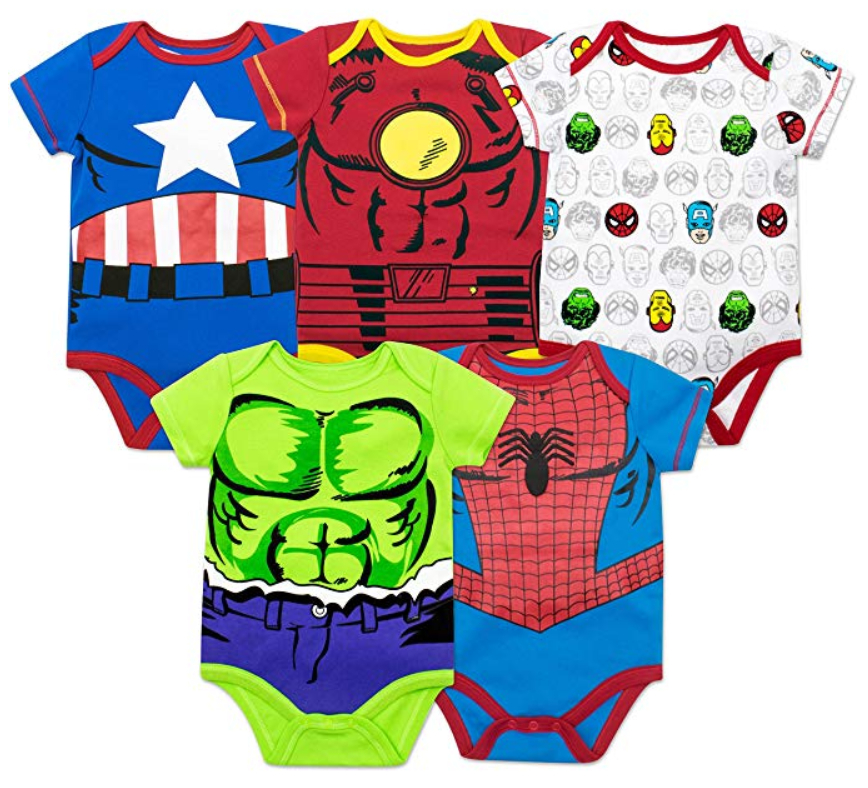 When you picture a typical baby, the typical item of clothing you tend to envisage them wearing is a bodysuit.

Usually, however, they're very plain – perhaps they'll be white, blue or pink – but these Marvel baby bodysuits are anything but!

This pack of five includes a Captain America bodysuit, an Iron Man bodysuit, a Hulk bodysuit, a Spider-Man bodysuit, and a bodysuit with various images representing a number of Marvel superheroes on it.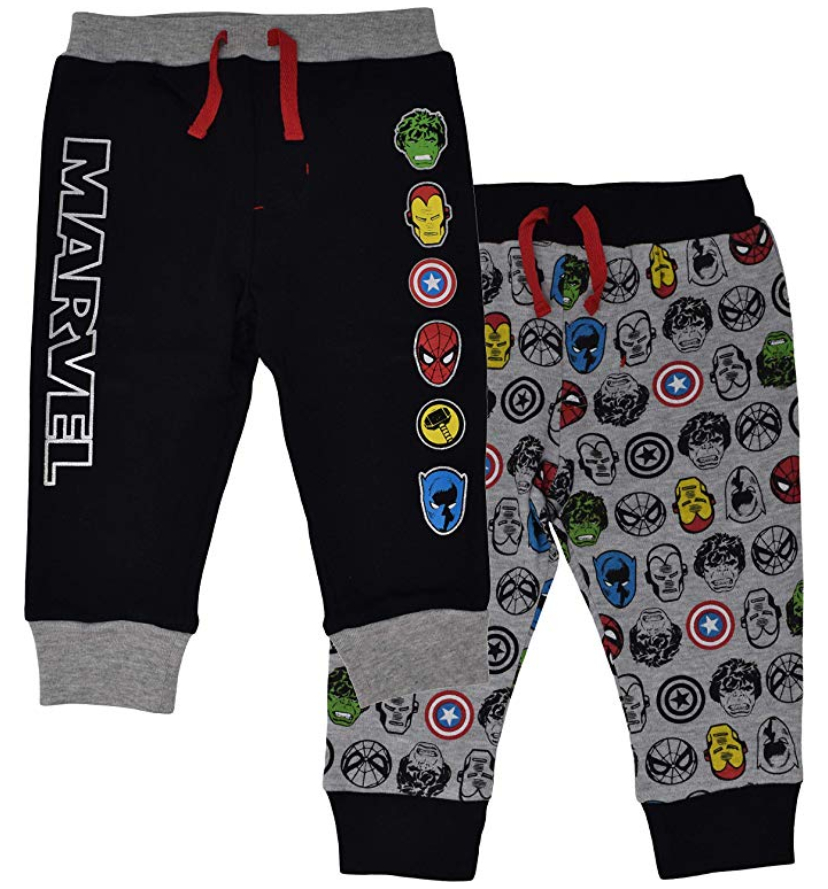 Babies and toddlers are obviously very active – whether it's them thrashing their legs around in a cot or crawling around getting into mischief – and their clothes sometimes need to reflect that.

With that in mind, why not get your kid these snazzy jogger pants for when they're on the move?

This pack contains two pairs of joggers with Marvel designs on them – and they'll make your baby look awesome!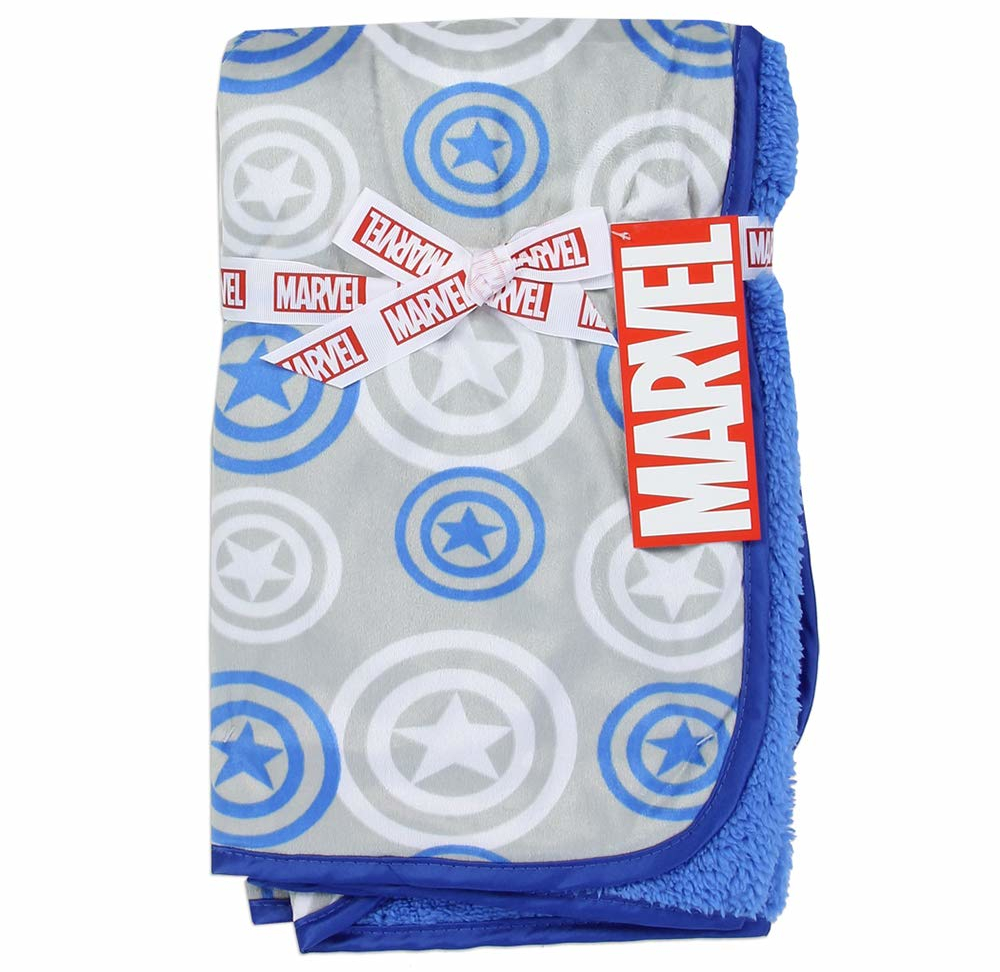 Babies sleep a lot – and they lie down a lot more than that – so they need to be kept warm and comfortable at all times.

This 100% polyester blanket will do the job perfectly – and to make things even better, it's got a fun Marvel twist.

It's covered in Captain America's iconic logo – the one you see on his equally iconic vibranium shield – and we guarantee it'll quickly become your baby's favourite blanket.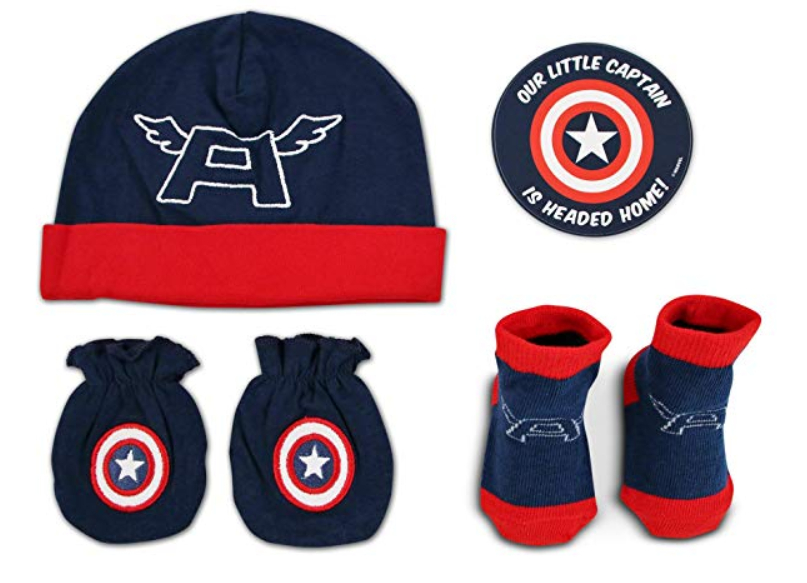 Babies never look more cute than when they're wearing several items that match each other – and buying this item will ensure you're able to clothe your kid in that adorable way.

This matching set, which includes a hat, mittens and booties, will look extremely endearing indeed!

They're emblazoned with Captain America logos, so buy them to turn your baby into an awesome little patriotic super soldier!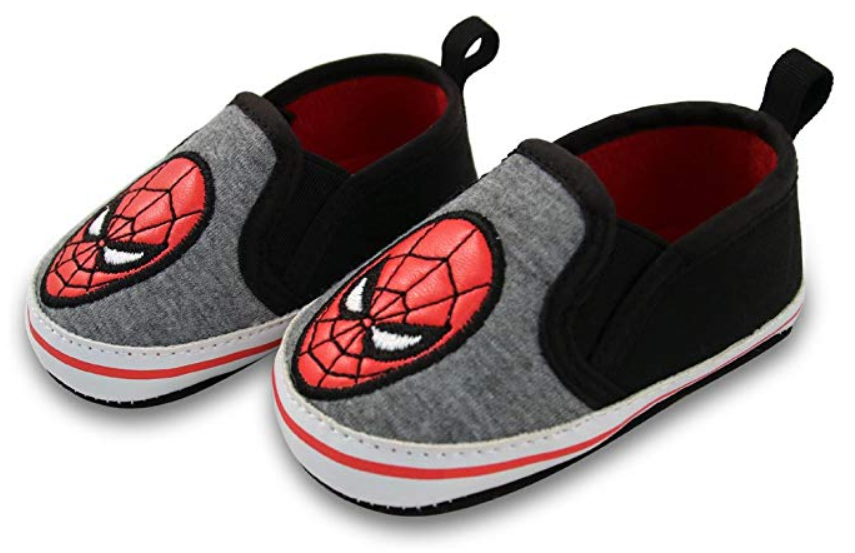 Before you know it, your little bundle of joy will be running around on those tiny feet – and at that point, shoes become a necessity.

You'll be wanting something that's easy to put on, durable enough to withstand a lot of running around, and fun enough that the little one actually wants to wear them.

These Spider-Man slip-on shoes are ideal – and we're absolutely certain your kid will think exactly the same thing.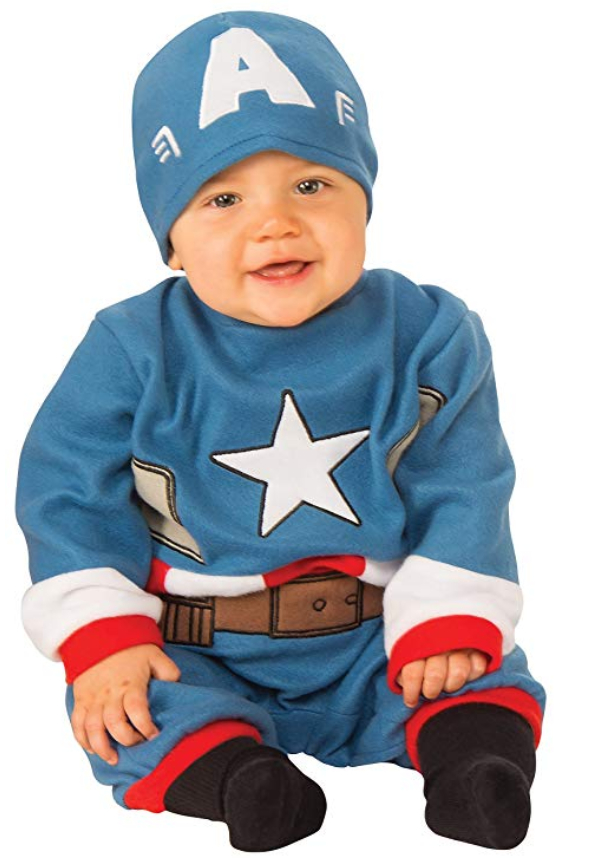 Whether you're heading to a fancy dress party with your baby or just wanting the little one to look awesome while being warm and comfortable, this romper suit is perfect!

It's a Captain America fleece romper with a Velcro fabric fastener and headpiece.

There are a number of superhero rompers in the same range, including Spider-Man and Iron Man, so take a look at them all once you've bought this!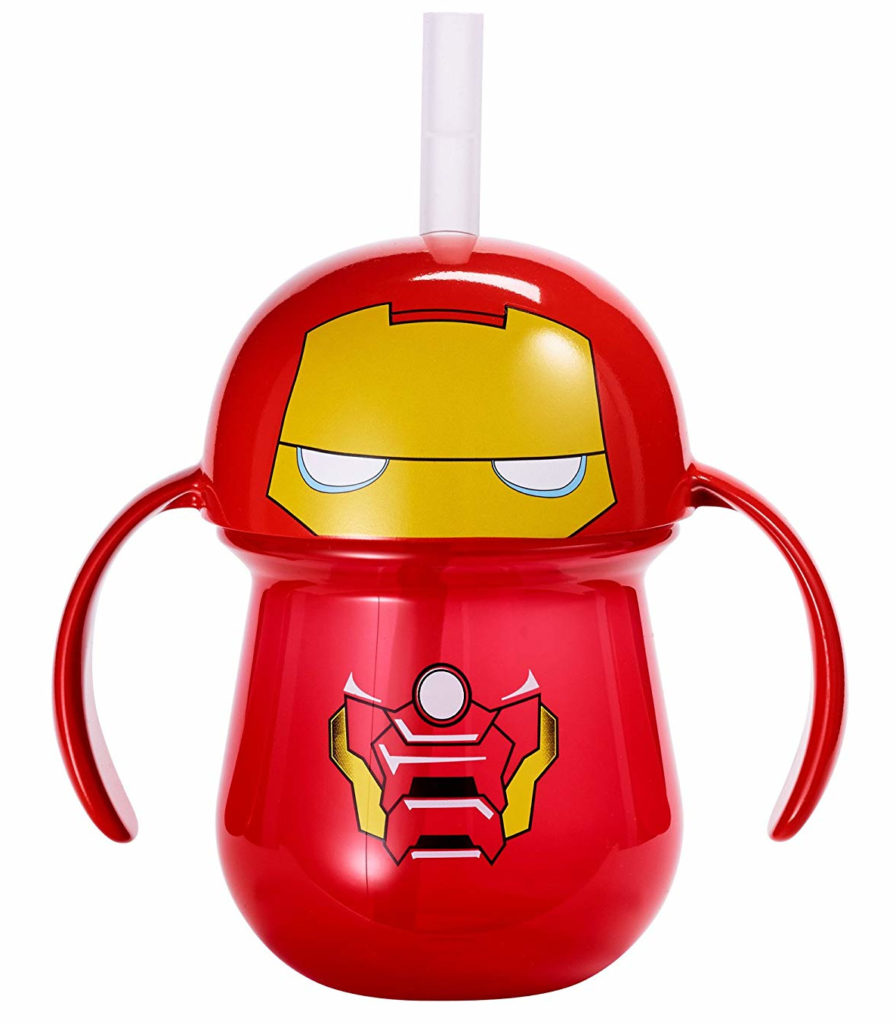 Every toddler needs a favourite sippy cup – one they carry around everywhere with them, with their favourite drink inside.

But it can't be boring or, obviously, the kid's going to get bored of it very quickly – so let's give it a Marvel twist!

This Iron Man straw cup is perfect for your little one to carry around and keep hydrated by taking regular sips of juice from it. Buy it!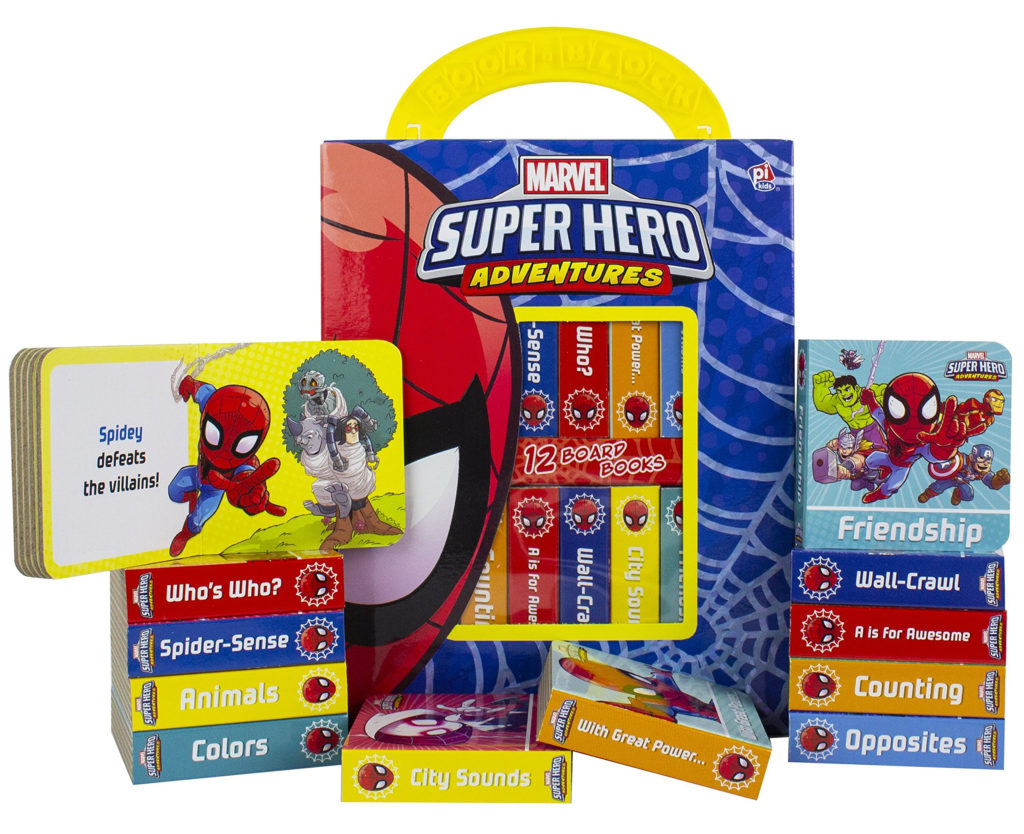 Before you know it, your toddler will be wanting to have stories read to them every night before bedtime – and, not long after that, they'll be wanting to read themselves!

So you'll be needing an array of books to keep them entertained – and this set of Marvel board books is perfect!

They feature Spider-Man and a plethora of other Marvel characters on educational adventures – so buy them now to make learning fun!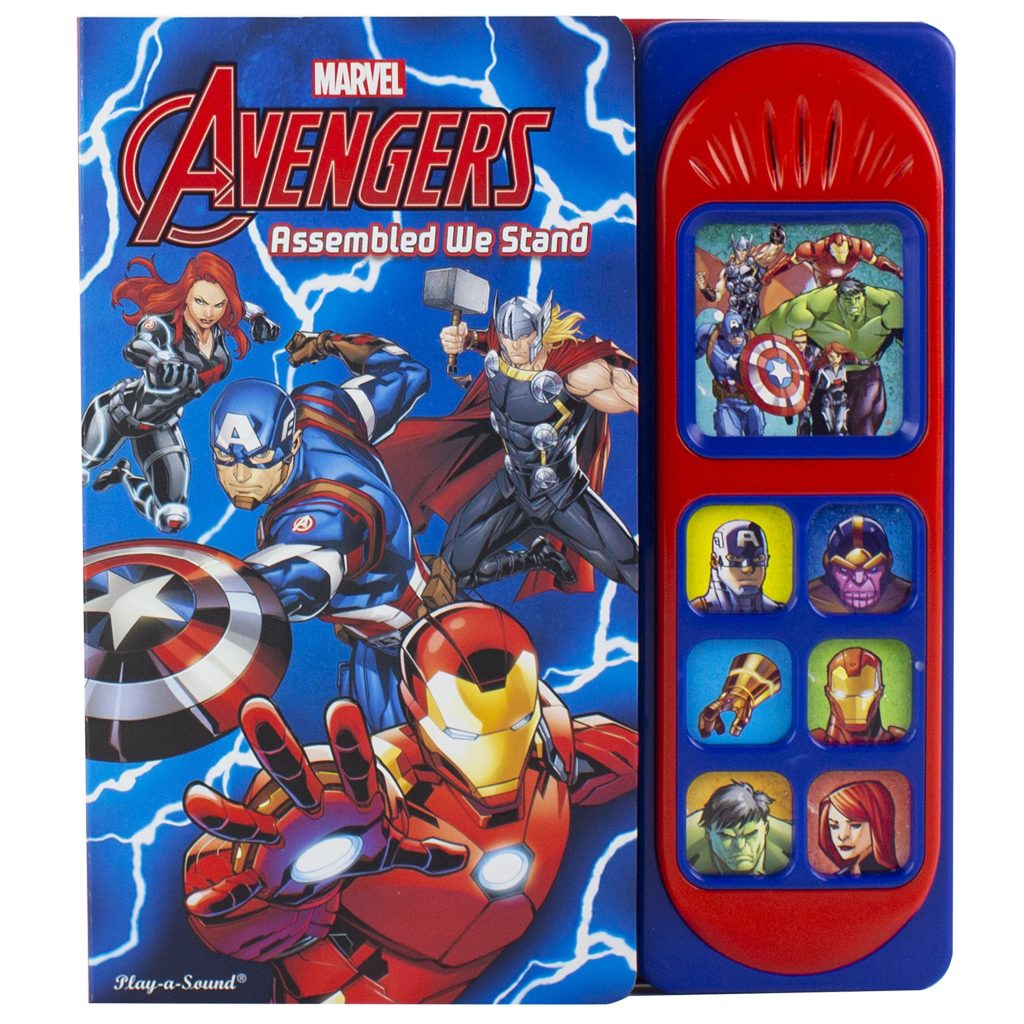 Of course, there's something that can make reading so much more fun – sound!

This Marvel sound book is great for when your toddler gets a little bit older and outgrows those board books.

The story in this one sees the Avengers taking on Thanos, as he launches an attack on the universe with the Infinity Gauntlet – and there are seven exciting sounds to make the story more immersive!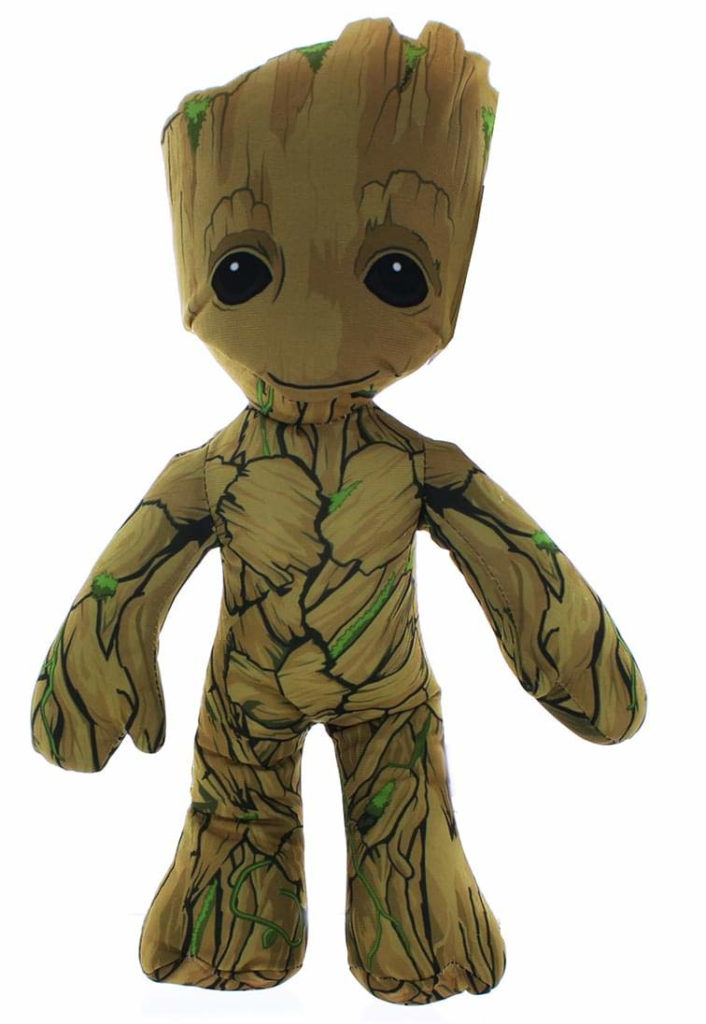 Of course we were always going to include a plush or two – babies and toddlers love to go to bed with something to snuggle into, after all – and they don't come much cuter than this one.

Groot is a much-loved character in the Marvel universe – and we'd like to think your little one will give this Groot plush all the love in the world.

Let's just hope your baby's first words don't end up being "I am Groot!"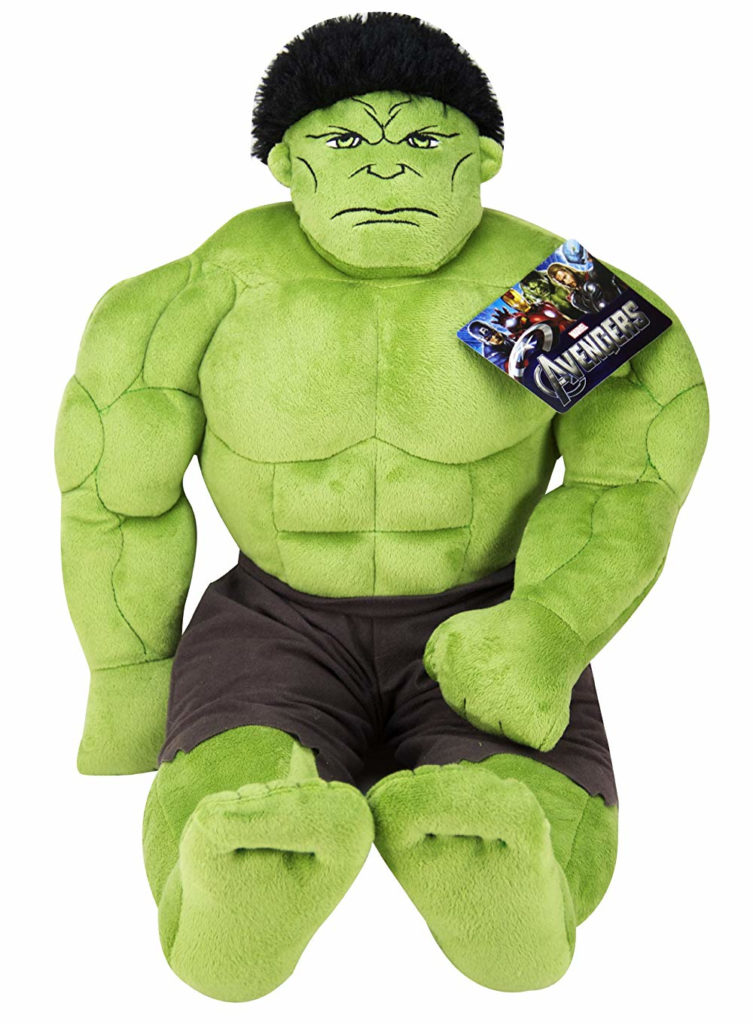 Sticking with the plush theme, this one's a little bit different to the previous one!

It's a pillow plush, made from a soft pillow-like material – which means it's not only suitable for snuggling up to, your baby can also rest their tiny head on it!

This one comes in the shape of the Hulk, so your little one will definitely have an "incredible" sleep with him by their side (sigh!).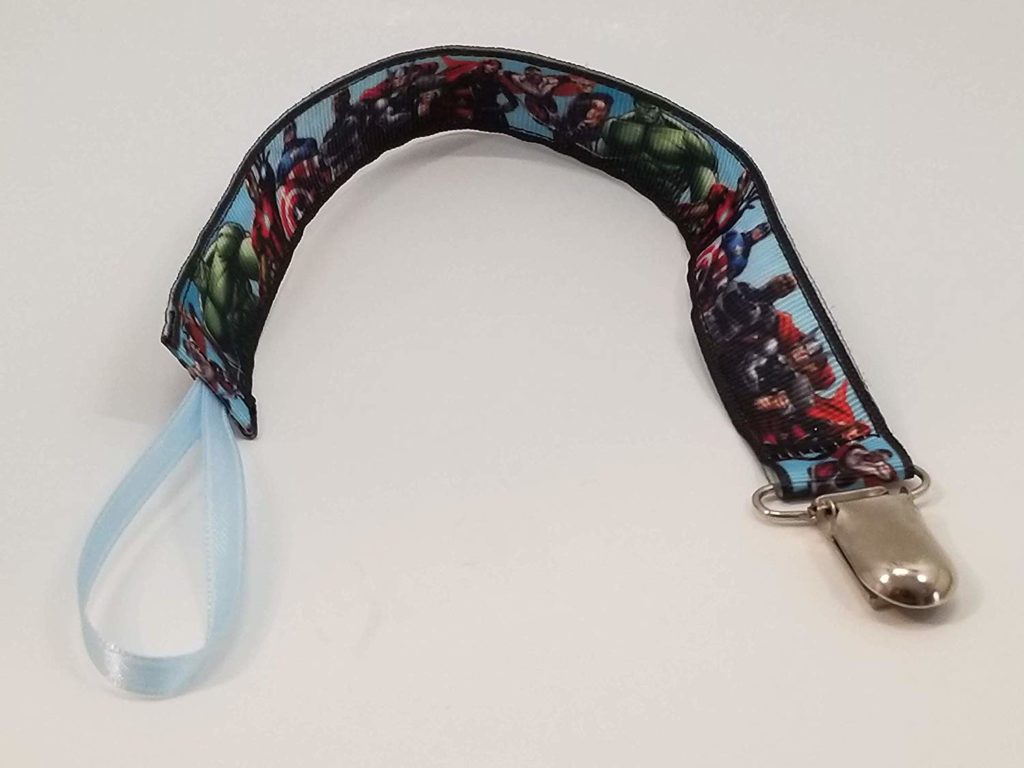 Pretty much every baby has a pacifier – they're a great way to keep them calm, relaxed and to help them get to sleep.

Now, there aren't many Marvel pacifiers out there, but we have found the next best thing – this Marvel pacifier clip!

It will ensure your baby's pacifier doesn't fall on the floor and get lost – which, as every parent knows, is a truly devastating occurrence!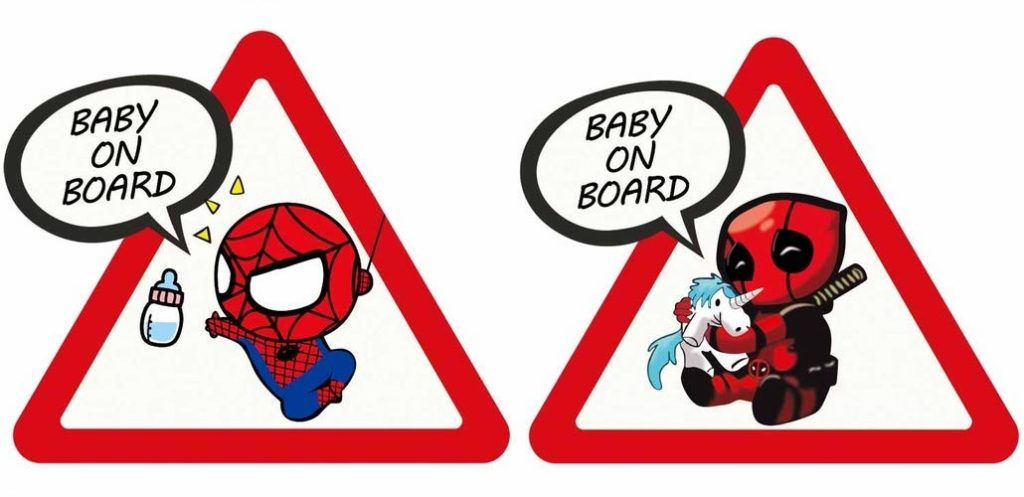 Now, while these aren't specifically FOR your baby, they'll certainly suggest your child is a little superhero!

They are, of course, superhero "baby on board" signs for your car – which, hopefully, will encourage people to drive carefully around you (while simultaneously showing that you and your kid are awesome!).

They feature very cute baby versions of Spider-Man and Deadpool – two of Marvel's most iconic characters.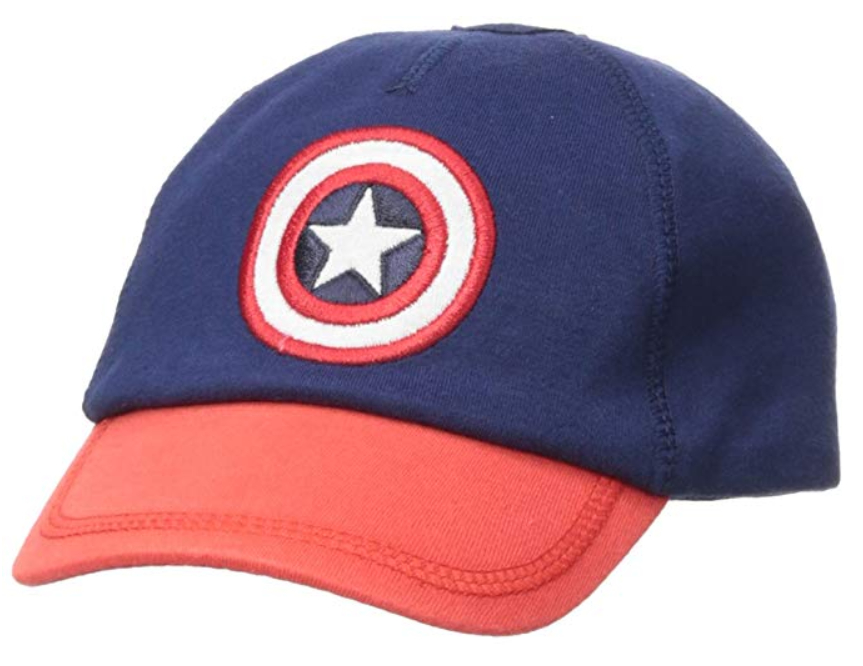 There'll come a time when your baby ends up being exposed to the sun – and in the same way you would yourself, the little one will need protecting from it.

In addition to sunscreen, a little baseball cap will go a long way to providing the protection your kid needs.

This one is emblazoned with Captain America's iconic logo. So, in addition to being protected from the sun's rays, your little one will also look very cool!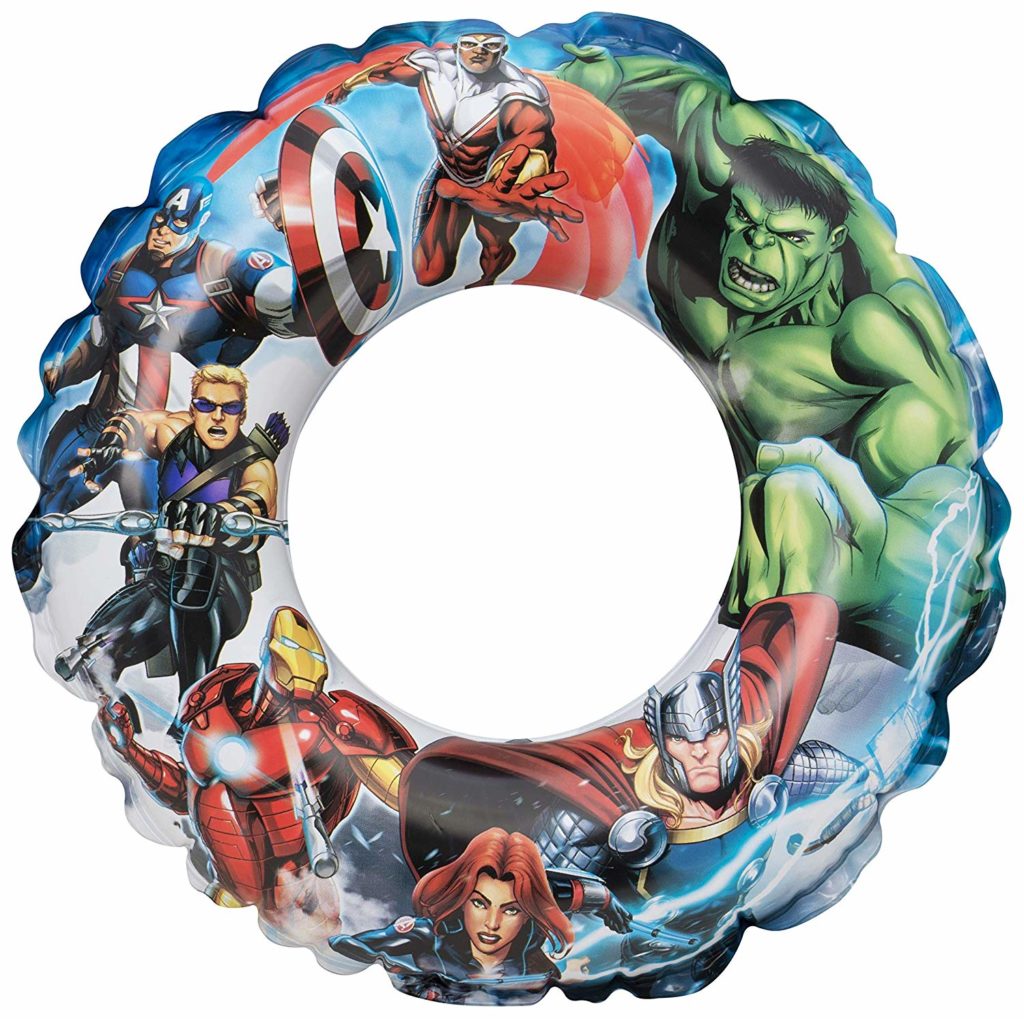 When it's sunny – especially if you're on vacation with your baby – in addition to ensuring they're protected from the sun, you'll also want to ensure they have fun!

With that in mind, you might want to get them in the swimming pool! But they'll need something to keep them afloat.

This Marvel swim ring will do the job – and it features, amongst others, the likes of Iron Man, Thor, Hawkeye, Black Widow and the Hulk.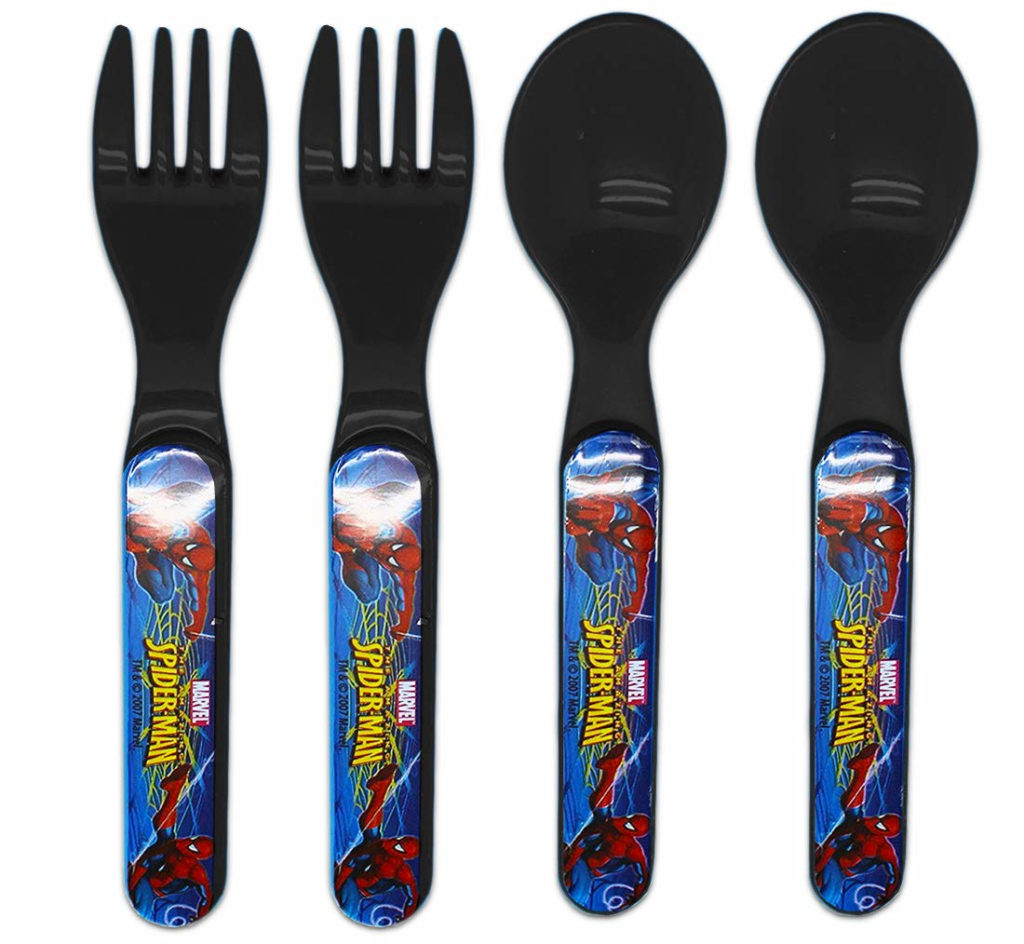 For the first year or so of their life, your baby will obviously need you to feed them. After that, however, they'll start showing signs of being able to feed themselves.

When that time comes, you'll need to make feeding time as fun and interesting as possible – and what better way to do that than with some fun and interesting utensils?

These Spider-Man forks and spoons will definitely encourage self-feeding!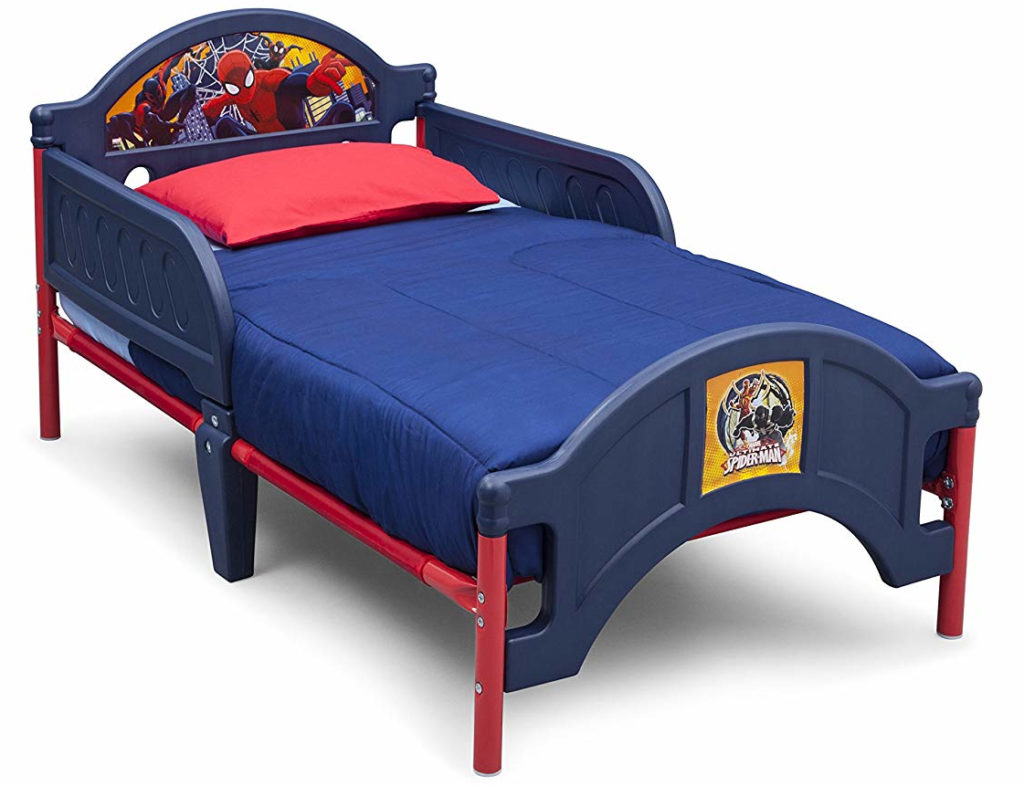 When your baby outgrows their crib, they'll need encouragement to sleep in a normal bed – and having one with a unique quirk will certainly help in that regard.

This Spider-Man bed will have your toddler excited for bedtime – and what could possibly be better than that?!

Your little one will be asleep in no time every night if you buy this fantastic product for their bedroom!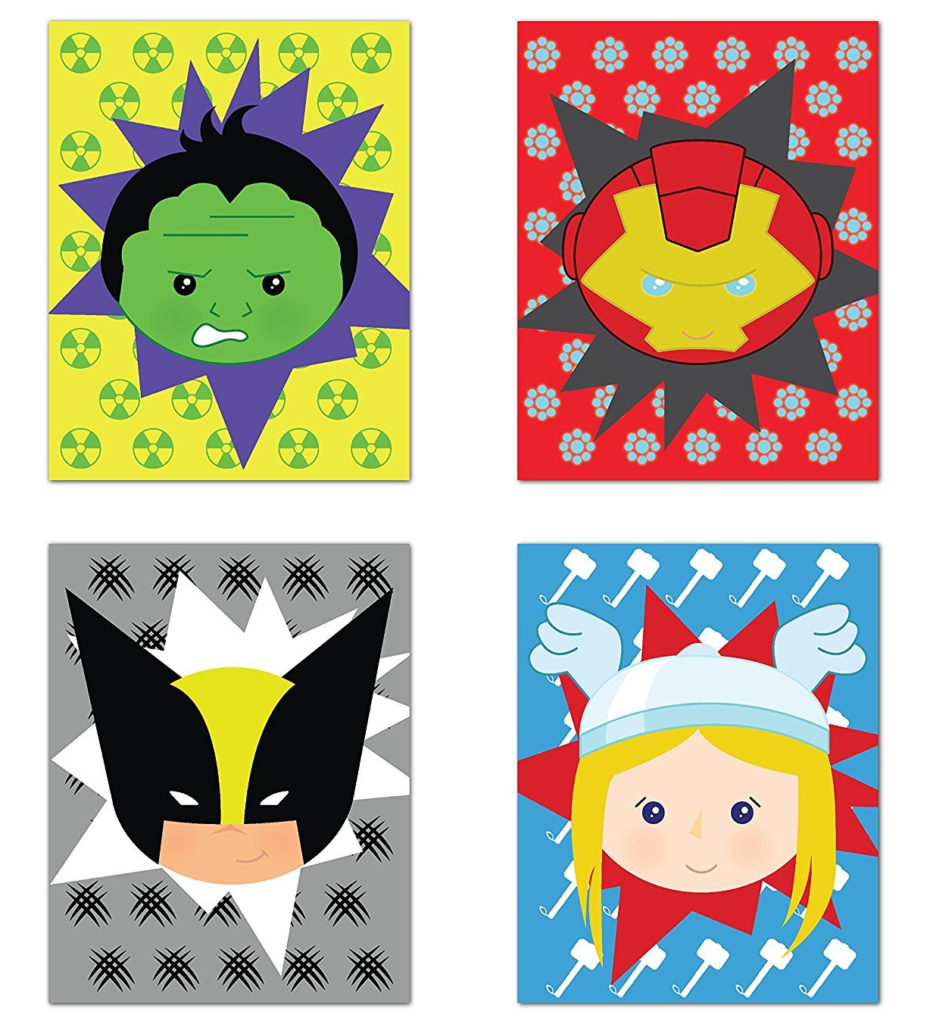 Every nursery needs some colourful, stimulating decor, so that when your baby is lying awake in their crib, they're entertained by their very surroundings.

Therefore, you'll need some interesting things to hang up on the walls – and these Marvel prints are just the ticket!

They feature cute versions of the Hulk, Iron Man, Wolverine and Thor – and they'll have your little one smiling from ear to ear!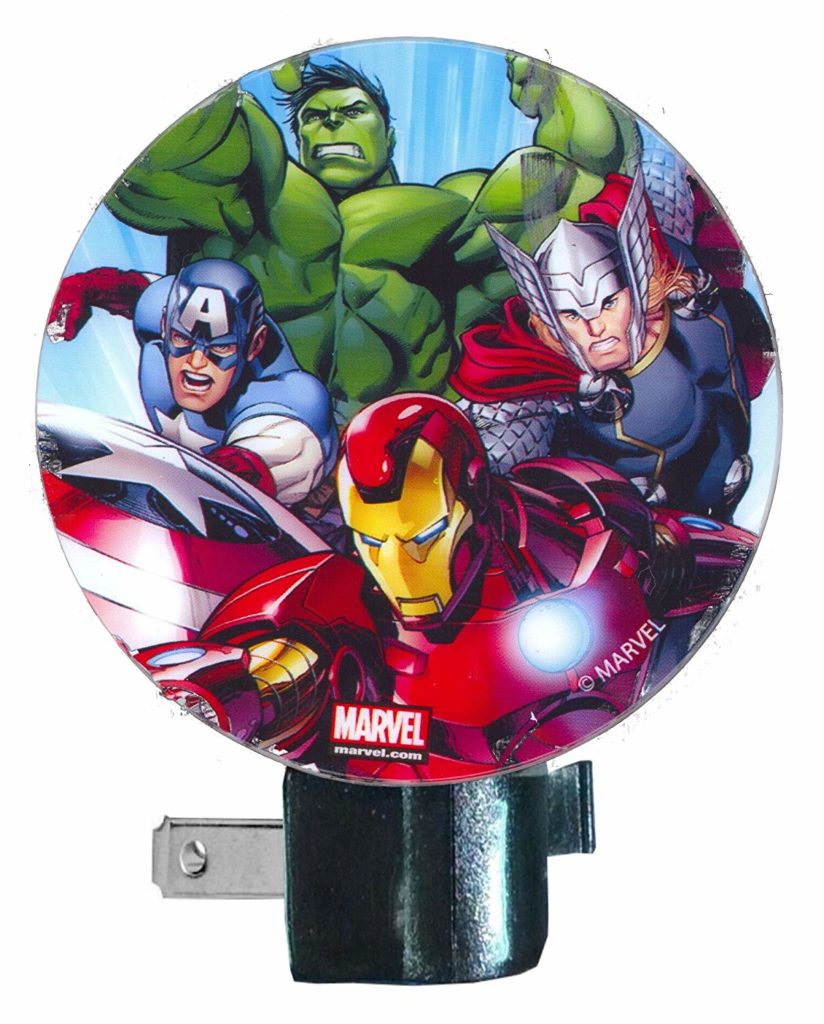 Some little ones need a little reassurance on a night in the form of a night light.

You know the kind – not so bright that it feels like the main bedroom light is on, but not so dark that it's frightening – and this one fits the bill perfectly!

Featuring the Hulk, Captain America, Iron Man and Thor, this light plugs in and emits a nice relaxing glow to help your kid nod off in peace.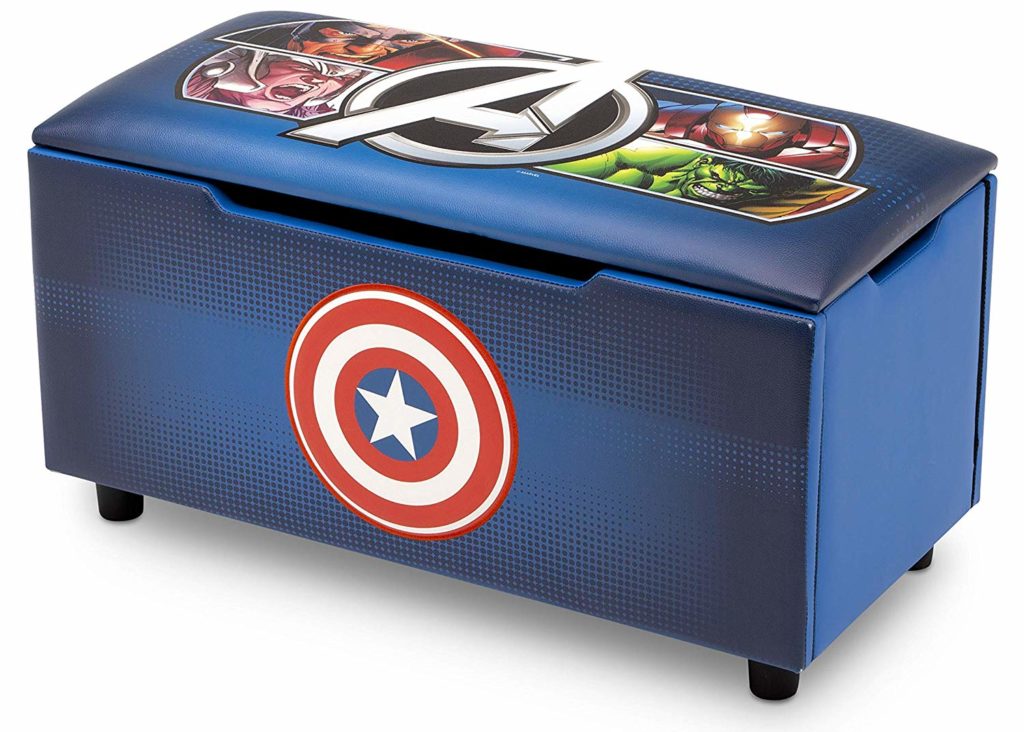 Let's be honest, babies end up with a lot of stuff – often too much!

Your kind friends will no doubt have bought clothes, toys, books and all kinds of other things for your little bundle of joy – and that means you'll need a place to store it all.

This storage bench is the ideal place for it – and it features the Avengers logo, several superheroes, and Captain America's logo on it, which is just lovely.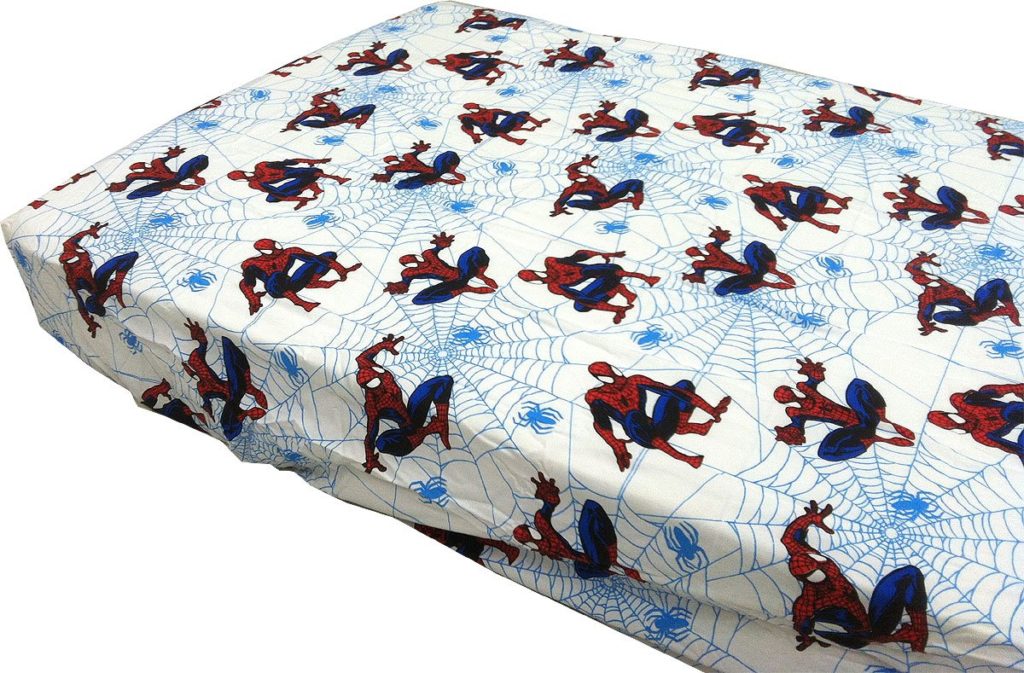 Your baby will be spending a lot of time in a crib, so it's important to make it as colourful and stimulating a place as you possibly can.

A great way to do that is with colourful crib accessories – one of which could be the sheet that covers the mattress on which your baby lies.

This one has images of Spider-Man allover it, which your kid is sure to love!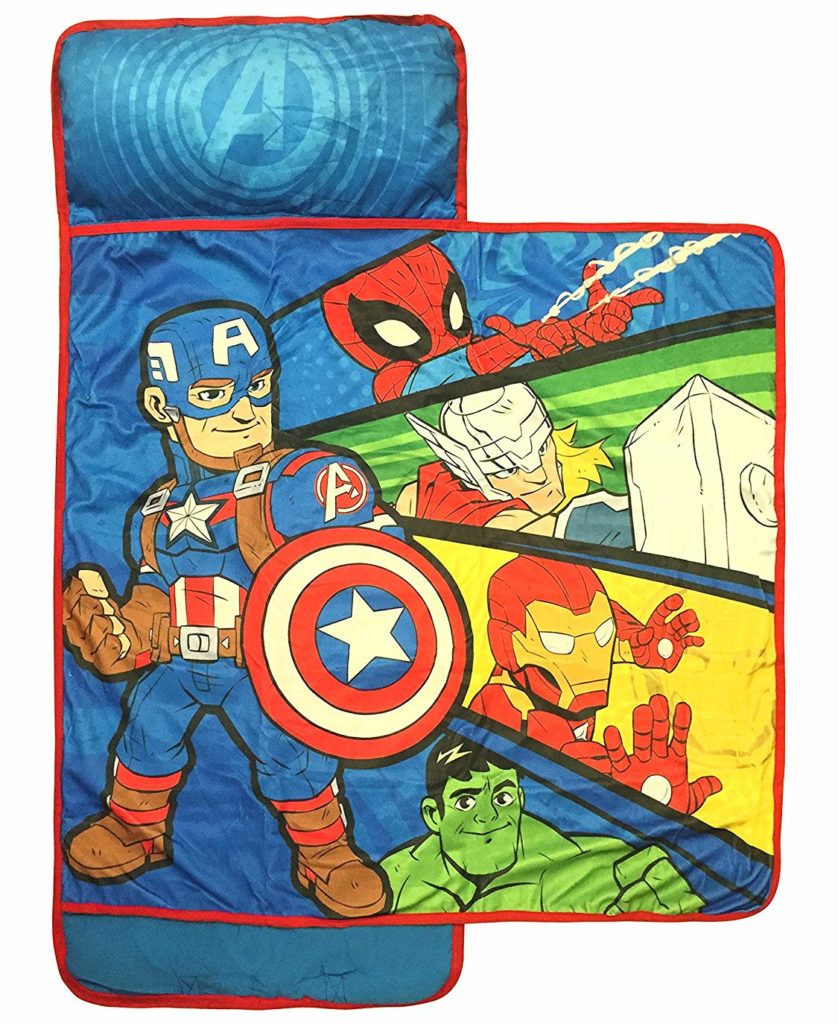 Babies love (and NEED) to nap often, so it's important to carry something around for them to nap on at all times.

If you're visiting friends or picnicking in the park, you'll need to put a nap mat down when the little one nods off.

This Marvel nap mat is perfect and it features five popular characters in the form of Captain America, Spider-Man, Thor, Iron Man and the Hulk.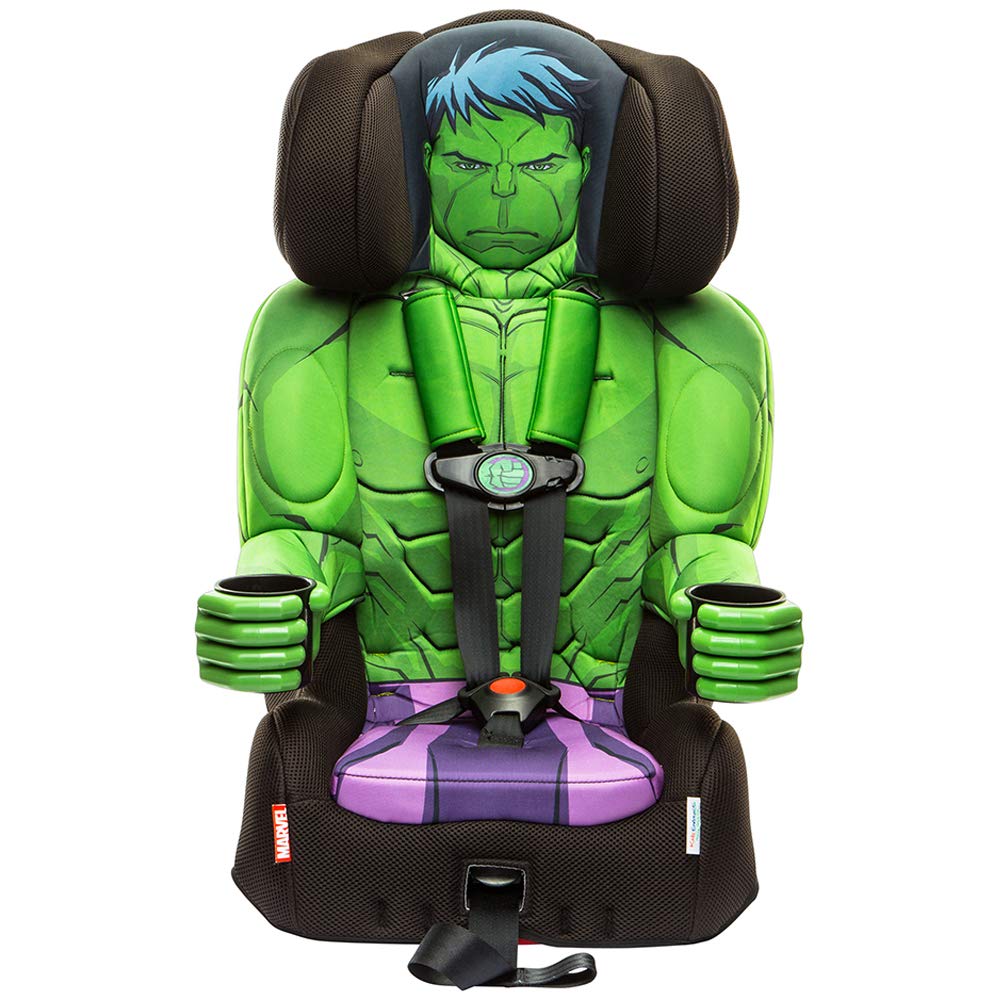 When your baby is old enough to sit alone in your car, this booster seat will keep them safe and allow them to see the wonders of the world out of the windows.

It's approved for forward-facing use for children between 22 and 65 pounds and 29 to 49 inches in height, but can also be converted into a belt-positioning booster car seat for older kids between 30 and 100 pounds and 38 to 57 inches in height.

We've chosen to showcase the Hulk model, but when you make the purchase you can choose between the big green guy, Black Panther, Captain America, Iron Man and Spider-Man!
Will you be purchasing any of these products? Do you own any of them already? Let us know!