Never fear, Marvel ice cream is here! Marvel fans will soon be able to taste the action, literally, as several of the publisher's biggest heroes are getting new ice cream flavors, courtesy of the folks at Ample Hills Creamery. This delicious news, as reported by the folks at Bleeding Cool, comes as summer is really starting to heat up. What better time to try a Black Panther, Captain America and/or Spider-Man themed frozen treat?
"80 years ago, Marvel published their first-ever comic book, 'Marvel Comics #1.' Since that legendary day, Marvel's stories have shown us we can be anyone or do anything""all we have to do is trust in the power within us," Ample Hill said in their announcement." To commemorate this milestone, we've teamed up with Marvel to churn three brand new flavors inspired by our favorite Super Heroes: Black Panther, Captain America and Spider-Man. With its stunning black raspberry base, the Black Panther ice cream captures the bright purple color of T'Challa's Heart-Shaped Herb without using any artificial colors. The Captain America ice cream celebrates Steve Roger's home of 1940s Brooklyn and the Spider-Man ice cream highlights Peter Parker's love of his Aunt May and her treasured recipe for cherry pie. The Marvel Collection 3-Pack is only available in pints in all scoop shops and online with free shipping nationwide."
Have a look at the container art for each of the three flavors, in addition to descriptions of each flavor below.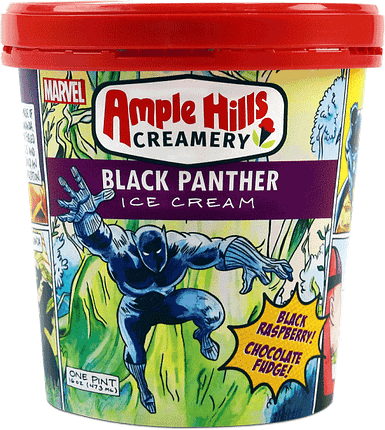 "To tell the origin story of Black Panther through ice cream, we set ourselves on a quest: to celebrate the iconic beauty of the purple Heart-Shaped Herb with all-natural ingredients. Made with no artificial colors, the Black Panther ice cream is a stunningly purple-hued black raspberry ice cream mixed with chunks of housemade single-origin Wakandan chocolate fudge. Wakanda is one of the richest countries in the world, so we chose our richest ingredient: chocolate."
"We're Brooklynites ourselves""and when we thought of telling Captain America's story in ice cream, we naturally gravitated to Steve Rogers' hometown roots. We celebrate his neighborhood (and ours!) with a local specialty: Brooklyn Blackout cake. A dark chocolate cake layered with chocolate pudding and topped with chocolate cake crumbs, Brooklyn Blackout cake was invented by Ebinger's bakery during WWII as a tribute to the mandatory blackouts protecting the Brooklyn Navy Yard. We fold the pieces into an old-fashioned vanilla malt ice cream, inspired by the soda fountains of long-ago Brooklyn."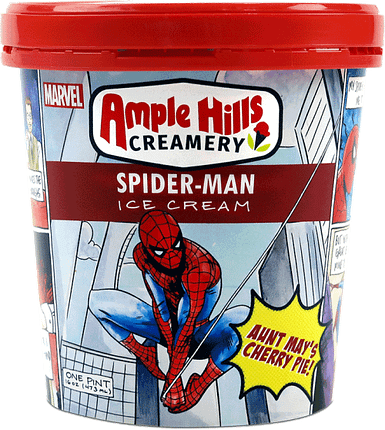 "To create a flavor that tells Spider-Man's story we turned to his loving Aunt May, who raised Peter in her apartment in Queens, New York. So we decided to pay homage to Peter's Aunt May and the warmth and love of a freshly baked cherry pie. Flaky pastry, tart cherry compote with just the right amount of zing""that sort of citric zing you only get from fresh fruit""and a healthy sprinkle of powdered sugar, the Spider-Man ice cream is a deconstructed cherry pie."
One of the more unique elements of this partnership between Ample Hill and Marvel has to do with the artwork featured on the containers. The creamery worked with Marvel Comics to create new comic book panels that wrap around each container. As an added bonus, the first 500 people who order will receive collectible prints of the comics strips from all three containers.
Here's the art for the Black Panther container:
Those who are interested in getting some of the ice cream themselves can order now directly from Ample Hills Creamery. A three-pack goes for $45, which includes shipping.
So what do you think? Are you going to shell out in order to see what Marel ice cream tastes like? Sound off in the comments!