Hiya, folks, welcome back to Dream Team, my column in which I build the perfect superteam. Last time, I created a Justice League that was entirely composed of alternate dimension versions of Batman. This time, the same thing, but for Superman. A Justice League of Supermen.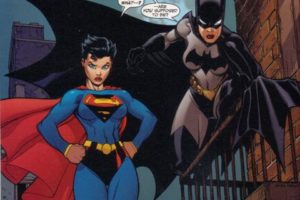 Source: screenhaven.com
1. Superwoman (Earth 11)
The Field Leader
For a leader in the field, I can think of no one better than Laurel Kent, aka the Superwoman of Earth 11.
Why her? Because of all the Supermen in the universe, she's the most like ours! Just a lady. And that's pretty neat. She's great on a team, having worked with her Earth's Justice League of America numerous times, and also in concert with her opposite number, Helena Wayne, aka Batwoman. The duo first appeared in Jeph Loeb and Ed McGuiness's swan song to their Superman/Batman run. In that arc, titled Vengeance, we were introduced to the dynamic duo, as well as other heroes from their Earth, like Superlad and Miss Miracle.
Team Role: The Field Leader.
As a leader of heroes, and as someone who has to make tough decisions, Laurel was unparalleled. We saw her fight against her own former teammates when Wonder Man attacked. She's a hero, and that's what this team needs.