Hiya, folks, welcome back to Dream Team, my column in which I build the perfect superteam. Last time, I created a Justice League that was entirely composed of alternate dimension versions of Batman. This time, the same thing, but for Superman. A Justice League of Supermen.
                                                      Source: screenhaven.com
1. Superwoman (Earth 11)
The Field Leader
For a leader in the field, I can think of no one better than Laurel Kent, aka the Superwoman of Earth 11.
Why her? Because of all the Supermen in the universe, she's the most like ours! Just a lady. And that's pretty neat. She's great on a team, having worked with her Earth's Justice League of America numerous times, and also in concert with her opposite number, Helena Wayne, aka Batwoman. The duo first appeared in Jeph Loeb and Ed McGuiness's swan song to their Superman/Batman run. In that arc, titled Vengeance, we were introduced to the dynamic duo, as well as other heroes from their Earth, like Superlad and Miss Miracle.
Team Role: The Field Leader.
As a leader of heroes, and as someone who has to make tough decisions, Laurel was unparalleled. We saw her fight against her own former teammates when Wonder Man attacked. She's a hero, and that's what this team needs.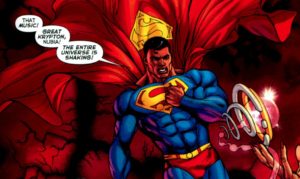 Source: worldofblackheroes.com
2. President Superman (Earth 23)
The Strategist
Who better to strategize for our League than a dude who balanced saving the multiverse with being the friggin' president?
In this reality, Kal-El grew up as Calvin Ellis and used his big superbrain, charm, and charisma to get himself elected President of the United States of America. And he was a great president, who single-handedly saved the world numerous times. And when the Multiverse was threatened, he became the leader of Justice Incarnate, the multiverse's Justice League. It took a lot of skill to manage a team that important, and Calvin Ellis had it.
Team Role: The Strategist.
With the presidency and Justice Incarnate, Ellis was definitely too busy to actually lead this team or accompany them on their missions, but his strategic mind was a necessity. He maintained a secret identity as THE PRESIDENT. That was damned impressive. Damned impressive.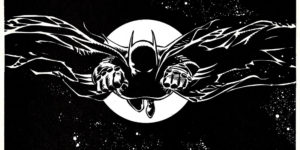 Source: alltimelines.com
3. Batman (Superman: Speeding Bullets)
The Stealth
Why, yes, I'm cheating by using this guy on two of these teams in a row. But hey, he was a Batman who was also Superman. How could I not?
In this universe, Thomas and Martha Wayne adopted Baby Kal-El and renamed him Bruce. When a mugger killed his parents in the dead of night, Bruce Wayne began to call himself Batman, and he became a grim avenger of the night. But with superpowers. He was a one-man war on crime who could shoot lasers from his eyes. That was pretty frightening. Regular Batman was pretty frightening, and he couldn't punch straight through your skull like it was a piñata.
Team Role: The Stealth.
My Justice League of Batmen had Superbat down as The Heavy, but on a team where everyone had Superman's powers, he was much better equipped to play up the Batman side of his character. He could drop in and out of every situation at supersonic speeds without ever being seen.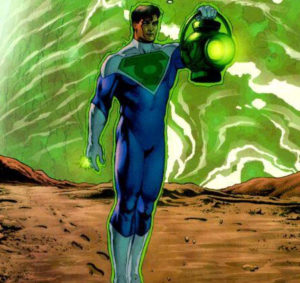 Source: pinterest.com
4. Green Lantern (Superman: Last Son of Earth)
The Marksman
Superman's origin played out a little differently in Superman: Last Son of Earth.
Scientist Jonathan Kent learned that a meteor was about to destroy the Earth, so he put his son Clark in a rocket and shot him into space. Clark landed on Krypton, where Jor-El adopted him. He had to wear a support exo-skeleton to avoid being crushed by the enhanced atmosphere and gravity of Krypton. Or he did, until a Green Lantern ring sought him out.
Team Role: The Marksman.
Like last time, the Green Lantern seemed to be best equipped to handle long range combat, especially since this Clark Kent didn't have any other super powers for most of this story. Using the ring to pick off targets from a distance made him the team's best sniper, although he could get in close if necessary. Plus, having a Green Lantern ring ain't too shabby.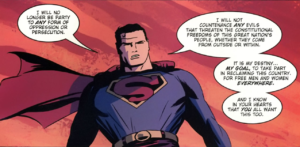 Source: dc.wikia.com
5. The New Frontiersman (DC: The New Frontier)
The Powerhouse
New Frontier is the best DC Comic of the century, and I still miss Darwyn Cooke.
And the Superman from New Frontier was a solid depiction of the character as he was in the fifties and sixties. He was square-jawed and forthright, and a real bare-knuckle brawler. Plus, he had pre-crisis Superman strength for the most part, which put him physically on par with or above the rest of the team. New Frontier Superman was the platonic ideal of Superman, and he'd make a great addition to the team.
Team Role: The Powerhouse.
With his intense physical strength and speed, he was capable of smacking down villains and monsters with the best of them. Supes may have been blasted out of the final fight of New Frontier, but up until that point he displayed his ability to fight crime and destroy alien dinosaur hybrids. Hit hard as hell, didn't let his targets stand back up.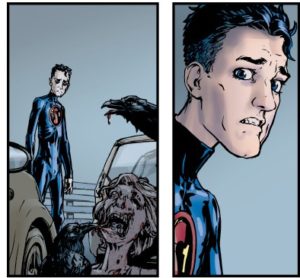 Source: blogspot.com
6. The Experiment (Flashpoint)
In the reality that was remade because Barry Allen was a complete f***ing moron, Superman's rocket smashed straight into Metropolis and killed tons of people.
The US Government abducted the infant and kept him deep underground, away from the sun. In the chamber, he became withered and scrawny and powerless. But, when exposed to the sun, Kal-El gained his familiar powers and became a bullet of speed and strength. He was a warhead.
Team Role: Precision Operations.
Having strength and stealth wasn't enough. You also needed someone who's able to effortlessly slice through a strong defense. Like a sniper's bullet. And with his slim appearance and rage-filled demeanor, The Experiment was the perfect Superman to fill that role. Hopefully he could also socialize a bit. Dude had no friends. Maybe  New Frontier Superman would take him under his wing and help him come out of his shell a bit. It'd be good for him.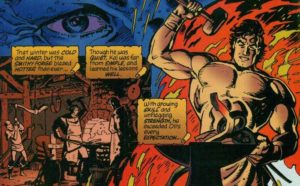 Source: wordpress.com
7. Kal (Superman: Kal)
The Weaponeer
In times of yore, a rocket landed in England, and out popped a baby. He grew up to become a valiant knight with armor and a sword made from his rocket.
Kal, as he came to be known, found love with Loisse Layne and fought the evil Baron Luthor. Until Luthor murdered Loisse while trying to sexually assault her. Yeah, this wasn't a good comic book. But its Superman was helpful to us.
Team Role: The Weaponeer.
Supermen didn't need guns. They didn't even necessarily NEED weapons. But having some melee weapons on hand wouldn't be a bad idea. Superman with a super-mace? Badass. And Kal was uniquely equipped to make all that stuff. Out of pure alien metal. Kal made Excalibur for God's sake. Give that thing to President Superman, and let him hit someone with it. Game on.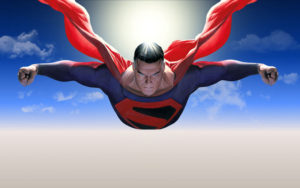 Source: pinterest.com
8. The Old Man (Kingdom Come)
Superman is Superman, no matter how old.
After losing his wife and family to an attack by the Joker, and watching a new, more violent hero execute the villain to great public acclaim, Superman retired to the Fortress of Solitude. But the world still needed him. When a group of upstart heroes screwed up in a big, bad way and wound up nuking Kansas, Clark re-emerged and led a team of heroes old and new in setting the world right again.
Team Role: The Leader.
Kingdom Come is a good pick for the man back at the base. He's been around for a long time, and has led heroes into all manner of insane scenarios. Plus, thanks to Geoff Johns and Dale Eaglesham's JSA run, he has experience dealing with alternate realities. He can lead, fight, do what needs doing to save the day. But he is on the older side, so having a younger field leader would be a smart move.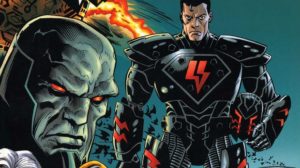 Source: geeknation.com
9. The Darksider (Superman: The Dark Side)
The Henchman
What if Superman's rocket landed someplace else? What if it landed someplace"¦bad? What if, for instance, it landed on Apokolips? And Darkseid raised Kal-El as a gladiator of murder. A soldier of hate. A dude in a really, really, really cool set of armor.
I loved that Dark Side Superman design more than I should have, for something as seeped in late nineties design aesthetics as that thing is. Kal fought for Darkseid until he was swayed away by the people of New Genesis to the side of good, but for our purposes, I'll pluck him from before that.
Team Role: The Henchman.
Every good superteam needs a super villain to fight, and every good supervillain needs a solid henchman to kick ass in his name. Kal wasn't menacing enough to be a villain all on his own, but since he was used to muscling for Darkseid, I could easily see him fighting for another master. What master? Well, we'll get to that next.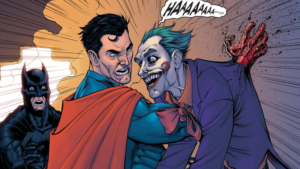 Source: i09.com
10. Lord Superman (Injustice)
The Villain
I kind of like Injustice. Normally, alternate reality where good guys are evil and people for-real die stories are not for me, but Tom Taylor's Injustice comics are pretty darn enjoyable. Mostly because they are insane. In a fun way.
That game is also really enjoyable (Haven't played the sequel yet but it looks rad as hell). It feels like a lost episode of Justice League Unlimited.
After having the worst day of his life, Superman cracked and conquered Earth through proactive justice and tyranny. It took the Justice League of a less insane reality to topple him once and for all.
Team Role: The Villain.
Who else could I have possibly picked for this spot? The Son of Darkseid was used to serving a totalitarian master, and Lord Superman was a pretty good one. Plus, who else would a team of Supermen fight but one of their own?
And there you go, the Justice League of Supermen and the foes they fight. A crack team, put together with utmost concern for maximum power, diversity, and heroism. A rad superteam, to be sure.