Back in the late 90s and early 2000s, the DC Elseworlds stories were one-shots and miniseries showing alternate universe takes on our favorite superheroes. And, no surprise, there were a hell of a lot of Batman installments. Apparently, if you say to a writer, "Tell any story you want, no limits on continuity", the immediate response will be "What if Batman…something something?" Not that I fault them, that's what I'd think, as well.
Here's a short list of some of the best – and weirdest – Elsewords stories, for you to take a look at, should you so choose.
So, say it with me now,
"What if Batman…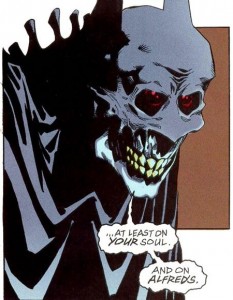 Source: moviepilot.com
10. Batman: Red Rain
"…were a vampire?"
That either sold you, or it didn't. Red Rain is actually a trilogy of okay comics that get better as you go along. Batman vs. Dracula: Red Rain is not great, and only ends with vampire-Batman. Batman: Bloodstorm is better, despite its quite frankly embarrassingly bad title. But it's in Crimson Mist that the Bat-vampire concept is used to its full potential.
In Crimson Mist, angry vampire Batman goes on a killing spree through Arkham, and Gordon needs to hunt down and kill the murderous monster. The art is easily the best among all three stories, standing out over the middling to decent stories. They did make a FANTASTIC Brave and the Bold episode out of the idea, and that's worth a few points right there.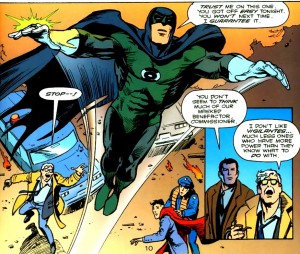 Source: dc.wikia.com
9. Batman: In Darkest Knight
"…were Green Lantern?"
After almost getting killed fighting crime during Batman: Year One, Bruce Wayne sits in his study deciding what to do next. Then, a mysterious appearance.
It's not a bat smashing through the window, but a ghostly form that turns out to be Lantern Abin Sur, who has contacted Wayne to give him the power of the Green Lantern.
But when Sinestro appears seeking vengeance on the Green Lantern Corps, Bruce Wayne is there to face him. Unfortunately, Bruce is ill-equipped to deal with Sinestro, and he winds up appointing three new Lanterns (Clark Kent, Princess Diana, and Barry Allen) to watch Earth as he chases Sinestro to the stars for vengeance.
In Darkest Knight is a better idea than it is a story. The Green Lantern mythology is forced into the Batman mold, rather than informing the type of story being told.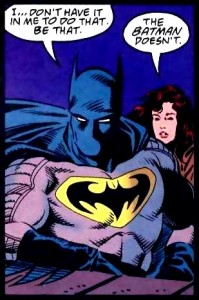 Source: dc.wikia.com
8. Superman: Speeding Bullets
"…were Superman?"
Again, Speeding Bullets is a clever idea, and it's decently executed.  Baby Kal-El's rocket is found by Thomas and Martha Wayne, who decide to take in the baby and name him Bruce (even though this doesn't really match up with the timeline of those characters but whatever).
When Thomas and Martha are murdered, Bruce incinerates the mugger and goes into a shame spiral that eventually leads him to his role as the Dark Knight. Of course, he's working as a pretty darn brutal Batman. Speeding Bullets also turns Lex Luthor into the Joker because that is a thing that I guess you could do if you wanted to.
The story ends with Bruce outgrowing his dark broody teenage angst Batman phase, and becoming the heroically positive Superman.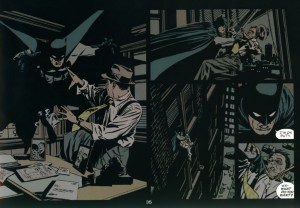 Source: coolpages.tumblr.com
7. Batman: Nine Lives
"…were in a 1930's Detective Story?"
Nine Lives is a pretty fun little noir, even if Batman isn't really the main character of the piece. Nine Lives is a story of PI Richard Grayson, Commissioner Jim Gordon, and the murdered Selina Kyle.
The book is a good detective story, but its really more of a tour through a platoon of alternate versions of the Batman rogues gallery. We have the consistently embezzling banker Edward Nigma, the cold and emotionless killing machine known as Mister Freeze, and the clever card shark Jack, nicknamed the Poker Joker.
The OGN is also formatted as a widescreen comic book, like 300 or The Private Eye, which really draws attention to the beautiful artwork by Gotham Central artist Michael Lark. Plus, its written by Dean Motter, and I feel he doesn't get the credit he deserves for being a goshdarn good noir writer as often as he deserves.
Oh, and we need to give Nine Lives credit for Private Dick Grayson. That's just fantastic pun work.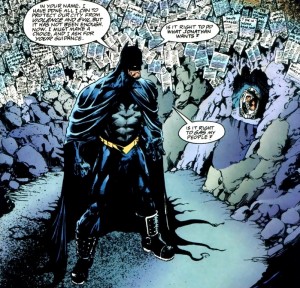 Source: dc.wikia.com
6. The Tyrant
"…were a totalitarian jerkface?"
The Tyrant is actually a story from the 1994 Batman: Shadow of the Bat Annual, and not from a miniseries or an OGN. In '94, DC took all of their annuals and turned them into Elseworlds specials. Some are great, some are terrible, but The Tyrant is a pretty good one.
In the story, Batman has tamped down all Gotham crime by instituting a totalitarian regime over the city. The only man standing in his way is Anarky, one of my favorite underrated Batman villains, who inspires a revolution against the Bat himself. The tale ends with Batman realizing the error of his ways and committing himself to his castle as it's burned to the ground.
Yes, Batman has a castle in this story. On a hill. Overlooking Gotham. This story is pretty great. If only because of that ending. (yes, I know batman's residence in the story is really more of a manor than a castle, but whatever. Castle, manor, big spire-filled stone building on a hill, same difference.)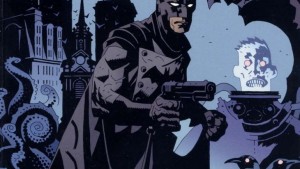 Source: ndubana.com
5. Batman: The Doom That Came to Gotham
"…were a "˜20s pulp hero?"
The Doom that Came to Gotham is a fun-times pulp story about 1920s Batman fighting Lovecraftian monsters by shooting them and kicking them. Written by Hellboy creator Mike Mignola, DCG is equal parts funny (Cthulu-penguins) and scary (Etrigan's apperances). Plus, we get a bunch of interesting Lovecraftian takes on various villains, from Two-Face to Poison Ivy to Mr. Freeze.
Bruce Wayne witnessed the brutal stabbing deaths of his parents at a young age when they were stabbed to death in front of him. He spent years traveling the globe with his three young wards, Dick Grayson, Jason Todd, and Tim Drake as the deck crew for his ship until returning to Gotham to prevent an ancient prophesy from coming to pass. The rest of the mini is a fun adventure story full of adventure, humor, and tentacled monsters. It's pretty great.
Plus, the idea that if Batman's parents were stabbed instead of shot, he would just go around gunning people down is kinda hilarious as a concept.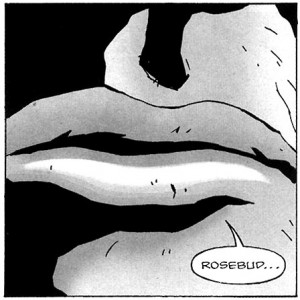 Source: dc.wikia.com
4. Citizen Wayne
"…were Citizen Kane?"
Citizen Wayne has the honor of being the only DC Comics story written by Avengers, Spider-Man, X-Men, and Guardians of the Galaxy writer Brian Michael Bendis. And, like pretty much everything Bendis has ever written, it's pretty darn fantastic.
In the story, billionaire recluse Bruce Wayne dies alone in his mansion. Reporter Clark Kent is assigned to figure out what his last word, "Rosebud", means. This journey takes him on a tour of Bruce's known allies, enemies, and friends, on a quest to uncover the mystery.
I won't spoil it here, since you can find the story collected in Batman: The Greatest Stories Ever Told Vol. 2 if you wanna read it. But, needless to say, it's a really great short story that is a fun little read.
And no, "Rosebud" wasn't Bruce's nickname for the Neon Talking Super Street Bat-Luge.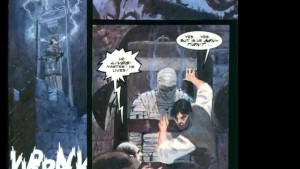 Source: youtube.com
3. Batman: Castle of the Bat
"…were the Frankenstein Monster?"
In Castle of the Bat, a young Bruce Wayne is driven absolutely nutterbutters insane by the death of his parents, and decides to build a Frankenstein Bat-monster out of the corpse of his father.
THAT IS AN AMAZING IDEA LET ME THROW SO MUCH MONEY AT IT.
Plus, it was written by Jack C. Harris, who I know from his excellent work on The Ray. I don't know what to say about this other than that it has an amazing plot.
Crazy-pants Dr. Bruce Wayne is just fantastic. There's nothing I love more than an insane premise that a comic book absolutely commits to in spite of itself. Plus, this is the second comic on this list to end with a Batman burning up in a crumbling castle/mansion, so weird pattern recognition on that front.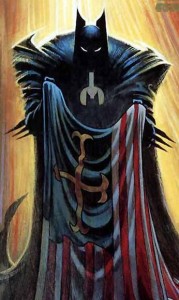 Source: dc.wikia.com
2. Batman: Holy Terror
"…fought a British governmental conspiracy?"
I like Batman: Holy Terror a lot. It's a story about a deeply religious dark knight facing off with a theocratic British government in a world where America is still under British rule.
It is not to be confused with Holy Terror which was a blatantly racist and islamaphobic piece of burning garbage written and drawn by Frank Miller. Mostly because Batman: Holy Terror isn't arguably the worst comic book ever produced.
Batman: Holy Terror features Norm Breyfogle art, which is just beautiful. If I had to pick one artist to draw Batman forever, it'd probably be him. But as for the story, it's a fun one, featuring Bruce Wayne as he fights the corrupt government that had his parents killed. He even does it alongside governmental experiment Barry Allen for like five seconds. But those five seconds are pretty cool.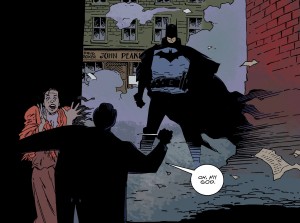 Source: biffbampop.com
1. Batman: Gotham by Gaslight
"…fought Jack the Ripper?"
Written by Brian Augustyn and drawn by Mike Mignola. I dare you to turn that down. You can't, because it's awesome. It's also widely considered to be the first Elseworlds story. And, as far as I'm concerned, it's the best.
The year is 1889.  After the murder of his parents, Bruce Wayne sets off to travel the world on a journey of self discovery. After meeting with Sigmund Freud, he decides to return to Gotham. In Gotham, he sees first-hand the crime epidemic hitting the city and takes on the mantle of the Batman to fight crime.
When a series of murders start up that closely resemble the Jack the Ripper murders and Bruce Wayne is framed, he takes to the streets to clear his name and catch the true culprit. The art and visual design of Gaslight is goshdarn beautiful. I mean, Mignola art is always beautiful, but Mignola drawing Victorian era Batman is maybe the most perfect thing of all time.
And there we go! Unfortunately, most of these stories are no longer in print, which is depressing, as they're all pretty great. But hey, if you can get your hands on one, you'll have a pretty great afternoon ahead of you.