Hey there, folks, it's time for yet another installment of my Batman: The Brave and the Bold Episode Guide. I love this show with all of my cold dead heart, so I wanted to show it off some more. In this stretch of episodes, we get a huge expansion of the DC Universe, some building toward the next big storyline, and what many call the best episode of the entire series.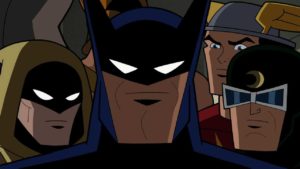 Source: comicvine.gamespot.com
31. The Golden Age of Justice!
Guest Stars – Teaser: Detective Chimp; Episode: Black Canary, The JSA (Dr. Mid-Nite, Hourman, Hawkman, The Flash (Jay Garrick), Wildcat)
We start off with a really strong episode this time! And not just because it's a Black Canary episode. I really love this show's version of Black Canary, and I wish she had more of a starring role among the cast of regulars. In this episode, during a meetup of the mostly retired Justice Society, the evil Professor Zee breaks in and finds a way to revive Per Degaton, the JSA's most lethal foe (and the one who killed the original Black Canary). Batman and Canary help the JSA fight their fight, and reflect upon their own personal relationships with the aging team.
Honestly, casting the JSA as grumpy grandparent figures who pester and dotter over Batman's shoulder is friggin' brilliant. The first time I got what they were going for, I laughed out loud. Also, Wildcat shines through his cohorts, giving some of the episode's best moments.
Verdict: Great!