Hey there, folks, it's time for yet another installment of my Batman: The Brave and the Bold Episode Guide. I love this show with all of my cold dead heart, so I wanted to show it off some more. In this stretch of episodes, we get a huge expansion of the DC Universe, some building toward the next big storyline, and what many call the best episode of the entire series.
                                               Source: comicvine.gamespot.com
31. The Golden Age of Justice!
Guest Stars – Teaser: Detective Chimp; Episode: Black Canary, The JSA (Dr. Mid-Nite, Hourman, Hawkman, The Flash (Jay Garrick), Wildcat)
We start off with a really strong episode this time! And not just because it's a Black Canary episode. I really love this show's version of Black Canary, and I wish she had more of a starring role among the cast of regulars. In this episode, during a meetup of the mostly retired Justice Society, the evil Professor Zee breaks in and finds a way to revive Per Degaton, the JSA's most lethal foe (and the one who killed the original Black Canary). Batman and Canary help the JSA fight their fight, and reflect upon their own personal relationships with the aging team.
Honestly, casting the JSA as grumpy grandparent figures who pester and dotter over Batman's shoulder is friggin' brilliant. The first time I got what they were going for, I laughed out loud. Also, Wildcat shines through his cohorts, giving some of the episode's best moments.
Verdict: Great!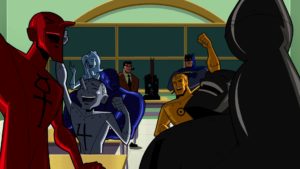 Source: thebatmanuniverse.net
32. Clash of the Metal Men!
Guest Stars – Teaser: Aquaman; Episode: The Metal Men (Will Magnus, Iron, Lead, Platinum, Tin, Mercury, Gold)
Another superteam introduced to the universe, folks, and they are a weird one. I've always liked the Metal Men, and they're kinda perfect for exactly this show's aesthetic and tone. In the episode, a bunch of Will Magnus' former scientist friends, now turned into various gasses by a lab explosion, kidnap Magnus to help build them new bodies, so they can end the world. He builds them said new bodies, and they become The Gas Gang.
Meanwhile, The Metal Men contact Batman for help, and the group rushes off to save its creator. This episode has a lot of good moments, including some solid references to classic Metal Men comics. Notable among these are: Mercury explaining that he's the only metal that's a liquid at room temperature, Platinum just being straight-up thirsty for every human dude she meets, and the team going up against Chemo early on. It's not my favorite episode, but it's a damn good interpretation of the Metal Men.
Verdict: Good.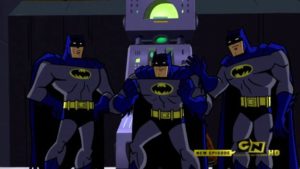 Source: blogspot.com
33. A Bat Divided!
Guest Stars – Teaser: Booster Gold; Episode: Firestorm
I friggin' love Firestorm. He's so awesome.
The plot: High school student Jason Rusch and gym teacher Ronald Raymond are on a field trip to a science lab when Dr. X (and his energy duplicate, Dr. Double-X) show up to cause trouble. Batman intervenes, but there's a massive explosion, and Bats, Ronnie, and Jason get caught in the crossfire. While Jason and Ronnie are fused together into one super-powered being, Batman is split into three separate selves: Smart Batman, Angry Batman, and Super Chill Laid Back Batman.
It's a really fun episode that not only plays with the more humorous elements of the Firestorm concept, but also makes an effort to deconstruct the character of Batman. This episode gives us my favorite Batman villain, The Riddler, as well as crazy obscure villain Dr. Double-X, who's weird and I love him. He fits brilliantly with this episode.
Verdict: Great!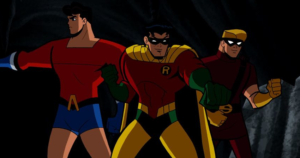 Source: batmanbraveandtheboldwiki.com
34. Sidekicks Assemble!
Guest Stars – Teaser: Robin, Speedy, Aqualad; Episode: Robin, Speedy, Aqualad, Green Arrow, Aquaman
Teen Titans, y'all! But it's literally nobody's favorite Titans team, and therefore nobody's favorite episode. We have Robin and Speedy, as they've already been introduced, but our new addition is Aqualad, sadly. I know that Kid Flash was already locked down for an appearance in a later episode (we'll get to it next time), but come on. Aqualad? At least go with Wonder Girl.
Oh, but hey, in the teaser we get our first look at the Justice League and a cameo from Superman. He doesn't show up until WAY down the line, but it's cool that he pops up. Also, this is where we get some Talia al Ghul goodness. Plus, seeing Batman, Aquaman, and Green Arrow bicker and banter in comparison with the Robin, Speedy, and Aqualad dynamic is really funny and charming. Especially with Golden Age of Justice establishing the JSA earlier in the season, building up the younger heroes is also a good move. Plus, Nightwing.
Verdict: Decent.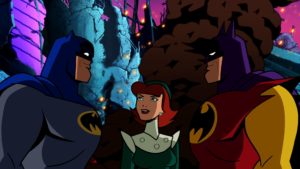 Source: comicvine.gamespot.com
35. The Super-Batman of Planet X!
Guest Stars – Teaser: Metal Men (Gold, Tin, Platinum, Mercury, Lead, Iron, Dr. Magnus); Episode: The Batman of Zur-En-Arrh, Green Arrow
Aw, man, this one is good as hell. While dealing with a space crisis alongside Green Arrow, Batman is sent through a portal to another dimension. In this dimension, he finds the planet Zur-En-Arrh and its prominent city of Gothtropolis. And they have a Batman. The Batman of Zur-En-Arrh is a bit more sci-fi, but other than that, he's just our regular Caped Crusader. But it's Vanilla Batman who experiences a change, for in this dimension he gains incredible superpowers. So the Batmen must go up against mad scientist Rothul to save the planet.
The real draw of this episode is the cast. Kevin Conroy plays Zur-En-Arrh's Caped Crusader, and hearing him and Bader bounce off each other is incredible. It really feels like a torch-passing moment. Also, this episode is a Superman the Animated Series reunion that brings back Dana Delany and Clancy Brown to voice an ace reporter and a mad scientist, respectively.
Verdict: Perfect!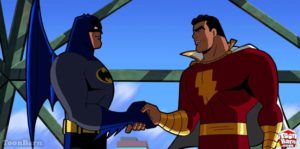 Source: toonbarn.com
36. The Power of Shazam!
Guest Stars – Blue Beetle, Red Tornado, The Challengers of the Unknown, Plastic Man, Green Arrow, Speedy, Aquaman, Flash (Jay Garrick); Episode: Captain Marvel
Real quick, our opening is yet another scene with the Faceless Hunter strapping Starros to heroes. Also in this opening, he punches through Red Tornado and destroys him. And, uh, I can't remember if Red Tornado appears again in this show after this. He might just be straight-up dead. That would be a bummer. Poor Red Tornado.
In the main episode, we meet Billy Batson, the young boy infused with the power of the wizard Shazam to become Captain Marvel. In the ep, Dr. Sivana channels Captain Marvel's power to summon Black Adam to come take care of the wizard. This works, and in one of the coldest moves in the whole show, Sivana uses his power to forcibly change Black Adam back to his human form. This makes him age thousands of years and seemingly die. God, this episode is hardcore. Also, the way Batman beats Captain Sivana is hilarious.
Verdict: Good!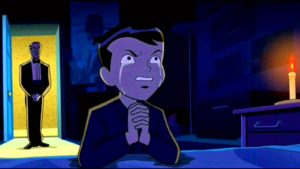 Source: crisisoninfinitethoughts.wordpress.com
37. Chill of the Night!
Guest Stars – Teaser: Zatanna; Episode: The Spectre, Phantom Stranger
Well, then. It's the widely agreed upon best episode of the series. I don't know if it's my favorite, but it's really damned good. In the episode, The Spectre, Agent of Vengeance and the Phantom Stranger decide to make a little wager on whether Batman can be pushed to murder. As such, they put him on the trail of Joe Chill, the man who killed his parents.
This episode is not only dark and dour and serious as a heart attack, it's also a love letter to Batman history. Thomas and Martha Wayne are played by Adam West and Julie Newmar, Lew Moxon is Two-Face actor Richard Moll, and the Spectre and Phantom Stranger are Mark Hamill (The Joker) and Kevin Conroy (Batman). Also, The Spectre is so SO good as God's wrath. In addition, the climax of the episode is one of the most emotional moments of the entire series, and it uses Brave and the Bold's formula and tropes with emotional impact.
Verdict: Perfection.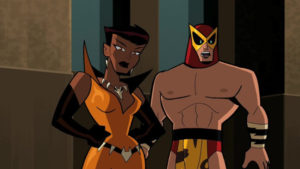 Source: channelsuperhero.wordpress.com
38. Gorillas in Our Midst!
Guest Stars – Teaser: The Spectre; Episode: Detective Chimp, B'wana Beast, Vixen
This episode was way better upon going back to it than I originally thought. It's a really fun time, overall. First, the teaser is fan-friggin'-tastic. The Spectre is back from the last episode, and we get some classic Spectre-ing.
Chill of the Night triggers a whole new era of Brave and the Bold, and a darker one at that. It's still the fun-loving show we like, but with a current of sadness to it. In the main ep, Detective Chimp, B'wana Beast, and his girlfriend Vixen help Batman take on the threat posed by GASP, an organization of super gorillas led by Gorilla Grodd, Monsieur Mallah, and the Gorilla Boss.
But the star of the episode is B'wana Beast. His relationship with Vixen is really sweet, and his awkwardness over his weird powers makes him lovable. He's designed to be a fan-favorite, and it works. Which is good, but it's also the show being sinister about setting something up.
Verdict: Great.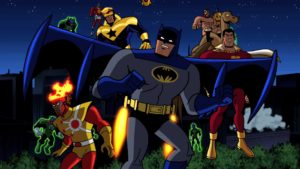 Source: youtube.com
39. The Siege of Starro! Part 1
Guest Stars – Teaser: Anthro, Etrigan, Jonah Hex, The Justice Society of America (Flash/Jay Garrick), Dr. Fate, Wildcat, Dr. Mid-Nite, Hourman, Hawkman); Episode: Booster Gold, Firestorm, B'wana Beast, Captain Marvel
Here we go, folks. This is not a drill. This is the culmination of the Starro storyline, and it wraps up in one of only two two-part episodes in the series. And the only two-part episode to be officially titled as such. This is a big deal.
This one features Starro and the Faceless Hunter's plans as they come to fruition. Most of Earth's heroes are conquered with only Batman, Booster Gold, Firestorm, Captain Marvel, and B'wana Beast still around to fight. But fight they do, and they manage to beat Starro with skill and moxie and a lot of magic lightning.
But this isn't over. The Faceless Hunter grabs B'wana Beast and vanishes. He has a plan. Overall, a deeply good episode. And the key B'wana Beast moments are wonderful (especially a heartbreaking one with Vixen).
Verdict: Great.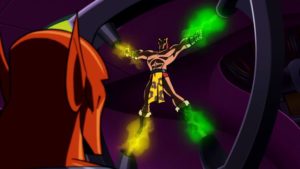 Source: channelsuperhero.wordpress.com
40. The Siege of Starro! Part 2
Guest Stars – Teaser: B'wana Beast; Episode: The Metal Men (Tin, Iron, Lead, Gold, Mercury, Platinum), Vixen, B'wana Beast, Aquaman, Booster Gold, like a bunch more dudes.
We open with a recap of last week's episode, followed by a flashback to B'wana Beast's origin. And narration about his own struggles in trying to be a hero.
Back in the present, The Faceless Hunter has hooked B'wana up to a big machine in his ship and is siphoning off his powers. He uses them to merge together all the Starros into a huge Starro kaiju. Batman and the rest of earth's heroes fight it, but all seems lost, until Batman gets to the spaceship and beats up The Hunter.
B'wana uses all his power to disperse the Starro monster. It's too much to handle, and B'wana Beast is destroyed as he tells Batman to tell his wife he loves her. In the final moments, B'wana's narration explains that no matter what happened, he was a hero, and he'd do it all over again in a heartbeat.
I'll be honest. This one demolished my soul. I forgot about how it ended, and it was a real heartbreaker. Especially since the preceding two episodes had done a great job of endearing B'wana Beast to the audience and making him a beloved part of the cast of characters.
Verdict: Perfect.
And there we go, a bunch of really great episodes. And the turning point in the show. From here on out, things get darker. Red Tornado is dead, B'wana Beast is dead. This is the down slope. Come back next time when we get some long-awaited characters, another really sad episode, and the famous banned episode.