Leading up to the series premiere of the new Disney+ series Ms. Marvel, Marvel Studios revealed new colorful posters of the lead cast. The posters were initially released on Marvel Studios' official Twitter page, highlighting the nine of the series' cast members. It starts with none other than Kamala Khan, played by Iman Vellani, completely decked in her Ms. Marvel costume.
The other posters include cast members like Bruno Carrelli, played by Matt Lintz, Nakia Bahadir, played by Yasmeen Fletcher, Zoe Zimmer, played by Laurel Marsden, Kamran, played by Rish Shah, Kamala's older brother Amir and his wide Tyesha, played by Saagar Shaikh and Travina Springer, respectively, as well as Kamala's parents Yusuf and Muneeba, played by Mohan Kapur and Zenobia Shroff, respectively.
The show features eight episodes in total and follows the life of the titular Ms. Marvel. She learns to come into her own when she gets superpowers like Captain Marvel, the superhero she idolizes. Viewers have spoken quite highly about it, with special mentions about Vellani's performance in the lead role. Ms. Marvel will also be appearing in the upcoming The Marvels, a sequel to Captain America, and is set to release in theaters worldwide in June 2023.
Ms. Marvel: Official Posters
The official synopsis for Ms. Marvel is as follows:
"Marvel Studios' Ms. Marvel is a new, original series that introduces Kamala Khan, a Muslim American teenager growing up in Jersey City. An avid gamer and a voracious fan-fiction scribe, Kamala is a Super Hero mega-fan with an oversized imagination — particularly when it comes to Captain Marvel. Yet Kamala feels like she doesn't fit in at school and sometimes even at home — that is until she gets superpowers like the heroes she's always looked up to. Life gets better with superpowers, right?"
Each of these posters includes these characters dressed in vibrant traditional clothes and posing in front of colorful backgrounds meant to tease the show's rich and playful tone that's quite prevalent in the trailer.
Who Is Ms. Marvel's, Kamala Khan?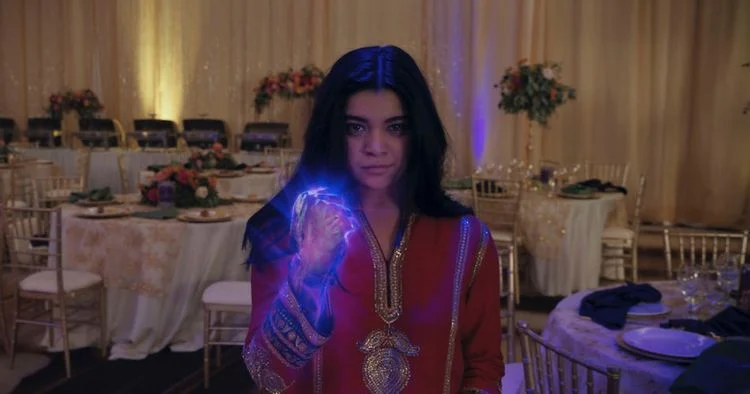 Kamala Khan is a Pakistani American teenager who lives in Jersey City. Even before Kamala became Marvel's first Muslim superhero, she was also the first Muslim superhero headlining her very comic series in the MCU. Ms. Marvel is the brainchild of Sana Amanat, G. Willow Wilson, Stephen Wacker, Jamie McKelvie, and Adrian Alphona. Back in 2013, Wilson told Marvel.com that Kamala "struggles to reconcile being an American teenager with the conservative customs of her Pakistani Muslim family," so "in a sense, she has a dual identity before she even puts on a superhero costume."
When Sana Amanat and G. Willow Wilson started working on Ms. Marvel, they had a modest expectation of making a comic miniseries that would, at the most, reach ten copies. However, Wilson wrote 60 issues of the comic series before passing it to another writer. The comic series' first issue, "No Normal," made its way on the New York Times Graphic Books bestseller list and also earned a Hugo Award for Best Graphic Story back in 2015. And now, less than a decade later, Kamala Khan has officially made her debut in Marvel's new series on Disney+.
If you have never heard of Kamala Khan before, you definitely may be wondering why she took Captain Marvel's former moniker and a costume that is quite similar too. The name, Ms. Marvel, was once used in the late 1970s by Carol Danvers when she got her title series, and she could not use Captain Marvel as it was taken up already by the Kree warrior Mar-Vell. There have been many characters over the years who have taken on the mantle of Captain Marvel; a famous one includes Monica Rambeau. It was not until 2012 when Danvers managed to take the title herself, which paved the way for Kamala to take on the title of Ms. Marvel right after. Kamala Khan is portrayed as a huge fan of the Avengers and one who wears superhero-themed clothes to school and writes Avengers fiction over the weekends.
Kamala is Iman Vellani's first role on-screen. She is a big fan of the MCU and the comic book series and hence seemed perfect to bring Kamala to life in this new series. In a special preview for Ms. Marvel on Disney+, A Fan's Guide to Ms. Marvel, she said:
"My parents would give me $20 of allowance every month. I would spend it on comic books. And then one day, I picked up a Ms. Marvel comic 'cause I was like, I've never seen a brown person on the cover of one. And I read it [and] fell in love with her."