Saying "Bismillah" softly and taking a deep breath, Kamala Khan of Jersey City turns the key in the ignition. She is fiercely determined as she pushes her foot down on the gas pedal. Suddenly, the car she's in jerks back and bumps into the car parked behind her, which coincidentally belongs to the driving test examiner sitting right beside her in the passenger seat and has a look of horror.
"You set her up to fail, having her drive in the street with all the other cars," Kamala's mother says accusingly to the examiner. "Ma'am, because of your daughter, I'm walking home," he responds grudgingly.
This is just the scene in the first four minutes of the new Disney+ and MCU series Ms. Marvel. The new show features Iman Vellani playing the titular role of Ms. Marvel, a.k.a. Kamala Khan. She is a highly imaginative yet completely awkward and clumsy Muslim-American teenager.
Vellani, the star of the new Disney+ series, is making history for Muslims all over the world by becoming MCU's very first Muslim superhero. She is also making history for Pakistanis, representing the Pakistani-American community. She says that this new show is only the start of representation within the genre. The new series' trailer that was dropped a few weeks ago gained a ton of attention, with audience and critics both praising Vellani's performance. You can watch the trailer of Ms. Marvel below.
What Is Ms. Marvel About?
As mentioned earlier, Ms. Marvel introduces Pakistani-American teenager Kamala Khan, who hails from New Jersey. She is a great student, an avid gamer, an aspiring artist, and a fantastic fan-fiction writer. As stated by Disney+, the official synopsis is "a superhero mega-fan with an oversized imagination — particularly when it comes to Captain Marvel."
But despite these achievements, she "feels invisible both at home and at school." In a conversation about MCU's Ms. Marvel series in 2016, Editor Sana Amanat told CBS News, "We wanted to tell a story about a young individual coming into their own and dealing with all of the obstacles that come with that journey to adulthood."
Ms. Marvel Representing the Muslim Community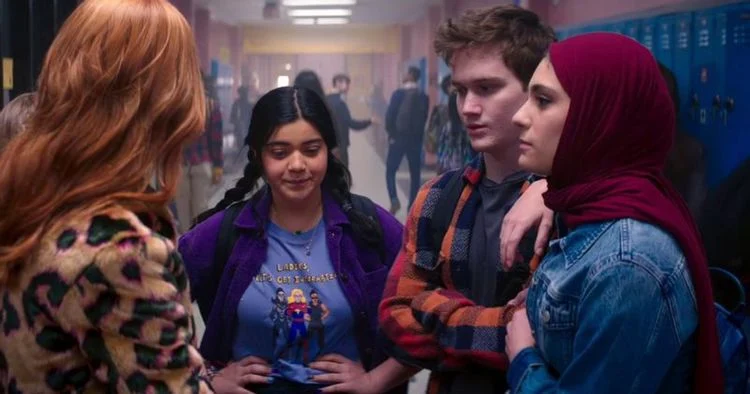 Right from the start of the show, we see the use of Holy Islamic phrases such as "Bismillah" (meaning in the name of God), "Assalamu Alaikum" (meaning peace to be onto you), and "Astagfirullah" (meaning I seek forgiveness in God) said randomly throughout the episodes. These terms being repeated throughout the show, which is hardly ever seen and heard of in television and films, is a great way to normalize it and accurately represent Muslims.
Ms. Marvel, now on Disney+, is not just a show depicting a young girl discovering her superpowers. In addition, the show is about a teenager who is doing her best to grapple with life with a dual identity as a Pakistani Muslim-American. So many Muslims with hyphenated identities have grown up without seeing someone like them in film and TV and haven't heard the phrases they normally use every day. This makes Ms. Marvel a step in the right direction as it narrates a story that is so relatable to the Muslim community yet is hardly ever seen in western media.
In a conversation with Tyla, Iman Vellani speaks about her portrayal of Kamala Khan and her Pakistani and Muslim heritage in the show:
"This is definitely just the start. This one TV show can not possibly represent the two billion Muslims and South Asians that there are in the world, and so I hope that the show opens doors for more South Asian voices in the industry and inspires them to tell their stories."
Describing her role on this show as 'such an important job,' she continues:
"People need to feel represented because they feel less lonely and I know the comics did that for me, so I just hope the show can do that in some capacity."
With regards to what makes Ms. Marvel stand out from the other MCU films and movies, Vellani highlights the use of fan culture smartly integrated into its storyline.
"We really used that to elevate our storytelling in a really unique way and Kamala herself, yes she's this teenager with problems and she has superpowers, but she's also a fan of all the other superheroes within the Marvel canon, that excitement, and love for the Avengers is so shared with real-life Marvel fans. Speaking as a fan myself, I definitely relate to Kamala on a very spiritual level almost. You know, the way she spends all night making her cosplays and fanart and fanfic, it's so much work to be part of this fandom and we really encourage it and appreciate all the fans."