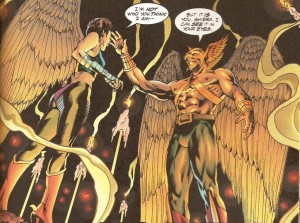 9. He Has Real Issues With Personal Boundaries
So, Hawkman and Hawkgirl are the everlasting love story tinged with tradgedy. The duo are constantly reincarnated only to find each other, fall back in love, and die horribly. But, during their most recent reincarnation, Hawkgirl returned first, but returned not remembering any of her previous lives, if she had them at all. So when Hawkman returns all "oh hey there, let's just resume our centuries-long romance" she is suitably creeped out. Now, while someone who is not Hawkman would back off at this point and get that maybe he should leave this girl alone, Hawkman super does not get that concept.
Instead he constantly sticks around her and continuously tries to remind her who she "really" is. When Hawkgirl PUNCHES HIM IN THE FACE and tells him she isn't who he thinks she is, Hawkman's only response is "You always had a good right".
Oh my god!
Some people.