So I'll concede that DC might currently have too many TV shows. And out of those, there's totally at least one for everybody. I never really liked or had any interest in Arrow or Gotham, but The Flash owns my heart, and I've heard good things about Legends of Tomorrow and Supergirl. But hey, if DC really wanted ANOTHER TV show to add on, I have some suggestions. Some ideas that would make for fun, interesting television shows, to be enjoyed by all. So, without any further ado, here are those potential shows. Feel free to take "˜em, DC, no need to even give me credit.
                                                           Source: nerdist.com
10. The Metal Men
I figured I'd throw at least one team on here. And I've always had a deep set appreciation for the Metal Men.
Dr. Will Magnus was a roboticist who created a miraculous new technology called the responsometer, a sort of robotic heart/brain that could create unique human personalities. He built six robotic bodies out of six different metals. And so were born The Metal Men.
Gold the egotist, Iron the strong, Lead the dumb but sweet, Mercury the jerk, Tin the cowardly, Platinum the flirtatious, and later on, Copper the one everyone forgets about. So many characters that play off each other perfectly, in unique and interesting ways, aka perfect for TV.
Plus the Metal Men's whole gimmick of being destroyed and rebuilt all the time is a funny running gag for what would be most assuredly a more humorously toned show. Think of it as a superhero sitcom in its purest form.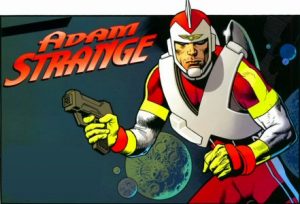 Source: 8daysageek.com
9. Adam Strange
Let's take it spaceward for our next entry.
Adam Strange was a normal archeologist, before he was accidentally hit with an energy beam that forcibly shunted him to the planet Rann. There he found a girlfriend and a destiny as a hero. But there's one problem: When the energy from the Zeta Beam wears off, he unwillingly goes back to earth. Thankfully, he knows exactly where and when the Zeta Beams will hit earth so he travels across two planets, adventuring and saving worlds.
Adam Strange is classic "˜50s space adventure aesthetics applied to comic book storytelling. Like, this is a ray guns and jet packs story, and I love that so goshdarn much.
An Adam Strange series would be a seriously fun throwback TV show that would be unlike anything currently on the air. This could be to space travel what Legends of Tomorrow is to time travel.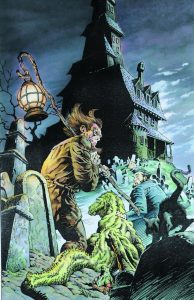 Source: dc.wikia.com
8. The House of Mystery
This is easily the weirdest pick on my list, but I think it also makes the most sense for television.
Think about it, what very successful TV show genre do we not currently have on the air? The horror anthology show! Twilight Zone, Outer Limits, Are You Afraid of the Dark, Goosebumps, that "˜80s remake of The Twilight Zone no one remembers, were for the most part successful and beloved television programs. And House of Mystery would be DC's way to get in on the fun.
House of Mystery worked as follows: each issue would feature Abel (yes, THAT Abel) wandering around the house picking up various objects and telling you, the reader, the horrifying story attached to the object. Perfect anthology setup with a great framing device.
They could also adapt sister series The House of Secrets, but I figure Mystery is a better title. Plus, Abel is a more likable protagonist than Cain. For literally THE MOST OBVIOUS REASON.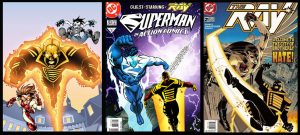 Source: newsarama.com
7. The Ray
Something that is gonna become crystal clear, if it hasn't already, is that I have a love for nineties DC comics. Wally West and Kyle Rayner are my Flash and GL of choice, Morrison's JLA is my jam, and I love those weird little books that no one remembers or cares about. And one of these is The Ray.
The Ray is the story of Ray Terrill, the son of the forties hero The Ray. Ray's been told from birth that he suffers from a condition that means he isn't allowed in the sunlight. As an adult, he accidentally stumbles outside, only to discover that he secretly has immense power. With the help of his recently returned father and friends, Ray has to come into his own as a hero. The man who is faster than light, the man who explodes with immense power: The Ray.
Again, it has a great supporting cast and a likeable protagonist. Plus, the idea that superhero The Ray's secret identity is"¦Ray, is really funny to me.
Jack C. Harris' work writing the character made him an instant favorite of mine, so I'd love to see Ray and crew on the small screen.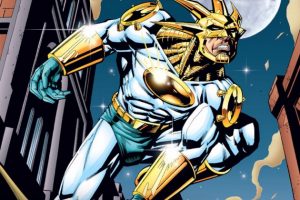 Source: comicsalliance.com
6. Aztek
Yes, I did hear 90 percent of you loudly shout "Who?" at your computers or phones, and yes, I'll explain.
Aztek is the protagonist of a short-lived late nineties comic series co-written by Grant Morrison and Mark Millar and drawn by N. Steven Harris. Aztek has been raised as the champion of the Q Society, a mysterious group dedicated to creating the ultimate hero to battle the ultimate evil. Once Aztek is dispatched to the grimy city of Vanity, he begins to learn that maybe the Q Society isn't as benign as he thinks. Aztek himself is a fascinating character, raised in a controlled environment, but trained for the modern world. This, combined with his secret identity as an ER doctor, would give a potential TV show a great supporting cast.
Vanity is a great locale that feels like the tip of an Opal City-esque iceberg. DC cities are great, you guys. But at its heart, Aztek is a week to week superhero adventure story with an undercurrent of cultism and world-ending destruction. Plus, Aztek's tech-filled suit and rad-as-hell helmet make for great visual design that'd be wonderful on television.
An Aztek show would be a perfect venue for exploring an underused character to his fullest potential.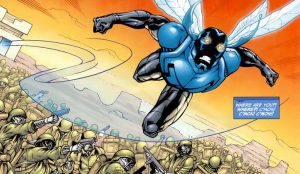 Source: dc.wikia.com
5. Blue Beetle
With all the shows DC has at the moment, the one gap they haven't filled is the teenage superhero.
Since Spider-Man's creation, the teen hero has been reliably great, and the source of many great characters. And one of the most recent to capture the public's heart was Jaime Reyes, alias the third Blue Beetle.
A teenager from El Paso, Texas, Jaime accidentally finds the blue scarab, and it attaches to his spine. But no, this isn't going the straight-up body horror route, because – surprise, surprise – the scarab can generate a supersuit for Jaime to wear. An alien supersuit. Because the scarab is an alien creature that may or may not be trying to take control of Jaime's mind. But that's less worrisome than the supervillains, crime lords, and alien invasions Jaime has to stop every day.
A great character with a great longform story and a fun supporting cast behind him, Jaime'd make a wonderful character to base a television series on.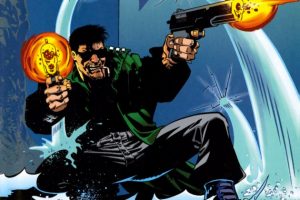 Source: comicsalliance.com
4. Hitman
Enjoying Preacher? Did you know series co-creator Garth Ennis also wrote a longrunning DC Comics series? The darkest, funniest DC Comic I've ever read, and with one hell of a lot of heart to it as well.
Hitman is the story of Tommy Monaghan, a Gotham City Hitman living in The Cauldron, the worst neighborhood in Gotham. After an alien invasion, Tommy is left with incredible superpowers that he for the most part refuses to use. The series follows Tommy and his friends as they fulfill contracts and get into trouble in Gotham in some hilarious and heartfelt hijinks.
The first half of the series is fun and laugh out loud funny, while the latter half becomes a darker look at the life of a contract killer and the end that most assuredly awaits our cast. It's charming and brutal and heartbreaking and hilarious.
Plus, it features the Dogwelder. Whose power is that he has the ability to WELD DOGS TO PEOPLE. That's amazing.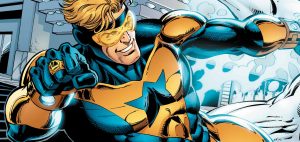 Source: dccomics.com
3. Booster Gold
Yes, Booster might have a movie in the works, but if that doesn't work out, there's always the televised possibility.
Michael Jon Carter is a has-been athlete living in the far future (Wait, does that make him a will-be? Or a will-have-been?). Anyway, Michael steals a time machine and some super gear and hops back in time to become a rich and famous superhero as"¦Booster Gold! Although Booster and his robot sidekick Skeets start off as people playing heroes, they eventually come to terms with what the title really means.
Again, Booster has ready-made series potential. Season one: Booster comes back in time and spends the majority of the episodes as a publicity-first hero. By the end of the season, he has to step up and actually save the day, which earns him some respect. Season two: Booster has to struggle against his better instincts to become the kind of actual selfless superhero he wants to be. And then season three can be the time-hopping Quantum Leap-y shenanigans that were present in the most recent ongoing series.
It's all there for you, TV producers!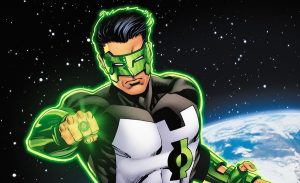 Source: moviepilot.com
2. Kyle Rayner: Green Lantern
I better be careful with this one, or H.E.A.T. is gonna come after me. Yes, Kyle is my favorite of earth's GLs, but that isn't entirely why I think he'd be the best suited for television. Part of it is that Rayner's series tones down the scope of the Green Lantern universe to a degree that would make it television doable. Since Hal's gone all nutter-butters and murdered all the other Green Lanterns, Kyle is the last remaining one. More of his stories take place on earth, and his arc is more focused on living up to the name of earth's last Green Lantern than anything else.
Picture this as a TV show: Kyle Rayner is a normal art student in NYC, when one day, everyone's hero Hal Jordan – the Green Lantern – disappears into space. When Kyle gets his own ring, it informs him that he is the last Green Lantern, as all the others have been killed. He decides to take over as GL, operating mostly as an earth-based hero.
After spending the first season slowly getting the hang of being a hero, he decides to venture out into deep space for the first time"¦and he finds Hal. Kyle is at once excited and nervous, feeling like with Hal back as the "real Green Lantern", there's no place for him anymore. But as he spends more time with Hal, he starts to notice that something's wrong. In the season finale, Kyle discovers that Hal's gone crazy after suffering a traumatic event and he's murdered the rest of the Green Lanterns, and now it's up to Kyle, the rookie, to defeat the man whose shadow he's been stuck in this entire time.
See, sounds good, right?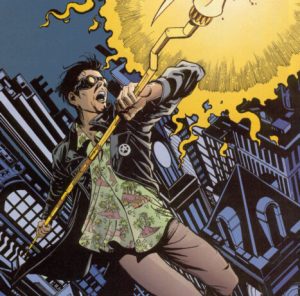 Source: comicvine.gamespot.com
1. Starman
Perfection. Starman is one of the best comic book series of all time. It's engaging and rich and characterful and beautiful and makes me cry and laugh and it's the BEST. And it's already built around a single unifying theme, like most great TV shows. In this case, that theme is Legacy.
Starman is about the Knight family, specifically youngest son Jack. Patriarch Ted Knight used to be the hero known as Starman until he retired. Decades later, he passes the torch to his eldest son, David, who's always wanted to be a hero. Jack, ever dismissive of his father's "lame" history, is sarcastic and eye-rolling at his brother's excitement to become Starman. But when David is killed on his first night as a hero, Jack must take up the mantle to avenge his brother, and to eventually become the hero Opal City deserves.
Starman is absolutely wonderful. If you haven't read it, do that right goshdarn now. With its cast of characters and full series arc, it is a ready made television classic complete with all the twists, turns, heart-stopping joy and bone-crushing sadness you'd want. And it's sitting right there, ready to go.
#StarmanForTelevision2016