Ah, the X-Men. I'm sure just reading those words brought floods of memories rushing back to you, probably specifically that cartoon theme song. But the X-Men have fought a litany of villains and monsters throughout their existence. Some good, some bad, most very, very complicated. But in narrowing it down to the best of the best of the worst of the worst, I came up with these ten best foes of Marvel's merry mutants.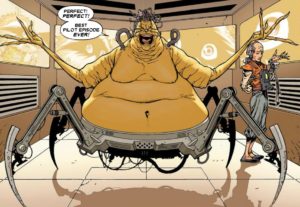 Source: marvel.wikia.com
10. Mojo
I like villains with some theatricality. And Mojo is almost the most theatrical of the X-Men villains (we'll get to the most theatrical later).
Mojo runs Mojoworld, an inter-dimensional entertainment emporium devoted to putting on the greatest show possible. He's a gross, blobby, monster creature who gets around via a spider chair with a scorpion tail. Also, a sort of Clockwork Orange-like type of gear holds his eyes open.
He may be the grossest of the X-Men villains. No, wait, I forgot Sugar Man. Never mind. But, okay, he's pretty gross. He was originally designed to be kind of a gross parody of a network executive, which is especially hilarious, and I love it a lot. He's such a mean-spirited parody, too. At the very least, he's an "entertainer" who can't create, so he steals people and abuses them to make his entertainment corporation profitable. That's super mean. And very funny.
Not that I agree with that assertion.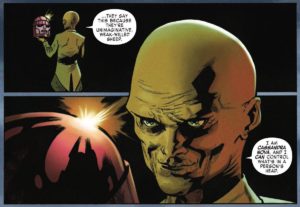 Source: twitter.com
9. Cassandra Nova
Honestly, Professor Xavier is scary enough, so it's much worse that there's an evil version out there.
Cassandra Nova is a psychic parasite in search of a host body. Sensing the fetus that would one day be Charles Xavier, the parasite embeds itself in Charles' mother's womb and pretends to be his twin sister. But baby Charlie senses how evil this new baby is, so he attempts to kill her while they're still in the womb.
The evil "twin" is stillborn, but manages to cling to psychic life and grow way more powerful due to the contact with Xavier. It becomes a female Xavier clone and names itself Cassandra Nova. A super long time later, she returns and absolutely effs up the X-Men.
Cassandra Nova is a Grant Morrison creation, so you can expect some weirdness, but if you judge from her appearance, you'll hardly have a clue.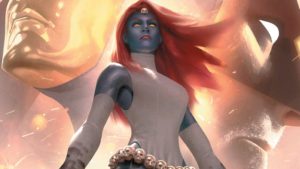 Source: looper.com
8. Mystique
Hey folks, it's everyone's mom!! And that's only a little bit of a joke.
Interestingly enough, Mystique didn't start out as an X-Men villain. Back when she called herself Ms. Marvel, she was a Captain Marvel villain. However, when Chris Claremont was writing both Ms. Marvel and X-Men, he decided to bring her and her adopted daughter Rogue over to fight against the Avengers and the X-Men.
Rogue eventually defects to  join Nightcrawler, who was abandoned by his mother – Mystique – as a young child. Mystique's other son, Graydon Creed, is a politician with anti-mutant leanings.
An unknown assassin eventually eliminates Creed, and it's revealed years later that the assassin is Mystique. But it's not the Mystique from that time; it's a future Mystique who's traveling through time to solve a paradox and…aaaaaaggggghhhhh, this is why people hate the X-Men. It's all just far too confusing.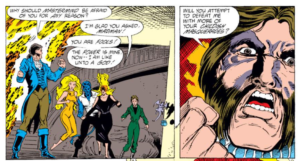 Source: blogspot.com
7. Mastermind
Ah, Mastermind. He's not the most threatening X-Men villain, but he's definitely the easiest to hate.
Jason Wyngarde is a top-tier, mega-level d*****bag. Like, he's The Worst. And because he's a disgusting creep, he typically uses his illusion and mind control powers to manipulate women. As an early member of the Brotherhood of Evil Mutants, he creeps on all the women members until they actually disband.
After that, he heads over to the Hellfire Club, because that's where you go if you're a supervillain who happens to be very kinky. While he's with them, Jean Grey stops by, and Jason just can't resist messing with her head. She freaks the eff out, becomes the Dark Phoenix, and eats a star.
Lotta deaths on your hands, Jace.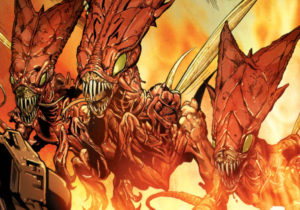 Source: marvel.wikia.com
6. The Brood
The X-Men go to space a lot. Like, a lot, a lot. And of all of their alien enemies, I have to pick The Brood as my favorite.
They are terrifying. Clearly inspired by a little film called Alien, the Brood are  insect-like monsters that lay eggs inside their victims. But, while the Xenomorphs just let people run around with those eggs, the Brood poison their minds and pacify them with hallucinations and visions in order to slowly conquer their minds and then rip their bodies apart. Yeah, they're terrifying.
If you feel the need to read an incredibly scary X-Men comic, go pick up the Brood saga. That s**t will turn your hair white. The Brood stick around after their initial appearance, popping up in Captain Marvel stories from when the main character is Binary or Ms. Marvel. Also, one Brood member is a minor player in Planet Hulk.
Plus, in one story, they attack New Orleans, and the X-Men have to team up with Ghost Rider to kill them. That's a fun one.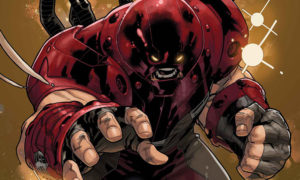 Source: salutemag.com
5. The Juggernaut
I love the Juggernaut. He's easily one of the X-Men's best non-mutant foes.
Cain Marko is the adopted brother of a boy named Charles Xavier. The boys don't get along, and Cain's jealousy makes him mercilessly bully the younger, smarter Charles. They both eventually sign up to serve during the Korean War. Out on patrol, they venture into a cave and come across a strange gem. Cain attempts to steal it, and that causes the cave to collapse. Only Charles makes it out.
Charles assumes, "Welp, my brother's dead. It's time to go do other stuff." He then bombs off. Meanwhile, the very much alive Cain grabs the gem, known as the Ruby of Cyttorak (why, yes, I did spell that correctly on the first try without looking), and it transforms him into the unstoppable Juggernaut. Juggernaut is an incredible physical threat, and that's what makes him so great. Anyone who fights him has to be able to think fast to have any chance of winning.
The classic Spider-Man story titled Nothing Can Stop the Juggernaut is a great example of this, but it's present in tons of X-Men stories, too.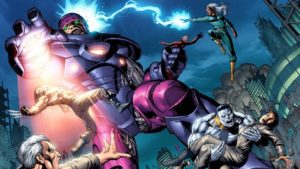 Source: nerdist.com
4. The Sentinels
For villains with no personalities, the Sentinels are pretty darn great, and not just because the X-Men once beat them by convincing them to go fight the sun.
As a whole, the Sentinels are a great example of totalitarianism in practice. They're huge, menacing, and constantly watchful. They're cold, unfeeling machines specifically designed to kill. There's a reason Sentinels are always connected with menacing business or governmental bodies.
For example, Project: Wideawake is deliberately meant to evoke governmental crackdowns on minority populations that include rounding people up, holding them, and segregating them from society. And it's all done by machines with far less humanity than the people they're hurting.
I should add that the designs are just great. Although they've evolved and changed over the years, the basic aesthetic has stayed the same. They just look cool. And it's great fun to see them destroyed. It's not an X-Men story until somebody trashes a Sentinel. And that happened again in last week's X-Men Red.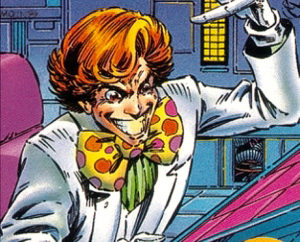 Source: marvel.com
3. Arcade
As promised, here's the most theatrical X-Men villain.
Dear Lord, I love Arcade, a mercenary assassin who lures his targets to his evil theme park full of deathtraps to kill them. This park is called Murderworld, because comic books are the absolute best. So, if you want to have your hero get stuck in a giant pinball machine or fight evil funhouse-mirror versions of him or herself, you really gotta throw Arcade into your story.
Arcade is traditionally an X-Men villain, but he's been re-purposed as a sort of general-purpose Marvel Universe foe. He conceives his most successful move when he's so bored in prison that he burns his way through a copy of the Hunger Games (or Battle Royale; it's never explicitly stated which), and comes up with the idea of abducting a bunch of teenage superheroes and making them fight each other to the death. As a result, Arcade kills a good number of teens in just a short period of time.
So, uh, you probably shouldn't laugh at him.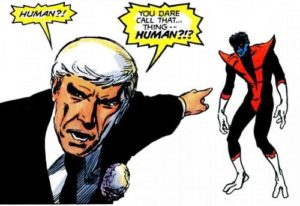 Source: tumblr.com
2. Reverend William Stryker
Some X-Men villains come back time and time again without much impact, but others become enduring, memorable characters with only one appearance.
God Loves, Man Kills is widely recognized as one of the greatest X-Men stories of all time (and it may be my personal favorite). Its main antagonist might be the greatest embodiment of the greatest foe the X-Men ever fought: racism. In it, Stryker is a televangelist-type preacher who spreads hate, fear, and anti-mutant sentiment with an unprecedented vigor.
Think the Marvel Universe's version of Westborough Baptist Church. Put on the world stage to inspire violence in others, showing Stryker's pure hate and fear is the perfect way to depict the X-Men's struggle. He's just so hateable and vicious and cruel.
Stryker may not be able to fight any of the X-Men hand-to-hand, but the ideas he espouses are ultimately more harmful than any Sentinel's laser blasts.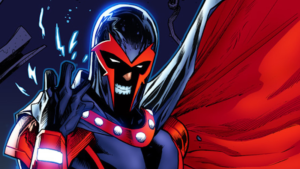 Source: Io9.com
1. Magneto
I mean, duh.
The trouble with Top Ten Villains lists is that the Number One entries are always going to be a little boring. Here, it has to be Magneto, one of the most fleshed out and fully realized villains in comic book history. The guy's solid enough to carry his own solo series. A concentration camp survivor, the boy who would grow up to become Magneto discovers his powers at an early age and weaponizes his rage as a force of social change.
Mutants are humankind's superiors, he argues, so why not conquer the earth? Magneto is the perfect flipside to the Professor Xavier side of the coin. He does not believe in the high road; he believes in results. And if those results come about through violence, so be it. He's such a complex and powerful character that I could devote an entire article to his history.
His shifting allegiances have led him to flip from hero to villain more times than I can count. But he remains an enduring and powerful character.