Welcome back to The First Ten, our recurring series that looks at the first ten issues of a long-running (or short-running) comic book series to see how it all got started. Today we're covering the grim and gritty Dial H for Hero reboot, H-E-R-O, which ran 22 issues from April 2003 to January 2005. I'm not a huge fan of grim and dark reboots, but let's give this thing a shot.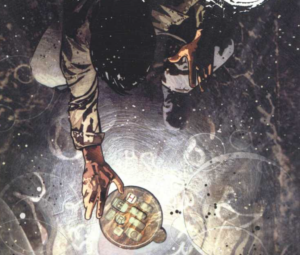 Source: comicvine.gamespot.com
1. Powers and Abilities
Writer: Will Pfeifer
Artist: Kano
Wow. I wasn't expecting the first issue to be this good.
The story begins as Jerry Feldon dials a crisis hotline and tells the operator that he intends to kill himself. He adds that he's a disillusioned college grad who's a victim of the failing economy. His reaction to seeing Superman is horror and depression over everything else in his life. It breaks him.
He's washing dishes one night at his awful job when he discovers that a customer has left behind an odd device: a strange dial with the letters H, E, R, O emblazoned on it. He activates it, and is transformed into Afterburner, hero of the skies. But as he tries to stop a drunk driver, he lands in front of the car, assuming he has Superman-level invulnerability. He does not. And that's where the issue ends.
The script feels incredibly modern and real, and it expertly draws in the reader. Also, Kano's art may always be great, but – holy crap – Dave Stewart's colors really bring out the best in the pencils. The art is gorgeous and very moody. I'm fascinated to see where this is going.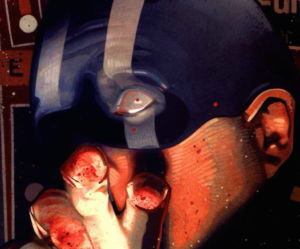 Source: comicvine.gamespot.com
2. Powers and Abilities Part 2
Writer: Will Pfeifer
Artist: Kano
Our story continues, and it only gets more depressing.
Jerry survived being hit by the car, and changes back before dying from his wounds. After being initially scared off from using the dial again, he decides that his life can't get any worse, so he changes again, but this time he's completely different hero. He spends the next few weeks having fun playing with the dial, and even burns down the abandoned factory that ruined his town.
He eventually settles on trying to become a superhero, but he has trouble finding any crime to fight. But as he ventures into a high crime area, he encounters a drug dealer who accosts him and mocks him. Angry, Jerry punches the dealer in the stomach"¦and collapses his rib cage.
This series is clearly a pretty slow burn, but we're definitely getting somewhere. As a riff on Dial H for Hero, it's a weird one, and very, very dark compared to the source material. But it's good so far, which surprises me. I haven't read a ton of Pfeifer's other work, but this is solid.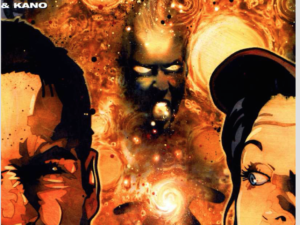 Source: comicvine.gamespot.com
3. Powers and Abilities Part 3
Writer: Will Pfeifer
Artist: Kano
Aw, jeez. What a downer.
Jerry rushes the dying drug dealer to the hospital just in time to save him from dying, but he flees before the police can question him. Desperate, he calls Molly, his crush from work, and asks her out. To his surprise, she says yes! At work, the original owner of the Dial shows up to retrieve it. While she suspects that Jerry has it and has been using it, she can't prove it.
Doesn't matter, though, because a robber who's holding up the restaurant at that very moment takes Molly hostage at gunpoint. Jerry changes into a fire-based hero, and tells the dude to drop the gun, which he refuses to do. Molly is shot during the ensuing fight, and Jerry roasts the robber. He then runs off in a panic, pledging to use the dial "One. Last. Time".
This is a really good tension-building issue devoted to having Jerry reach his low point. It's a smart way to show that superheroing is not as easy as it may look. And when you're bad at it, people get very hurt.
Kano and Dave Stewart make the fire hero look straight-up terrifying, by the way.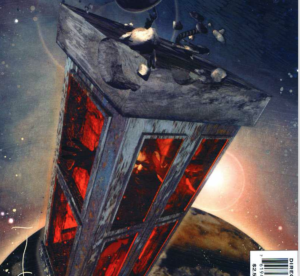 Source: comicvine.gamespot.com
4. Powers and Abilities Conclusion
Writer: Will Pfeifer
Artist: Kano
And this concludes the story of Jerry Feldon.
After he causes Molly's critical injuries and burns down his workplace, Jerry flees. He calls the suicide hotline that's been narrating the entire arc. The operator begs him to reconsider killing himself, but his mind is made up, and he changes again. Jerry then flies into low earth orbit, and changes back. He begins falling to earth, dropping the H dial as he does so.
Jerry blacks out and wakes up in the hospital, having apparently been saved by Superman. Molly's in the ICU, and Jerry manages to talk the dial's previous owner out of committing suicide after he informs her that the dial is gone. Some time later, Jerry finds his true calling: working as a suicide hotline operator.
All in all, this was a really wonderful little story to introduce the book. Jerry is kind of a blank-slate protagonist, but he definitely has a character arc, and it's a really nice one. It's also here that we realize that Jerry isn't what H-E-R-O is about. No, this comic actually follows the H Dial. And the H Dial is about to have a new owner.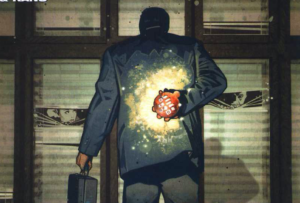 Source: comicvine.gamespot.com
5. Meet Matt Allen
Writer: Will Pfeifer
Artist: Kano
And now we move into the rest of the series. Someone else gets the H Dial, uses it, and then loses it.
This one is a one-shot about the titular Matt Allen, an executive at a nameless company with a wife and one kid. He finds the H Dial, and can't resist using it to turn into heroes and save people. It becomes an addiction, and as it dominates his life more and more, he loses his job, his daughter hates him, and his wife thinks he's having an affair.
But he doesn't care, because the H Dial is all that matters. Eventually, his wife takes his daughter and leaves. Matt doesn't quite mind"¦until he realizes that he can't find the H Dial. Why? Because the H Dial is miles away, clutched in his 13-year-old daughter's hands and speeding toward  Chicago.
This is my favorite single issue in the series, to be honest. It's a complete story that's compelling and tragic, and it's a great way to show us the book's potential for telling different kinds of stories of any length.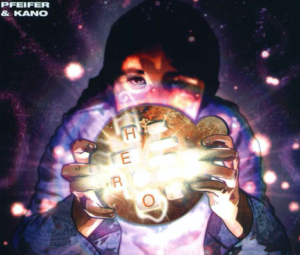 Source: comicvine.gamespot.com
6. Girl Power
Writer:  Will Pfeifer
Artist: Kano
Middle school is hard enough when you don't have a super-powerful device that gives you incredible powers.
Andrea Allen is starting life at a new school after leaving with her mom at the end of the last issue. After she unlocks the H Dial's power, she does the obvious, and shows it to some other girls to make friends. Her friends, of course, start using the dial in an irresponsible manner, and the school's headmaster starts to suspect they're up to something.
They're all called into the principle's office, but Andrea uses the dial to get them out of trouble. During the car ride home, they fight over the H Dial and wind up dropping it out the window. But while the dial is gone, the girls' friendship remains intact.
A really solid issue, all around. Andrea isn't really present in the previous issue, but she's really fleshed out here. She feels like an actual young girl in terms of her personality and decision-making.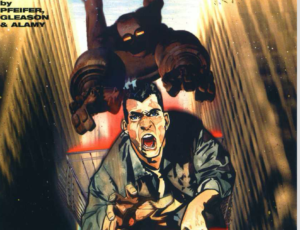 Source: comicvine.gamespot.com
7. Don't Try This @ Home, Episode 1
Writer: Will Pfeifer
Artist: Patrick Gleason
This book is pretty much just Pfeifer's playground at this point. It's like he's having a blast, and it's coming through in the work.
After Andrea Allen drops the H Dial out the car window, it falls into the hands of a bunch of twenty something burnouts who like to get high and watch TV. So they use the H Dial for the most obvious purpose: creating their own Jackass-style internet TV show. That's right, this arc's premise is What if the guys from Jackass had super powers?
This comic is wonderful.
The crew operates under the collective handle Captain Chaos when doing their stunts, although the actual heroes they change into all have individual names. After they upload their videos to the internet, their popularity takes off and grows at an alarming rate. They attract the attention of someone very specific: a sleazy studio executive who sees an opportunity to make money. At the same time, a gawky, bespectacled prison inmate is excited by what he sees on his computer. He's found something.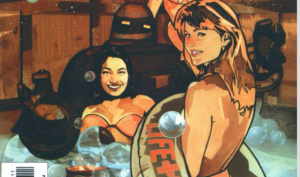 Source: comicvine.gamespot.com
8. Don't Try This @ Home, Episode 2
Writer: Will Pfeifer
Artist: Patrick Gleason
Barzell, the exec from the end of the previous issue, seeks out the Captain Chaos guys, and attempts to make a deal with them. At this point, we learn that the Captain Chaos boys have the exact same favorite movies as every boy you meet in film school. This made me laugh.
Meanwhile, someone else is looking for Captain Chaos: a reedy dirtbag by the name of Tony Finch. And he isn't playing around. Oh, and that prisoner from last issue? We finally learn his name, although it's just a last name. It's Reed. As in Robby Reed, the original H Dial owner from the classic Dial H for Hero comic. Neat! And it looks as though he still has some super powers even though he lost the H Dial.
Barzell signs a contract with the Captain Chaos crew, but it's written to screw them over (of course). Barzell then takes the H Dial and leaves, but he isn't the next arc's main character. No, Tony Finch immediately attacks him, steals the H Dial, and takes off in his car. He wants to be a supervillain, and he's headed to Gotham.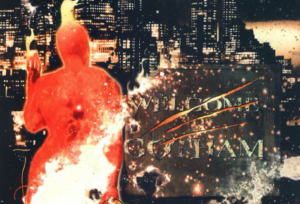 Source: comicvine.gamespot.com
9. A World Made of Glass, Part 1
Writer: Will Pfeifer
Artist: Kano
Welcome to Gotham, folks. Batman isn't in this arc.
No, seriously, Bats doesn't appear in this story, despite the fact that his signal lights up the cover. But we do have Tony Finch, who's been using the H Dial to commit robberies in the city. But he's not new to Gotham; he's returning. And everyone he runs into seems shocked to see him again, especially Simone, who tends bar at the Gotham Tap.
Using his new supervillain identity (he calls himself The Shifter, but we won't learn that until the very end of the next issue), he recruits two henchmen and sets about his work of becoming the greatest villain in Gotham. Meanwhile, prison inmate Robby Reed severely injures some Aryan Brotherhood dudes with his superpowers, and catches the warden's attention.
This issue ends as we learn that Simone is actually behind one of Tony's henchmen, and she's trying to figure out where his powers are coming from. Also, Tony receives an artifact from his past: a Joker card.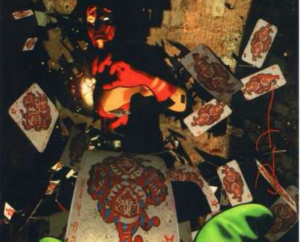 Source: comicvine.gamespot.com
10. A World Made of Glass, Part 2
Writer: Will Pfeifer
Artist: Kano
As we check in with Robby Reed, he's about to be transferred to Iron Heights prison due to his obvious superpowers. Tony's been terrorizing Gotham for some time, but because he has no gimmick, his crimes continue to be credited to other villains.
Also, Tony almost immediately figures out that Simone is betraying him, so he confronts her. Here, we learn about Tony's secret past as one of The Joker's goons. He mouthed off about it too much, and was jumped in a bar. When the Joker showed up, he begged and pleaded and humiliated himself to such an extent that The Joker thought it was funny and let him live. And I gotta say that Kano's first image of the Joker is maybe the scariest Joker panel I've ever seen. It's effing terrifying.
Back in the present, Tony's treacherous henchman tries to grab the H Dial, but Tony's booby-trapped it with serious explosives, and the henchman dies. It ignites the entire apartment, and Tony looses the H Dial in the explosion. He's arrested as he flees, and ends up in Arkham with all the other crazed supervillains.
And there you go, the first ten issues of DC Comics' severely underrated H-E-R-O. I've read the whole series beyond these ten issues, and it really is great. The Robby Reed stuff comes back, as do many of these characters. Plus, there are some fun flashbacks and call-forwards. The art is wonderful, and this is my favorite Pfeifer-written comic. Honestly, it's just a shame that it doesn't go longer.