Bad comic book movies are an enduring problem. There are just so many, and they keep adding up. But not every movie is entirely irredeemable. Sometimes good characters and performances hide in bad movies. They might not quite save the movie, but they damn well try.
Let's pay tribute to those needles in the hay, those diamonds in the coal, those third-analogy-I-can't-think-of-right-now…uh, the best characters in bad comic book movies.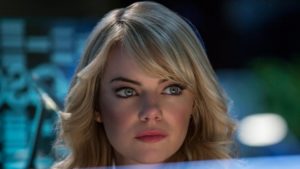 Source: youtube.com
10. Gwen Stacy
Amazing Spider-Man 1 and 2
These movies are extremely bad, and the chemistry between Gwen Stacy and Peter Parker is the best thing about them.
I recently watched the movies back-to-back to prep for the next edition of Every Comic Book Movie Ever, and I have some advice for you: Do not do that. These are extremely bad movies. Amazing Spider-Man 2 might even cross the line into hatefulness if you care about Spider-Man enough. But Emma Stone shines through.
She's given very little to work with, but her chemistry with Garfield (the Spider-Man, not the orange cat) is what makes so many of their scenes together work. In fact, her hard work and skillful performances are actually part of what makes Amazing Spider-Man 2 so furiously bad. Like, she's the one good thing about the movie, and they murder her in such a callous way.
But whatever. Gotta save that bile for the next ECBM list.