The MCU has stretched on into the present, they have adapted many a classic character to the big and small screen. And they've worked hard to try and keep those costumes changing and adapting and bettering themselves. And for the most part, they've done that! The MCU is home to some of the best ever superhero costumes on screen. Of note are 99% of Iron Man armors, pretty much every Captain America uniform, the Civil War Spider-Man, Hawkeye, and Black Panther costumes, and numerous others. Recently, I was up in Seattle at a museum exhibit where several of the Black Panther costumes were on display. The fibers and the patterns and the design work blew me away. These movies have works of art wrapped around every one of its actors. But not every costume is great, if we're being honest. Some of them are bad. And the internet hates positivity. So I'll dish in and talk bad costumes. Note: these are all personal preferences so if you like one of these outfits, I'm sorry we do not agree.
                                                                                          Source: i09.com
10. Iron Man
Spider-Man: Homecoming
Like I said, I adore pretty much all of the Iron Man suits made for the Marvel Movies, but the one used in Spider-Man: Homecoming is just not very good.
The MCU's Iron Man costumes have always struggled to find the right balance of red and gold and this one opts to not even try. Instead, it pulls heavily from the original Ultimate Iron Man armor that debuted in The Ultimates. However, that armor had an angular visual design and a very unique helmet, with a design made for air resistance. Without said triangular helmet, the color balance feels off, resulting in a half finished look.
And the most stripped down Iron Man armor does not work with his roll in the film. Iron Man is who Peter wants to be, who he eventually realizes he can be better than by going his own way. And for that to work, Iron Man needs to look impressive and advanced. And he does not. He just looks boring.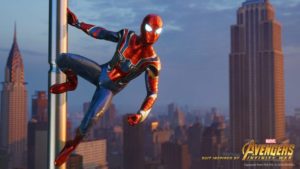 Source: comicsbeat.com
9. Spider-Man
Avengers: Infinity War
I'm sorry but it's bad.
The Homecoming costume is absolutely perfection incarnate and I just don't know how you could ever replace it. Especially not with something as lame as the Iron Spider outfit. The glowing eyes and huge spider are silly enough but then you get to the giant robot legs. Because it's not like Spider-Man had any other means of sticking to walls. Nope. Not a one.
The coloring is also super off balance. That burned in look surrounding the chest spider draw too much focus to it and the deeper metallic red of the costume is sadly worse than the bright colors of the Civil War/Homecoming suit. It's just disappointing that we got the best looking Spider-Suit off all time and then immediately had to throw it away for something less good.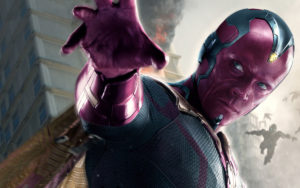 Source: wordpress.com
8. The Vision
Just, Y'Know, in General
Ugggh. People give DC crap for the Red Tornado just being a big sad robot but stand aside folks for the first big sad comic book robot, the Vision.
Look, the Vision can be good. I think he's good in about 5% of all comics that he's been in. and I'm sorry but visually he just looks BAD in the MCU. There's too much going on to try and make him robot-y. just give him green and red skin. You don't need the odd bits and bobs all over his normal outfit.
And dimming the color palate won't do anything to help you, guys, MF-er is still decked out in red green and yellow like he's made of warring holiday decorations. And his big emotive robot eyes are only there so he can cry out of them. Vision's weird head, however, is the big issue that we're all drawing upon for criticism here. It's just weird. And bad. And overcomplicated.
Which is the main sin of bad MCU costumes, if we're being honest.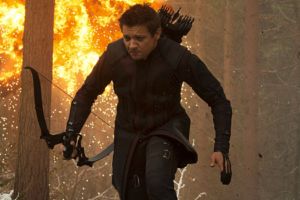 Source: schmoesknow.com
7. Hawkeye
Avengers: Age of Ultron
It's frustrating how long it took Hawkeye to get a good costume.
His Avengers costume is boring and basic, his Age of Ultron costume is atrocious, and his Civil War costume is incredible and perfect. Seriously, his purple Civil War suit is the best thing and I love it so deeply. But we're talking about his extremely bad Age of Ultron uniform. He's basically wearing a long gown? That goes down to his knees? And the goofy sleeves.
And to be honest, the maroon is noooooot working. They finally got it right when they committed to purple in Civil War. Pink and purple are good colors to put on a superhero, they're bright and eye catching. Maroon is not either of those things. And it's even more of a shame because Age of Ultron is full of great Hawkeye character moments, including maybe his best ever in the MCU.
It's just too bad he's dressed like a doofus the entire time.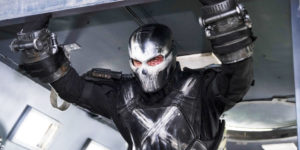 Source: digitalspyuk.com
6. Crossbones
Captain America: Civil War
There is a subgenre of bad MCU costume that is "great comic costume that they for some reason completely ignored when designing the movie version" and boy howdy does Crossbones fall into it.
Like, what's Crossbones's comics costume? Flak jacket, military gear, ski mask with a skull painted on it. You could do that on one of the Netflix shows. But noooooo, they had to give him a motorcycle helmet and some big punchy fists. And scars. It's a shame because Brock Rumlow is an awesome villain in Winter Soldier and is 99% of the way to Crossbones already.
Just throw a skull ski mask on "˜im. Or not, I guess. Maybe next ti""oh wait he's dead. Oops. I really just don't get why they need to keep putting Marvel villains in exo-skeletons.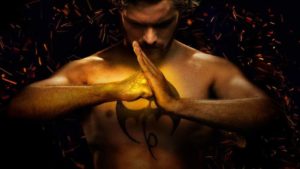 Source: theindependent.com
5. Iron Fist
Iron Fist
Hey, I said "The MCU" and I MEANT "The MCU". Not just the movies. I'm going hard on the entire filmic universe, gosh darn it and we're going to see just how those Netflix shows fair.
Not well, in this case.
Those of you who follow my stuff specifically know that I just took a look at the landmark comic series "The Immortal Iron Fist" and loved it, so I'm even more ready to go hard as nails on this BS. It"¦ is not very good. Look, of the Defenders, Luke Cage and Jessica Jones don't really have costumes so there's no excuse for half-assing the other two. And they sorta half assed Daredevil but they didn't even sixteeth-ass Iron Fist. It's pathetic. He just wears a suit and hits people with his glowing fist.
The green and gold costume and awesome mask are a big part of what makes Iron Fist cool and stripping away all of it is ill advised at best. Plus everything else about the show is bad so what did I expect.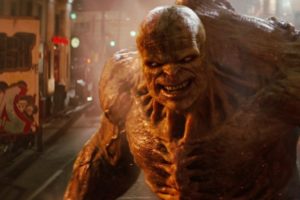 Source: wordpress.com
4. Abomination
The Incredible Hulk
Ooof. This is a bad one.
And in the second ever Marvel Cinematic Universe movie. You know, the one no one remembers exists or is in continuity? Abomination in the comics is an ever changing design, but the most famous involves gills or ear wings and huge two toed feet. Oh and some scaly hard skin. The MCU version has none of those.
Instead, he looks like you vacuumed out a Stretch Armstrong. He's just gross looking to the extreme. And the Hulk design isn't bad which is why it's confusing. What's with his weird gear-spine? Or the bald angry Tim Roth head?
Just a baffling choice, all around.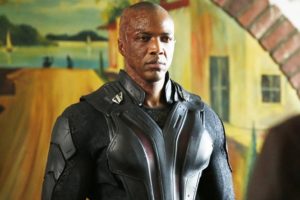 Source: screencrush.com
3. Deathlok
Agents of S.H.I.E.L.D.
Of course Agents of SHIELD would find a place on this list.
As a guy who watched the first season and a half of AOS when it was airing, I remember being kind of excited to find out that he was in the show! And then I saw what they did to him.
Comic book Deathlok is a zombie terminator and that is cool as ice, my friend. But when he got adapted to the screen, they took out his corpse robot look and replaced it with some kind of burn victim power ranger. And that isn't a great look for"¦ well just about anyone.
So Deathlok didn't have the awesome appearance of the original, or the cool spy modernization of the recent Marvel Now version. I don't really dislike Agents of SHIELD in general and I actually think they're Ghost Rider and Graviton designs are pretty good. It's just that they let down my good boy Deathlok.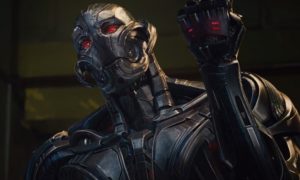 Source: cultspark.com
2. Ultron
Avengers: Age of Ultron
Uuuuuggggggghhhhhhh.
Look, I'm not even one of those people who thinks Age of Ultron is all that bad. It's fine. But the final Ultron design they went with is Very Bad. And it's so deeply frustrating because the designs of his drones are pretty good! They have the jack o'lantern mouths and look all creepy as hell. I LOVE them.
But the main dude just looks awful. The moving mouth is a bad call and there are too many moving pieces rattling around for iconic visual design. Also, Ultron shouldn't have pupils. It's just morally wrong. It'd be like giving The Thing fingernails. There's a reason why the best Ultron scenes of the movie happen when he's in bodies other than his primary one. His first and last scenes are great.
Because of that Jack o'lantern face.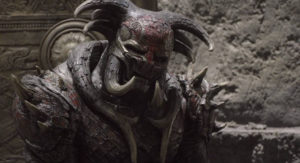 Source: marvel.wikia.com
1. Kurse
Thor: The Dark World
Man, yet another cool villain with great design ruined by some bad stuff in the concept art department.
Kurse is a Walter Simonson design. You do not eff with a Walter Simonson design. And yet someone did. So badly in fact that I, a theater goer and Simonson Lover did not even realize that it was supposed to be Kurse. He trundles around whacking people and getting stabbed by Loki and being Malekith's muscle. He's just boring and visually that carries over. Like, dude is composed of tusks and blandness.
So, I ran out of things to say about Kurse so I looked up at my friends and roommates and asked what they remembered about him. Here is what I got: He also has an implosion grenade on his belt. "He looks like the Predator, if the Predator didn't have a vagina mouth." He had that cool tribal mask at the beginning of the scene but loses it to the bad movie costume.