Final outing, everybody. For the past month, I've been looking over The Greatest Batman Stories Ever Told, a paperback collection released in 1988 to capitalize on 1989's Batman movie directed by Tim Burton and starring Michael Keaton and Jack Nicholson. This collection was a massive treasure trove of Batman stories covering from his earliest adventures to the then recent mid-eighties. In our past two columns we've looked at twenty of the collected stories, with the first column covering the 1930s through the 1950s, and the second covering the 1960s through the late 1970s. Today, we'll be looking through the final five stories collected in the paperback as well as some stories released in the last 30 years that might fit in naturally. So for one last time, come with me and let's light the Bat-Signal.
                                                                                       Source: wymann.com
10. The Deadshot Ricochet
Detective Comics # 474 (1978)
Good old fashioned Headshot story, folks!
Deadshot himself first appeared way back in the 40s but he didn't gain his personality and distinctive costume until this issue. In the story, Batman is preoccupied by his relationship with Silver St. Cloud, a woman whom Bruce Wayne has been dating. And it seems that Silver is figuring out his secret identity.
Meanwhile, Penguin has just arrived in jail and is about to break out when Floyd Lawton steals his means of escape and breaks loose himself. And this is when he attacks the Dark Knight with a spiffy new outfit. If there's one thing I was shocked by, it's how little of this comic actually has Deadshot in it. It's maybe six pages. But they are an amazing six pages.
That costume is an all time great and Floyd's personality may be bare, but it's enough of a skeleton for Ostrander to build an incredible character on to. The final fight on the giant typewriter is glorious and well worth the price of admission.
One of the Greatest Batman Stories of All Time?: Hard to say. The Deadshot pages are definitely up there, but too much of the comic revolves around other matters for me to really fairly count it.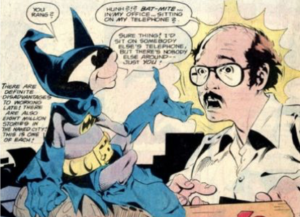 Source: batmannews.com
9. Bat-Mite's New York Adventure
Detective Comics # 482 (1978)
This. Is not. A Batman story. AGAIN!
I cannot believe this happened again! This story has not one panel of Batman in it. It is pretty fun though.
In the story, Bat-Mite appears at the DC Comics offices and begins trying to coerce the DC staff into doing a story about him. And it is the actual staff at the time. Al Milgrom is in it! I very much enjoy seeing real seventies comics people drawn by their friends. If you want to read this one without tracking down a 30 year old collection or a 40 year old single issue, you can find this one collected in the World's Funnest trade paperback, which contains tons of Mr. Mxyzptlk and Bat-Mite comics. This one is super great in itself but again, it is not a Batman story and therefore does not count for my experiment.
One of the Greatest Batman Stories of All Time?: Disqualified.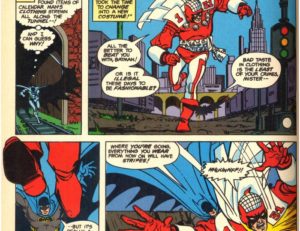 Source:thecomicsjournal.com
8. A Caper A Day Keeps the Batman Away
Batman # 312 (1979)
You know, when I crack open a book called The Greatest Batman Stories Ever Told, the one thing I don't expect to see is Calendar Man. But here it is.
In this story, Calendar Man starts a crime spree with each crime relating to the etymology of the name of a day of the week. This is"¦ sort of in line with his gimmick. I guess. He also changes costumes with each heist. Which I'm conflicted about. On one hand, it's incredible commitment to a bit and to a concept but on the other, it's incredibly bad branding. Like dude, the whole point of gimmicking your crimes is so people know that it's you! If you keep changing costumes no one will know that! You idiot!
But ah well, Batman beats him in the end like always.
One of the Greatest Batman Stories of All Time?: Well, no in a pure sense. But as a snapshot of the era of comics it's a great one. So it really depends on what this collection is supposed to be.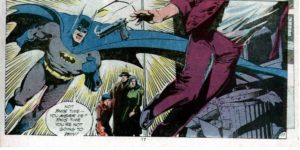 Source: livejournal.com
7. To Kill a Legend
Detective Comics # 500 (1981)
Alan Brennert owns so hard.
He's just an incredible DC writer whose every story is a masterpiece. And this one especially. In the story, The Phantom Stranger arrives to Batman and Robin to give Batman a gift. On an alternate earth, tonight is the night the Waynes are murdered and Batman can stop it. He sends the duo to this earth and after some struggles, Batman saves Thomas and Martha Wayne at last.
In the final page, we see this world's Bruce Wayne, inspired by the Batman he saw save his parents, embark down his own heroic path. And one unmarked by tragedy. I'm fascinated by and love this ending. It's such an interesting concept to play around with all in all.
One of the Greatest Batman Stories of All Time?: Yes. Very much so.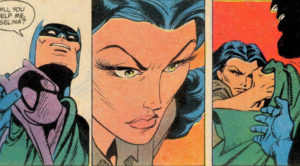 Source: nothingbutcomics.com
6. The Autobiography of Bruce Wayne
The Brave and the Bold # 197 (1983)
And we conclude all this with another Alan Brennert Batman tale.
In this story, the Bruce Wayne of Earth 2 looks back on his life and how he ended up settling down with Catwoman before her death. It's sweet and a good send-off to a character people invested a lot in.
Plus it gives a great way for the Earth 2 universe to progress, leading to the Dick Grayson Batman we all know and love. It's overall a bit weaker than To Kill a Legend but it's still Brennart so it's still pretty darn good, boy howdy. And as someone who's just been enjoying and celebrating Batman history for a month, it's oddly satisfying to end on a celebration of the original, formative Batman.
One of the Greatest Batman Stories of All Time?: I don't think so. Brennart is a master, but To Kill a Legend is his home run. But a solid triple is a solid triple.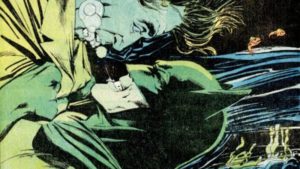 Source: theavclub.com
5. Night of the Stalker
Detective Comics # 439 (1974)
Okay then. Now that we've finished looking at the Greatest Batman Stories Ever Told, I have some room left.
So I thought it might be fun to look at a few stories they left out and some that have come out since this collection was released. And to start, there has been an injustice. A true injustice. And that injustice is that Night of the Stalker has been left out of this collection. Night of the Stalker is perhaps the greatest Batman story of all time.
In it, a criminal gang, in commission of a robbery, wind up gunning down two parents in front of their kid. And Batman sees this. So Batman stalks them, taking them out one by one like an omega-tier badass. The moment where Batman drops the car keys at his feet and dares the crooks to come and get them gives me chills down my spine instantly.
It's a phenomenal story that is most certainly worth your time.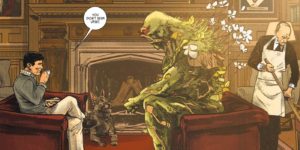 Source: cbr.com
4. The Brave and the Mold
Batman # 23 (2017)
Look, I didn't pick this one entirely for the pun title but if I had, I could defend it very easily.
But no. This is actually a one shot from the current Tom King Batman run, specifically collaborating with Mitch Gerads on this issue. The issue is a mystery, a Batman/Swamp-Thing team-up, and a story about morality and where we all draw our various lines. King's Batman writing is excellent and Gerads' art is supremely elegant and well crafted.
There's a gorgeous double page spread that is just beautiful in every way a comic book can be. It's divided up into chapters in a really neat way and to be honest, as much as I love King's Batman as-is, I really wish he'd do more one shots. We've gotten a lot of two and three part stories lately which I very much love, but his one shots are unparalleled.
Also, this comic has Kite-Man in it, how dare anyone not appreciate that?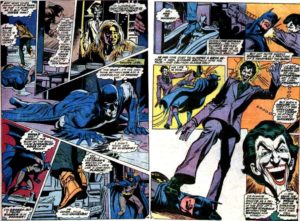 Source: blogspot.com
3. The Joker's Five-Way Revenge
Batman # 251 (1973)
God, the seventies sure were fantastic for Batman stories, weren't they?
Like, the common narrative was that good "serious" Batman stories came back with the Miller two-fer of Dark Knight Returns and Year One but that's simply not true. O'Neil, Adams, and Aparo absolutely brought the caped crusader back to the heights and this is certainly one of the all time best stories of that era.
In the story, The Joker breaks out of prison and, swears revenge, knowing that one of his five man gang ratted him out to the authorities. But he doesn't know which. So he decides to kill them all. And so it's a race to see who can prevail. Will Batman track down and save the gang members before Joker can kill them all?
This story is one of the best ever Joker stories and has been collected and adapted numerous times. And is definitively one of the all time classics.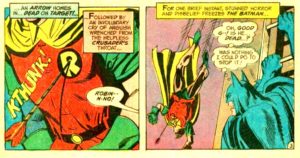 Source: comicvine.gamespot.com
2. How Many Ways Can a Robin Die?
Batman # 246 (1972)
Another great seventies mystery story.
In this one, the police arrive to a scene to find Robin"¦ MURDERED!!!!! But not really. It's a dummy in actuality. And after Batman checks on the real Robin, he's called away to another scene, and another "dead Robin".
So it becomes a mystery of who is doing this and when they're going to strike the real Robin. It's a simple mystery but a fun one with some twist to it. A murder mystery is fun but a repeated tease of a murder can be a mystery in itself. This story was echoed decades later in the Gotham Central arc "Dead Robins" which is its own kind of great, but it's not a Batman story exclusively and it's more than one issue. This one, however, is just a classic fun one with a good one off villain.
Plus it's a Batman story with a guillotine in it, which is my most favorite sub-genre of Batman stories.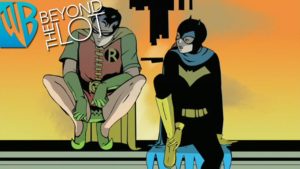 Source: youtube.com
1. Cave Dwellers
Batgirl: Year One # 4 (2003)
I love this issue.
Batgirl: Year One is so solidly good and if you haven't read it you really should. But the stand out is issue number four, "Cave Dwellers". In it, batgirl finally encounters her idol for the first time. And Batman and Robin are not really what she expected. Most of the issue is Robin and Batgirl hanging out in the Batcave but Batman is clearly felt throughout as a character and strong background presence.
It's a good look at what it's like to meet and work with the Dark Knight in a professional capacity.
And there you have it. Batman's greatest stories. Both the ones they remembered and a few they forgot about. Have a good night and get some reading in folks.