Hey folks, Venom has a movie coming out! And no matter how not excited I personally am for that, I have to acknowledge that I really do like the character of Venom. Venom is perhaps the most enduring Marvel villain created since the nineties, rapidly rising to the ranks of arch-enemy, anti-hero, and series protagonist. Throughout the 2010s, he's had several ongoing series, racking up more than 150 issues of his adventures. But watching how a character matures and evolves is its own thing, and with Venom it's even more interesting. If you've read my histories of the Infinity Gems or Captain America's Shield, then this will be a familiar format. We pick an object, we look at it, we go over where it's been and who's owned it over an extended period of time. But, to cover Venom, we must start a long time ago in a galaxy far, far away"¦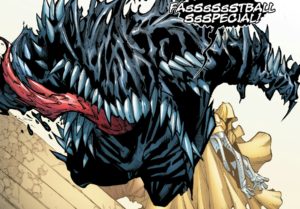 Source: marvel.wikia.com
Chapter One: Being An Evil Goo Monster
Venom wouldn't have been Venom without needless retcons about his origins. So let's talk about Klyntar.
What's Klyntar, you might ask? Oh, Klyntar is the planet full of goo monsters that Venom comes from. However Venom was too much of a dick for the other goo monsters so they exiled him to be abducted by a series of evil warrior hosts who all slowly taught Venom to be an aggressive monster. An important note is that, while I've been referring to the symbiote as Venom this whole time, that's more for convenience than anything else. It doesn't have a real name and since I don't want to keep figuring out how to refer to it, I'm just going to call it Venom. All good? Cool.
Eventually, Venom was imprisoned in a strange machine by the other symbiotes, which was either because it was evil and insane, or because it was too nice. Look, comic book retcons are all dumb and bad and confusing and make writing articles like this super hard. Do you know how hard it is to figure out what "matters" in terms of comic book continuity? Really hard!
Eventually, the strange machine was grabbed up by the Beyonder to make his patchwork battle royale arena for the cosmic event, Secret Wars.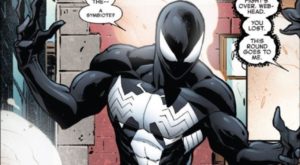 Source: comicbook.com
Chapter Two: Secret Wars and Spider-Man
And during said Secret Wars, Spider-Man got his costume real torn up.
He noticed that Thor and Hulk seemed to have new costumes and asked them about it. They pointed him to the back of the room where their were a number of machines. Spider-Man picked the wrong one. He instead picked the Symbiote prison machine and released Venom. Venom happily bonded to Peter and the two went home together.
Eventually, Peter asked Mr. Fantastic about his new clothes and good ol' Reed Richards responded by telling him "oh hey, you know this thing is alive, right? You shouldn't be wearing it." And Peter decided that wearing a living creature was super gross and he ditched it to the Fantastic Four so they could contain it.
A few years later, Venom escaped and tried to repossess Peter. Peter tore the costume off in the bell tower of a church. But waiting in the church below was"¦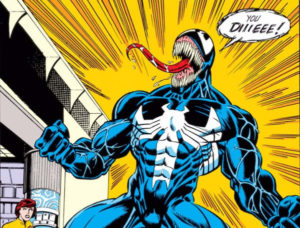 Source: blogspot.com
Chapter Three: Eddie Brock
And we have arrived at the most famous and enduring Venom.
Eddie Brock was a journalist who ruined his career with faulty reporting, which Peter Parker exposed. So Eddie and Venom bonded over their mutual hatred of a person they both knew, which is also how I've befriended every girl I've ever dated. Being bonded to peter for a long time had the side effect of copying some of his Spider-powers. And so Venom was born. After taking some time to stalk and track Peter, Venom attacked, coming after him multiple times.
One of the big ones involved leading Peter to a secluded island, which Peter got out of by faking his own death. During this long affair, the symbiote gave birth to a child, Carnage, as well as a bunch of other goo monsters that people by and large forgot. But, after over a decade of bonding and love, Eddie started to become upset by how bloodthirsty the symbiote had become.
You see, Eddie just wanted to kill Spider-Man whereas the symbiote wanted to murder everybody all the time. They were separated and it was time for Venom to find a new playmate.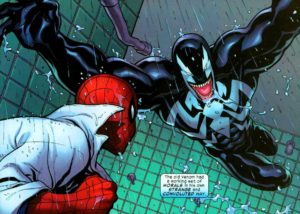 Source: comicvine.gamespot.com
Chapter Four: Angelo Fortunato
Angelo Fortunato was the son of Don Fortunato and his dear old dad got him a present. The present was to make him a supervillain by bonding him to Venom.
Venom seemed fine with all this at first, as it was still getting over Eddie. But like all rebound relationships, it ended badly and quickly. Angelo was not great at being Venom, and was also a huge coward. After losing a battle with Spider-Man, Angelo ran off like a coward and Venom did not like that one bit.
Turns out Venom has very high standards for who it bonds with and if you are not a fighter, it will dump you like a hot potato. So while Fortunato was leaping between buildings, Venom just opened up and let him fall to his death. That is harsh as all hell, guys. Like, I've been dumped before, but I've never been dumped four stories in the middle of a jump. That is just cruel.
But the symbiote was ready to put itself back out there. Venom was ready for another long term relationship. And it's next one would be maybe the second longest it had ever had. A real bonding experience.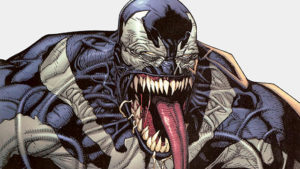 Source: ign.com
Chapter Five: Mac Gargan
MacDonald "Mac" Gargan is most famous as a very different Spider-Man villain. In the early days, he was given a suit and named The Scorpion. As The Scorpion, he was mostly a failure who sucked.
But after Venom had ditched its rebound boy, it came looking for someone else. And that someone was Mac Gargan. They bonded just in time for the new Venom to join the Sinister Twelve in menacing Spider-Man. He"¦ was quickly defeated and thrown in super prison. Because he still kind of sucks.
While in jail, the superhero Civil War broke out and Iron Man had the bright idea of jamming bombs into supervillains and siccing them on Captain America's Secret Avengers. Venom took to this pretty well and was retained when the program was refined into the new Thunderbolts Initiative, led by the supposedly reformed Norman Osborn. As a Thunderbolt, Venom gained more control over himself, becoming a better bond than they had previously. Although the growing bloodthirstiness was still an issue, making his teammates a little afraid of him.
At the end of the Skrull Secret Invasion, when Norman Osborn killed the Skrull Queen and took over as the new head of SHIELD, Venom got a new job. And a new title.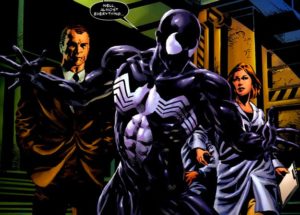 Source: thegreengoblinshideout.com
Chapter Six: Dark Avengers
So the newly christened HAMMER needed some Avengers.
And Norman Osborn, AKA the Iron Patriot, just decided to corporately rebrand his Thunderbolts for that purpose, which is hilarious and I never quite realized it before.
Venom got refined and rebounded in a new way and became Spider-Man. He had a lot of fun being Spider-Man, mostly because he just continued to be a jerk and eat people and didn't make a real attempt to pretend to be a superhero. The thing about Gargan-Venom is that he's kind of dumb.
Like, Brock-Venom was cunning and sinister but the unique combination of Gargan and Venom is a lot more bestial and monstrous and kind of an idiot. After the failed Siege of Asgard, the symbiote was ripped away from Gargan and put into stasis by the U.S. Government. They figured out a new way to suppress the symbiote's baser tenancies and hand selected a new host.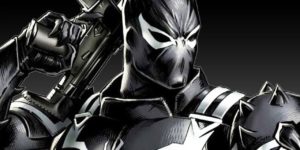 Source: comicbook.com
Chapter Seven: Flash Thompson
When Project: Rebirth was re-established, they wanted to create a new type of super soldier.
To do this, they recruited Flash Thompson, a Military Vet who'd lost his legs in the desert while saving a fellow soldier. So he was chosen to bond with Venom. But a suppressed Venom who would obey Flash's commands. And so they became a fighting duo as Agent Venom.
I love this design, too. It's sort of a swat team Venom and it looks badass. After doing some deep cover superheroics, Agent Venom was chosen to join Captain America's Secret Avengers Unit under Hawkeye's command. With the Secret Avengers, Venom got in and out of various covert ops situations and showed that he could mastermind a strike force.
This talent would be spotted and used for someone else's advantage when he got recruited to join General Ross's Thunderbolts unit alongside Deadpool, The Punisher, and Elektra. A team he would stick with until a more"¦ galactic team came calling.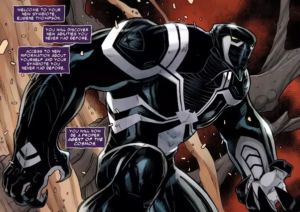 Source: quora.com
Chapter Eight: Guardians of the Galaxy
Around this point, Iron Man had left the Guardians of the Galaxy and the team needed an Avenger on staff.
So Venom and Captain Marvel took that responsibility. In this time, Venom found his way back to Klyntar, his homeworld, where the other symbiotes finally taught it to not want to kill people all the time. For a time. Before it got that bloodlust back. During this time it developed more of a hulking appearance, becoming the main muscle of the team.
But Flash was still able to keep a pretty good handle on its needs and desires. Flash and the Guardians were drawn into, you guessed it, another Civil War, this one between Captain Marvel and Iron Man over a precognitive Inhuman. The Guardians got involved and wound up on earth. Hey, remember how Flash was given the symbiote by the United States Government?
Well they kind of wanted it back. And they stripped it from him, robbing Venom of the best chance he ever had to be a hero.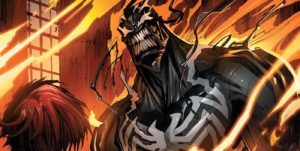 Source: screenrant.com
Chapter Nine: Lee Price
While in transport, Venom broke out and grabbed a new host, former Army Ranger Lee Price.
Price, however, was a pretty messed up guy. And he weaponized his PTSD to suppress Venom and force the symbiote to do his will. And his will is to kill a lot of gang members. To be honest, Venom might have gone from its best relationship to its worst. While Flash and Venom worked together for common goals, Lee preferred to abuse and torment it into helping him carry out his one man war on crime.
The FBI tried to gain custody of the symbiote again but failed and Eddie Brock's anti-Symbiote task force was called in. while they had previously failed to bring in Carnage, they succeeded on Venom, partially through Spider-Man's involvement.
Lee Price was arrested and the Venom symbiote was sent off to be locked up forever""oh wait, no, it got broken out again.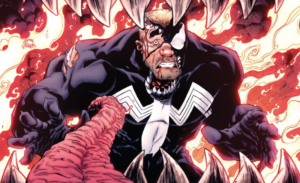 Source: i09.com
Chapter Ten: Eddie Brock, Again
And here we are, full circle kind of.
Turns out, after spending some time around the Venom Symbiote again, Eddie Brock kind of missed the thing. So after years of other relationships, the duo came together again as Venom. And they've stayed together ever since, continuing into the current Cates/Stegman run on the character, where Venom may or may not meet his god. That series is weird and I'm not caught up on it.
Doing this was a weird experience to me, since it gave me a very different perspective on Venom. When you view symbiote bonding as a romantic relationship, the pairings and history make a lot more sense. Venom is Venom, a pairing of human and symbiote, together forever.
Til death do they part.