Hiya there folks, since I've been obsessively playing PS4's Spider-Man all week I got myself into a very Spider-Man mood. And I thought, hey, we've had a heck of a lot of recent Spider-Man video games, and I played literally all of them because I'm a huge dork.
So I decided to look at the last 6 of them before the current one (with some exceptions to simplify things). Starting with 2005's Earth 1610 based Ultimate Spider-Man and the Venomized Web of Shadows in this article. Next time, we'll cover the alternate dimension jaunt Shattered Dimensions and its sequel Edge of Time. In part three, we'll go Amazing with the first and second Amazing Spider-Man games.
And then, after all that's said and done, we will conclude with a solo look at the new PS4 title and how it compares to the rest. What, no this isn't a way for me to buy myself some time to finish playing the new Spidey Game. Shut up. We will begin with our first pair of games, which I'd list as chapter one: Venom games. Each game will be broken down into five categories. The Story, The Gameplay, The Characters, The Flaws, and Overall Thoughts.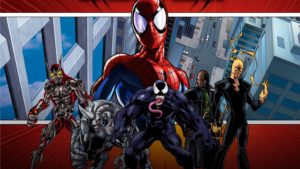 Source: youtube.com
10. Ultimate Spider-Man: The Story
2005's Ultimate Spider-Man was, for a long time, up there with Spider-Man 2 as "the best Spider-Man game of all time".
I had that good old Blockbuster experience with it as a young'un (renting it, playing it obsessively until I got stuck, having to return it frustrated) but then something magical happened. I became an adult with disposable income. And so I finally bought a copy of the game for my Gamecube and sat with it until I beat it.
The game picks up with the final scene of the Venom story from the Ultimate Spider-Man comics, seeing Eddie Brock electrocute himself and vanish. From there though, we are able to play as Spider-Man and Venom as they both make their way through New York, crossing paths and trying to track each other down. Along the way, they cross paths with numerous villains and heroes from the Ultimate Comics universe.
It all leads up to a final battle between the two, Spider-Man saves the day from the symbiote, but Venom winds up getting his revenge on who he believed caused his father's death anyway. Like most Spider-Man games, the plot is more of an excuse to fight a buncha random villains.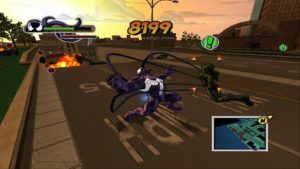 Source: youtube.com
9. Ultimate Spider-Man: The Gameplay
Now I must first volunteer that I'm not a games writer by trade, or even too much of a gamer. I only bought my PS4 this year and that was explicitly for Spider-Man and Arkham Knight. But, I love Spider-Man games. And this is a good one. The swinging is satisfying and the combat is, while pretty basic compared to recent games, very fun.
Playing as Spider-Man feels light and nimble, and makes you rely on speed and agility, while Venom is a bruiser who wrecks the floor with heavy attacks. Maybe it's because of the comparison, but this is the weakest Spider-Man's ever felt in a video game. For the record, that's not a complaint. A lot of the Boss fights make you feel hopelessly outmatched, especially the ones against Venom. You've been behind the wheel of that truck and you know what it can do. The contrast actually does feel like playing as separate characters, which is unique.
Also, eating people as Venom to regain health is kinda real fun. Only major gameplay complaint is that the trigger spamming that the game makes you do to lift heavy objects can get exhausting and frustrating. Especially during the Green Goblin fight, which is honestly more tiresome than it is fun.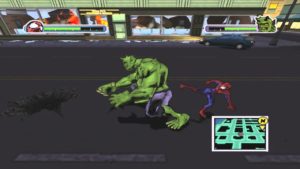 Source: youtube.com
8. Ultimate Spider-Man: The Characters
So obviously, Spider-Man and Venom are both here and both playable. The expected supporting characters like Mary Jane and Nick Fury are also present, but we get a couple surprising heroes as well. The race sequences as Spider-Man let you hang out with the Human Torch and Venom gets a boss fight with Wolverine early on. As for villains, there are some fun ones but most aren't integrated particularly well.
The random street fights with Shocker and Boomerang are nice surprises and the story fights against Electro and Silver Sable fit in naturally. But characters like Green Goblin and Carnage come right out of nowhere and don't really feel like they fit in. Like, there is no reason for Green Goblin to be here. He appears with no reason given, you beat him, and he never comes back. And it really feels like no big deal plotwise, which is a bad thing to do in regards to a Green Goblin fight. Venom's boss fights feel more plot justified, as most are related to different groups trying to capture and experiment on the symbiote. But that's not to say some of the villains aren't done right. That Rhino fight is super fun and cool, and Trask is integral to the story.
Plus it introduces the Ultimate Beetle. But, y'know, why is the Vulture here?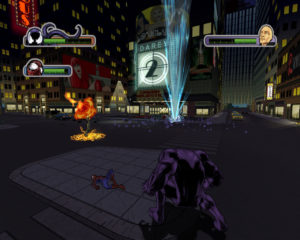 Source: youtube.com
7. Ultimate Spider-Man: The Flaws
I touched on these a little but the story is kind of all over the place.
The broad strokes are good, but there's a lot of weird filler all over the place to fit in other elements. Not to say it's bad, but there's a reason why they cut out most of the plot when they adapted it back into the comics. The other big flaw is in regards to the difficulty curve. The game doesn't so much feel like a curve as like a zigzag. Random boss battles or missions will be incredibly difficult, only for the next two hours of the game to be easy and relaxing.
The Green Goblin fight is the best example I can think of, as it's much more frustrating and difficult than anything surrounding it, and comes right in the middle of the game. Some of the Venom sections also get quite hard, as Venom's slower speed makes it harder to avoid taking damage. Even though you can heal, it's a lengthy process that can be interrupted at any moment.
I'm sure some #RealGamer will tell me that I'm bad at video games or something for saying all this but here's the thing: I am. I'm bad at video games. Just to clear it up.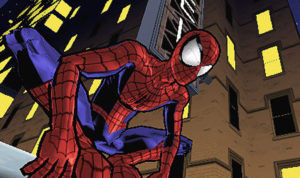 Source: tumblr.com
6. Ultimate Spider-Man: Final Thoughts
It's a really fun, if somewhat challenging game!
The story could be handled better and the Venom segments feel more like side missions than a full half of the game, but the end result is fun and well worth playing. Unfortunately, I don't think it's available digitally anywhere at present, but if you can track down a copy, I'll recommend it pretty highly.
As of the present, I'd say this is probably my second or third favorite Spider-Man game overall. The character writing of the main cast is spot on, and it being a sequel to a specific comic book arc is really cool. I honestly wish it had just adapted the series more directly, since the tutorial level which lets you play through a scene from the comic directly is super fun. And it'll be the last Spider-Man game to let you play as Venom, sadly.
I wish they'd do something like that again, it was fun. But that doesn't mean we're done with Venom because we're on to the next game!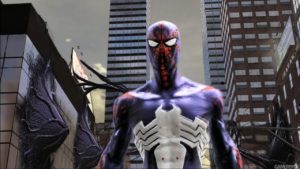 Source: cracked.com
5. Spider-Man Web of Shadows: The Story
Web of Shadows is a very different take on the whole Venom thing.
After a battle with Venom, part of the symbiote attaches to Spider-Man, giving him back the iconic black costume. Spider-Man fights against a series of classic enemies while a symbiote invasion slowly takes over the city while also trying to fight off his own darker impulses. Depending on what choices the player makes (we'll get to that next entry), Spider-Man either rejects the symbiote and defeats Venom for good, or embraces it and conquers New York.
Throughout the adventure, Spider-Man finds ally ship in either his heroic friends (Luke Cage, Moon Knight, Wolverine) or his former enemies (Vulture, Black Cat, Rhino, Electro). The story is a little hard to talk about because of the morality system but the real only way to play is Red Path. The Black Path plot is dumb as hell, and just reads like edgy fanfiction written by someone who doesn't understand why Spider-Man is fun.
So I guess the story is 50% good and 50% dumb?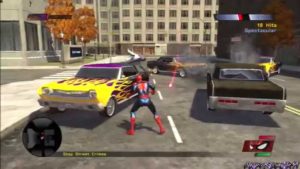 Source: youtube.com
4. Spider-Man Web of Shadows: The Gameplay
Okay so the swing mechanics are still good and the combat is fun.
The idea of switching costumes to switch up your move set doesn't really work, though. They game doesn't really take advantage of it, meaning you could pretty much play the entire game beginning to end in one of the suits without changing. It also makes the upgrade paths annoyingly complicated and easy to ignore. The boss fights are fun and there are some inventive level designs but it's not reinventing the wheel. The moral choice system is stupid to a magnificent degree.
Despite saying that the game is "built around it" in marketing, you can break down the choices to a handful of specific moments throughout. As well, it isn't always clear what you're choosing. Something will happen, and the game will ask you to pick between Red and Black but it doesn't tell you what that choice actually means. Which is frustrating. And as mentioned, the Black Path choices all feel silly and dumb.
Building a moral choice game around a character who's catchphrase is "with great power comes great responsibility" was just an automatically bad idea.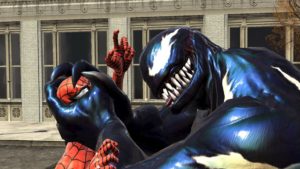 Source: youtube.com
3. Spider-Man Web of Shadows: The Characters
Well, there's a good blend of Marvel Universe characters in this one, some new and some old.
It's always a nice surprise to get some Moon Knight, and he, Luke Cage, and Wolverine are all on point. Wolverine is especially well written and it's nice to see his and Spider-Man's relationship play out. Venom is a spooky monster again without too much characterization to speak of.
Spider-Man is pretty solidly out of character to justify the moral choices the game necessitates. He's not terrible, but he's written pretty badly in the Black Path and only mediocre in the Red Path. It's a boring character arc. With Venom as the villain being pretty one note, everybody else is about the same. They're all pretty "argh! Spider-Man! I will defeat you!" in terms of dialogue.
And not a great selection of them either, pretty much just the ones you'd expect.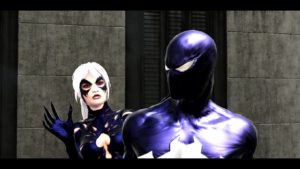 Source: youtube.com
2. Spider-Man Web of Shadows: The Flaws
Like I mentioned, the story is mediocre at best. And really friggin' terrible at worst.
The Black Suit path is really atrocious from a game writing perspective. It relies on everyone acting as out of character as possible and consistently making dumb decisions.
But there are also big gameplay problems. The game has you repeat multiple bosses, with them normal the first time and Venomized the second. It's really lazy as a way to stretch out the game and it's transparent as well.
Also, can we talk about the bit where Wolverine asks you Spider-Man trivia questions that you have to get right to progress? That's terrible. Like, I'm a big Spider-Man fan and got "˜em all right, but why would you ever put it in a video game? It's just gonna turn off audience members who are less familiar with the character and seems hokey and silly to those who do.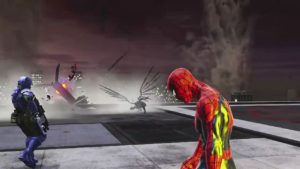 Source: youtube.com
1. Spider-Man Web of Shadows: Overall Thoughts
Moral choice was a bad concept to build a Spider-Man game around.
It works for a game like Prototype or Infamous but an established superhero isn't right for it. As a result, it is a fundamentally malformed game with less to offer than it thinks it has. The choice system is embarrassingly shallow, the characters feel poorly written, the gameplay isn't innovative enough to be fun and the changes they do make are pointless or actively harmful to the experience.
It's not a terrible game, you can have fun with it, but it's inferior to almost all of the games that we'll be talking about throughout this retrospective. It's fine, I guess, but built on shaky ground and doomed to collapse.
Next time, we'll break space and time with Spider-Man: Shattered Dimensions and its sequel Spider-Man: Edge of Time