The Fantastic Four are Marvel's first family, but they unfortunately don't seem to get the credit they deserve. This is due in part to their villain base.
The FF have a great stable of villains, and it includes my pick for all-time greatest comic book villain. But I want to talk about the other guys first – the characters we don't talk about as much because…sigh…they don't have a regularly published comic book, because someone doesn't want to advertise for a movie they don't own.
Let's start with an honorable mention: The Red Ghost! Red Ghost was a Soviet man with a plan. That plan entailed replicating the flight that gave the Fantastic Four their super powers, but with himself and three test monkeys. I cannot for the life of me figure out why he thought this was a good idea.
But it worked, and Red Ghost gained the power of intangibility, which comes in handy when three superpowered and very scared apes are trying to rip your face off. No, Ghost actually got along pretty well with his super monkeys. They fought together numerous times, and even joined the Intelligencia, an organization composed of the smartest villains in the Marvel Universe. I'm really not sure how he managed to get in there.
                                          Source: ign.com
10. Namor
Namor the Sub-Mariner has a complex, complicated history that's often been intertwined with the Fantastic Four's.
Namor first appeared way back in the '40s as one of Marvel's first heroes. The Atlantean allied with the…well…Allies during World War II in an effort to stop the bombings of his undersea kingdom. With his bathing suit and tiny little ankle wings, Namor was a hero for some time.
But when the war ended, he got all pissy with surface dwellers in general and flooded New York. He was defeated by the original Human Torch and eventually wound up as an amnesiac who just wandered around, lost.
Johnny Storm, aka The Human Torch, found him decades later and helped him regain his memory. Namor thanked him by resuming his war on the surface, with the Fantastic Four regularly throwing up roadblocks. But Namor didn't hate the entire team; in fact, he immediately fell in love with Sue Storm, the Invisible Woman. Unfortunately for him, Namor was a total creep, and she wanted nothing to do with him.
Namor once used ocean treasure to buy the film rights to the Fantastic Four, just to mess with them. No further explanation on that one.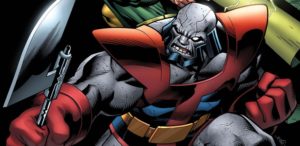 Source: comicvine.gamespot.com
9. Terrax
Galactus' Heralds were always fun villains, but Terrax was probably the most villainous of all the villains.
I mean, Silver Surfer was the best herald, but he was a villain for what? One story? But Terrax was awesome. He looked kind of Darkseid-y, and he carried around a magnificently huge axe that he used to dispatch enemies.
It was a wonderful visual design. Terrax's only downside was that he was typically used as a pawn for the better villains. Whether for Galactus, Doctor Doom, or Annihilus, the guy was a henchman most of the time.
But it was so much fun to watch him fight, and his personality was so bombastic that he always wound up a highlight of any comic he appeared in.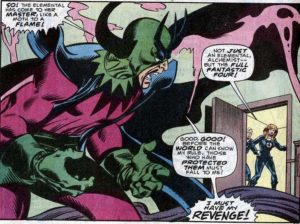 Source: marvel.wikia.com
8. Diablo
The Fantastic Four were great because they sometimes fought ninth-century alchemists.
Esteban Corazon de Ablo was one of those guys. He loved alchemy and used it to achieve immortality. And by used alchemy to achieve immortality I really meant gave up on the alchemy thing pretty quickly, and just literally made a deal with the devil. What a shortcut, Diablo.
He eventually encountered the Fantastic Four in his Transylvanian castle, so I might have been underestimating Diablo this whole time. Having a castle in Transylvania indicates a bold new level of Super villain that few people aspire to. Also, he had the all-time silliest costume, and it was really great.
Plus, he had a wonderfully supervillainous mustache.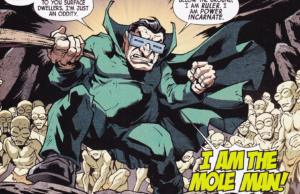 Source: spiderman.wikia.com
7. Mole Man
Harvey Elder, aka Mole Man, never gets the credit he's due. I mean, the guy was the Marvel Age of Comics' first supervillain, but people always forget about him because Elder was a weird little guy who wasn't much of a physical threat. And, yeah, I kinda get that. But Mole Man was fun because he was accompanied by a bunch of cool Kirby monsters.
The Moloids were great Marvel Comics designs, and it was always so much fun to see them around. And don't get me started on Giganto or the other Monsters of Subterania. It was just great as all hell and part of the reason that first issue of Fantastic Four took off so hard. Kirby spent years drawing monster comics and perfecting the style he'd use to shape the monster aesthetic for Mole Man's minions.
A fun villain with a phenomenal entourage, Mole Man secretly ruled.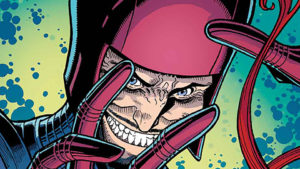 Source: news.marvel.com
6. Wizard
The Wizard is another great but underappreciated comic book supervillains who just never gets his due. He was basically superhero in origin, but he eventually became a villain.
As a kid, Bentley Wittman was a supergenius who mastered any skill he set his mind on. Then he married a woman he didn't love because he wanted her to have a super baby with him. She did not. He abandoned her. Oof.
Wizard had an inferiority complex to the extreme. That was why he became a supervillain. His attention was stolen by the arrival of the Fantastic Four, so he decided to go after them. At first, he operated on his own, but he eventually aligned himself with The Trapster (aka Paste-Pot-Pete), Medusa, and the Sandman to form the Frightful Four.
Bentley was always considered a D-List villain, but he's fun, and people really should do more with him.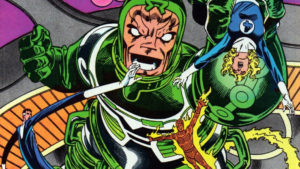 Source: geek.com
5. Psycho-Man
Psycho-Man, the Monster from the Microverse, is deeply wonderful and super terrifying.
His gimmick was a tablet that could manipulate others using negative emotions like fear, hate, and sadness. He used it to pull the Hate-Monger's routine of manipulating people's worst emotions and driving them crazy. My personal favorite Psycho-Man story is his arc from the Fantastic Four series Marvel Knights 4.
That story opened as the entire Fantastic Four shared their nightmares based on The Fly and The Thing, and if you're wondering, that's how to hook me as a reader.
Psycho-Man also had a great design that really should be used more. Its Kirby weirdness pulls it all off in a gorgeous manner. He also destroyed his own body after he messed with the Invisible Woman's head. Because she turned his own device on him. I mean, he deserved it. And it pretty much completely annihilated him and brought him close to death.
Don't eff with Susan Storm.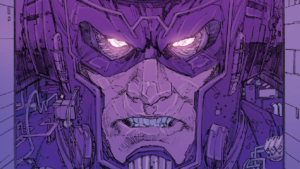 Source: i09.com
4. Galactus
Ah, Galactus, the two-eyed, two-horned flying purple planet eater.
Galactus was born Galan, a citizen of the universe that preceded ours. But when that one ended with the big bang (just roll with it, actual scientists), he absorbed all that power and was reborn as Galactus the Devourer.
His job was to eat planets, usually with some sort of herald in tow. His heralds were hyper-powered individuals, and he would send them off to pick out planets he could feed on. And he picked earth a couple of times. The Fantastic Four were usually able to halt his efforts. At one time, they saved his life and made him promise to never, ever try to eat Earth again.
They thereby doomed billions, if not trillions, of lives. Good job, FF. Galactus has been changed and revitalized a couple of times. He recently had his polarity shifted and became the Lifebringer. He was orange.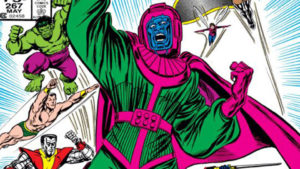 Source: news.marvel.com
3. Kang
The fact that Kang was never adapted to a feature film is a crime against God. A time crime.
Kang was a time-traveling conqueror who, like all teens, goes through a lot of phases. But since he was a time traveler, those phases were immortalized for all time. And he kept running into them.
Imagine that wherever you went, you had a 30 percent chance of running into yourself in your teenage goth phase or your Egyptian pharaoh cosplay phase. That might be the definition of hell. Kang's other phases included an edgy teenager in an Iron Man suit, the Queen of Hearts' personal guard, an old bearded man with a big hat, and the classic blue-faced, purple-helmeted dude we all know and love.
Kang was somewhat of an Avengers villain, but with his deep ties to the Fantastic Four, he more than qualified for this list as well.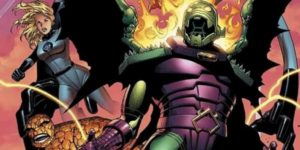 Source: babbletop.com
2. Annihilus
The Negative Zone has always been a huge part of the Fantastic Four's world. This was especially true of its leader, the Cosmic Control Rod-wielding bug lord known as Annihilus.
He occasionally referred to himself as the living death that walks, although the phrasing feels at least a little bit redundant. In keeping with the redundancy theme, his other nickname was Annihilus the Annihilator. Annihilus the Lord of Redundancy was more like it.
Annihilus was the driving force behind Annihilation, a huge Marvel Cosmic event that spun out into books like Nova and Guardians of the Galaxy.
Annihilus and his invasion force, the Annihilation Wave, began pushing in an outward direction to conquer and destroy the universe. This plan did not end well for him, because Nova ripped him inside out. Which was, I'd assume, not a fun experience.
After Annihilus was reborn, he almost killed the Human Torch, and became a huge part of Infinity. He also fought the All New All Different Avengers in a pretty fun story arc.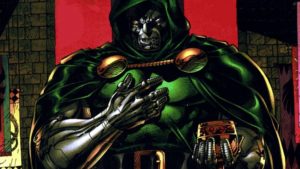 Source: denofgeek.com
1. Doctor Doom
Remember when I said that the number one entry here was going to be my pick for the greatest comic book villain of all time? Yep, Doctor Doom was straight up maybe the greatest villain in comics history.
He was a time-traveling science wizard on a personal revenge mission, he ruled a country with a fleet of robots that all looked like him, and he fought the Devil once a year in an attempt to save his mother's soul from hell. Doctor Doom was extremely rad. Seriously, he was the platonic ideal of a supervillain. He had great visual design, along with a memorable characterization and speech pattern.
There was a reason Doom fought pretty much everybody in the Marvel Universe. He even fought Spider-Man in Issue 5 of his first comic series; that was how much they loved the character.
I could probably write a list of all of the times Dr Doom was the best ever. But for now, lets just settle it by saying that he was the best Fantastic Four villain, and that's for certain.