Source: screenrant.com
Scorpion
Not all MCU villains got to wear neat costumes in their film debuts.  Some of 'em just showed up and were punched until they were unconscious. Then the credits rolled.
Mac Gargan, aka Scorpion, was one of those villains. He popped up in Spider-Man: Homecoming as a known criminal who was preparing to do a deal with the Vulture for superpowerful villain tech. But before he could get his hands on a cool tail or some claws, Spider-Man hopped in and beat everyone up.
Scorpion's mostly played as a pretty crazy dude in the film, and the Prowler even specified that he was too crazy to work with. The Prowler does business with a guy who flies around on huge turbined wings and a guy who shoots lightning.
Scorpion is a special case. It would be awesome to see him make a comeback as a badass member of Spider-Man's rogues gallery.
Give that guy a mech suit and let him play.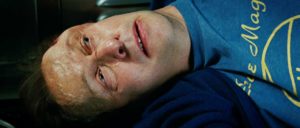 Source: comicbook.com
The Leader
Samuel Sterns was a scientist waaaaayyyyyy back in The Incredible Hulk (2008). He used the online handle Mr. Blue to communicate with Bruce Banner, who was Mr. Green (Get it? Lol.). But when Bruce eventually found Samuel, it became clear that the scientist did not exactly want to help out.
No, he wanted to see what made the Hulk tick, and maybe take advantage of it a bit. That really didn't go so well for him. He got smacked around and wound up with one hell of an open head wound. And then some Hulk juice landed in it, and his head started to grow and mutate, and…we never saw him again.
Look, I know it's a longshot, but the dude is out there, ripe for the picking for any writer who wants him.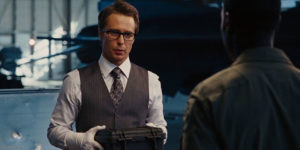 Source: digitalspy.com
Justin Hammer
Sam Rockwell rules in movies. He's so great. And he's even super great in Iron Man 2, a movie that isn't very good.
His performance as Justin Hammer is pretty killer. A knock-off imitation Tony Stark is a great idea, and the specific pieces in play here really work. Dear Lord, I love his bad fake tan. It's such genius character work.
Again, Hammer's one of the few MCU villains who escape death at the end of movies. Instead, he was arrested for his crimes involving Whiplash and the Hammer Tech drones, and wound up in Seagate Prison.
We actually saw him again after that! He popped up in the All Hail the King Marvel One-Shot, still an inmate in the prison. It's very likely that he's being kept out of general population, since his presence in the jail seemed more like a rumor during Luke Cage flashbacks.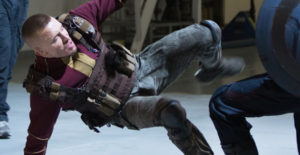 Source: marvelcinematicuniverse.wikia.com
Batroc the Leaper
And here's yet another villain who was denied his time to shine. Georges Batroc, aka Batroc the Leaper, is the master of the French kickboxing art of savate. Plus, he owns both the best mustache and worst accent in all of comic bookdom. In fact, he did get a filmed appearance.
That's right! Remember that Algerian mercenary from the beginning of Winter Soldier? The dude on the boat? That was Batroc!!! Also, the boat was the Lemurian Star, and that was a reference to Lemuria, Attuma's underwater city from the comics. Neat little reference, there.
Anyway, Batroc put up a fight against Cap, but he did end up the loser. SHIELD arrested him, but he's still out there.
Maybe Batroc, Scorpion, and the Leader can go have a party and be real villains.
Continue Next:
MCU Villains Who Could Make a Comeback in Phase 4, Part One
MCU Villains Who Could Make a Comeback in Phase 4, Part Three