Hey kids! Comics!
That's right, the medium we love may be dominated by adults who care way too much about consistencies in power levels, but it was once designed to appeal to children! And if we want Comics to continue on into the future and be successful, we kinda need to get kids invested in the medium. But just because you're buying comics for your kid doesn't mean you can't enjoy them as well! So here I've curated a list of great kids books that you can enjoy too!
Because reading comics to your kids just spreads the fun around and bonding over comics could be a nice way to share your interests.
Quick Note: never force comics on your kids. This list is for helping parents out who's kids are interested in comics but don't know where to start. If your kid isn't really into comics, it's cool, just let them find their own interests! You know, like you found comics? You never wanna be that angry dad dragging your kid to the football game/comic convention yelling about how their "gonna have fun GD it".  But let's get on with it and have some good, all ages fun.
I'll try not to swear too much.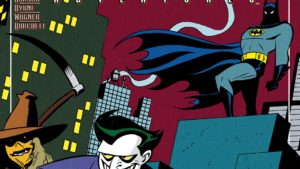 Source: dccomics.com
10. Batman Adventures/Superman Adventures
Batman The Animated Series and Superman the Animated Series are two of the greatest superhero cartoons of all time and guess what? They're also comic books!
Superman Adventures and Batman Adventures where long running titles that had some amazing creative teams. That's one thing that you'll notice in this list is that some of the soon to be biggest creators in comics started doing books targeted at kids. On Batman Adventures, we had regular work from Kelly Puckett and Paul Dini with art from dudes like Bruce Timm and Ty Templeton.
And over on Superman Adventures, writing got handled by Scott McCloud (who literally wrote the book on how comics work) and Mark Millar with some wonderful art by guys like Rick Burchett and Bret Blevins. That's right, Mark Millar wrote some of these [email protected] Back when he was good and took advice from Grant Morrison!!! The stories often feel like lost episodes of the cartoons, with artwork and characterization to match.
If you love good old fashioned superhero comics, and your kid can't get enough of those Timmverse cartoons, than these are the books for you. And thankfully, they've recently been reprinted in nice trade paperback collections!