Superman is one of the most iconic figures in all of pop culture. He's such a deeply set symbol that most of Earth's population at least knows who he is. But why aren't his villains as well known? Batman has great villains, Flash has great villains, Spider-Man has great villains.
But Superman? Does he have great foes? I mean, yes. Yes, he VERY MUCH does. Don't believe me? Let's take a look at the best and obviously underrated superman villains.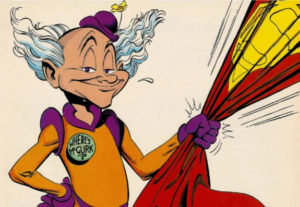 Source: newsarama.com
10. Mr. Mxyzptlk
If there's one Superman villain who gets more hate than he deserves, it's good ol' Mxy here. And that's a shame, because he's finally hitting a renaissance.
The character first appeared in 1944's Superman #30, but he remained pretty forgettable until the fifties, when he started thriving. The Silver Age was the perfect time period for Mxy's shenanigans. They were exactly the kind of weirdness that matched with him perfectly. He stuck around in a D-list role for a while after that, popping up on occasion.
He did, however, get a solid star turn in Whatever Happened to the Man of Tomorrow, because Alan Moore is pretty great. He read Superfolks, and accidentally stole a bunch from it without realizing it. He would become a big deal in the late nineties/early two thousands, which was when the fun returned to superhero comics. And after a lackluster New 52 incarnation, he's back in full force for DC Rebirth.
Thank you, Action Comics, for making this wonderful little man meaningful again.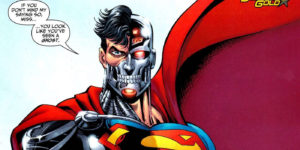 Source: comicbook.com
9. Cyborg Superman
I gotta say, I love a good visual design. If you make a character look really cool, you can get away with a lot.
When Cyborg Superman debuted, he was one of four replacements for the recently deceased real Superman. And the comic he was in tried to convince us that A: He wasn't evil; and B: He was the real Superman. This is a pretty solid definition of rolling a boulder uphill.
I'm sorry, but you're not going to convince me that Clark the T-800 over there was the real Superman. Not gonna happen. You'd have an easier time convincing me that Dr. Doom was a pediatrician. But it turned out that the "˜borg was actually Hank Henshaw, a one-off character from a previous Superman comic that satirized the Fantastic Four's origin.
Since then, Cyborg Supes has been as much a Green Lantern villain as a Superman villain, mostly since the guy annihilated Hal Jordan's home, Coast City. That's a fair reason to hate a guy.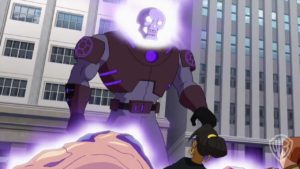 Source: youtube.com
8. Atomic Skull
Hey, look, it's the expected "Hunter picks a weird character that he likes a lot and doesn't really care if you agree" entry for this list.
TBH, you're all lucky I didn't pick Terra-Man again. Still could, too.
But anyway, the Atomic Skull. Joseph Martin was a college student who was irradiated in a STAR Labs accident and started mutating. So he did what we all would do: He went to the movies. When Superman caught up with him, he was under the delusion that he was actually the protagonist of the movie, the Atomic Skull. Skull believes he's a hero, and sees Superman as the film's villain.
Strangely enough, the Atomic Skull is a DC villain who has been frequently adapted to other media, despite his relatively few appearances. There's the super-cool looking Justice League Unlimited version, as well as the two DC Original Movie versions from Superman vs. The Elite and Justice League vs. The Teen Titans. And, of course, the super weird Young Justice version. But whatever the version, Atomic Skull is cool as hell.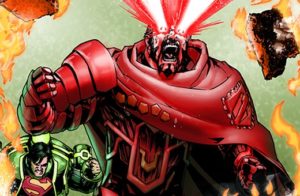 Source: facomics.com
7. General Zod
Ah, yes, General Zod. The only Superman villain other than Lex Luthor who DC Comics allows to show up in movies.
There are too many General Zods. For a while, DC kept introducing Zods. Which is why we have a Zod who's actually the son of two Cosmonauts, and a Zod who's only an Admiral and not a General, and one from a pocket universe and one from Earth-1…and it's all a bit of a nightmare. But okay, fine, I know which one you're interested in.
Dru-Zod was a Kryptonian general, and a member of the Science Council. Zod and his two minions, Non and Ursa, tried to mutiny and kill off the rest of the council. They failed, and Jor-El convinced the remaining council members not to kill the three, but to exile them to the Phantom Zone instead. This turned out to be a blessing in disguise, as being in the Phantom Zone meant that the trio survived the destruction of Krypton. When they escaped, they went after Superman, who was the son of Zod's mortal enemy.
Zod usually winds up losing his fights against Superman and getting booted back to the Phantom Zone after each battle.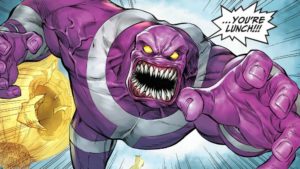 Source: cheatsheet.com
6. Parasite
I love the Parasite. He's one of the few characters for whom I can't pick a favorite version.
I love the weird prune-faced version. I love the huge, bloated, All-Star Superman version. I love the hulk-like leech-mouth version with all  the teeth. I love them all, each and every one.
Rudy Jones was a STAR Labs janitor and, – stop right there. I get it now; I think we all do. Janitor for an experimental lab was about as "I'm gonna get mutated into a hideous monster" as you can get in terms of jobs. But Rudy found himself mutated into an energy-eating monster called The Parasite.
He went after Superman a bunch, because when you need to feed off of energy, that's pretty close to the best option. The actual best option, of course, would be to train yourself to be fearless so you can get a Green Lantern ring and then suck on that thing like a Ring Pop until you're full. But, y'know, fight Superman instead. I'm sure that'll work out great for you.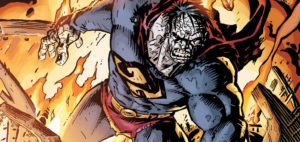 Source: dccomics.com
5. Bizarro
You shut up, Bizarro is great.
Seriously, people love to hate on Bizarro, and I don't really get why. I guess it's because he's one of the few silly Silver Age villains who didn't get less silly, even as he was reimagined. But that's why Bizarro's so great. He's not gonna suddenly get all dark and gritty and start eating babies, or whatever. He's a silly, backward-talking monster, and Superman occasionally needs to deal with him.
To understand why Bizarro's a good villain, you need to get how villains usually work. A villain has to challenge some existing aspect of the hero. For instance, Doomsday was designed to challenge Superman's physical strength, and Brainiac challenged his intelligence. Bizarro challenged Superman's compassion, which was probably the most important part of his character. Superman's goodness was the most important part of him, and Bizarro tested that constantly.
He's not a problem to be solved through punching or thinking; he's a problem to be solved through understanding.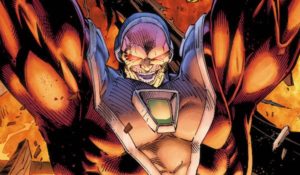 Source: cinemablend.com
4. Mongul
Are you not entertained?
Mongul is SUPER GREAT.
Mongul ruled Warworld, which was a giant gladiatorial deathmatch of a planet in space. But don't think that meant he just sat on his butt and watched people fight all day; he did not. He spent most of his time hitting people VERY hard in their faces, and crushing their skulls. He was what we in the comics criticism industry call "a total A-hole".
He was also notable for being the main antagonist of the classic Superman story, For the Man Who Has Everything. In this story, he gave Superman a birthday present: an alien plant thing that paralyzed you and caused you to hallucinate what you wanted most in the world. To free yourself, you had to kill your dream. That sucked. And it pissed Superman off.
If you were ever curious as to what popularized that red-heat-vision-eyed, angry Superman appearance, it was this comic book. Good comic book.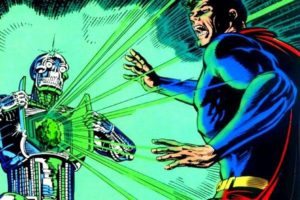 Source: whatculture.com
3. Metallo
John Corben was either a professional con man or a decorated soldier (depending on which version of continuity we're talking about). Either way, he wound up being rebuilt into a kryptonite-powered weapon.
John was built as a robot with a Kryptonite power source for a heart. And so, whenever Superman showed up, he could just open his little chest compartment and blast Supes with some K-rays. That was pretty much his one trick most of the time. Until, that was, the Demon Lord Neron called Metallo to come make a deal. Neron said he would boost Metallo's powers"¦ at the expense of his soul. OOooOOOOOOoooooOOO!!!!
Metallo took the deal, and gained the ability to move his consciousness into various pieces of machinery. Like Ferris wheels or battleships.
During this time, he fought the newly Electric-Powered Superman. It was a real odd time for both of them.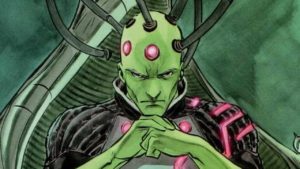 Source: anguerde.com
2. Brainiac
Vril Dox, aka Brainiac, was a native of Colu, a planet that prioritized intelligence above all else.
He liked collecting things. Specifically, he liked to shrink down cities into little bottles and keep them. As someone with a deep love of miniatures, y'know I get it. I understand where you're coming from, Brainiac. Over the years, Brainiac sent numerous robot duplicates in his place to Earth and throughout the cosmos, including the terminator-esque Brainiac 2.5 and the crazy-awesome Brainiac 13.
Hey. DC Rebirth. Bring back the Brainiac 13 design. I prefer "ultimate robot emperor lord" over "green-skinned dude" any day of the week. But Brainiac was awesome for one primary reason: He was smart as hell. He was capable of creating vast and terrifying devices for torture, murder, and everything in between.
And the only person on earth capable of taking him down was Superman himself. Which he usually did by smashing robots.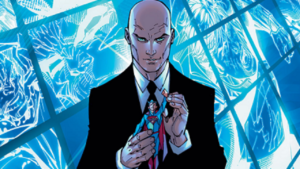 Source: pcwallart.com
1. Lex Luthor
Lex Luthor isn't just the best Superman villain of all time; he might be the best supervillain of all time.
Smart, cunning, evil, driven by deep-seated motivations…Everything about Lex Luthor made for a fantastic character. Every version of Lex Luthor. Silver Age science villain Lex Luthor? That guy once cured cancer as part of a long-term plan to kill Superman. Post-Crisis businessman Lex Luthor? Became the President of the United States. Newly power-suited villain again Lex Luthor? Devoted his vast brain power and a company's resources to trying to murder the most powerful man on earth.
Lex Luthor is AMAZING. Through and through. He's good as hell. And he won't stop until Superman is dead. He doesn't care if he has to spend a billion dollars a year or work 20 hours a day, he will make it happen. Lex Luthor's commitment and dedication surpasses that of any other supervillain. And that's what makes him the best. Anyone can write "crazy", but it takes writing skills to create someone with defined motives behind his actions. Those motives may be wrong and evil, but deep down, they're understandable.
And there you have it, the Top Ten Best Superman villains. Leave your thoughts in the comments below! Have a good week, folks!