The Man of Steel. The superhero's superhero. The Man of Tomorrow. Superman is one of the greatest comic book characters of all time, and he's capable of generating some of the best comic book stories of all time.
But some people claim that Supes "doesn't have good villains". This is foolish and ridiculous. I can PROVE that Superman has great villains. And I don't even need to use the classics.
So, no Luthor, no Zod, no Brainiac, but I'll still smack down a list of ten awesome villains for the Blue Boy Scout.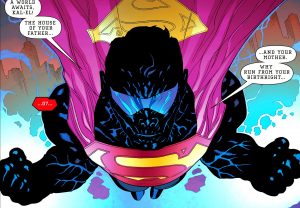 Source: youtube.com
10. Eradicator
The Eradicator is a machine. A cold, calculating, mechanical monstrosity with one purpose: eradicate and overwrite.
Once awakened on a new planet, the Eradicator works to turn that planet into a new version of Krypton. Mostly through burning things to the ground and starting over. It's not the MOST productive way to do things. After Superman was killed, the machine reconstituted itself into a new form using Superman's DNA, and started flying around Metropolis telling everyone it was Superman.
This was put in doubt because of its habit of murdering various street criminals. With its laser hands. Oh, it has laser hands. Didn't mention that. When Superman came back, he sadly was lacking his powers. But while he, Eradicator, Steel, Green Lantern, etc. were fighting Mongul and Cyborg Superman, Cyborg Supes punched a hole in Eradicator's chest. The excess sun radiation gave back Superman's powers. Yay.
But since then, Eradicator has been a terrifying threat to Superman, and an inhuman one at that.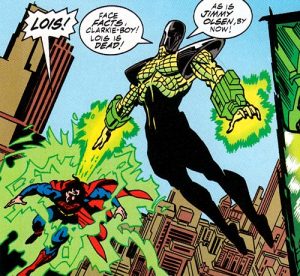 Source: greatkrypton.com
9. Conduit
Kenny Braverman was born in a snow-trapped car in Smallville, Kansas. On that night, a Kryptonian rocket ship containing a baby passed overhead and irradiated the infant.
He had occasional health issues, but Kenny grew up to be quite a young lad, even though that Clark Kent kid always beat him in high school sports. But Kenny slowly began to resent Clark, and was seemingly driven insane by jealousy. At this point, his powers kicked in, and Kenny discovered his own mastery of electricity and technology. He used it to build a suit, and when he discovered that his old rival Clark Kent was secretly Superman, he decided to go off and kill all of Clark's friends and family.
Superman saved Pete Ross, Lana Lang, and his parents. He eventually fought Braverman, who overloaded and died. Poor Kenny.
I always liked him, because the dude is pretty much just a whiny internet nerd whose internet nerdiness became his superpower. And I'm not gonna lie, it's pretty satisfying to watch Superman beat up a glorified internet commenter.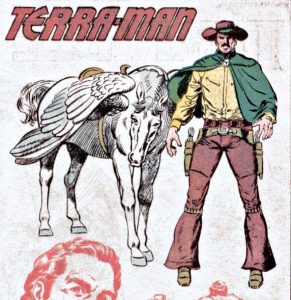 Source: dc.wikia.com
8. Terra Man
LOOK, I'M GONNA TALK ABOUT A SPACE COWBOY NOW BECAUSE THAT IS MY JOB.
Terra Man is SO gosh-diddily-darn rad, it isn't even fair. Tobias "Toby" Manning was born to father Jess Manning in the Old West. But when Toby was little, Jess was murdered by a space alien known as the Currency Criminal (because let's be honest, at a certain point all the good alliterative names were taken), who adopted Toby as his ward.
He trained Toby in alien weaponry, but because Toby seemed kinda dumb, all the weapons had to be retrofitted to look like Old West guns. Toby killed the Currency Criminal, and took to space as Terra-Man, outer space outlaw! Eventually, Superman showed up and hit him in the face a bunch, stopping his plans, but man, how badass he was until then.
He eventually died off-panel, when he and The Parasite (who had partnered up) apparently killed each other. And, look, I love Terra-Man, but boy, was Parasite slumming it that week.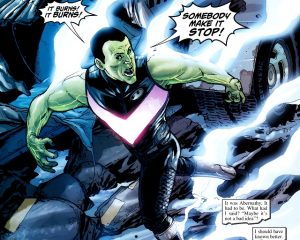 Source: dc.wikia.com
7. Kryptonite Man
Multiple men have taken up the title of The Kryptonite Man, so let's talk about them.
The first was an unnamed alien boy who had an unnamed alien dog. Both passed through a cloud of Kryptonite dust, gaining Kryptonite powers. The boy dubbed himself The Kryptonite Kid, and started messing with Superman. When he grew up, he adopted the Kryptonite Man identity.
Later, Scientist K. Russell Abernathy had an experiment go horribly wrong, and he was blasted with untold amounts of Kryptonite radiation. After Supergirl threw him in jail, Lex Luthor broke him out. He did this by…um…by using a group of semi-sentient fleas called The Flea Circus? I"¦I don't believe that. That sounds insane. This is in a comic from, like, 2008. That sounds like some 50s stuff. Luthor strapped K-Man to a big machine, and ripped his powers out of him.
And that was the last we saw of The Kryptonite Man.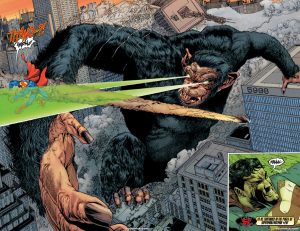 Source: masercontrol.wordpress.com
6. Titano
Monkey! Well, ape, but you know, same basic thing.
Titano began life as a super-intelligent chimpanzee named Toto. Not, like, able-to-speak intelligent, but smarter than your average chimp, for sure. So smart that he got picked to be the test chimp on a space flight. Um, test animals don't need to be that smart, the "test" is mostly whether or not they explode in space. If they don't, congrats, they passed.
So Toto got stuck in a rocket and shot into deep space, where his rocket collided with a Kryptonite Meteor and a Uranium Meteor. His rocket crashed back to earth, and Tot came out, only to immediately mutate into a huge super gorilla and start rampaging around Metropolis. Also, he can shoot Kryptonite lasers from his eyes. Lois tricked Titano into putting on giant fake sunglasses made of lead, which halted the Kryptonite beams, and let Superman beat him.
There is also a New 52 Titano, but sadly, he is not nearly as big as his predecessor. He only lasted three issues. Sad.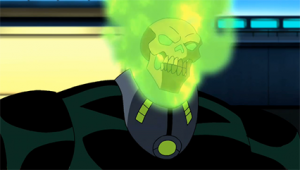 Source: dcau.wikia.com
5. Atomic Skull
That name is friggin' magic, my dudes. ATOMIC. SKULL. If that name was any more metal, it'd make me involuntarily throw up the horns.
Atomic Skull started out life as the much more typically named Joseph Martin, a college student with a strange and undiagnosable medical condition. When Monarch attacked Metropolis, Martin accidentally stumbled upon an imprisoned Parasite. Monarch's blasts hit both of them, and Martin started exhibiting clear signs of being irradiated. He lost his hair, he started to glow, he developed memory issues.
Martin was a fan of the Atomic Skull film serials, and in his irradiated daze, he began to imitate his speech patterns, eventually becoming convinced that he WAS the film serial character. When Superman inevitably showed up, he hallucinated that Supes was the villain from the serials and fought him.
Of course, Superman responded to this mentally ill man suffering from massive radiation poisoning by hitting him right in the face.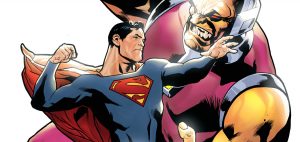 Source: dccomics.com
4. Mongul
Look, when you're a big strong murderous dude, and you need something to keep you entertained, you fall into some pretty strange life paths.
One of those life paths was commandeering a big mechanical planet called Warworld and abducting various badasses so that they could fight to the gladiatorial death in your arena while thousands watched and cheered. That was the path Mongul took. And said life path got him punched right in the kisser by Superman.
After this, he fled to a tiny planet, and got impressed into service by Cyborg Superman, who sent him to earth under the premise of making him a new Warworld. Mongul destroyed Coast City, killing everyone in it and building it into the horrific Engine City. After this plan also got him face-punched by Superman, Mongul decided to go fight the Green Lantern for a while.
Eventually, he was taken to hell by Neron, who offered to buy his soul for a power upgrade. Mongul tried to fight Neron, and Neron promptly, and without effort, killed him.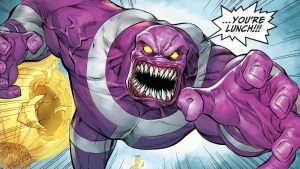 Source: cheatsheet.com
3. Parasite
Rudy Jones was a Pittsburgh janitor working in a branch of STAR Labs. And he would have been fine, if not for one thing: Darkseid got all nostalgic.
Darkseid was sitting around his big evil lair, and he got to thinking, "Hey, remember that pink dude? The absorb-y one. What was he called? PARASITE! Right, that guy! What ever happened to him? He was cool!" And so, he decided to make a new one.
He manipulated Jones into opening a toxic waste container and mutating himself into a monster capable of draining humans, and superhumans, of energy. He was first used as a living weapon for the Suicide Squad when they faced off against Firestorm, but eventually fell into his niche of fighting Superman. He also developed a horrible leech mouth with just an impossible amount of teeth.
This turned him into a literal horror nightmare that I don't want to look at. Although occasionally his appearance changes, and he looks like a guy who blew a bubble gum bubble all over his face.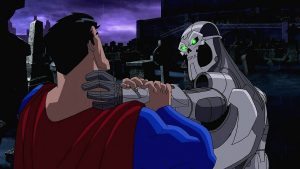 Source: dcmovies.wikia.com
2. Metallo
Look, who isn't a fan of the idea of Superman fighting a Terminator? Like, that's some primo comic-booking right there.
John Corben was, alternately, a journalist, a con man, a common crook, or a military man, depending on which reboot you're going along with. Regardless, in every version, he got his heart ripped out and replaced with a kryptonite hunk. Also, he gets made a robot.
Important sidenote: Whenever I type the word robot, I pronounce it in my head as "ro-but". This is canonical for my columns, and you need to know it.
Metallo's first adventure ended with Lex Luthor realizing, "Hey, a chunk of kryptonite is way more valuable than the dumb robot man it's currently stuck in." And he stole Metallo's heart. Metallo spent a while bouncing around the DC Universe, before he sold his soul to the devil (well, Neron, but same thing, really), and gained the ability to absorb other mechanical constructs into himself.
Rad.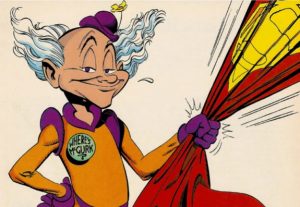 Source: newsarama.com
1. Mr. Mxyzptlk
The fifth-dimensional imp has always been a favorite of Superman writers and people trying to prove they know a ton about comic books by spelling his name right. Which is easy, by the way. You want true nerd cred, spell Pxyzsyzygy without looking.
Anyway, the imp loved to pop over to our dimension to bug the Big Blue Boy Scout. The only way to beat him was to trick him into saying Kltpzyxm, his name backwards. If he did this, he had to go back to his home dimension for 90 days. But once those 90 days were up, the magical pixie was free to come back and torment Superman again.
Mxy has always been a goofy, fun antagonist, who isn't interested in murder or world domination. He actually bounced back to relevance this year when he was revealed as the secret big bad behind the Rebirth run of Action Comics.
And those are some great comics, if you're curious.
And there you have it, the best Superman villains who aren't Zod, Luthor, Brainiac, or Bizarro. When you knock out the famous ones, it turns out that you still have a good list of weird and fun villains to fight the Man of Tomorrow.