Last week, I took a look at the most recent wave of Blind Bagged Lego Minifigs, and explained how each one was tied to a rich comic book history. Here's the other half of the wave, because this is a nice way for me to spend time not doing what I really want, which is to dart off to the store to buy all of them. Also, the money I make off this will fund my crippling Lego addiction. It's a real problem.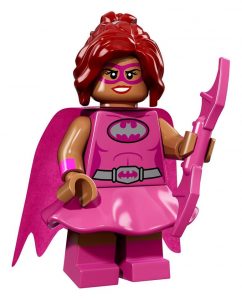 Source: brickipedia.wikia.com
11. Pink Power Batgirl
Last time, we talked about the history of Batman wearing pink, so now let's get to his female cohort.
Babs actually doesn't wear pink. Really, at all. She has always preferred purple. Buuuuuuut this one does have a history attached to it: The history of the terrible off-model Halloween costume! Because, oh, my God, those pink-skirted Batgirl costumes were everywhere.
I don't get why they don't just offer normal Batgirl costumes instead of the "sexy" ones. But it's not just Babs who has had terrible costumes made based on her; so has Batman!! The earliest designers that I've found were fond of writing Batman's name across his chest, like he'll forget what it is. They also used masks that were of Batman's whole face, which is terrifying on a child. Most of today's costumes are better, aside from a truly atrocious one of the Armored Batsuit from Batman v Superman. The greatest costume I've ever seen is Joker's from Suicide Squad.
God, they've only gotten worse.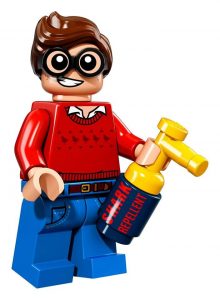 Source: brickipedia.wikia.com
12. Dick Grayson
Let's take this opportunity to talk about the history of Robin's identity and some of the people who've inhabited it.
First we have Dick Grayson, a circus acrobat whose parents were killed by a mobster before Batman took him in as his ward. Dick was Robin for the longest time of all, before he left the identity to become Nightwing when he stepped out into his own identity.
Next was Jason Todd, who pre-crisis was a redheaded circus acrobat whose parents were murdered by Killer Croc. After the Crisis on Infinite Earths, Jason was turned into a bitter street tough. Batman found him trying to steal the tires off the Batmobile. He was widely disliked, and The Joker beat him to death. He came back to life as the Red Hood (first as a villain and later as an anti-hero).
Boy detective Tim Drake was next. He figured out Batman's secret identity, and joined him as the new Robin.
Number four, Stephanie Brown, lasted only a short time before the Black Mask tortured her to death. She's back now, though.
Five, Damien Wayne, is the son of Bruce Wayne and Talia Al Ghul, and was taken in by his father after his existence was discovered.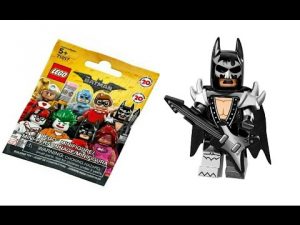 Source: youtube.com
13. Glam Metal Batman
Batman's history with rock and roll is actually far more interesting than you'd assume. In that he really hates it. Really, REALLY hates it.
We know this thanks to Batman: Fortunate Son, a comic book that is nowhere near as rad as the song it takes its name from. In the book, Batman and Robin are pursuing a young rock star named Izaak Crowe, which is the edgelord-iest name I've ever friggin' heard. Crowe has disappeared, and Bats and Robin need to find him. But Batman thinks rock and roll is evil devil music and is bad and criminal.
The most famous quote of all comes when Robin asks about punk music. Bats responds, "Punk is nothing but death, and crime, and the rage of a beast." Jeez dude, just say you don't like The Clash; you don't gotta be a jerk about it.
This comic book is bad. And I read all of it in the hope that it'd one day come in handy. Now it has.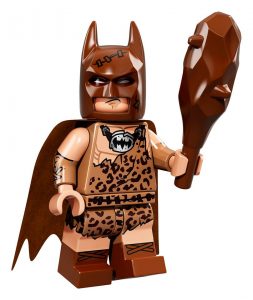 Source: jaysbrickblog.com
14. Clan of the Cave Batman
And now let's talk about that time Batman was a caveman.
The story in question comes from Batman: The Return of Bruce Wayne, a mini-series follow-up  to Final Crisis. After Wayne was struck by the Omega Sanction and presumed dead, he was actually thrown back in time, on a quest to get back to the present.
His first stop was in caveman times, where he was welcomed as a hostile visitor who didn't speak the common language. When the leading big strong caveman attacked Bruce and tied him down to a mountain top, he was saved when a young human Bruce had saved appeared with Batman's utility belt and a cowl/cape made out of a huge prehistoric bat.
So Bruce Wayne became Batman once again. He defeated his enemy before going over a waterfall and being skipped forward to the era of the Pilgrims. But that's a story for another time.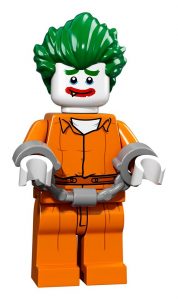 source: jaysbrickblog.com
15. Arkham Asylum Joker
Arkham Asylum isn't a prison. It's an insane asylum designed to help rehabilitate the criminally insane. It's important to remember this because that makes it incredibly easy to escape.
The asylum began as the Elizabeth Arkham Asylum for the Criminally Insane, and had the roughest of starts when the architect went crazy and murdered his workers. The Asylum opened under the leadership of Amadeus Arkham, who owned the property as a family home after his mother's mysterious death (he euthanized her because she had mental issues).
Arkham practiced in Metropolis for a time, studying serial killer Martin "Mad Dog" Hawkins. Hawkins escaped and traced Arkham back to Gotham, where he murdered Arkham's wife and daughter. Arkham opened the asylum, admitting Mad Dog as one of its first patients.
Six months later, Arkham electrocuted him, beginning his own descent into madness. He would eventually die as an inmate of his own asylum.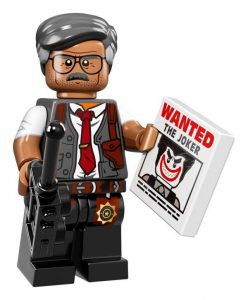 Source: brickipedia.wikia.com
16. Commissioner Gordon
Commissioner James "Jim" Gordon has been by Batman's side literally since the very beginning. His first appearance, in fact, was as a detective alongside the Dark Knight in the famous Detective Comics #27. He remained a detective for the rest of the pre-Crisis era.
After the Crisis, Gordon was re-introduced in Batman Year One as a Gotham-born detective who had spent over a decade in Chicago before returning to the newly corrupt Gotham. Once there, he worked his way up through the force, rooting out corruption as he did, becoming a Lieutenant and then the Commissioner.
After his daughter was crippled by the Joker, Gordon had a bout of self doubt, but was saved by his new romance with former lover Detective Sarah Essen"¦who the Joker eventually murdered. Before he could fully recover from that blow, Gordon was shot in the back by an aggrieved criminal, and he took this opportunity to retire from the GCPD.
But he couldn't stay away for long, and years later returned to the role of Commissioner. And then the New 52 messed with everything.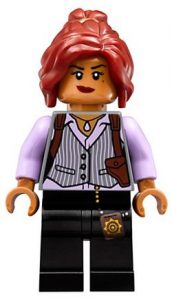 Source: brickipedia.wikia.com
17. Barbara Gordon
Well, we've been through the list of Robins, so let's do a list of Batgirls!
First we have"¦Betty Kane! The one no one remembers! Betty was Batwoman's niece, and was created as a love interest for Robin to debunk the gay undertones read into the Batman franchise by Frederic Wertham.
Barbara Gordon, the classic Batgirl everyone knows and loves, was next. Babs has been the longest-running (and current) holder of the identity, having returned to it after some time as Oracle.
Cassandra Cain was third. She was the daughter of master assassins David Cain and Lady Shiva. Cain was trained to be a master assassin, but repented after she took her first life. She typically remained mute, but was a beloved member of the Bat family. After abandoning the identity of Batgirl, she took up a couple of others, namely Black Bat and her current New 52 ID of Orphan.
Finally, Stephanie Brown took the role after being Robin, and then Spoiler. She's my favorite. And she's currently Spoiler again.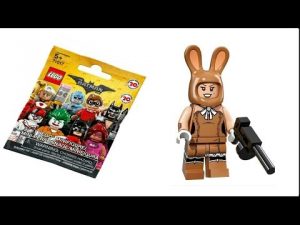 Source: youtube.com
18. March Harriet
And here we have another crazy, obscure character to discuss.
Harriet Pratt was a grifter and a call girl. She was hired into the Mad Hatter's gang under the identity of March Harriet. She worked in this new Wonderland Gang alongside Mad Hatter, Tweedledee, Tweedledum, The Walrus, The Carpenter, The Lion, and The Unicorn. God darn, that Paul Dini Detective Comics run was incredible.
As it turned out, the gang's leader wasn't really the Mad Hatter, who had been mind controlled by Tweedledee and Tweedledum, the gang's real leaders. Batman beat Harriet up, and that's literally it. She did this, and only this, one thing. And now I have a Lego of her. We live in a weird, weird world.
So, yeah, shorter one here, but only because there's nothing left to say.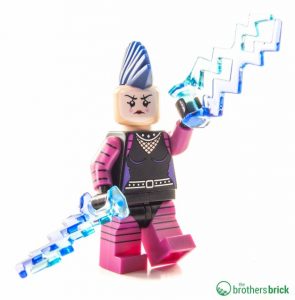 Source: brothers-brick.com
19. The Mime
Camilla Ortin was the daughter of Oscar Ortin, a major Gotham fireworks salesman. Camilla hated fireworks and loud noises throughout her childhood. This only worsened when her parents died in an explosion at her father's fireworks factory.
Running a fireworks factory in Gotham and not expecting it to explode and kill at least one person is really just downright foolish. Like, come on there, buddy, you know what city you live in.
Camilla decided to become a mime, loving the silence of the job. She started the Gotham mime troupe known as the Cameo Company under her stage name Camilla Cameo. It went bankrupt almost immediately, which is zero surprise. There is no city that likes mimes enough to support a company of them, much less the one where seeing a guy in clown face paint usually means you're gonna die horribly. God, these Ortins, they really don't know how to pick careers that work in Gotham.
Camilla then became a supervillain, because eh, why not.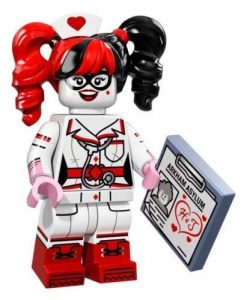 Source: ebay.com
20. Nurse Harley Quinn
Many Batman villains had stable careers before turning to supervillainy! Let's look at a couple of them. Harley, as seen above, was an accomplished psychiatrist. Black Mask successfully ran Janus Cosmetics for a number of years. The first two Clayfaces were an actor and a treasure hunter. Cluemaster hosted a game show.
Firefly did pyrotechnics for movies. Hugo Strange and Scarecrow were professors. Catman was a big game hunter. Great White Shark was an investor. Maxie Zeus was a history teacher. Hush was a surgeon. Man-Bat, Poison Ivy, and Mr. Freeze were scientists. Ratcatcher was"¦uh, a rat catcher.
Two Face was a District Attorney, for God's sake. All of these careers are far more profitable than "getting punched in the face by Batman". They look better on a business card too.
And there you have it, the second half of my secret history of Lego Minifigs! Now, if you'll excuse me, I have to go back to rubbing Blind Bags to find a Calculator Lego.