Welcome back to my little gallery of horrors that I like to do on this site. If you're new, here's how it works: I go through my collection of issues of Who's Who (DC's Handbook publication outlining all of their characters), and I pull out all the weirdest, most obscure characters and show them off to you, my beloved readers.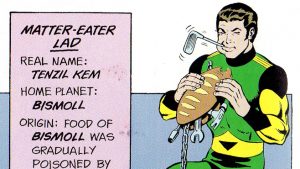 Source: pinterest.com
10. Matter-Eater Lad
And here we go, starting with the Legion of Superheroes, our favorite source of weirdos. And we start off with the strangest Legionnaire, outside of maybe Arm-Fall-Off Boy.
Tenzil Kern was a native of the planet Bismoll, where residents have a native superpower: They can eat anything! It sure is a superpower. Tenzil was a Legionnaire for a long while, actually, although he very rarely did anything of use. Eventually, he was called home to his world to operate as a senator.
Yes, Matter-Eater Lad was a politician. I don't"¦why"¦ok, sure. But hey, Tenzil actually saved the world once!
When the evil Controllers unleashed the Miracle Machine upon the Earth, Matter-Eater Lad returned to the planet, and"¦ate it. Cool. Good for him. Unfortunately, eating an evil death machine had adverse side effects. It gave him indigestion. By which I mean, it drove him clinically insane. He was cured by Brainiac 5 and returned to Bismoll, where he wanted to run for planetary president.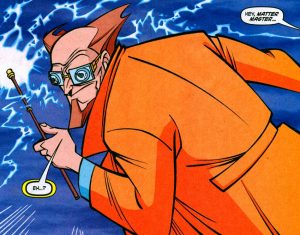 Source: comicvine.gamespot.com
9. Matter Master
Sometimes you look at a super villain and you wonder, "How in the hell did this guy make it to the page without anyone stopping it, firing everyone involved up to this point, and then burning down the building they're in so that no evil can come from it, ever again?"
Mark Mandrill wanted to be an alchemist. In 1961. Little"¦little late on that career path there, guy. After a freak lab accident, Mark discovered that he had full control over the elements around him. Even though  he had actual, no-foolin' superpowers, he made himself a fake magic wand, just for show. Because Mark Mandrill is one classy MF-er.
He then became a super villain, until Hawkman and Hawkgirl got involved and knocked him out.
Because – let's be honest – dude who made a fake magic wand for funsies is no match for screamy guy with wings who favors the use of medieval murder gear.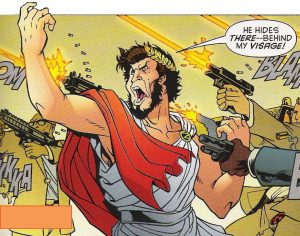 Source: batman.wikia.com
8. Maxie Zeus
Oh, man, I love this guy.
Maximillion Zeus was a Greek professor (or sometimes a history professor, because comic book continuity is weird and bad, especially when it comes to obscure Batman villains) who went crazy when his wife left him and became convinced that he was the actual representation of Zeus himself.
I kinda get where he was coming from. I mean, if my girlfriend suddenly left me, I'd probably also assume I was actually the physical representation of Zeus. Or at least, like, Hestia.
So Maxie also became a major crime boss and super villain, because this is Gotham. Maxie broke out of Arkham several times, but he was always recaptured. One of those times was because he ran into a tree and knocked himself out. Knightfall! Worth it, if only for that one scene. Dude also once teamed up with some Wonder Woman villains.
So, like, actual Greek gods. That must've been weird for the pantheon. Like if the Starship Enterprise just accidentally hired a cosplayer.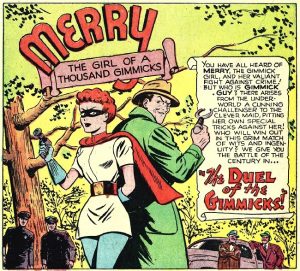 Source: marvelmasterworksfansite.yuku.com
7. Merry, Girl of 1000 Gimmicks
Sometimes you come across a character whose backstory is so convoluted, it almost isn't even worth explaining. So let's start at the beginning.
Merry Creamer was the daughter of an acrobat and "human fly" themed robber named Fly Foot Creamer. We are one sentence in, and already that's a lot to unpack. Merry was put into an orphanage after her father's arrest.
Meanwhile, 1940s hero-ing duo The Star Spangled Kid and Stripsey enter the picture. Star Spangled Kid was injured in a fight. While trying to hide his injury from his family, the Kid wound up spooking his father, who noticed that he had no real friends. He ruled that the family should adopt an orphan to keep him company.
As his new sister, Merry learned Star Spangled Kid's secret identity, and joined him and Stripsey as a superhero. Powerless, Merry used various gizmos and gimmicks to fight crime, and then was promptly forgotten about by everyone who isn't me.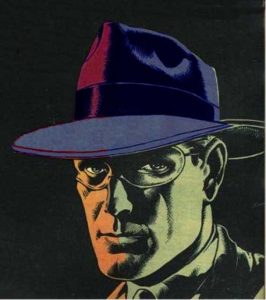 Source: comicvine.gamespot.com
6. Midnight
So it appears that DC Comics really wanted the rights to The Spirit. Wanted 'em so soooooooooo bad. And didn't have 'em. But they had Midnight. Who looks, dresses, and acts exactly like Denny Colt, aka The Spirit.
Dave Clark (get it, Dave Clark, Denny Colt: DC) was a radio announcer for UXAM in Big City. Not a big city. Just Big City. That's the name. Midnight worked with his sidekicks, scientist Doc Wackey (yes, really) and his monkey Gabby (YES"¦REALLY).
He also fought with the All-Star Squadron (which is how I know who he is) and the Freedom Fighters. Fun fact: Midnight was actually originally published by Quality Comics in 1941 because Will Eisner (creator of the Spirit) owned the rights to his own creation and Quality publisher Everett Arnold wanted a similar (read: same) character to replace Spirit if Eisner was killed in action in World War II.
The more you know!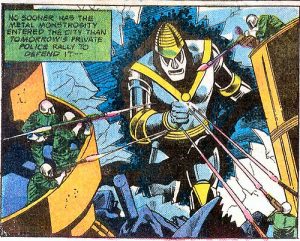 Source: armagideon-time.com
5. Mr. Atom
Aw, sweet! Mr. Atom!! I love Mr. Atom.
Despite sounding like the name of a public access television show host who teaches kids about science, that's not what he is. He is actually a giant murder robot.
Mr. Atom was built by Doctor Charles Langley in an experiment designed to create artificial life using nuclear energy. THIS IS A TERRIBLE IDEA!! WHAT THE HELL, MAN!! HOW DID YOU THINK THIS WAS GONNA TURN OUT?? The robot came to life and decided to take over the world. Oh, wow, who could have seen that coming?? OH, RIGHT, I DID! MY HAND IS RAISED.
Mr. Atom tried to conquer the earth numerous times, and was stopped over and over again by Captain Marvel. Y'know, for being a giant evil nuclear powered robot, Mr. Atom doesn't get used nearly as often as you would think. He should be up there with Brimstone and Chemo in the DC Universe giant monster category. But he just isn't used all that much. Sad.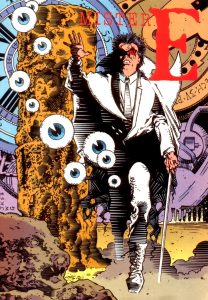 Source: comicvine.gamespot.com
4. Mr. E
DC horror characters are fun.
This is Mr. E, who debuted in the ongoing Secrets of Haunted House. The secret being that the house is haunted. Not much of a secret, I guess.
Mr. E was a blind dude with an ability to see auras. You know, like that weird girl you dated in college – dammit, I already used that joke somewhere, didn't I? About another DC character too! WHO WAS ALSO BLIND. What is it with DC comics and characters being able to see auras but not, you know, the pavement beneath their feet. This is a weird trend I want analyzed.
In one of his first appearances, Mr. E fought a vampire-werewolf, which was rad as hell. He'd used a firearm before, which seemed like a bad idea for the blind guy, but that's just me. He was reinvented a couple times, most famously by Neil Gaiman for his Books of Magic series, and again for the New 52 Constantine series. Good for him.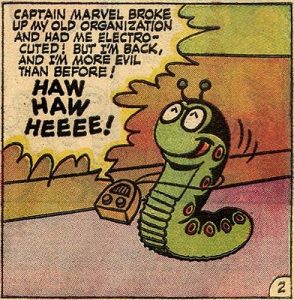 Source: dailypop.wordpress.com
3. Mr. Mind
Captain Marvel villains are friggin' great. Like, we just had one who was a giant robot man brought to life by nuclear energy. This one was an evil talking caterpillar.
Mr. Mind came from a world of underground worms, most of which were unintelligent hive mind creatures. Mind was born a super-intelligent mutant. But, being on an entire planet filled with worms, he couldn't really do much but come up with evil schemes. Eventually, an alien scientist visited his planet, and Mind took him over, using him to craft several devices to help Mind in his super villainy.
Mind eventually found his way to Earth-S, the home of the Marvel Family, where he assembled the Monster Society of Evil. Mr. Mind went on a vicious rampage, racking up almost 200,000 counts of murder. For which he was sentenced to the electric chair. Yes, in the DC Universe, someone had to fit a tiny electric chair helmet over the head of a caterpillar wearing glasses.
This, however, didn't kill Mind. He continued to menace the Marvels for decades afterwards.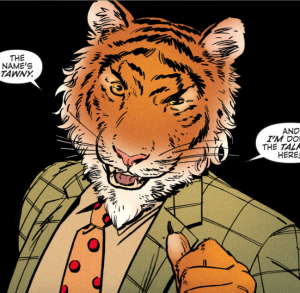 Source: comicvine.gamespot.com
2. Mr. Tawky Tawny
Gosh darn, Captain Marvel supporting characters are literally the best. I mean, LOOK AT THIS GUY!!! HE IS A WALKING, TALKING TIGER. WHO SOMETIMES WEARS A JETPACK!!!!!
Greatest comic book character ever? Greatest comic book character ever.
Tawny was a normal Indian Tiger until he encountered a rogue hermit who was actually a brilliant and talented scientist, because all hermits were actually brilliant scientists. The hermit tested a secret formula on Tawny that gave him intelligence and the ability to speak. Tawney toured the world until he ran into Captain Marvel. The two became friends, and the good Captain got Tawny a job as a museum guide.
Although he repeatedly faced bigotry for, y'know, being a walking, talking tiger, he remained close friends with Captain Marvel and became a valued citizen of Fawcett City. He is an A-number-one tiger man and I love everything about him. But then, he is the greatest comic book character of all time, after all.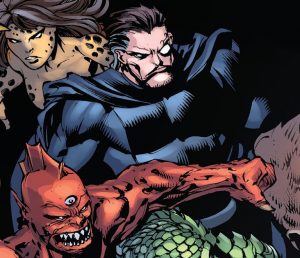 Source: dc.wikia.com
1. The Monocle
I didn't have to read one word about this dude before I decided he was going on the list. I just had to see his name. If you're gonna build your super villainous identity around having a monocle, you have my utmost and undying respect.
Jonathan Cheval ran an optical shop in 1945 New York. During that time, he learned to project radiation through various lenses, because I guess you gotta do something with all that free time on your hands.
Cheval got screwed over by the bank and decided to get revenge as"¦The Monocle. In this guise, and using his super powerful monocle, he murdered five of the six members of the bank's board of directors. But he was halted by Hawkman and Hawkgirl before he could kill the sixth. God, this whole list is nothing but Captain Marvel supporting characters and Hawkman villains.
Somehow, I can see how "guy with monocle" lost against screamy murder guy with a battle axe who can fly. That monocle isn't of much use, it seems, when it's been smashed with a mace.
And there you have it, another list of charmingly weird DC characters. And with this one, we're halfway through the alphabet! So, good job, fans, we're halfway there. We may or may not also be livin' on a prayer, but that remains to be seen. See y'all next time.