Welcome back folks to The First Ten, our series where we look deeply into the first ten issues of a comic series. Usually it's a series I've never read but this time, we're re-visiting my favorite Marvel team book. We're going back to cover the start of"¦ the Thunderbolts! The original Thunderbolts series began in April of 1997 and ran consecutively until September of 2003, when it ended with issue 81, although technically there were 83 issues, counting the 0 and -1 issues. The book would be revived as New Thunderbolts before reverting to the original title and numbering. Eventually it would again be rebranded as Dark Avengers with issue 177 although the most recent Thunderbolts book celebrated a tenth anniversary and 200th issue with the adding up of everything previous. Thunderbolts is my all-time favorite Marvel team book and I am excited to watch it all play out again.
But first: if you don't know the twist of the first issue, please go read it on your own time now. You can buy it digitally and I don't want it spoiled for you if you can help it. So read it yourself and let's go ahead.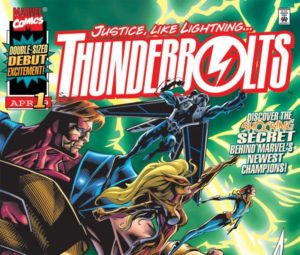 Source: Marvel.com
1. "Justice… Like Lightning!"
Writer: Kurt Busiek
Artist: Mark Bagley
This is one of the best crafted first issues in the history of comics. It's such a perfect introduction with an all time great hook. A little backstory: at this time Onslaught had just ended and the Avengers and Fantastic Four were missing and thought dead.
So this brand new team of random heroes pops up (after guest starring in an issue of the Incredible Hulk) and gets a solo series. They fight a few Marvel villains, like the Wrecking Crew, and make their public debut. The team, at first, seems a little boring. We don't learn a ton about them, they all seem paper thin, but that's all build up. And what we do get is"¦ weird?
Their team dynamic is odd, they don't know how to interact with the press, and Atlas, the team's grower, gets hella mad at one point. And then we find out why. The Thunderbolts, new superheroes, are actually Baron Zemo and his Masters of Evil in disguise. And they have plans. It's the best possible twist and should hook anyone after just one read.
Plus going back and re-reading the issue with the twist in mind makes a lot of it make way more sense.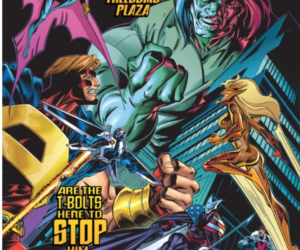 Source: marvel.wikia.com
2. "Decieving Appearances"
Writer: Kurt Busiek
Artist: Mark Bagley
So now that we know what's really going on, we have to do a little back story diving. Turns out the whole Thunderbolts ploy was Baron Zemo's idea.
He decided to take advantage of the disappearance of the major marvel heroes by becoming the world's greatest super team and then turning on everyone and conquering the earth. Let's run over the team real quick. Baron Zemo is now going by Citizen V, adopting the mantle of an American WW2 hero. The Beetle has opted for a more heroic looking armored suit as Mach-1. Screaming Mimi has softened and sharpened her powers to operate as Songbird. The evil Goliath is using his size-changing as the kind-hearted Atlas.
The cunning Moonstone is temporarily operating as Meteorite. And the HYDRA and AIM tech guru Fixer has become Techno. About half the team will keep their new names while the others will eventually return to their old identities, whether they remain with the team or not. The issue itself is pretty straightforward, with the Thunderbolts saving Franklin Richards from a kidnapping.
But next issue"¦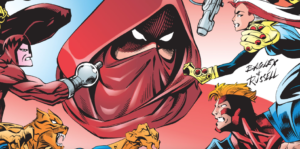 Source: marvel.wikia.com
3. "Too Many Masters!"
Writer: Kurt Busiek
Artist: Mark Bagley
Well, turns out the Masters of Evil are back. And that makes our Thunderbolts feel weird. The team having to constantly fight people they used to work with is such a great fun idea and they play with it a lot. As well, the team is starting to settle in to their new roles as heroes. Specifically Mach-1 and Songbird, who are also coming together as a romantic pair. It's really cute. And Atlas is developing a thing for Mayor Dallas Riordan.
After their work saving Franklin Richards last issue, the city has ceded the Fantastic Four's old headquarters, Four Freedoms Plaza to the team and it's undergoing renovations. It's amazing how timeless some of Bagley's designs are, specifically Songbird and Atlas, who have kept very similar costumes up until the present.
Meanwhile in the background of the last three issues, Hallie Takayama, a teenager from New York, has been kidnapped and experimented on by Arnim Zola and has now developed electrical super powers. And she's shown up at Thunderbolts headquarters looking for help.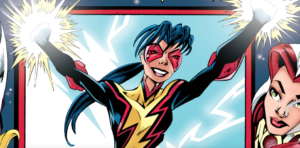 Source: marvel.wikia.com
4. "A Shock to the System!"
Writer: Kurt Busiek
Artist: Mark Bagley
What regularly shocks me about this series is how quickly it's willing to shake up the formula.
It's only issue four and they're throwing in a brand new complication for our main characters. Hallie arrives and helps the Thunderbolts defeat Zola, but due to a pressure campaign by the media and Moonstone, Zemo has to let her join the team as Jolt. So now, the Thunderbolts are trying to keep their secret identities from one of their own teammates as well as the public. And they have a legitimate hero on the team, who doesn't have any clue what she's signed up for.
As well, we're seeing Moonstone move against Zemo for her own ends, clearly planning her own villainous moves. I think it was this series that really reshaped Moonstone into the villain she is today and she's been a much better character for it. We've also seen Songbird and Mach-1 slowly becoming fans of the idea of remaining heroes. We are only on issue four and this is already so much plot going on. Last time, when I talked about Rogue (2004), I mentioned the problem of writing for the trade, and this is pretty clearly the opposite of that. Comparing the two is a fascinating duality.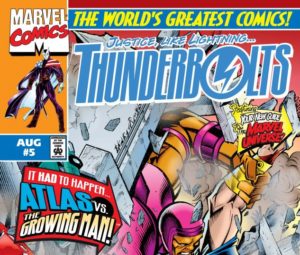 Source: marvel.com
5. "Growing Pains"
Writer: Kurt Busiek
Artist: Mark Bagley
Atlas finally gets some time to shine here when The Growing Man, a mechanical former minion of Kang the Conqueror, goes on a rampage.
Here we see that Atlas needs to be enraged to achieve a certain height without dissipating, which bodes badly for his heroic future. Meanwhile, Jolt and Moonstone are bonding, but it's pretty clear this is just part of Moonstone's greater plan to outplay Zemo. Also, Zemo is very bad at pretending to be a hero. He just shouts at everyone and gets mad very quickly and it's a fun time. Everybody else is either actually trying or good at pretending but Zemo is a perpetual villain and it shows.
In either this issue or the next, G.W. Bridge mentions that this incarnation of the Masters of Evil was the most ruthless and successful and that's true. It was this team that wrecked Avengers mansion and decimated the team during Under Siege and remembering that is key to this whole story.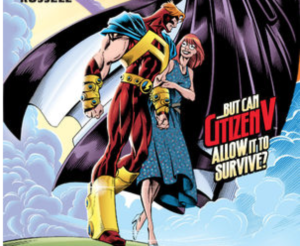 Source: marvel.wikia.com
6. "Unstable Elements!"
Writer: Kurt Busiek
Artist: Mark Bagley
Ah, a good old down-time issue. These are always fun and I love them. They give you some time to get to know the characters and build their personal relationships. Songbird and Mach-1's burgeoning romance blossoms, Moonstone tightens her grip on Jolt, Zemo and Moonstone try to outmaneuver each other, Atlas and Dallas flirt, it's fun.
The team also fights a group of element monsters but when Dallas refuses to unseal the old Avengers records, Zemo gets pissy and refuses to help the city fight these monsters further. Look, Zemo is incredibly bad at pretending to be a hero. Which was a plan HE CAME UP WITH.
To be clear, this isn't criticism, I love this. Zemo being bad at his own plan is a great concept in pretty much every way. I adore it. He's just a supervillain who doesn't know how to do anything else.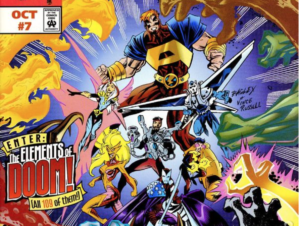 Source: mycomicshop.com
7. "The Revolt Within"
Writer: Kurt Busiek
Artist: Mark Bagley
The evil Metal Men are boring. I like the Thunderbolts but these element villains are all pretty one note.
The big twist here is the end of issue moment where one of the element men snaps Fixer's neck like a twig and seemingly kills him. As we'll see, that's not entirely the case but that'll take a couple issues to really resolve. And it's a good reveal. These characters are all villains, and c-list ones at that. They really could kill off any one of them for real and they probably wouldn't come back.
Of course, knowing the full arc of the series, we know he comes back, but thankfully he does it without that stupid dumb costume and facial hair. He gets a cool robot body but we'll get to that soon.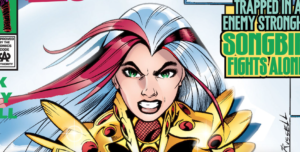 Source: marvel.wikia.com
8. "Songbird: Alone!"
Writers: Kurt Busiek & Roger Stern
Artist: Mark Bagley
The turn around of the Thunderbolts continues here! Songbird really gets time to shine in this bit and she's pretty clearly the Thunderbolt who's the quickest to embrace being a hero.
And I'd argue she's the one who's most definitively a hero still! I adore Songbird and I think she's probably Busiek's favorite Thunderbolt as well, given how much development she gets throughout the series. Also, I love Bagley's designs for this series. Atlas and Songbird in particular, but the rest are pretty great as well. And this issue gives us another design I love when Fixer AKA Techno uploads his mind into a robot body.
This isn't the final Techno design but that one will be one of my favorites of Bagley's designs. His cold red eyes, his approximation of his old body, his color scheme, and especially his size. Techno is like eight feet tall and it makes him a quiet menace that is just waiting to go off.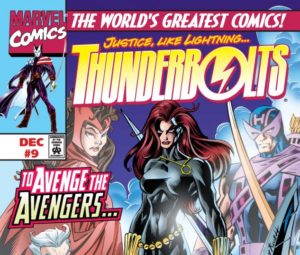 Source: marvel.wikia.com
9. "Life Lessons"
Writers: Kurt Busiek & Roger Stern
Artists: Mark Bagley & Ron Frenz
This issue is great.
After making a brief appearance in issue 3, Black Widow shows up again to confront Mach-1 and Songbird. But instead of just arresting them, she tells them a story about the second Avengers team, the Cap's Kooky Quartet era, which included at the time former supervillains Quicksilver, Scarlet Witch, and Hawkeye. Said story is written by Roger Stern and drawn by Ron Frenz, so that's pretty cool! And I really like this scene as a Black Widow moment. She's a former supervillain herself, so her giving the Thunderbolts a chance to turn it around is a wonderful character beat for her.
It's especially interesting since, later on, it will be her ex-boyfriend and partner in crime Hawkeye who will help the Thunderbolts become real heroes after Zemo leaves. Also, this issue contains a Hostess Fruit Pies ad parody that is one of my favorite pages ever in comics. It is perfect.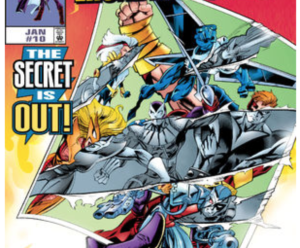 Source: marvel.wikia.com
10. "Heroes' Reward"
Writer: Kurt Busiek
Artist: Mark Bagley
I'm always surprised by how quickly stuff happens in this book. Elsewhere in the Marvel Universe, Heroes Return has just happened and the Avengers and Fantastic Four are back. During a press conference, the Thunderbolts are interrupted by SHIELD breaking in and publicly revealing them as the Masters of Evil. Zemo and Techno immediately jump into action and wipe out the platoon while the rest of the squad is in disarray.
Jolt is horrified and flees, Mach-1 and Songbird wonder if they should've betrayed Zemo when Black Widow told them to and Zemo returns to his old costume. What interested me was that Moonstone seems to actually kind of want to reform. That will change but it seems now that Techno has taken up the role as other evil teammate with Zemo. The Thunderbolts flee to a secret satellite base Zemo had been preparing and blow up their former headquarters of Four Freedoms Plaza on the way out. And, with Baron Zemo and Techno ready for world domination, Jolt stowing away in the cargo hold, and the rest of the team unsure where their loyalties lie"¦ that is where we leave this series.
If you enjoyed this and want to see where it goes next, I highly recommend checking out the complete series. Thunderbolts is a phenomenal comic book and I'd be thrilled to see where it could go if ever adapted to the MCU. Please give it a read, it's a fantastic comic book.