So this week, I'm on vacation, so I thought I'd get some reading done. And first on my to-read stack was From Hell, Alan Moore and Eddie Campbell's retelling of the story of Jack the Ripper. So I figured, hey, why not make a list of my favorite Alan Moore comic books. He's written for every major company and penned some of the greatest comics of all time. So believe me, this was a hard list to narrow down.
But narrow it down I did! Also, while I've read almost all of Moore's major works, I'm still working on From Hell and Swamp-Thing, so consider those as honorable mentions. And now, on with the list!!
                     Source: thebrightestday.blogspot.com
10. Mogo Doesn't Socialize
(Green Lantern #188, DC Comics)
Alan Moore writes weirdly good Green Lantern comics. He was always more into the occult than he was into spacey adventure tales. But Moore wrote a couple of amazing Green Lantern Corps short stories. The second, "Tygers" laid the groundwork for much of the acclaimed Geoff Johns run on the character, but it's the first story that's my favorite.
Mogo Doesn't Socialize is a pretty fantastic short story that focuses on one of the more mysterious Green Lanterns. But, reader, if you already know literally ANYTHING ABOUT MOGO, then I'm really sorry, but the story is kinda ruined for you. The true nature of the Lantern is actually the punchline to the six-page story, and knowing the punchline never makes a joke better. The story is about Lantern Tomar-Re telling Lantern Arisia about one of the most antisocial Green Lanterns, and why he doesn't interact with the corps.
The tale is quick and to the point, and it's pretty charming and funny. It's still possible to appreciate it if you know the ending, but if you know nothing at all about Mogo, please do give it a read, I think you'll like it.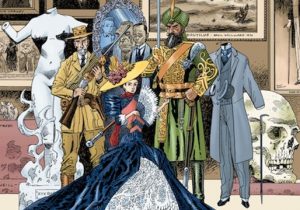 Source: tvline.com
9. League of Extraordinary Gentlemen
(The League of Extraordinary Gentlemen Vol.1 #1-6 & Vol. 2 #1-6, America's Best Comics)
PLEASE IGNORE THE TERRIBLE TERRIBLE MOVIE THAT SHARES A NAME WITH THIS GREAT COMIC BOOK.
League is the best fanfiction ever written. The story follows classic literary characters like Mina Murray (Dracula), Captain Nemo (20,000 Leagues Under the Sea) and the Invisible Man (duh).
You certainly don't need to be a literary scholar to enjoy this series, but getting all of the obscure literature-related jokes sure does make you feel like a smarty-pants. In the series, the League does battle with some classic villains, including the Martians from War of the Worlds and a very well known villain whose identity I don't want to spoil for you, because it's a great reveal.
Again, this is an example of Moore's playing with some cool toys in an incredibly satisfying way. Mr. Hyde is a wonderfully complex character, and Mina is a very capable lead on her own. Oh and that Hyde/Invisible Man scene in Volume Two? Haunting. You know the one I'm talking about.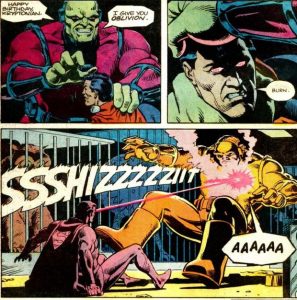 Source: denofgeek.us
8. For the Man Who Has Everything
(Superman Annual #11, DC Comics)
Alan Moore writes such good Superman. Like, SUCH good Superman.
For the Man Who Has Everything is among the best Superman stories of all time, and it's easy to see why. The issue takes place on Superman's birthday and Batman, Robin, and Wonder Woman are en route to the Fortress of Solitude to celebrate.
They arrive to find that Clark has been infected with the Black Mercy, a plant that causes the infected to be trapped in a hallucination of their greatest desires. While Superman tries to free himself from the inside, Batman, Robin, and Wonder Woman do battle with Mongul, who infected Supes in the first place.
If that sounds familiar to you, it's probably because they adapted it to the screen in an early episode of Justice League Unlimited. Minus Robin, because literally no one likes Jason Todd, apparently. A great comic book that made a great cartoon. Give it a read.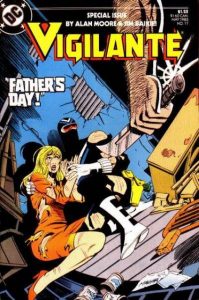 Source: comicvine.gamespot.com
7. Father's Day
(Vigilante #17-18, DC Comics)
Vigilante is one of those mostly forgotten street-level DC heroes. Adrian Chase is a District Attorney who takes the law into his own hands on the occasions when people slipped the bounds of legal justice.
But Alan Moore's two issue guest spot is heart-wrenching and painful. Chase is called by a former client, a woman whose husband was put in jail after molesting their daughter. The husband is now out early, and has come for revenge, so Chase"¦well, gives chase.
This is not a fun story. It's dour and brutal and emotionally raw as hell. But it is one hundred percent worth reading. When I talked about Identity Crisis, I said that I usually found that sexual assault was handled poorly in comics, but this story is by far the exception that proves the rule. It really depicts the horrible emotional confusion that can be generated by events like those in a way that is just haunting.
"Father's Day" is a story I really don't want to read again anytime soon, but it's one I think every single Alan Moore fan should read (BTW: This story, like all the other DC stories on this list, is part of the DC Universe: The Stories of Alan Moore collection, which is totally worth its price, if it's still in print).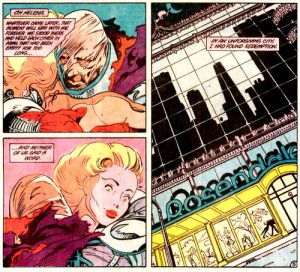 Source: tumblr.com
6. Mortal Clay
(Batman Annual #11, DC Comics)
Mortal Clay is easily my favorite Alan Moore story featuring Batman, and, I'd argue, the best. I know a lot of people would give this spot to The Killing Joke but, while I'll concede that Killing Joke has much better artwork, I don't think the story holds up very well, and it's clear it was never originally meant to be in continuity.
But I'm not here to bash Killing Joke (there are plenty of more eloquent, smarter people doing that); I'm here to talk about the greatness of Mortal Clay. The story follows Preston Payne, the third man to take the name Clayface. Preston isn't really a shapeshifter, though. Instead his power is the ability to melt anyone he comes into contact with. In the story, Preston discovers and falls madly in love with a mannequin he believes to be real, while hiding in a department store. As Preston bends further into madness and what he believes to be love, we both pity and fear him. The story is told from his perspective and we get a look inside the head of a truly sick man.
Batman barely appears in the issue, until the end, and when he does, it's a more compassionate depiction of the Dark Knight than we're used to. Mortal Clay digs deep into the psychosis of a villain in a way that very few Batman stories do. It's absolutely fantastic, and that last panel gives me serious chills to this very day.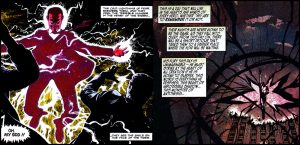 Source: comicvine.gamespot.com
5. Miracleman
(Miracleman #1-16, Eclipse Comics [Reprinted by Marvel Comics])
Miracleman is absolutely incredible. Thankfully, it's back in print, because a world where people couldn't easily buy Miracleman is a world that ain't worth living in.
Michael Moran is a normal guy,  who suffers from some migraines and a general depression. After he's taken hostage in a terrorist raid, he remembers the secret word "Kimota". Shouting it transforms him into Miracleman once again, after decades of forgetting his true power. What ensues is an incredible deconstruction of the superhero genre, the Captain Marvel/SHAZAM archetype, and comics as a whole.
Miracleman is blindingly incredible, and you will for certain come away from it with newfound respect for Moore's capabilities as a writer. Just be ready when you get to the childbirth issue. That one will mess you up if you aren't ready for it.
Like, it'll mess you right up for a couple of days.
I know.
I WASN'T ready for it.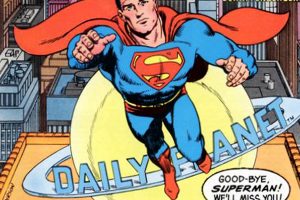 Source: robot6.comicbookresources.com
4. Whatever Happened to the Man of Tomorrow?
(Superman #423 and Action Comics #583, DC Comics)
"This is an Imaginary Story. Aren't they all?"
With those words, Alan Moore touched off a groundbreaking story. WHMT is pitched and delivered as the last Superman story. It gives every major character and ending and ties up many loose ends, along with some AMAZING moments.
Bizarro's final moments: "Do you know what radio waves look like?" Clark crying by Krypto's side, the final villain reveal, it's all so perfect. Brainiac puppeteers, Lex Luthor's dead body. How can you not get something out of that?
Also, it ends with the only reaction Superman should ever have to taking a life. Although, I do have to say that if you like Whatever Happened to the Man of Tomorrow, you should go find yourself a copy of the super obscure 1877 novel Superfolks, from which WHMT arguably lifts a decent amount of its plot elements. It's available digitally, and incredibly good.
But yeah, WHMT is great, as well. A definitive Superman story that would've made for a perfectly appropriate finale.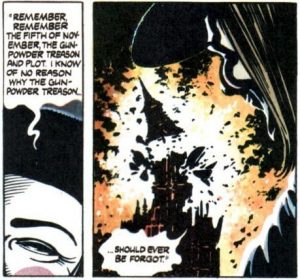 Source: antiscribe.com
3. V for Vendetta
(Warrior #1-26 and V for Vendetta #1-10, Quality Communications and DC Comics)
V for Vendetta is absolutely incredible and incredibly dense. If you love Watchmen, but have never read V, you really and truly should.
The story follows a disenchanted young woman and a mysterious terrorist fighting against the tyranny of a fictional totalitarian British rule. The David Lloyd art communicates a sense of dread and dreariness that nothing else I've ever read has. The alleyways of England are filthy and oppressive, and the governmental buildings are cold and unfeeling.
The story is tense and well paced, with the drawn out plot broken up into short installments. V is unlike almost anything I've ever read, and in so many ways. It often employs the nine panel grid made famous by Watchmen, but uses it in completely different ways.
Also, if you only know the story of V from the movie, do go and read the book. The book is a lot better and much more on message and ambiguous. Plus, the climax is one hundred percent better, like…oh my God.
But hey, life's just a Vicious Cabaret.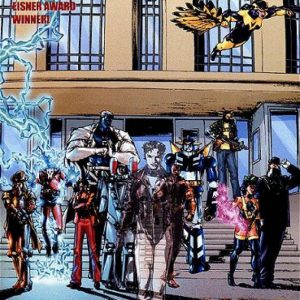 Source: comicvine.gamespot.com
2. Top 10
(Top 10 #1-12, America's Best Comics)
Top 10 is my personal favorite thing Alan Moore has ever written.
Yes, there's one story that I think is technically better (I wonder which one THAT could be) but I love every second of Top 10.
Top 10 is about Police Precinct 10, a precinct in a city where pretty much everyone is a super hero or villain. Officers like King Peacock, Slinger, and the ever-lovable Jeff Smax patrol the streets and deal with crime. The series is so inventive and bursting with creativity, it hurts to look at it. Galactipuss is one of the best visual gags I've ever seen in a comic book.
Also, the murder mystery at the Asgardian nightclub is incredibly creative and original and, you know, BRILLIANT IN EVERY WAY. And yes, I DID just say "murder mystery in an Asgardian nightclub." If you can tell me that isn't something you want to see, then you are a dirty liar.
Aside from the truly intelligent writing on display, Top 10 is also home to such a great cast of characters. Heck, Joe the robot and Shock-Headed Peter are two of my favorites, and Joe is only in two issues, while Peter is a legit racist.
There is nothing wrong or bad about Top 10. I love it so gosh-diddily-darn much it causes me pain. Read. It.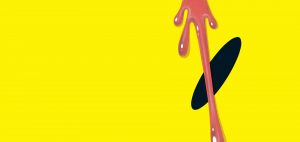 Source: gallerycomics.com
1. Watchmen
(Watchmen #1-12, DC Comics)
Obvious number one pick is obvious.
Yeah yeah, while I'd rather read Top 10 any day of the week, Watchmen is arguably much better and more impactful.
Watchmen is a murder mystery among current and former superheroes. The story is engaging and fast paced; it's eminently quotable; and the characters are shockingly easy to understand and grow attached to. Also, I feel the technical aspects of the book are often overlooked. Alan Moore and Dave Gibbons absolutely nail the ever loving hell out of this book.
The use of the nine panel grid was, and still is, revolutionary. And the issues themselves are wonderful lessons in storytelling. I mean, God, that Dr. Manhattan issue is brain shatteringly awesome. And the mirrored layout issue? Ugh, so good.
There are too many good things to say about Watchmen that have already been said. And If you haven't ALREADY read it, seriously, go do it. It will be so goshdarn worth your time and money, it isn't even funny.
And don't skip the pirate parts.
Also, I will be at Wondercon this Friday and Saturday, having myself a grand old time. So, if you see me, feel free to come say hey!