Well, I love DC Comics supervillains. A LOT. This has been shown via multiple lists. I've already cataloged the top Flash foes, obscure Batman bad guys (twice), Superman supervillains, and Wonder Woman (uh, help…word for villains that begins with the letter "W.")
But now it's time to look at the best foes of the Green Lantern Corps.
11 Best Green Lantern Villains
The emerald guardians of the cosmos have had numerous opponents throughout their time. Let's break down our favorites.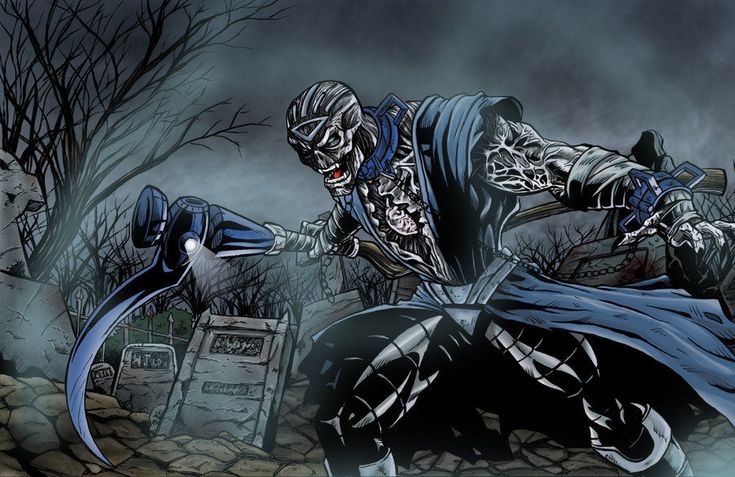 11. Nekron
Nekron is not necessarily as well known as other Green Lantern villains as Sinestro, but that doesn't make him any less worthy. The character made his debut in the pages of Tales of the Green Lantern Corps #2 back in 1981 but it wasn't until the 2009 crossover event Blackest Night that he truly got the chance to shine. Nekron is essentially the embodiment of Death and goes by the alias the Lord of the Unliving. He can use the power of and command the souls of anyone who has ever died. That is key in Blackest Knight as Nekron leads the Black Lanterns, an evil group that is made up of deceased heroes and villains from the DC universe. Nekron is an exceptionally dark and unique villain whose worthiness extends beyond the pages of Green Lantern.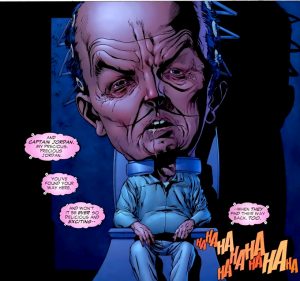 Source: dc.wikia.com
10. Hector Hammond
God darn, are meteors godsends in the DCU. Like, if you're a DCU Citizen and you see a meteor falling, go chase that s**t! It'll either be Kryptonite, or a Green Lantern Ring, or it'll make you immortal or super smart.
Hector Hammond went meteor chasing, and found a crazy space rock that hyper-evolved the plants it landed next to. He responded by kidnapping four scientists and exposing them to the meteor, which made them super smart. Hammond used these smarts to craft inventions he could sell for tons of money. This is a good plan. Make money, let others take on the radiation sickness.
Green Lantern realized there was foul play at hand, and knocked Hammond out, but good. After Hammy got out of jail, he found the meteor and purposely exposed himself to its radiation. Bad plan. This was a bad plan. He DID gain incredible telepathic and telekinetic powers buuuuuuuuuuut his head swelled up like a weather balloon, and he was left unable to move or speak.
This is why we let others do the grunt work for us, Hector.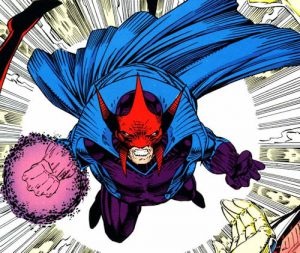 Source: comicvine.gamespot.com
9. Evil Star
On the planet Aoran, one man wanted to conquer death itself. He was convinced that this was possible only through harnessing the powers of the stars themselves.
He created the starbrand, a device that did indeed grant him immortality. However, the device also compelled him to commit "only evil acts", which sounds like an excuse. That sounds like someone not taking responsibility for their own actions, Evil Star.
God, the old "blaming your faults on the constantly pulsing mechanical band of star-harnessing technology on my wrist" excuse, SUCH a cliché.
Anyway, Evil Star eventually stepped too far off-planet, and got slapped down by Hal Jordan. The Guardians forced him into rehab (this is not a joke; this is a real thing), but he eventually broke out and returned to fight for evil once again.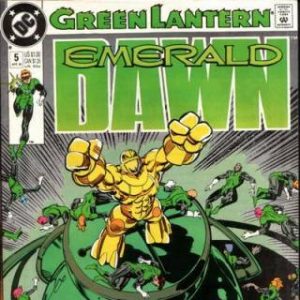 Source: comicvine.gamespot.com
8. Legion
The Guardians of the Universe are jeeeeeeerrrrrrrrrks. Like, mega-jerks. They are the worst. And here is but one of the many, many, MANY instances of them screwin' up so bad that Hal Jordan and the other Green Lanterns of Earth had to step in and fix s**t. Again.
Once upon a time, there was a planet called Tchk-Tchk in sector 407 that was inhabited by a race of angry bugs. They started to exhibit conqueror tendencies, and the Guardians figured they should put a stop to that. So they had some Green Lanterns seal their planet away, leaving the Tchk-Tchk to"¦starve to death and die out. This is called "genocide".
The creatures invented one thing to be their method of survival: the Soul Jar. The Soul Jar enabled the creatures to mix their minds into one giant suit of armor, which escaped the Lanterns' seal on the planet and went on a murder spree. Legion, as it was now called, killed the Green Lanterns of sectors 2817, 2816, 2815, and 2814. That last one was named Abin Sur. Sur's replacement, Hal Jordan, showed up and beat Legion down so FRIGGIN' BAD he never really showed up again.
But I like him so he goes on the list.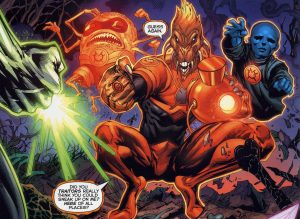 Source: reddit.com
7. Larfleeze
So around 2007 we got a fairly basic idea: "Hey, what if Sinestro made his own Yellow Lantern Corps?" And then that idea turned into the most obvious "How did no one think of this idea before 2008?" idea ever: "We have a Green Lantern Corps, and now a Yellow Lantern Corps, so why not ALL OF THE OTHER COLORS?"
Well, not ALL of the other colors. We don't have a Puce Lantern Corps or whatever, but the point stands.
Larfleeze was a member of the Orange Lantern Corps. The Orange Lanterns are known for their powerful greed. And by LanternS, I really mean Lantern, because there is only one of them. That's brilliant. So the greediest being in the galaxy is Larfleeze the Orange Lantern, otherwise known as Agent Orange.
He is a furious hoarder Muppet who just wants to accumulate more stuff. He's also capable of generating his own army using his ring, making him truly a one-man Lantern Corps.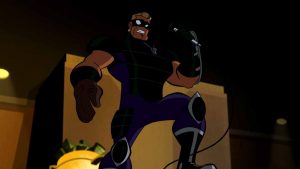 Source: comicvine.gamespot.com
6. Sportsmaster
Gotta throw in one Golden Age Green Lantern villain, and I picked Sportsmaster to fill that slot.
Lawrence Crock earned the nickname Crusher on the football field, as a brutal player who would do anything to win. Despite making his name at football, Crock was actually a talented athlete in multiple disciplines, and when he was booted from football for breaking multiple rules, he put them to use. No, not by playing another sport, but by becoming a supervillain. Duh.
Crock got himself a costume and mask and took on the identity of"¦the Sportsmaster!!! In this identity, he clashed multiple times with Alan Scott, aka the Green Lantern, always faking his death to escape when beaten, which is a pretty hardcore way to do it. He eventually joined the Injustice Society, and met the Huntress (the Golden Age one). He married her, and they had a kid. Then he died. For real this time.
Fortunately for Sportsmaster fans, he resurfaced in another way later. The villainous Council, notable for being the enemies of the criminally underrated Manhunter, decided to use their perfected cloning technique to clone"¦The Sportsmaster. Not Superman, not Bane, but Sportsmaster. This is a smart plan, and I see nothing wrong with it.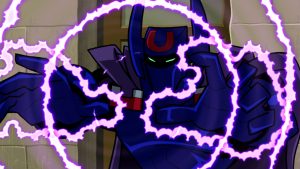 Source: comicvine.gamespot.com
5. Dr. Polaris
Dr. Neal Emerson was a physician who specialized in magnetism, using it to help create miracle cures. Unfortunately, his overexposure to magnets caused him to develop a split personality that manifested itself as the evil Dr. Polaris, a supervillain who used magnetism to commit crimes.
The two personalities battled back and forth for a long time. Then Polaris was approached by the demon Neron during the Underworld Unleashed event. He volunteered to sell Emerson's soul in order to gain more power. Dude was straight up evil. He killed Steel's grandma!!! Who does that?
He also tried to take control of Earth's South Pole like a jerk, and eventually joined Lex Luthor's Secret Society of Evil. In this capacity, he was part of the advance team that went after the Freedom Fighters. During the fight, The Human Bomb unleashed his full power on Polaris, annihilating him.
He was succeeded by John Nichol, before Emerson came back from the dead to rip his heart out. Literally.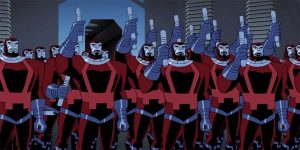 Source: actionfigureinsider.com
4. The Manhunters
Look, first attempts are never the best. This is why we re-write things. The first draft, the pre-alpha, the first anything will always have a few bugs. Hence, the Manhunters.
The Guardians of the Universe decided millennia ago that the universe needed a police force. So they created a squad of robotic officers known as the Manhunters. Unfortunately, The Manhunters slowly realized that, hey, if all crime was emotionally motivated, and all sentient beings feel emotion, maybe the best way to fight crime was to KILL ALL SENTIENT BEINGS. You can probably see the problem here.
This led to tragedy when the Manhunters descended upon Space Sector 666 and killed everyone there, save five life forms. This was bad. This was real bad. The Guardians panicked, and destroyed as many of the Manhunters as they could find, but some escaped. The Guardians then created the Green Lantern Corps as a replacement.
This is a good idea because a. they could feel emotions; and b. they were not horrible freakish murder robots.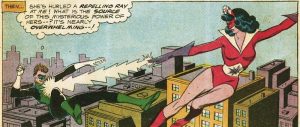 Source: cosplayisland.com
3. Star Sapphire
Carol Ferris is one of the more underrated DC romantic foils, and she's also one of my favorites.
She was part owner, executive, and occasional pilot for Ferris Aircraft, where Hal Jordan worked as an experimental test pilot. The two struck up a romance, and a good one, considering that both were exceptionally strong personalities in their own right. But Carol wasn't just chosen by Hal, or by the Ferris Aircraft Board. She was also chosen by an alien race known as the Zamarons to be their queen.
When she refused, they hypnotized her and granted her incredible powers, turning her into the Star Sapphire. As Sapphire, she did battle with Green Lantern multiple times, always losing her memory as soon as she reverted to her civilian identity. Carol eventually beat the alternate personality and stopped being the Sapphire.
But years later, when the colored lantern corps began recruiting in earnest, Carol was re-inducted as Star Sapphire, this time without becoming evil, as the greatest hero of the Violet Lantern Corps.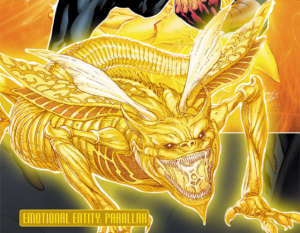 Source: dc.wikia.com
2. Parallax
BIG YELLOW SPACE BUG!!!!!!!  Possessing yellow space bug!!!
So I actually like Parallax as an idea. I know, I'm the only one.
Here's how Parallax came about. In the late nineties, DC decided to get rid of pretty much all of the Green Lanterns in favor of just one brand new one. So in The Death of Superman, one of the minor things that happens is that Mongul and the Cyborg Superman destroy all of Coast City and kill everyone in it while Hal Jordan is away. This (plus the fact that The Guardians won't let him fix everything, because "rules") drives him totally nutterbutters coo-coo for cocoa puffs insane. He freaks out, and murders a bunch of Green Lanterns and Guardians, leaving newbie Kyle Rayner as the only one remaining.
But years later, they wanted to bring Hal back and make him a hero instead of a mass murderer. So the retcon fairy waved her wand, and all of a sudden, it turned out that Hal wasn't evil; he was just possessed by an evil space bug named Parallax who was the embodiment of all fear. Parallax went on to possess numerous other people, including Kyle Rayner himself, as well as The Flash and Sinestro. Weird evil space bug indeed.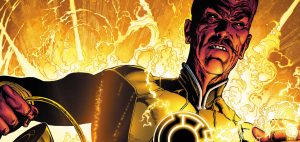 Source: dccomics.com
1. Sinestro
The obvious number one is obvious. Sinestro is THE Green Lantern bad guy. Well, THE Hal Jordan bad guy, but y'know.
Thaal Sinestro was a native of the planet Korugar in the space sector 1417. He was an anthropologist who spent his time preserving the order of ancient ruins. One day, the Green Lantern of the space sector crashed on Korugar, pursued by a Weaponer of Qward. Sinestro grabbed up the Lantern's ring when he was critically injured and used it to defeat the Weaponer. When the Lantern begged for his ring back, Sinestro declined and let him die so he could become the new Green Lantern.
Using the ring, Sinestro became a feared dictator on Korugar, ruling the planet with an iron fist. That is, until his new apprentice, hotshot GL of sector 2814 Harold "Hal" Jordan, saw what was going on and fought back against him. Hal defeated Sinestro and got him banished from the corps. Sinestro discovered Qward for himself, however, and convinced the Weaponers to build him a new yellow power ring, capable of exploiting the flaws in the Green Lanterns' greatest asset. Hal and Sinestro have clashed ever since, becoming the greatest of foes.
And there we go, the ten best Green Lantern villains, only some of whom you'd ever heard of! Did your favorite make the list? Honestly, probably, since there aren't that many. Unless you're just a huge fan of Sonar, in which case"¦no, yeah, I get it, Sonar's pretty cool. Honorable mention: Sonar.