Look, there's a never-ending parade of great Batman villains. And even those lists of "obscure" Batman foes usually don't actually reach past the C-List ones. I mean, come on, Man-Bat is not obscure. Underrated? Yes. Obscure? Do some better research. No, HERE'S a list of some truly forgotten Batman villains. The one's too obscure for Lego Batman or any of those lists of people's fave foes. Buckle up, folks, we're venturing into uncharted territory.
                                               Source: multiversitycomics.com
10. Reaper
What if there were a Gotham City vigilante BEFORE Batman?
Judson Caspian was essentially proto-Bruce Wayne. A thief murdered his wife, so he decided to go turn himself into a force for justice as…The Reaper. It will never not be hilarious to me that Reaper was originally envisioned as a character who was supposedly around in the 50s when that is the most late-80s costume I've ever seen.
Unlike Batman, however, Reaper had his own methods for crime fighting. He liked to stab criminals with scythes. Scythes that were also guns. See what I mean about his late 80s-ness? Dude's just missing a skateboard and a Sega Genesis.
If he looks vaguely familiar to you, either A: you've read Batman: Year Two, which puts you in a rare subsection of humanity, or B: you might be thinking of someone else. Along with many more elements of the more successful Year One, Batman: Year Two was riffed off of in the Batman animated movie Batman: The Mask of the Phantasm. I love that movie so, so much. But in the adaptation, The Reaper got changed a bunch and became The Phantasm, a very different character with a very different backstory.
Both look pretty cool, though.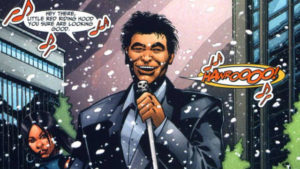 Source: gamespot.com
9. Johnny Karaoke
Look, everyone knows about Marvel's Japanese gangs. You can't go twenty pages without running into Wolverine hacking up some Yakuza or Daredevil fighting The Hand. But no one talks about the DC Yakuza!
Specifically the Geisha Girls. Specifically the LEADER of the Geisha Girls. His name is Johnny. Johnny Karaoke. He carries around a sword cane. That he sings into. He likes to sing and stab people and shoot them. That's the greatest thing of all time.
Why have we seen four movies featuring The Joker but zero about this glorious man of honor? I mean, aside from the fact that he died in the second issue he ever appeared in. Seriously. First appearance: Batman #660. Death: Batman #661. Short tenure there, sweetheart.
In trying to do additional research on the dude, I discovered a few other things. He attended UCLA and majored in business administration. That's neat. Not far from me, either. And that, ladies and gentlemen, is how you get a paragraph of content out of a dude who only ever appeared twice. Impressive, right?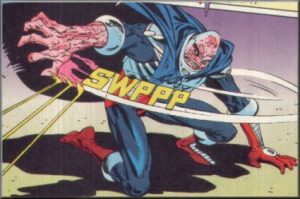 Source: batmanytb.com
8. Clayface III
No, not that Clayface.
Look, along with everyone else, I love Clayface. Clayface is great! But when people talk about Clayface, it's almost always either Basil Karlo or Matt Hagan, the first two Clayfaces. But no one ever gives any love to my main man Preston!
Preston Payne was a STAR Labs scientist suffering from a thyroid disorder and looking for a cure. He injected himself with a vial of Matt Hagan's blood, and instead of getting cool shapeshifting powers, he just melted. Like, his body started melting. Horrifically. The only way to stop this was to spread his melting curse on to others, which he could do via physical contact.
He would later star in the best Batman story Alan Moore ever wrote, Batman Annual #11's Mortal Clay. Seriously, if you've never read that one, holy heck, please do give it a long hard look. It's near perfection.
He fell in love with Clayface IV, aka Sondra Fuller. The duo had a child, Cassius Clay, aka Clayface V, the one with the terrible pun for a name. So there you go, Preston, the love you deserve.
Also the least terrible person named Preston I can think of, so points for that.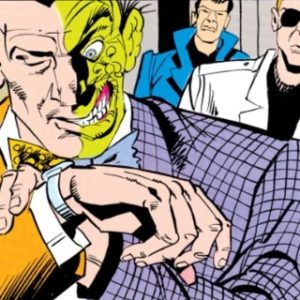 Source: comicvine.gamespot.com
7. Two-Face II
Look, of course there's a second Two-Face.
He's very clearly nowhere near as notable as Harvey Dent, but he's still a part of the Batman canon, so we need to talk about him. First, the Golden Age version.
Paul Sloane was a hugely successful actor who was hired to play Two-Face in a movie based on the criminal. But a prop guy was angered by his girlfriend's crush on Sloane, and in the biggest overreaction in the history of overreactions, he switched out the water in the acid-throwing scene for actual acid, and Sloane got his face all scarred up and ruined. Just like Two-Face. So he became the new Two-Face.
The post-Crisis Two-Face II was Paul Sloan (without an "e" this time), an actor hired by a gang of villains to impersonate Two-Face. However, this resulted in Sloan going crazypants and thinking he was Two-Face. The real Two-Face found him and scarred him for real, turning him into an even crazier crazy man.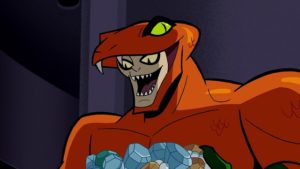 Source: comicvine.gamespot.com
6. Copperhead
Look, master contortionists don't have a lot of easy work open to them, okay? Like, how many master contortionists do you know of who have normal jobs? How many jobs are "contortionist friendly"? Pretty much just crime and murder.
Copperhead started as a contortionist murder-robber who liked dressing up like a snake for unexplained reasons. I'm assuming it's a sex thing, but I'm not one hundred percent sure.
In his first caper, Copperhead dressed up like an old man and stole a tiara. This is the most high profile and respectable of heists. Here, Copper had his face punched in by Batman, Batgirl, and Wonder Woman, and took a break for a while. He popped up again as a member of the Secret Society of Super Villains, and then in Europe, where he tangled with the Elongated Man.
Eventually, snake bro got called up by Neron and sold his soul for some upgraded powers. Aaaaaand then Manhunter blew his brains out.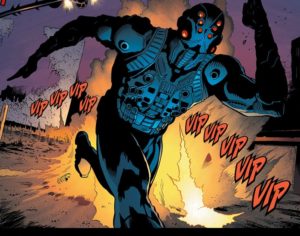 Source: comicvine.gamespot.com
5. Nobody
Henri Ducard was a professional manhunter and assassin. And while manhunting in Paris, he was approached by a young man in search of a teacher. That young man? Bruce Wayne.
Ducard trained Wayne alongside his own son, Morgan. But when Bruce realized the Ducards were big fans of murder, he ditched out on the duo. Henri sent Morgan to kill Brucie, but Wayne kicked his ass and took off. Morgan grew enraged by this and by the humiliation of losing to Wayne, so he trained for years to be better.
Eventually, he emerged as Nobody, a vicious killer trained in the murder-arts. He decided to not just kill the Batman, but to steal Robin away, as well. At this time, the Robin in question was Damian Wayne, who was struggling to control his own violent impulses.
Nobody captured him, tried to take the kid under his wing, and then eventually taunted the young Robin until Damien executed him.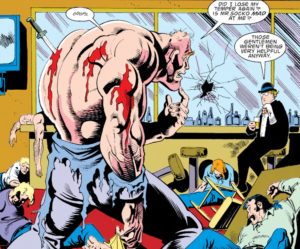 Source: comicvine.gamespot.com
4. Amygdala
Aaron Helzinger was a violent giant committed to Arkham Asylum.
An Arkham Surgeon removed the amygdala cluster from Aaron's brain, hoping to cure his psychosis, because that is just the sort of bats**t insane quackery one could expect from the fine folks at Arkham Asylum. The surgery just made him WAAAAAAAAY crazier and WAAAAAAAAAAAY more violent, so that was a big problem for anyone facing him.
Bane broke him out during Knightfall, and he teamed up with the Ventriloquist before getting beaten up and sent back to jail. Over the course of a few years, Aaron formed a friendship with Dick Grayson, aka Nightwing, and redeemed himself. He was almost blown up by Blockbuster, but survived, and was last seen hanging out in the Iceberg Lounge having fun. Amygdala is a peak 90s Batman villain, and I love him.
Dude just needs more love.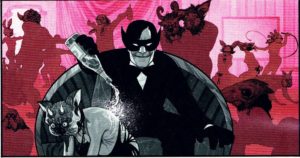 Source: villains.wikia.com
3. Dr. Hurt
Dr. Hurt was created by Grant Morrison, and as such, you can assume that he was really REALLY weird.
He's either Bruce Wayne's father OR an ancient devil worshipper OR a demon that has haunted Gotham for centuries OR a trans-dimensional minion of Darkseid OR some combination of all or some of those things. That's our starting point. So look, I read Batman RIP, and I'm a pretty well-versed Batman scholar (still training to be an official Batman-ologist), but even I needed help putting all of this together.
Here's what I got: Thomas Wayne was an ancestor of Bruce Wayne. He's not THE Thomas Wayne, but Bruce's dad might have been named after him. He was also a devil worshipper, and tried to summon Barbatos, a demon who may or may not be the same as Barbathos, a bat demon summoned initially by Thomas Jefferson, who later possessed The Riddler during Dark Knight, Dark City. Instead of summoning the demon, however, Wayne accidentally made contact with the Hyper-Adapter, a minion of Darkseid sent back in time to track and monitor Batman during his own journey through time after being hit by the Omega Sanction after shooting Darkseid. The Hyper-Adapter either fused with or corrupted Wayne, and changed him into Dr. Hurt, a crazed man who wanted to ruin the Wayne reputation, and did so by establishing the cult of the Black Glove. Eventually, The Joker killed him, putting an end to this very strange and confusing saga.
Also, there's WAY more to him but I'm already way over my allotted word count.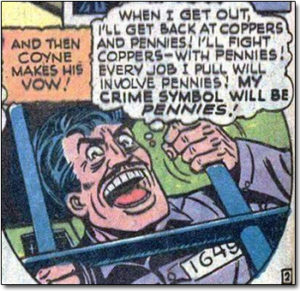 Source: tumblr.com
2. The Penny Plunderer
Sometimes odd elements become iconography for a particular comic book character. They transcend medium and era, and eventually become stripped of all original context.
This is the case with the giant penny in the Batcave. It's always there. It's a huge part of what makes the Batcave the Batcave. It's that, the dinosaur, and the playing card that every Batcave needs. So where did it come from? Why, the Penny Plunderer, of course!!
Born Joseph Coyne, The Plunderer started off as a newspaperman, but was caught stealing pennies whenever he could, so he was fired. He later tried to rob a store, but found that the cash register was filled entirely with pennies. Man, this story's logic was seriously harmed by post-1947 inflation, wasn't it? So Joseph decided to just go along with it, and started committing specifically penny-themed crimes.
I'll be honest, if a guy told me he was out to steal pennies, and only pennies, I'd probably just let him have them. Like, that's less time than going to a friggin' Coinstar machine. I have a box of pennies sitting in a desk drawer right now that I have done nothing with. Penny Plunderer! Take my pennies!!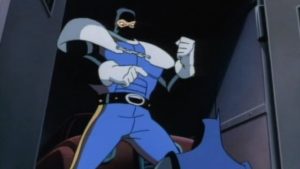 Source: nerdist.com
1. Lock-Up
Harley Quinn might be the most famous Batman character to originate in the Animated Series, but she isn't the only one! No, that category also includes Lyle Bolton, aka Lock-Up.
In his original animated identity, Lyle was a security expert hired to stop the systemic tide of escapes from Arkham. He liked to do this through extreme – and often illegal – force, which got him fired. So he set out for revenge, and fought Batman and Robin.
In the comics, he first appeared as a mysterious vigilante who was abducting villains before Batman and Robin could and taking them to a secret prison. This Lyle Bolton was a failed cop and security guard who was fired from multiple jobs for using extreme force. He later took control of Blackgate during the Gotham Earthquakes, and broke prisoners out for the Battle of Metropolis. Not the most famous guy, but still a notable one.
And there you have it, ten Batman villains who have been forgotten to the sands of time, and why I love them. Seriously, these guys should be used sometime soon. They're all great!