Hey there, folks! I'm back with another edition of my in-depth guide to the most underrated DC animated series. Last time, we saw the series' humble beginnings and slow rise to stardom. But now we're looking at the next ten episodes! And within these we have some of the series' best episodes, with some of the weirdest guest stars and some of the most fun comic booky premises. And a two-parter!! Here's where Brave and the Bold found its identity, for real. And it is spectacular.
                                              Source: animatedsuperheroes.com
11. Return of the Fearsome Fangs!
Guest stars – Teaser: Jonah Hex, Episode: Bronze Tiger
And we return with a charming little genre episode that finally gives us some mystical Batman action.
In the ep, a martial arts master who trained a young Bruce Wayne is under attack by three of his former pupils. In order to stop them from acquiring an artifact of ultimate power, Batman teams up with the master's last remaining apprentice, the Bronze Tiger. Bronze Tiger is fun, but he won't be recognizable to those who know him from Suicide Squad (although the costume is dead on).
Villains for this one are the martial arts trio of Fox, Vulture, and Shark. They're fun to watch, and seeing people who can take Batman on in hand-to-hand combat is a new thing for the show. Also, the teaser gives us some cool Old West action with Jonah Hex and an old timey version of the Royal Flush Gang. Batman wears a poncho and a sombrero. This is perfection.
Verdict: Good.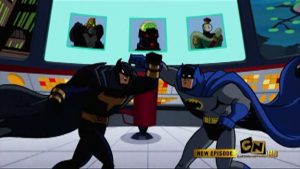 Source: animatedsuperheroes.com
12. Deep Cover for Batman!
Guest Stars – Teaser: n/a, Episode: Red Hood
ALTERNATE UNIVERSE FUN TIMES!!!!!!!!! WOOOOOOOOOOO!!!!!
In this one, the Red Hood is the last remaining hero of a parallel earth, where all of our familiar faces are actually supervillains – the Scarlet Scarab, the Blue Bowman, the Silver Cyclone, and their evil leader, Owlman. Searching for help, Hood seeks out a dimension with heroes to come give him backup. When he gets captured, Owlman investigates the earth he finds and runs into"¦Batman!
Batman beats him up and steals his outfit, heading back under cover to the evil dimension to try and save the world, even if it isn't his world. This one is crazy amounts of fun, giving you all of the classic Earth 3 fun you'd get out of a Silver Age comic. Plus, it's enjoyable getting to hear the regular crew of voice actors play evil versions of their characters. Oh, and watching my girlfriend (who's been watching all of these with me this whole time) be adorably confused by the opening teaser was an amazing experience.
Verdict: Perfect.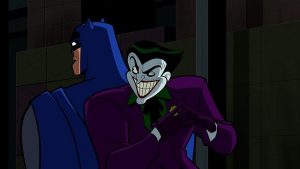 Source: dc.wikia.com
13. Game Over for Owlman!
Guest Stars – Teaser: n/a, Episode: The Joker
A TWO PARTER?!?!?!?!?!?! Yep.
After returning from the parallel universe, Batman finds that Owlman has escaped imprisonment and has been posing as Batman to commit crimes for the last three weeks. With his friends and the police hunting him down, Bats must turn to the only person left who can help him: The Joker.
I love this show's version of The Joker. He's fantastically designed, really well-performed, and hilarious in execution. Also, Batman doesn't seem to hate him NEARLY as much as he hated Fluke the dolphin. The banter between Joker and Batman really makes this one work, and there are also some fun bits with our regular cast of heroes. Plus, we get some lovely allusions to old school Bats with Owlman's pilfered Bat outfit and the backup Batmobile. Look, anything that gives me purple gloves Batman is something I like.
Verdict: Great.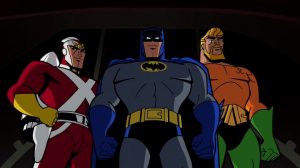 Source: dc.wikia.com
14. Mystery in Space!
Guest Stars – Teaser: The Question, Episode: Aquaman, Adam Strange
Back to regular one-offs, and back to Aquaman!!!!! I love Aquaman. He is the best character in this show, bar none. In this one, Batman is on his way to help out Adam Strange with an invasion of Rann, when he runs into a depressed Aquaman. Trying to pull him out of his funk, Bats drags him along on the adventure, giving us a space war featuring our favorite heroes.
I love Adam Strange a bunch, and he's really fun here. Plus, his girlfriend Alanna is always welcome. Oh, and even sad Aquaman is funny. Especially when he gives a rousing speech so good it made me salute my laptop. True heroism. Also, the teaser introduces a mysterious new villain named Equinox, who may or may not be pretty important later on. Plus, The Question. I love The Question.
Verdict: Good!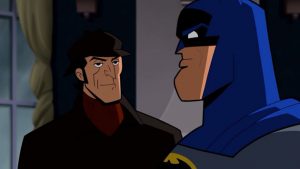 Source: comicvine.gamespot.com
15. Trials of the Demon!
Guest Stars – Teaser: The Flash (Jay Garrick), Episode: Etrigan the Demon, Sherlock Holmes
For our Halloween episode, we have a solid creepfest that features my favorite recurring villain, the Gentleman Ghost!!
In this episode, someone has been sucking the souls out of women in Victorian London, and Sherlock Holmes is on the case. Yes, that Sherlock Holmes. He begins to investigate, but when the townsfolk find their suspect, the strange and mysterious Jason Blood, Holmes isn't quite convinced. He discovers that Blood has been attempting to summon help from the future and has completed the ritual bringing back"¦Batman!
Bats and Holmes free Blood, who transforms into his alternate identity of Etrigan the Demon. The trio goes off to find the true culprit, Gentleman Jim Craddock, who is trying to make a deal with the demon Asteroth for immortality. What ensues is a fun Halloweeny time that gives us a riff on the amazing Gotham by Gaslight. And having Gentleman Ghost be Jack the Ripper so Sherlock Holmes and Batman can fight him is literally everything I've ever wanted out of a superhero cartoon.
Verdict: Great!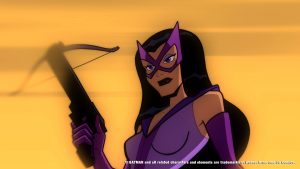 Source: batmanthebraveandtheboldfanonwiki.com
16. Night of the Huntress!
Guest Stars – Teaser: Black Canary, Episode: the Huntress, Blue Beetle
Let's finally bring on the women! We've seen very, very few female characters on this show, but that changes here.
Our teaser gives us Batman and the awesome Black Canary teaming up to fight lumbering oaf Solomon Grundy. The ep itself introduces The Huntress, aka the femme fatale Helena Bertinelli. In the episode, series original character Babyface breaks his criminal gang out of prison and goes on a rampage to gain control of Gotham City itself.
Responding to the crisis are Batman, Huntress, and Blue Beetle, who immediately develops a huge crush on the new heroine. I would seriously put Beetle asking Batman for romantic advice among the best moments in any episode I've discussed so far. And Huntress is super fun; I wish she had a way more prominent rule in the series. Also, The Calculator!! I love The Calculator.
Verdict: Good!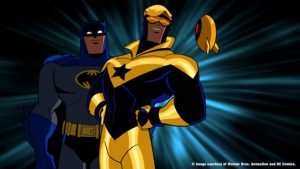 Source: comicvine.gamespot.com
17. Menace of the Conqueror Caveman!
Guest Stars – Teaser: Wildcat, Episode: Booster Gold
I effing LOVE Booster Gold. He is easily among my top ten favorite comic book characters of all time. And holy hell, does this episode do him justice.
Tom Everett Scott and Billy West reprise their roles here as Booster and Skeets from Justice League Unlimited, which is both charming and refreshing. I would love to get around to doing JLU one day, but for now I'll say that Scott and West play off each other brilliantly and create a hilarious buddy act dynamic. Also, Skeets is adorable.
The ep focuses on Booster having to step up as a real hero after he and Batman team up to track down Kru'll the Eternal and stop his world domination plot. Also, it's clear that the writers meant for the villain to be Vandal Savage, but like the substitution of Funhaus for Toyman in the Red Tornado episode, something happened rights-wise.
Verdict: Good!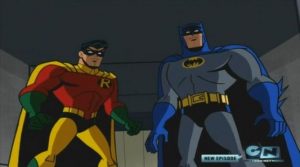 Source: animatedsuperheroes.com
18. The Color Of Revenge!
Guest Stars – Teaser: Robin, Episode: Robin
Hey there, it's Robin! Robin's the best! And this version of the character is one of the more fun ones.
We open with a classic old school dynamic duo adventure, wherein they chased down Crazy Quilt, who was accidentally blinded by Robin in the process. In the present, Robin has left Batman to become his own hero in the city of Blüdhaven, with his sweet Earth 2-inspired outfit. God darn, do I love that Robin costume. It has pants!
So Robin and Bats have to team up again when Crazy Quilt (played impossibly well by the excellent Jeffrey Tambor) gets out of Arkham and comes for revenge. Brave and the Bold was truly one of the only shows that could've handled a villain like Quilt, and they do it expertly. Plus, the Dark Knight/Boy Wonder relationship is spot-on perfect in every respect.
Verdict: Perfect!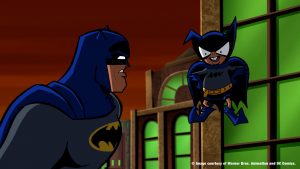 Source: Batmanthebraveandtheboldfanonwiki.com
19. Legends of the Dark Mite!
Guest Stars – Teaser: Ace the Bat-Hound, Episode: Bat-Mite
Well, here we have one of the most iconic and emblematic episodes in the entire series. Featuring its breakout character: Bat-Mite!!
The fifth-dimensional imp – and Batman's biggest fan – is played perfectly by Paul "Pee-Wee Herman" Reubens, and he carries what is still a phenomenal episode. In the ep, Bat-Mite appears to Batman with the intention of making his idol an even better hero, although his childlike behavior eventually leads to his becoming somewhat of an antagonist.
In the standout sequence, Bat-Mite decides to try being Batman himself, which results in a weird, trippy nightmare scene involving many Batman rogues who were new to the Brave and the Bold. Killer Moth and Calendar Man are my standouts. Also, the interdimensional Comic-Con scene, which they used to introduce every B:BATB Comic-Con panel (I know, I was at every one), is one of the best scenes in the entire series. Perfection.
Verdict: Perfect!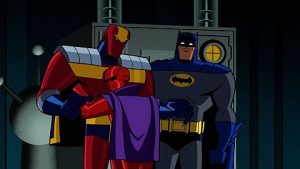 Source: ign.com
20. Hail the Tornado Tyrant!
Guest Stars – Teaser: Green Arrow, Episode: Red Tornado
Poor Red Tornado. He only exists for the universe to beat up on him and remind him that he isn't a real boy. He's like a big robot Charlie Brown. I love him, and he makes me so sad.
In this episode, he builds himself a son named the Tornado Champion, who is able to feel emotions, unlike Red. Red and Champion go out on crime-stopping escapades, until Major Disaster damages Champion and fully activates his emotion programming. He begins to feel the brunt of his emotions and goes crazy. He builds himself an evil armored form as the Tornado Tyrant and tries to eliminate humanity.
In the end, Red Tornado is forced to put his son down once and for all. Afterward, Batman questions how he's doing and he says he's doing okay. But after Bats leaves, Red Tornado sheds a single tear. And then I shed many tears. Because I'm crying.  This episode is amazing, easily the best J.M. DeMatteis ep so far.
Verdict: Perfect!!!
And there's another ten episodes down the tubes. And there are some SERIOUS home runs in there. Like, holy heck, that last run of three are some of my all time faves. Well, I'm already at work on the next one, so I'll see you soon with Episodes 21 through 30. Until then, th-th-th-that's all folks!